• Jason Ritter is a famous actor and producer, born in Los Angeles in 1980
• His late father, John Ritter, was an actor and comedian
• His paternal grandfather, Tex Ritter, was a country singer and actor
• Jason is married to Melanie Lynskey, a fellow thespian, and they have a daughter together
• His estimated net worth is over $6 million
Who is Jason Ritter?
Born on 17th February 1980, in Los Angeles, California USA, Jason is a famous actor and producer, with many successful shows under his belt. Measuring 5ft 9ins (175cm) and weighing about 172lbs (78kgs), the award-winning Aquarius has scores of fans who want to know everything about his personal life: is he married? How much is he worth? Keep reading to find out about his love life, net worth and more.
Jason's Family
Anyone who's a fan of Jason knows that the multi-talented L.A. native comes from an illustrious family in the showbiz world.
His father, John Ritter was born in 1948, and became an actor and comedian, winning Primetime Emmy, Golden Globe, and People's Choice Awards in his 35-year-long career. John married actress Nancy Morgan in 1977, and she gave birth to three children: Jason, his sister Carly, and his brother Tyler.
After John and Nancy's divorce, the comedian found love a second time with Amy Yasbeck, another actress best known for her role in "Wings", a sitcom that aired between 1994 and 1997. Their happiness was cut short in 2003 with John's untimely death at the age of 54. We don't know if Nancy remarried.
Jason was almost destined to become famous: his paternal grandfather, Tex Ritter was a country singer and actor who reigned from the mid-1930s to the 60s. The first singer to sign to Capitol Records, Tex died in 1974 and was a member of the Country Music Hall of Fame. His wife, Dorothy Fay, was an actress specializing in Western movies who studied at the London-based Royal Academy of Dramatic Art (RADA) and died in 2003.
As for Jason's brother Tyler, despite not reaching the heights of his brother's fame, he hasn't done badly for himself in the entertainment industry either.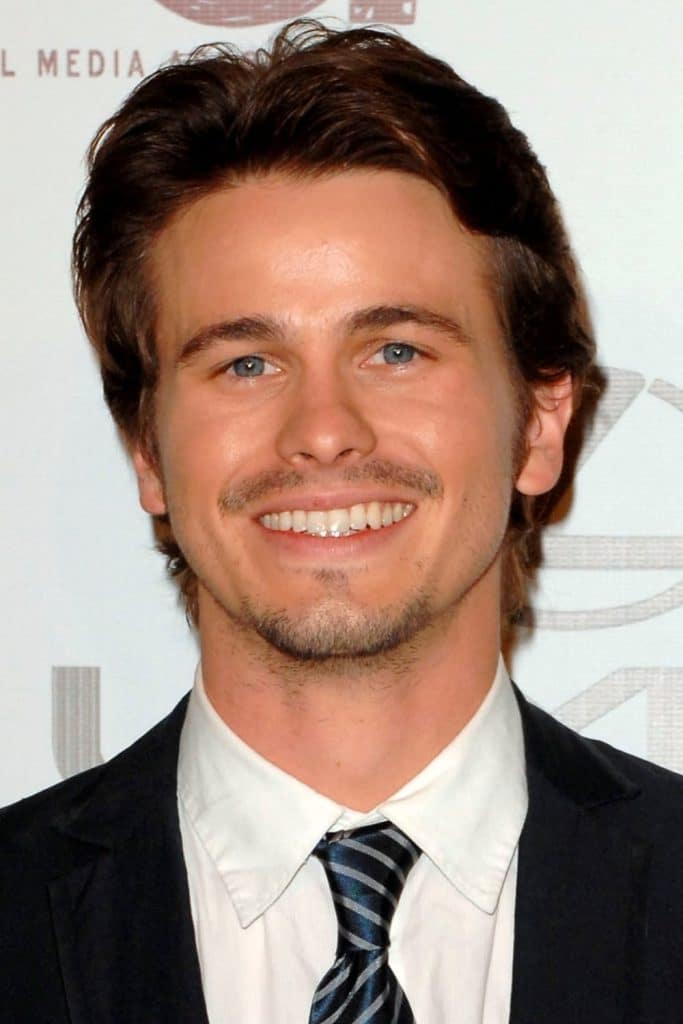 In 2014 and '15 he starred in family sitcom "The McCarthys" and currently boasts over twenty acting credits in various series and TV movies.
Jason's Education & First Roles
Jason matriculated from Crossroads School in Santa Monica, California, and later graduated from New York University's prestigious Tisch School of the Arts. He also followed in his grandmother's footsteps by studying at RADA. A fun fact that many people may not know is that Jason studied with Simon Helberg of "The Big Bang Theory" fame, and they were roommates at NYU.
The actor landed his first role at just 10 years of age in 1990, playing Harry Neal Baum in TV movie "The Dreamer of Oz", based on the life of children's book author Frank Baum. His father Frank was the main character, Frank himself. A year later, Jason voiced a character in "The Real Story of O Christmas Tree", a sweet children's cartoon. Once again, Jason's father Frank worked with him on this project.
Between 1992 and 1998 we didn't see Jason on our screens again, possibly because he was focused on his education. In 1999 he appeared as Todd in long-running hit series "Days of Our Lives", which has won over two hundred awards and boasts more than 14,300 episodes. In the same year, Jason appeared in the edgy MTV series "Undressed", an anthology aiming to explore sexual relationships.
Jason's Notable Roles
As an actor with decades of experience, Jason has had quite a few notable roles. The majority of his fans come from his "Joan of Arcadia" days between 2003 and 2005, when the actor played Kevin Girardi in 45 episodes of the series. A year after the series' end, Jason began working on the set of "The Class" and brought loveable character Ethan Haas to life. The series was nominated for a Primetime Emmy, despite only running for nineteen episodes.
In 2010, Jason began the decade starring in the crime drama series "The Event". He portrayed Kyle Walker, a man whose girlfriend goes missing, and throughout 22 episodes the talented thespian kept the audience on the edge of their seats through every twist and turn of the plot.
Jason is no one-trick pony either, because between 2012 and 2016, he was involved in 40 episodes of the popular animated series "Gravity Falls", voicing Dipper Pines and several other characters.
Jason's last notable role was as Pat in "Raising Dion", a Netflix series documenting the journey of a widowed single mother, who discovers that her son is a superhero. Pat is the main antagonist of the series, and Jason has played him in nine episodes to date.
Jason's Love Life
Jason met his first wife Marianna Palka in October 1999. The Scottish actress was born in Glasgow in 1981, and moved to New York at the age of seventeen to pursue her dream of acting and study at the Atlantic Theater Company.
The couple lasted fourteen years before divorcing in 2013, and since then Marianna has gone on to great things, winning awards at film festivals, and directing, writing and producing several works.
Jason found love again with fellow thespian and New Zealand native Melanie Lynskey, born in 1977, who made her film debut in Peter Jackson's production "Heavenly Creatures" at the tender age of 17 in 1994. Jason and Melanie have a lot in common: Melanie is also a divorcee after citing irreconcilable differences as the reason for her split from actor Jimmi Simpson, who she married in 2007 but divorced seven years later.
Jason and Melanie welcomed a daughter together in 2019, and married the following year, but we don't know much more about their relationship because they prefer to maintain a low profile. The last time Melanie posted Jason and their daughter on social media was on June 23rd 2021, thanking him for being "the most loving, committed, funny, funny, funny, kind, sweet, caring dad this little girl could hope to have".
Jason's Net Worth
A combination of acting, film producing, and voiceover work have helped Jason amass a net worth estimated at over $6 million in his career so far – and this figure will keep growing because Jason could return in season two of "Raising Dion".