• Kayla Cromer is an American actress, model, and paranormal investigator.
• Born in San Jose, California in 1998, she became interested in acting after watching the movie "Pirates of the Caribbean: The Curse of the Black Pearl" as a child.
• She has been seen in the series "Everything's Gonna Be Okay" and the movie "Desert Dwellers", and served as a photo double and stunt performer in "Apparition".
• She is an advocate for the LGBT community and a supporter of the Marvel Cinematic Universe.
• Kayla has Asperger's Syndrome and is 23 years old with an estimated net worth of over $200,000.
Kayla Cromer Wiki Bio
Kayla Cromer was born in San Jose, California USA, on 17 February 1998 – her zodiac sign is Aquarius and she holds American nationality. She's an actress, model and a paranormal investigator, who's perhaps known best for her portrayal of Matilda, one of the lead characters in the comedy series "Everything's Gonna Be Okay", created by Josh Thomas who's also starring in it alongside Kayla and Maeve Press. The series has been airing since 2020, and follows Nicholas who, after the death of his father, has to look after his two younger half-sisters. It has been nominated for a 2020 Screen Music Award for Best Music for a Television Serial or Special, and a 2021 Gay and Lesbian Alliance Against Defamation (GLAAD) Media Award for Outstanding Comedy Series.
Early life and education
Kayla was raised an only child in Morgan Hill, Santa Clara County, California by her father Reno and her mother Pam who prefer to be left out of media, thus not a lot is known about them.
Kayla grew up being interested in investigating paranormal activities and haunted houses, and was ten when she was gifted a piece of equipment for paranormal investigation for Christmas. She eventually watched the 2003 action adventure fantasy movie "Pirates of the Caribbean: The Curse of the Black Pearl" with her parents, and after seeing Keira Knightley portray Elizabeth Swann, Kayla decided she would become an actress herself.
She attended a local high school at which she was physically very active, as she wanted to stay slim for her roles in movies and TV series.
Upon matriculating in 2015, Kayla chose not to pursue a college degree but to focus on acting.
Career as an actress
She has five acting credits including the series "Everything's Gonna Be Okay". Kayla launched her acting career in 2015, with her portrayal of both Young Maria and Abigail in the episodes "Judge and Fury" and "Demons Are Forever" of the fantasy horror series "South of Hell" created by Matt Lambert and starring Mena Suvari, Zachary Booth and Lamman Rucker, which follows the life of Maria Abascal who is a demon hunter for hire. In the same year, Kayla portrayed Promotional 'Face' of the Show in the episode "DUI Love You" of the crime comedy series "Sex Sent Me to the Slammer", which starred Jordan Givens, James Kwong and Judy Cerda, and follows people who were sent to jail because of their sexual activities.
Kayla made her debut film appearance with her portrayal of the lead character Gloria in the 2016 horror "Desert Dwellers", written and directed by Derek Sean Carlton, and which also starred James Burleson and Nailya Shakirova. It follows several students who disappeared while travelling through Nevada's high desert, while a detective found footage which shows that the students might have been abducted by aliens.
Kayla's only other acting credit has been her portrayal of another lead character, Tiffany, in the 2017 horror "Blood Orange", written and directed by Alexander J. Coulter, and which also starred Daniel Kuhne and Ian Stack, but the film failed to attract any attention.
Other credits
Kayla served as a photo double and a stand-in for two episodes of the series "South of Hell" in 2015.
She has taken classes of parapsychology from Dr. Loyd Auerobach, and Kayla's a huge fan of The Ghost Brothers. Knowing this, the brothers invited her to make an appearance in the 2017 episode "Winchester Mystery House" of their documentary series "Ghost Brothers", which has been airing since 2016 but counts only 15 episodes. The series follows three brothers Marcus Harvey, Dalen Spratt and Juwan Mass, as they investigate paranormal activities with a bit of humor.
In 2017, Kayla co-wrote the movie "Blood Orange".
The year 2019 saw her perform stunts for both Mena Suvari and Anna Collins in the horror movie "Apparition", directed by Waymon Boone, and which starred Annalisa Cochrane, Kevin Pollak and Mena Suvari.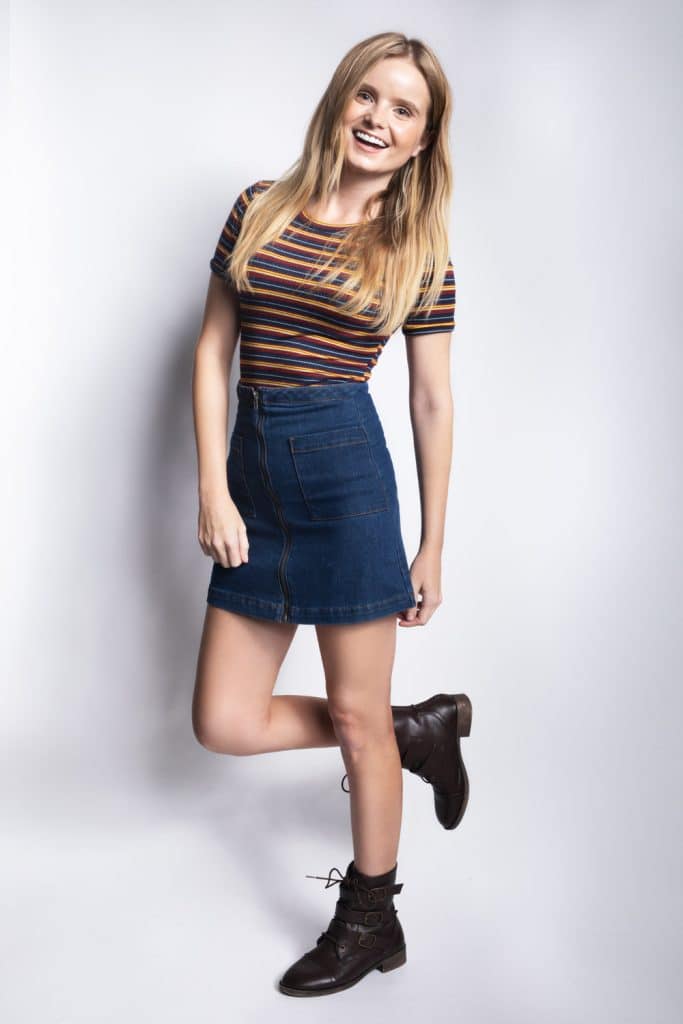 It follows several young adults who find themselves at an abandoned castle, but the movie attracted little attention and gained mixed reviews. Kayla also worked as a photo double and a stand-in for the film.
Love life and relationships
Kayla is highly secretive when it comes to her love life and hasn't spoken about any boys or girls she has perhaps been with, however, there are various rumors circulating the internet concerning her relationship status, as well as her sexual orientation.
She is a supporter of the LGBT community, which has made many people think that Kayla is either lesbian or bisexual.
The fact that she hasn't been seen spending time with any boys has only spread these rumors, however, she hasn't commented on the matter, and nothing about her sexual orientation can be said with certainty.
There are also those who believe that Kayla's today dating a mysterious boy, but is keeping the relationship hidden from the media's attention as she wouldn't want it to affect her career in a negative way, but this hasn't been confirmed either.
As of March 2021, Kayla seems to be single, hasn't married and doesn't have children.
Health problems
Kayla was seven years old when she was diagnosed with attention deficit hyperactivity disorder (ADHD), dyslexia and dyscalculia.
A couple of years later, she was diagnosed with Asperger's syndrome, and shared these details with her fans at the 2019 Freeform Summit. Kayla is said to be the first autistic person to portray the lead autistic character in a series.
Hobbies and other interests
Kayla's a huge lover of animals, and her favorites are giraffes, zebras and tortoises. Her dream is to see great white sharks in close, while being in a shark cage.
She's a huge fan of the Marvel Cinematic Universe, and is hoping to work for them and portray an autistic character. Kayla's working out several times at the gym each week, and is following a strict diet, all to prepare her body tone, and slim for if she were to join the Marvel Universe.
She's keen on travelling, and has been to several US states to attend auditions and shoot for her movies and TV series. Kayla is hoping to visit Europe in the upcoming years, especially the countries she likes the most: France and England.
In her spare time, she's keen on watching movies starring her favorite actors and actresses Johnny Depp, Jim Carrey and Amanda Seyfried, such as the franchise "The Pirates of the Caribbean", "Bruce Almighty" and "Letters to Juliette".
Age, height and net worth
Kayla's age is 23. She has long brown hair and blue eyes, her height is 5ft 5ins (1.65m) and she weighs around 120lbs (55kgs).
As of March 2021, her net worth has been estimated at over $200,000.