• Linda Durbesson is a 41-year-old Caucasian entrepreneur, fitness instructor, personal trainer, model, and social media celebrity.
• She began competing in tennis tournaments at a young age, but suffered a knee injury and had to give up on her tennis career.
• She started her own website called LDFIT and released a fitness app, and uses her social media to promote her brand.
• Linda is estimated to have a net worth of over $1 million.
• She has over 1 million followers on Instagram and 60 thousand subscribers on YouTube.
Who is Linda Durbesson? What is her age?
Born under the sign of Sagittarius on 20 December 1979, in Carpentras, France, now with American nationality, Linda Durbesson is a 41-year-old Caucasian entrepreneur, fitness instructor, personal trainer, model, Instagram celebrity and YouTuber. She draws most of her fame from gracing the front pages of health and fitness magazines in various countries, and just as importantly through her ubiquity on Instagram and other social media platforms, where her body shape and overall lifestyle are praised by many exercise aficionados. She's been lining up successes in her frequent remunerated modeling career since 2014.
https://t.co/d3e60fVyBl pic.twitter.com/jOa3ZOh5Gg

— LiNda DuRbessOn (@Linda_Durbesson) June 19, 2020
Early life: A modern ninja
Linda was raised where she was born, apparently an only child, by parents whose names and professions are still unknown. She had an insatiable interest in physical activities very early on, and from the age of five found herself engaged in a multitude of sports and disciplines. Durbesson's first venture into ballet proved successful, after which she took on mountain biking, tennis, modern jazz dancing, and even ninjutsu. Her interests expanded even further as a teenager, and she excelled at karate, track and field, basketball, kite-surfing and handball, and was top of her class in all physical activities while attending an unspecified high school in France.
Between her enrollment and subsequent matriculation in 1997, Linda carefully balanced all of her schoolwork and physical activities, never sacrificing either for the other. Her most prominent sport at the time was tennis, serving aces at 85mph (135km/h) in various tournaments, meanwhile also finishing in top places in mountain bike races. Linda resumed her pursuit of adrenaline for many years after high school, ultimately obtaining a master's degree in personal training from an unspecified institution in the US in 2014.
The tragedy that shaped her
During her high school years, Linda favored tennis over all other sports, and many who watched her play were quick to call her a future star of the court, causing even the entrepreneur herself to follow this dream.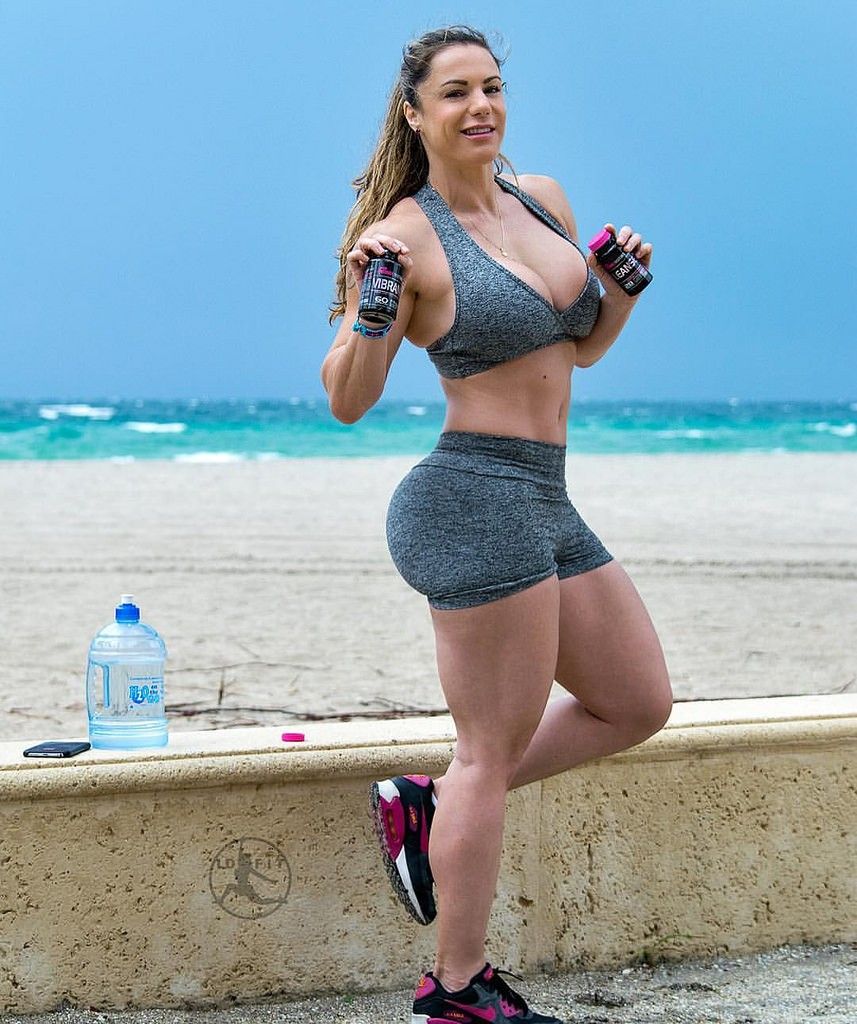 She began competing in tournaments, and soon won her first Junior Tennis Pro medal. A few tournaments in, she had the misfortune of suffering a grave injury at the age of 16, which forever changed her life. Durbesson tripped and fell on the court, which resulted in somewhat irreparable damage to her left knee. After her ligaments were stapled in surgery, she lost the ability to fully bend the leg, meaning a tennis career was permanently out of reach. Instead of being broken down, however, she started lifting weights to speed up her recovery, and that's how she ultimately dedicated herself to the craft she masters today.
Career: An unintended superstar
Linda initially had no college education and no plans to get one, or venture into a lucrative business.
She performed various odd jobs in France, living modestly with her boyfriend at the time. Greatly in love, she accepted his proposal to move to Florida, USA with him, but broke the whole thing off due to unforeseen complications not long after relocating, and she was left almost penniless and completely alone in a foreign country. She spent the better part of her twenties struggling with depression on a barely livable wage, until eventually she hit the gym and almost overnight converted herself into a personal trainer. She felt that she'd finally found her calling, and so completed a college degree in 2014, prior to diving into numerous work opportunities.
She started modeling on Instagram, coaching celebrities and their children which paid off, making her a well-known fitness and lifestyle influencer on social media by 2016. It was around this time that she started the brand called "LDFIT", short for "Linda Durbesson Fit", launching her own website.
The fitness businesswoman
The Instagram fitness celebrity turned everything she liked into a profitable cycle, sharing her diets, exercises and many other useful tips and habits with millions of fans and thousands of customers. Linda has an app named "Linda Durbesson Fit", which allows its users to pick between all of her complex nutrition plans.
There are also numerous workout routines targeting nearly all areas of the body, and a progress calendar to track one's effort linearly. The users have a community space to boot, where they can discuss just about anything fitness-related amongst themselves, while Linda herself also answers their questions. She also sells other types of merchandise on her site, such as calendars, special clothing, posters, phone cases, and even reusable heat packs. Durbesson's website is her main source of income, as she uses her Instagram page to promote her own brand only, and thus doesn't make money from being sponsored by other companies.
Love Life: Does Linda Durbesson have a boyfriend?
In spite of Linda's best effort to remain secretive about her romantic relationships, there are unconfirmed rumors stating that she's actually married to a Caucasian man believed to be called Mike Houser. There is no information pertaining to how and where they met, how long they dated, or when and where the wedding took place. Aside from this gossip, there isn't much else to say about the fitness instructor's love life. She is thought to reside with her spouse in a luxurious apartment in Miami, Florida.
What is Linda Durbesson's net worth?
Linda's net worth is estimated at over $1 million as of mid-2021. She owes her financial successes to responsible and visionary entrepreneurship, particularly starting her own brand. The Instagram star is now more active than ever, posting pictures very frequently and keeping her audience engaged to secure ever greater earnings.
Body measurements
Linda's physical attributes are:
Height: 5ft 5ins (165cm)
Weight: 146lbs (66kg)
Vital Statistics: 38-27-40
Bra size: 42e
Hair color: Dark brown
Eye color: Green
Complexion: Tanned
Social media presence
Relying on social media outreach to maximize her earnings, Linda takes exceptional care of her activity on popular social networks. Her Facebook page has more than five million followers, her Twitter over 25,000, and her Instagram just above a million. She's also active on YouTube, with more than 60,000 subscribers.