• Patrick Martin Stump was born in Evanston, Illinois on April 27, 198•
• He is a singer-songwriter, actor, and movie composer, best known as the frontman and rhythm guitarist of Fall Out Boy.
• He studied drums and was a member of several punk bands, and later signed with Island Records.
• He has composed music for many movies and voiced several characters in animated shows.
• He is married to Elisa Yao and has two children; he has an estimated net worth of $16 million.
Patrick Stump Wiki Bio
Patrick Martin Stumph, also known as Patrick Vaughn Stump, was born in Evanston, Illinois USA on 27 April 1984 – his zodiac sign is Taurus, and he holds American nationality. He's a singer-songwriter, actor and a movie composer, who's probably known best for being the frontman and the rhythm guitarist of the band Fall Out Boy.
Early life and education
Patrick was raised in Evanston alongside his two older siblings, by their mother Patricia (nee Vaughn) who was an accountant, and their father David who's a folk singer.
Patrick became interested in music at a very early age, especially when he was around eight years old, which was when his parents divorced. He found comfort in music and listened to various genres, but mostly to rock and metal.
He studied at Glenbrook South High School, and during his four years there, Patrick learned to play the drums, and was a member of several punk bands, such as Patterson, Arma Angelus and Public Display of Infection. During this period, Patrick was mostly influenced by Michael Jackson and Nat King Cole.
Upon matriculating in 2002, he didn't enroll at college, but remained focused on music.
Career as a musician
In 2001, Patrick auditioned to become the drummer of Fall Out Boy, however, he was instead chosen as the lead singer, and later a guitarist. Their first mini long-play (LP) was released in March 2003, entitled "Fall Out Boy's Evening Out with Your Girlfriend", and later that year, on 6 May, their debut album was released, entitled "Take This to Your Grave". It was around this time that Patrick dropped 'h' from his surname, because people were mispronouncing it.
The band signed a contract with Island Records, and in 2004 their debut extended play (EP) came out, entitled "My Heart Will Always Be the B-Side to My Tongue". It marked the boys' first entry on the Billboard 200 Chart, placing #153. Their album "From Under the Cork Tree" was released on 3 May 2005, and it climbed to #9 on the Billboard 200, and has since been certified double platinum. Their third album "Infinity on High" came out in 2007, topping the Billboard 200 Chart, and the boys then toured around the world to support the album.
On 10 December 2008, their fourth album entitled "Folie a Deux" was released, peaking at #8 on the Billboard 200 Chart, after which in the second half of 2009, Fall Out Boy took an indefinite break, to rest and focus on other things – Patrick concentrated on his solo career, while his colleagues Joe Trohman and Andy Hurley formed the heavy metal band The Damned Things.
On 22 February 2011, Patrick released his debut solo EP entitled "Truant Wave", and on 18 October 2011, his debut solo album "Soul Punk" came out. He spent most of 2010 and 2011 performing around the US, until in the early 2012 announcing that he needed a break, and would stop performing for a while. He was away from music until 4 February 2013, when Fall Out Boy reunited, and two months later, on 12 April, the boys released their new album "Save Rock and Roll".
The new album topped the Billboard 200 Chart, and the group again went on tour all around the US through 2014. On 16 January 2015, their sixth album "American Beauty/American Psycho" came out, topping the Billboard 200 Chart, and on 19 January 2018, the boys released their seventh album, entitled "Mania", topping the chart again.
Most recently, on 23 August 2018, Fall Out Boy released their EP "Lake Effect Kid".
Career as an actor
Patrick has 30 acting credits, with the majority of these being his appearances in the Fall Out Boy music videos, his debut appearance being in the 2005 short music video "Gym Class Heroes: Cupid's Chokehold", and the same year saw him appear in the short crime film "Bedussey". In 2006, Patrick guest starred in the episode "Just Watch the Fireworks" of the critically acclaimed romantic sports series "One Tree Hill", and two years later, he guest starred in the episode "Darkness" of the mystery crime drama "Law & Order". In 2009 and 2010, Patrick starred in the short movies "Moustachette" and "Na Zdorov 'ya!", which he also produced and directed, and in 2012, he portrayed Micah in the episode "We Need the Eggs" of the mystery drama series "House".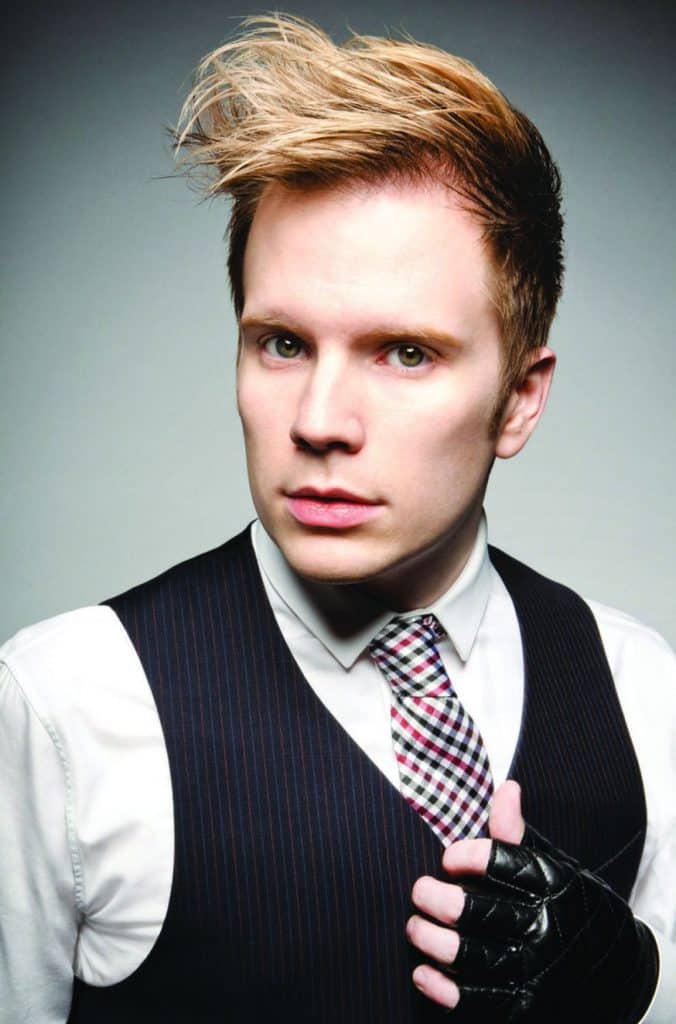 Three of his most recent roles have been a voice role in seven episodes of the animated action adventure "Star vs. the Forces of Evil" between 2017 and 2019, the 2021 short musical comedy film "Posehn: New Music Sucks", and three episodes of the animated comedy series "Family Guy" (voice role).
Composing credits
Patrick has composed music for many movies, such as the 2017 animated adventure comedy "Gnome Alone", the 2018 thriller comedy "Spell", and the 2019 musical documentary "Everybody's Everything".
His perhaps best known composition is the music for the 2019 comedy drama "Changeland", written and directed by Seth Green, who also starred in it alongside Breckin Meyer and Macaulay Culkin; it follows two friends during their trip to Thailand.
Patrick's currently composing music for two upcoming movies: the horror comedy "Black Friday!", and the biographical documentary adventure "Adrift: 76 Days Lost At Sea".
Wife and children
Patrick's quite secretive when it comes to his love life, but has still allowed his fans to have a glimpse into it. He began dating Elisa Yao sometime in the 2000s – it's widely believed that the two met while still attending high school. They subsequently lived together in Chicago, Illinois for many years, prior to exchanging vows in 2012.
The ceremony was big, with numerous of their friends and family members attending. In September 2014, Patrick announced that Elisa was pregnant, and on 13 October, they welcomed their son Declan. In 2016, Patrick revealed that Elisa was pregnant again.
He hasn't spoken of any other women whom he has perhaps been with, and as of July 2021, Patrick's married to Elisa Yao, and they have two children together.
Health issues
In 2010, Patrick had multiple health issues, and lost around 65lbs (29kgs) because of these. He suffered from pre-diabetes and asthma, and then also struggled with high blood pressure and high cholesterol.
It took Patrick around a year to get over these aolments.
Arrest
In August 2009, Patrick was arrested in West Hollywood, California for driving without a license. His mug shot was taken at the West Hollywood Sherriff's station, and he apparently spent four hours in jail, when $15,000 bail was posted.
Hobbies and other interests
Patrick's passionate about travelling, and his career has taken him all around the world, visiting nearly all the US states, and various European and Asian countries. His dream travel destination is Vietnam in Asia.
He's a huge lover of animals, and is fascinated by spiders, however, he's also afraid of them.
Patrick's into video games, and mostly plays on his PlayStation 4 console. His favorite franchise is "Metal Gear", while he's also keen on playing "Rocket League" and "Fortnite".
He likes to watch movies late at night – his favorite actress and actor are Natalie Portman and Jim Carrey, while a couple of his favorite movies are"Liar Liar", "Bruce Almighty" and "Ace Ventura: Pet Detective – When Nature Calls".
Age, height and net worth
Patrick's age is 37. He has short brown hair and blue eyes, his height is 5ft 4ins (1.64m) and he now weighs around 143lbs (65kgs).
As of July 2021, his net worth has been estimated at over $16 million.