• MeLoveMeAlot (MLMA) is a South Korean rapper, artist and fashion designer, best known for being the alleged girlfriend of the famous rapper Post Malone.
• She is a social media star, with 1.4 million followers on Instagram and 1.7 million followers on TikTok.
• She has launched her own line of socks and is the main designer for the small Korean clothing brand Skoot.
• She is physically active and enjoys dancing, having tattoos and watching Hollywood movies.
• Her net worth is estimated at over $2 million, while Post Malone's is reputedly over $30 million.
Who is MeLoveMeAlot (MLMA)?
Baek Ye-jin, known better as MLMA or MeLoveMeAlot, was born in Seoul, South Korea on 24 June 1993 – her zodiac sign is Cancer and she holds both South Korean and Canadian nationality. She is a rapper, artist and a fashion designer, but perhaps known best for being the alleged girlfriend of the famous rapper Post Malone.
Early life and education
MLMA is very secretive when it comes to her personal matters, and hasn't shared any details concerning her parents or the siblings she might have with the public, however, it's known that she was raised in a poor family – she received a pack of colored pencils as a birthday gift from her mother when she was three. In one of her interviews, MLMA claimed that she grew up being very lonely and how she found comfort in art and creating things. Her professional name is therefore self-explanatory.
She attended a local high school, and dreamed about continuing her education at a fashion or arts college, however, because of financial issues, MLMA decided to work after matriculating in 2011, and hasn't attended college.
MLMA's career
She is a social media star as she is followed by more than 1.4 million people on Instagram, on to which she's uploaded around 210 pictures, most of which have been taken during her everyday life. She is also quite active on TikTok and is followed by over 1.7 million people and has amassed around 76 million likes of all her videos combined.
MLMA launched her career not long after matriculating when she joined MIXXMIX as their designer. She quit the job in 2014 to focus on her artistic career, and went on to launch her own line of socks.
MLMA soon became recognized in the fashion industry, and began working as the main designer for the small Korean clothing brand Skoot. She had an opportunity to meet various celebrities in 2020, when invited to be part of the Calvin Klein CK Everyone campaign.
She launched her rapping career in 2019 with the release of her songs "Good Life", "Give Me That Shit" and "Save Me or Kill Me", and some of her most popular songs today are "Do You Love Me?", "Final Fantazzz" and "You Can't Kill Me I'm Alive".
It is widely believed that MLMA has only become popular thanks to the Instagram trend 'Wavy Brow', which she started in 2017.
Love life and relationship with Post Malone
MLMA is very secretive when it comes to her love life, and hasn't mentioned any men she has perhaps dated in the past, however, she and Post Malone have just recently shocked their fans by uploading several pictures featuring them together onto their Instagram accounts. Although most of their fans now believe that the two are in a relationship, neither MLMA nor Post Malone have confirmed this.
Before these rumors started spreading, Post Malone was in a relationship with music promoter Ashlen Diaz; the two dated for three years from 2015 to November 2018 when they split for unknown reasons.
As of February 2021, MLMA appears to be in a relationship with Post Malone, hasn't married and doesn't have children.
Hobbies and other interests
MLMA has been dancing since a very early age, and enjoys sharing her choreographies with her fans through her Instagram videos.
She loves tattoos but is afraid of the permanent ones, so she's only had numerous temporary tattoos on various parts of her body.
MLMA is physically very active, and exercises at the gym nearly every day thus her fit body. Summer is her favorite season, mostly because she enjoys showing off her body at the beach, sun tanning and swimming in the sea.
She likes to watch Hollywood movies in her spare time, and her favorite actor and actress are Matt Damon and Angelina Jolie, while a couple of her favorite movies are "Catch Me If You Can", "Lara Croft: Tomb Raider – The Cradle of Life" and "Girl, Interrupted".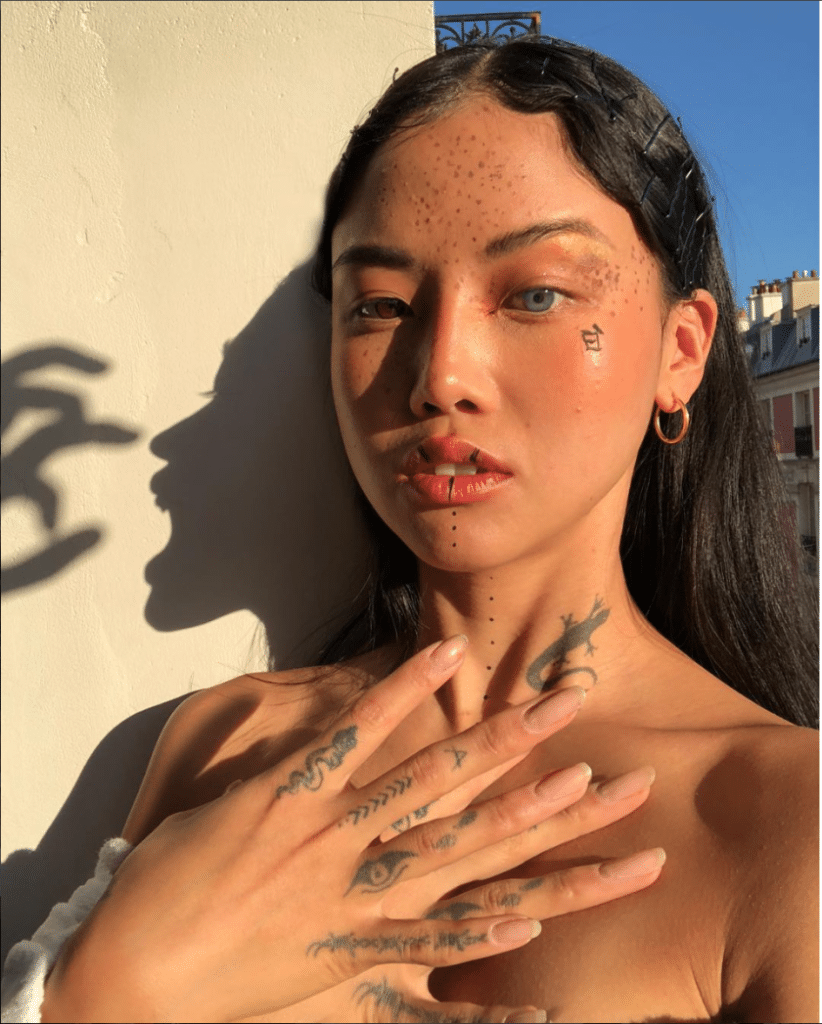 Age, height and net worth
MLMA's age is 27. She has long black hair which she's dyed various colors, her eyes are brown and she is around 5ft 4ins (1.62m) tall while she weighs around 110lbs (50kgs). As of February 2021, her net worth has been estimated at over $2 million, while Post Malone's net worth is reputedly over $30 million.
Who is Post Malone?
Austin Richard Post, known better by his professional name Post Malone, was born in Syracuse, New York State USA, on 4 July 1995 – his zodiac sign is Cancer and he holds American nationality. He is a rapper and singer-songwriter, who attracted attention in 2015 with the release of his single "White Iverson".
He was raised in Syracuse by his stepmother Jodie who is a housewife, and his father Rich Post who was a DJ in his 20s and 30s, and who also introduced Post Malone to various music genres including rock, country and hip hop.
In 2004, the family moved to Grapevine in Texas as Rich was offered work with the professional American Football team the Dallas Cowboys as their manager of concessions. Post Malone soon began playing the video game "Guitar Hero", which motivated him to learn to play the guitar. In 2010, he auditioned for the position of a guitarist in the band Crown the Empire but wasn't accepted, apparently because his strings broke while he was performing.
He was 15 when he decided 'Post Malone' would be his professional name, and aged 16 he made the mixtape "Young and After Them Riches" – he played it to only a couple of his peers at Grapevine High School, but they voted him 'The Most Likely Person to Become Famous'. Upon matriculating in 2013, he enrolled at Tarrant County College, but soon quit and moved to Los Angeles in California to work on his career as a musician.
Post Malone was then made a member of the music group BLCKVRD, and also formed the production team FKi. After he uploaded the music video for his debut single "White Iverson" onto the internet, he was praised by famous rappers Wiz Khalifa and Mac Miller, but was also mocked by the rapper Earl Sweatshirt. Thanks to his initial success, several record labels contacted Post Malone, and he signed with Republic Records in August 2015, while he also collaborated with famous musicians such as Kanye West on his single "Fade", and Justin Bieber as his opening act on his Purpose World Tour.
Post Malone's debut mixtape "August 26th" came out on 12 May 2016, and on 9 December of the same year his debut album "Stoney" was released. On 27 April 2018, his album "Beerbongs & Bentleys" was released, which topped the Billboard Hot 200 Chart and was certified platinum by the Recording Industry Association of America (RIAA) after only four days.
His following album – "Hollywood's Bleeding" – was released on 6 September 2019 and topped the Billboard 200 Chart.
Post Malone is also a philanthropist, and in April 2020 he livestreamed from his home, covering only the songs of the now defunct but still popular rock band Nirvana. His livestream raised around $5 million which was donated to the World Health Organization's coronavirus relief fund, and Post Malone was praised for his efforts by former members of Nirvana including Courtney Love, the widow of the band's former frontman Kurt Cobain.
He is a huge fan of wine, and launched his own line of French rosé in May 2020, which he calls Maison No. 9 as a reference to his favorite tarot card  – the Nine of Swords. It took only two days for all the bottles to be sold.
He is a huge fan of tattoos, and has 77, many of which he's tattooed himself.
Post Malone is also an actor, having voiced Brooklyn Bystander in the 2018 computer-animated superhero movie "Spider-Man: Into the Spider-Verse", portrayed Squeeb in the 2020 action comedy movie "Spenser Confidential", and is about to appear in the upcoming action thriller movie "Wrath of Man". He's also appeared in two episodes of the talk-show "FishCenter Live", and the episode "The Slaughter House" of the paranormal documentary series "Ghost Adventures".