• Shelby Rabara is an American actress best known for roles in Glee (2009-2010) and Goliath (2016-2019).
• She was raised by a single mother and has two siblings.
• She has a Bachelor's degree in world art and culture from the University of California, Los Angeles.
• She is married to actor and dancer Harry Shum Jr. and they have one daughter.
• She is a dancer, animal lover, and fan of the NBA team the Los Angeles Lakers.
Who is Shelby Rabara?
Shelby Rabara is an American actress, best known to the world as Mike Chang in "Glee" (2009-2010), and as Sumi Sen in the TV series "Goliath" (2016-2019), among numerous other roles that have boosted her popularity.
Early Life, Parents, Siblings, and Education
Shelby Ann Narito Rabara was born on 5 October 1983 under the Libra zodiac sign, in Orange County, California USA. Of Filipino ancestry, she was raised by a single mother alongside her two siblings, a brother, and a sister. After high school, Shelby enrolled at the University of California, Los Angeles, from which she obtained a Bachelor's degree in world art and culture in 2005.
Career Beginnings
Before she became an actress, Shelby was a dancer, and a member of the Laker Girls, the cheerleading squad of the basketball team the Los Angeles Lakers. After a year as a cheerleader, she began auditioning for film and television roles, and in 2005 she was selected for the part of Jessica in the TV series "Grounded for Life". The same year she made a brief appearance in the popular soap opera "The Bold and the Beautiful" as a Cheerleader.
Thanks to her dancing skills, she was able to keep her acting career alive in the next few years, as she mostly portrayed dancing girls.
She was the '80s Female Teen Dancer #8 in the TV series "Cold Case" in 2007, then Casino Dancer in the TV series "Viva Laughlin" (2007), and Cheerleader in the film "17 Again" in 2009, and later that year she also appeared as a dancer in the TV series "House", and films "Dance Flick" and "Fame". She was then selected for the role of Shoshandra in the popular TV musical-drama series "Glee", appearing in two episodes, while in 2010 she was Dark Nurse in the film "The LXD: The Uprising Begins" and began appearing in the TV series "The LXD: The Legion of Extraordinary Dancers" (2010-2011).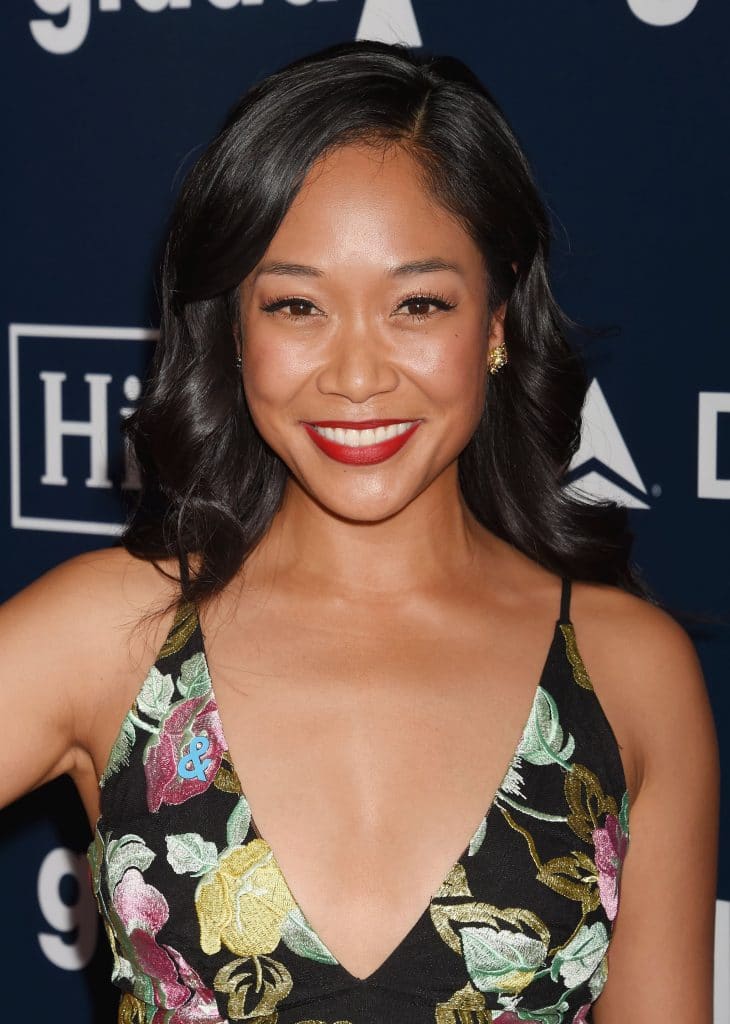 Rise to Prominence
Shelby continued her career with minor roles until 2015, when she was selected as the voice of Peridot, a character in the animated TV series "Steven Universe". From 2015 until 2020 she lent her voice to the character in 42 episodes, which made her quite popular. Her career took an upward swing, and she began appearing in more notable roles, as Mia in the TV romantic comedy-drama series "Awkward" in 2016, and in the part of Sumi Sen in the TV drama series "Goliath", starring Billy Bob Thornton, Tania Raymonde, and Nina Arianda.
She appeared in 11 episodes of the award-winning series from 2016 to 2019, while meantime in 2017 she was Heidi in the TV comedy series "Me and My Grandma", and also lent her voice to Tessie in the television movie "Wall's Opening Day".
Furthermore, she has been involved with "Steven Universe" films and games, including "Steven Universe: Save the Light" from 2017, then the television movie "Steven Universe: The Movie" from 2019, and the same year lent her voice to Peridot and Squaridot in the video game "Steven Universe: Unleash the Light".
Personal Life, Marriage, Children
When it comes to her personal life, Shelby is a married woman. She started a romantic relationship with Costa Rican-born Chinese-American actor and dancer Harry Shum Jr. back in 2007.
The couple became engaged in 2013 when on vacation in Hawaii, while the wedding ceremony was held on 22 November 2015 in Costa Rica. Since then, they have welcomed a daughter Xia, born on 28 March 2019.
Shelby Rabara's Husband Harry Shum Jr. Short Bio
Harry Shum Jr. was born on 28 April 1982 in Limon, Costa Rica. He is the son of Chinese immigrants, his father from China while his mother is a Hong Kong native. He has two older sisters, Cristina and Susana. When he was six, the family moved to San Francisco, California, and he went to Arroyo Grande High School, from which he matriculated in 2000. Growing up he had an interest in theater and sports, however, he was dared to join the high school dance team, and immediately fell in love with dancing.
After matriculation, he enrolled at San Francisco State University, which he attended for a year, but then dropped out to focus entirely on his dancing career. He has stated Gene Kelly, Michael Jackson, Usher and Dru Hill, among others as his dance idols.
Just like his wife, before acting Harry chased a dancing career; he was building his career in Los Angeles, serving as the only male dancer on BET's "Comic View", but later on joined Beyonce and other musicians on the tour "Ladies First" back in 2004. Furthermore, he worked with Jennifer Lopez, Jessica Simpson and Mariah Carey.
To speak of his acting career, Harry started with minor roles in films "Step Up 2" and "Step Up 3D", but didn't have much success until he was selected for the aforementioned role of Mike Chang in "Glee", and had a double role in the popular TV series "Shadowhunters" (2016-2019).
In 2018 he was Charlie Wu in the film "Crazy Rich Asians", while in recent years, he made several notable appearances, including as Bao in the film "Escape Plan: The Extractors" (2019), then as Solomon 'Sol' Chau in the film "All My Life" (2020), and most recently, he portrayed James in the film "Broadcast Signal Intrusion" (2021).
He currently works on the film "Love Hard", which is in post-production and will be released later this year.
Harry Shum Jr.'s net worth has been estimated to be around $14 million, as of mid- 2021.
Shelby Rabara Net Worth
As of mid- 2021, Shelby Rabara's net worth has been estimated to be over $1.5 million, earned through her successful career as an actress, during which she has appeared in 35 films and TV series.
Appearance and Vital Statistics
This award-winning actress has black hair and dark brown eyes. She stands at a height of 5ft 5ins (1.65m), while she weighs approximately 120lbs (55kg). Her vital statistics are 34-26-35 inches, bra size 33B, and she wears shoe size 6.
Hobbies, Trivia, and Interests
In addition to acting, dance is another thing she loves, and has remained active as a dancer until the present day.
She is an outdoor person, often spending every minute of her free time outside on adventures with her husband and their newborn child.
She is an avid animal lover and has a pet dog named Charlie.
Shelby collaborates with an organization The Conscious Kid, focused on promoting healthy racial identity development in youth.