• Blake Gray is a YouTuber and social media star born in Houston, Texas USA on 9 January 2001
• He's best known for his TikTok account which has over 9.4 million followers and 376 million likes
• He became active on the internet in 2015, and is an Instagram star with more than 5.3 million followers
• His eponymous YouTube channel has close to one million subscribers and over 36 million views
• As of May 2021, his net worth is estimated at over $2 million
Blake Gray Wiki Bio
Blake Gray was born in Houston, Texas USA on 9 January 2001 – his zodiac sign is Capricorn and he holds American nationality. He's a YouTuber and a social media star, who's probably known best for his TikTok account which is today followed by more than 9.4 million people while he has amassed more than 376 million likes of all his videos combined. These most often feature him lip syncing, showing off his muscular body and dancing.
Early life and education
Blake was raised in Houston alongside his older brother Austin by their mother Courtney who's Blake's hero, and their father Ronnie; their parents prefer to stay away from the media's attention.
yooo @triller live tonight at 6pm babyyyy https://t.co/AY3AracrNI

— Blake Gray (@BlakeGray) June 2, 2021
Blake became interested in sports at a very early age, and began playing baseball upon enrolling at elementary school. After two years, he also took on football and basketball, and continued playing after he enrolled at high school in 2015. It was also in 2015 that he became active on the internet, as he began streaming on the network YouNow. Blake once considered becoming an athlete but after his career on the internet was launched, he chose to focus on being a social media star.
He matriculated in 2019 and as he hasn't spoken of his further education, it's believed that Blake hasn't enrolled at college.
Blake's an Instagram star with more than 5.3 million followers, and he has uploaded close to 400 pictures most of which feature his past and present girlfriends, his muscles and occasionally his friends. He has recently revealed in one of his pictures that he has gotten a tattoo of a small sword on his left arm, while he has also gotten another tattoo on his right arm.
He launched his Twitter account in July 2015 and it's today followed by more than 1.7 million people while he tends to tweet a couple of times every day. Blake's also active on Facebook and his page is followed by more than 330,000 people; he mostly uploads pictures taken during his modelling photoshoots.
His YouTube channel
Blake launched his eponymous YouTube channel on 15 August 2016, and it's today subscribed to by close to one million people, and numbers over 36 million views of all his videos combined; these mostly feature him during his everyday life, while Blake also does challenges and pulls pranks on his friends and girlfriend. His most popular video "sorry mom…. we kissed" has been watched more than 5.5 million times since 6 June 2017, and his second most popular video "ASKING NOAH BECK ABOUT DIXIE D'AMELIO | F-Boy Kitchen" has been seen more than 4.3 million times since 18 September 2020.
Appearances in TV shows
Blake has three acting credits.
In 2016, he portrayed Classmate in the short drama movie "Of Ice Cream and Punching Bags" written and directed by Marjorie Roden, and which failed to attract any attention.
In 2020, he played Student in the short music video "Larray: Canceled", and the same year saw him appear in the episodes "Blake Gray" and "Noah Beck Two" of the drama mini-series "AwesomenessTV- Worlds Most Searched", which features social media stars answering the internet's most searched questions.
Blake has also appeared in a couple of talk-shows such as "Chasing Cameron", "Teens Wanna Know" and "Dish This".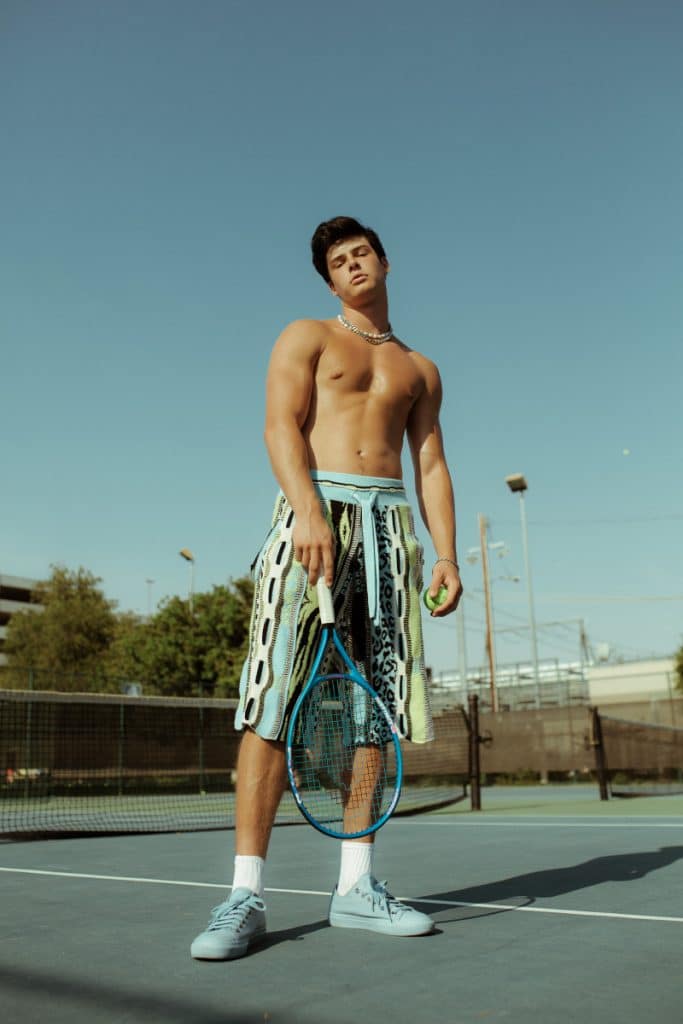 Other works
Blake was part of the Impact MeetandGreet.Me tour which had gotten social media stars to travel together, attend various events and answer their fans' questions. He also appeared at DigiTour Slaybells 2015, while Blake's today a member of the Sway House.
Sway House is a group of several social media stars, it was launched in 2019 and their TikTok account today numbers close to 5.5 million followers.
Facing a year in jail
Blake and another TikTok star Bryce Hall could reportedly end up spending a year behind bars after they threw a party at their rented Hollywood Hills mansion even though the COVID-19 restrictions don't allow it. The boys seem to have used this to their advantage, as they have attracted more attention and have become even more popular.
Love life and girlfriend
Blake's quit open when it comes to talking about his love life, and there are three girls whom he has dated that the public knows about.
In January 2018, he started a relationship with Elle Danjean, a popular American model, dancer and a social media star, who has amassed over 320,000 followers on Instagram and more than 300,000 followers on TikTok. They were together for only a couple of months.
In the second half of 2018, Blake began dating Olivia Occhigrossi, an American model and a social media star, who has gathered close to 70,000 followers on Instagram. They were together for close to a year before splitting for unknown reasons.
In September 2020, Blake started going out with Amelie Zilber, an American model, social media influencer and a political activist. She's the most popular on the internet amongst the girls whom he has dated, as she's followed by more than 2.3 million people on Instagram.
As of May 2021, Blake's dating Amelie Zilber, hasn't married and doesn't have children.
Hobbies and other interests
Blake's a huge lover of animals with dogs being his favorites, and he has just recently adopted a puppy which can be seen featured in some of his Instagram pictures.
His main hobby is working out. Blake has five to six training sessions at the gym each week, and is also following a strict diet thus his muscular body; he also often plays soccer with his friends, but has admitted that he's bad at it.
Summer is his favorite season as he enjoys being close to water, attending yacht parties and swimming.
Blake's keen on travelling and has been to several US states, and has apparently also been to various European countries including Italy and England.
In his spare time and usually at night, Blake enjoys watching movies starring his favorite actor Vin Diesel such as the franchise "Fast and Furious", "Pitch Black" and "xXx".
Age, height and net worth
Blake's age is 20. He has short brown hair and blue eyes, his height is 6ft 4ins (1.93m) and he weighs around 196lbs (89kgs). As of May 2021, his net worth has been estimated at over $2 million.