• Family of 11 members who document their lives in an RV on YouTube.
• Net worth estimated at close to $1 million.
• Mike and Megan met at Brigham Young University and have 9 children.
• They have expanded their influence across other social media platforms.
• Run their own website, created a motivation course, and co-host a podcast.
The Knorpp and South family?
The Knorpp and South family is a full-time traveling family of eleven members, probably best recognized for documenting their lives in an RV for their official self-titled YouTube Channel, on which they have garnered almost 270,000 subscribers, while their videos have been viewed almost 60 million times in total. The family also runs their official Instagram account with almost 40,000 followers, as well as their own Facebook page with more than 12,000 fans.
They also have over 1,000 followers on their official Twitter account.
How rich are they, as of now? Knorpp and South Net Worth
As of mid-2021, the Knorpp and South family's net worth is estimated at close to $1 million, acquired through their Internet-based career as YouTube daily vloggers. Their net worth includes sponsored posts, video monetization, and various advertisements. The family also increases their wealth through the sales of a line of merchandise and other endeavors.
Early Lives, Parents, Siblings, and Educational Background of Mike and Megan
Mike was born on 13 October 1978 under the zodiac sign of Libra, in Boise, Idaho USA, where he was raised alongside his three brothers and a sister by his father who was an engineer, and his mother whose profession remains unknown. Megan was born on 3 June 1979 under the zodiac sign of Gemini in Livermore, California USA, but was raised in Houston, Texas together with four brothers and a sister by her father who worked as an insurance salesman, and her mother who was a housewife.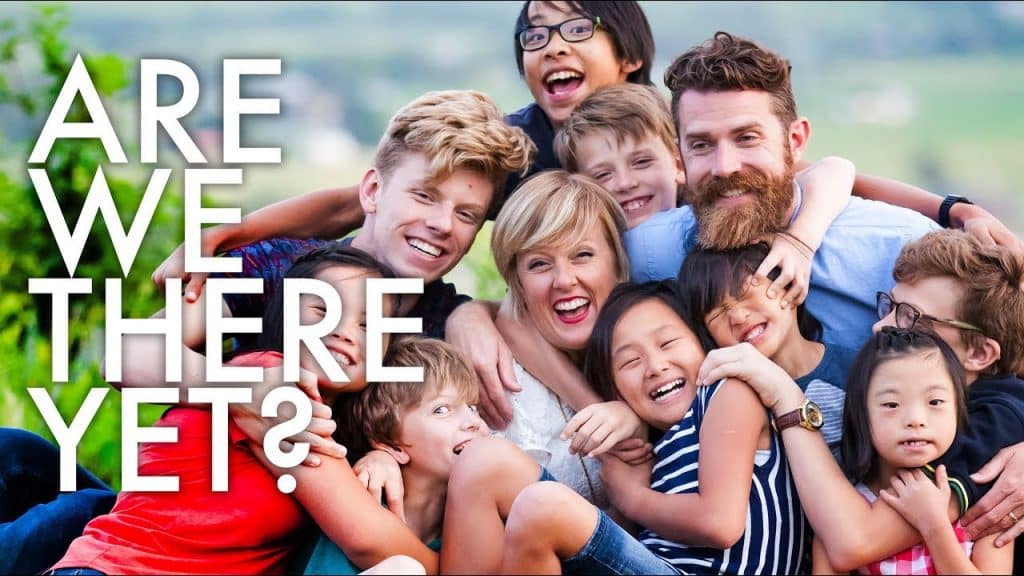 Regarding their education, both Mike and Megan attended Brigham Young University. He initially studied Broadcast Journalism, but later changed his major to Marriage, Family, and Human Development, while she was a student of Media Arts and Film.
Their Love Story and Children
Mike and Megan met each other during their freshmen year at BYU, and shortly afterwards became romantically involved – at the time they were 18.
After dating for two years, the lovebirds exchanged their wedding vows, and they now have nine children – four are biological, all sons, named Elijah (19), Andrew (16), Peter (13), and Asher (12). They have also adopted five children from China – two boys named Daniel (19) and Jude (8), and three girls named Esther (18), Pearl (14), and Eve (12). Their eldest biological son, Elijah Knorpp runs his own YouTube vlogging channel called 'EliNation'.
Rise to Fame on YouTube
Prior to becoming social media stars, Mike and Megan Knorpp operated a company called doTERRA Oils.
They eventually quit the business and started creating content for YouTube. On 7 January 2016, they launched their official self-titled travel vlogging channel, on which they immediately started sharing videos related to their full-time living in an RV, and traveling through the US and Europe. Their first video, entitled "Family Fun Day at Elijah Mountain Gem Mine", was released the following day, and gained a huge number of views which encouraged them to continue creating content. As time passed, they attracted more attention and increased their fan base due to their unique lifestyle.
They eventually expanded their content, and created several series of videos, including "Pillowtalk" and "Getting To Know Us".
Some of their most viewed videos include "BIG FAMILY RV TOUR : HOW WE LIVE IN OUR RV FULLTIME W/9 KIDS!!!", "HUGE FAMILY RV TOUR : Adventuring Family of 11", and "MORNING ROUTINE FOR A HUGE HOMESCHOOLING FAMILY IN AN RV : Travel Full-time w/9 kids", to name a few.
Instagram, Twitter, and Facebook
In addition to their activity on YouTube, Mike and Megan expanded their influence across other social media platforms, which they use to promote new videos and other projects. They are active on Instagram, where you can find them under the username 'knorpp_and_south'. They also run their official Twitter account under the nickname 'knorppandsouth',  and have a Facebook page too.
Website and Other Endeavors
The Knorpp and South family runs their own website, through which they sell a line of merchandise that include hoodies, sweatshirts and t-shirts. They also sell different essential oil sets.
Moreover, Mike and Megan created an eight-week motivation course called "Life Unboxed" to inspire people to live the lives of their dreams.
Besides that, Megan co-hosts the podcast "Rocking The Cradle", together with son Andrew.