• An American YouTube star
• Known for her "Roblox"-related content
• Has millions of fans across multiple platforms
• Has a net worth of $3.8 million
• Enjoys playing video games, modeling, traveling, and is an animal lover
Who is Leah Ashe?
Leah Ashe is an American YouTube star who has achieved stardom by uploading "Roblox"-related content onto her official YouTube channel. She has become an internet sensation, with millions of fans on multiple platforms, also known for sporting pink colors from clothes to hair.
Leah Ashe Wiki: Real Name, Age, Childhood, and Education
Born Leah Ashley on 2 September 1993 under the Virgo zodiac sign, in San Francisco, California USA, she's a daughter of a professor father and an attorney mother, but hasn't shared their names. She has a younger sister, Amber, with whom she runs the SisterSquad YouTube channel.
The family moved to Los Angeles, California at some point in Leah's childhood, where she went to high school, but hasn't disclosed which, nor whether she attended any university following her matriculation.
Career Beginnings
Leah has been online since the early 2010s, first launching her Twitter account, and later her Instagram page. It wasn't until 2016 that she launched her YouTube channel and so her career. Her first ever video "Boyfriend Does Girlfriend's Makeup Challenge!" was uploaded that year,  and she continued uploading videos related to her daily life, such as "Getting a New Dog? (Ask Leah #2)", and a number of challenge videos that she recorded with her then-boyfriend Garret.
However, as she became more popular, Leah started uploading funny gameplay videos regularly,  of such games as "GTA 5", "Minecraft" and others, Leah attracting more attention.
Rise to Prominence
As the number of her fans increased, Leah made new content for her fans, focusing mainly on "GTA 5" video games, but also playing "Resident Evil 7" and "PubG", among other games. However, once she started playing "Roblox" there was no going back; Leah's popularity spiked enormously, and her character ultimately became so popular, that consequently Leah transformed into her "Roblox' character in real life, and made a video about the entire process of transformation.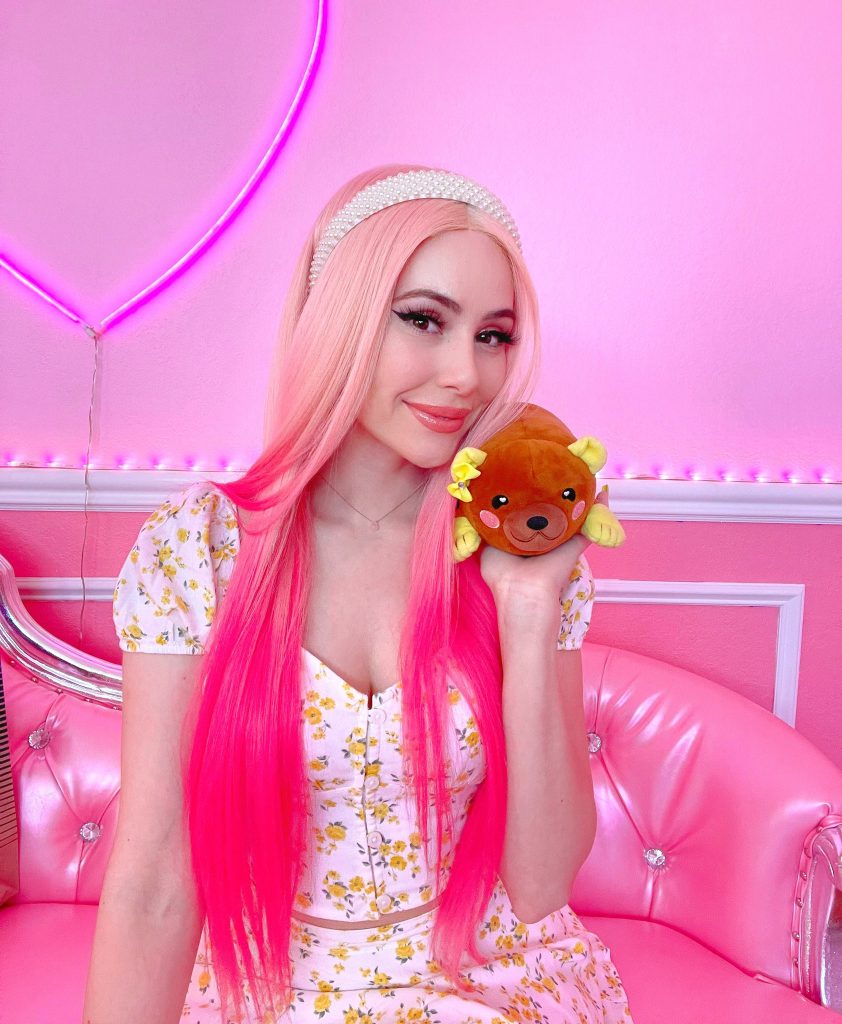 Since then, Leah has enjoyed massive popularity, with views on her channel going through the roof.
Leah hasn't changed her looks since then, and her fans are astonished at how she looked at the start of her career and how she looks at the present. Leah has accumulated more than 1.3 billion views of her official YouTube channel, and some of the most popular videos include "I Spent 24 Hours In My Boyfriend's Mansion and He Had No Idea…", which has more than 16.5 million views, then "Watching the Last Guest! (I Cried So Hard)", viewed more than 11 million times, and "Reacting to the Scariest Roblox Movie Ever… I Couldn't Sleep After This!", which has been viewed almost 10 million times, among numerous other videos that have only increased her popularity and wealth.
Other YouTube Channels
Leah's main YouTube channel is full of gaming content, though she's uploaded numerous other daily vlogs and challenge videos as well. However, since obtaining world fame, Leah has launched another successful YouTube channel – Leah Ashley. The channel was created in 2019, and the first video "I Went To Disneyland ALONE And this Happened" was uploaded late that year. Since then, she has continued to make new videos related to daily events from her life, such as "I Spent 24 Hours In a Prison Hotel in Europe", and "I Was SHAMED For Having Pink Hair In This Country", among many others. So far, she has amassed almost 750,000 subscribers on this channel, while her videos have been viewed more than 37 million times.
Although she is far more popular on her main channel, Leah earns a decent amount from this one as well, and it has also helped her boost her popularity. Some of the most popular videos on this channel include "Recreating YouTuber's TikToks… *CRINGE*", which has been viewed more than 5.5 million times, then "I Could've Got Kicked Out For This At the Ariana Grande Concert… Sweetener Tour in Las Vegas", which has around 4.8 million views, and "Reunited With My Best Friend In Paris", with more than 2.3 million views, among numerous other videos.
Personal Life, Dating, Boyfriend, Single
Leah was in a relationship with fellow YouTube star Garrett Sutton, better known as JoblessGarrett, until December 2019.
The two even became engaged in October 2018, however, they didn't see it through to their vows, breaking off the engagement. During their time together, the couple featured in each other's videos, participating in numerous challenges, playing video games, and just showcasing their daily life together.
Net Worth
As of mid- 2021, Leah Ashe's net worth has been estimated to be around $3.8 million, earned through her successful career as an online content creator and video game player. In addition to YouTube, Leah is also popular on other platforms, including Twitter, Twitch, and TikTok – she has just under four million followers on her official TikTok account.
Leah has also launched her own website store, through which she sells various merchandise under her own brand, from school backpacks, lunch boxes, fluffy toys, hoodies, tees and pajamas, among other items.
Appearance and Vital Statistics
This prominent YouTuber is known for her pink hair, however, her natural hair color is light brown, and she has brown eyes. She stands at a height of 5ft 6ins (1.67m), weighs approximately 120lbs (54kgs), while her vital statistics are 34-25-35, bra size 34A.
Hobbies, Interests, and Trivia
Leah has turned her main hobby, playing video games, into a prosperous career, abut has also developed a few other interests. Modeling is one of her hobbies, and often posts fashion pictures on her official Instagram account, posing in skimpy clothes.
She is also a cosplayer, and a regular at various ComicCon events.
Leah loves to travel and has visited numerous countries, including Japan, France, Monaco, Switzerland, and many others.
She is an avid animal lover and has several dogs as her pets, including a husky named Astro.