• William Zabka is best known for his portrayal of Johnny Lawrence in the 1984 movie "The Karate Kid"
• He attended El Camino Real Charter High School and California State University, Northridge
• He has acted in numerous movies and TV series, including "The Equalizer", "How I Met Your Mother", and "Cobra Kai"
• He has been married to Stacie Zabka since 2008 and they have two children
• As of April 2021, his net worth is estimated to be over $3 million
Who is William Zabka?
William Zabka was born in New York City, USA, on 20 October 1965 – his zodiac sign is Libra and he holds American nationality. He's an actor who's probably still known best for his portrayal of Johnny Lawrence in the 1984 family action movie "The Karate Kid", written by Robert Mark Kamen, directed by John G. Avildsen, and which starred Ralph Macchio, Pat Morita and Elisabeth Shue. It follows a martial arts teacher who has taken a bullied teenager under his wing, and the movie won two of the five awards it was nominated for, including an Oscar nomination.
He reprised his role in the 1986 sequel "The Karate Kid Part II".
Thank you @nielsen & @CobraKaiSeries fans! #CobraKai https://t.co/IGIGIcsXl6

— William Zabka (@WilliamZabka) February 9, 2021
Early life and education
William was raised in New York City alongside his brother Guy and sister Nancy Heimert, by their father Stan Zabka who was a film writer and director, and their mother Nancy who was a producer and business liaison. Both his siblings are singer-songwriters.
He became interested in acting at a very early age, thanks to his parents who often took him to a local theatre as well as onto the sets of various movies and TV series. William attended El Camino Real Charter High School, and upon matriculating in 1983, he enrolled at California State University, Northridge.
The same year saw him launch his acting career with his portrayal of Clarence Mortner Jr. in the episode "Space Ranger" of the adventure science fiction comedy series "The Greatest American Hero", and in 1984, he appeared in an episode of both the comedy series "Gimme a Break!" and the adventure drama "CBS Schoolbreak Special". While still attending college, William played roles in an episode of the comedy series "E/R", the romantic comedy movie "Just One of the Guys", and the adventure comedy film "National Lampoon's European Vacation".
In 1987, he graduated with a Bachelor's degree in film, and then decided to focus on acting.
Roles in movies
In 1987, William played Randy in the comedy "A Tiger's Tale", while some of his following roles were in the 1988 crime drama "The Equalizer: The Mystery of Manon", the 1989 crime drama "Protect and Surf", and the 1991 drama "For Parents Only".
His following notable performance was in 2001, when he portrayed Rover Driver Joe in the science fiction thriller "Epoch", written by Jonathan Raymond, directed by Matt Codd and which starred David Keith, Stephanie Niznik and Ryan O'Neal. The movie follows a team of specialized investigators struggling to find out more about a monolith which has crashed into Earth, and is emitting a strange signal.
A couple of his following roles were in the 2001 action science fiction "Mindstorm", the 2002 action drama "Gale Force", and later that year in the action science fiction horror "Python 2". In 2007, William was cast to play a prison guard in the comedy "Smiley Face" written by Dylan Haggerty, directed by Gregg Araki, and which starred Anna Faris, John Krasinski and Adam Brody. The film follows a young actress who has just eaten her roommate's weed cupcakes; it was nominated for a Cannes Film Festival Award.
Perhaps the most popular movie in which William has appeared was the 2010 science fiction comedy "Hot Tub Time Machine", directed by Steve Pink and which starred John Cusack, Rob Corddry and Craig Robinson.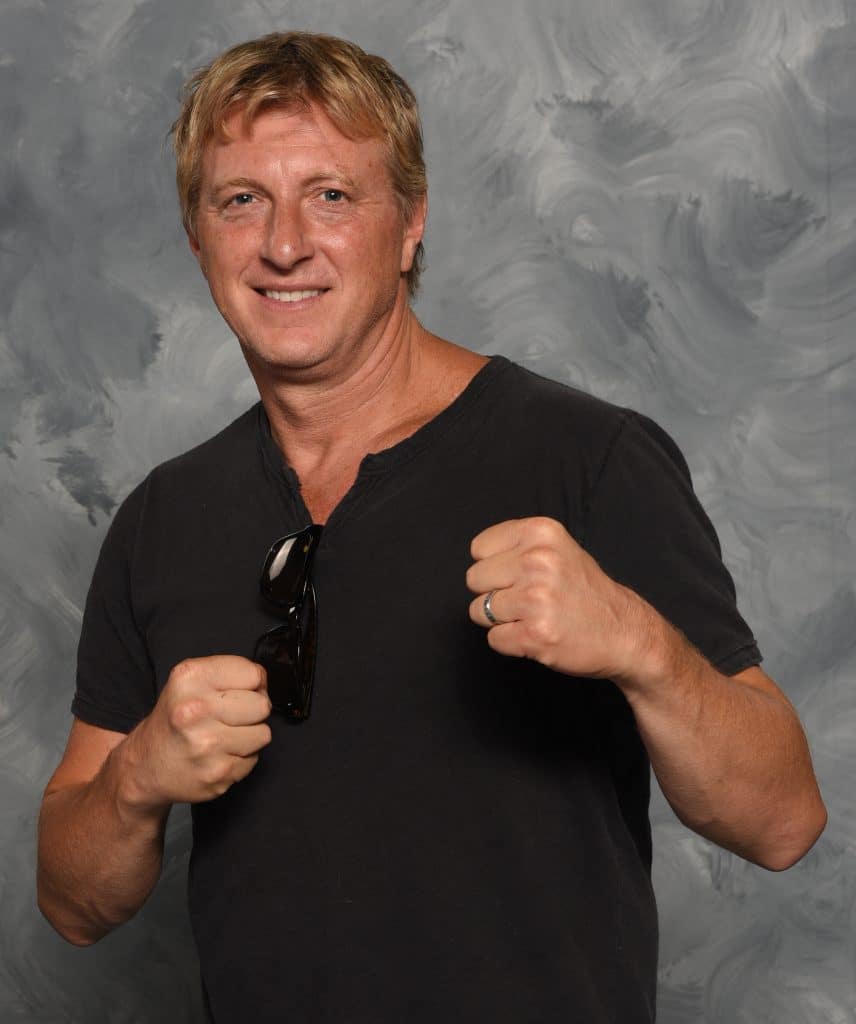 It follows a broken time machine which accidentally takes a man, his two friends and his nephew back to 1986, while they must be careful not to inadvertently change history. The movie was nominated for five awards.
Two of William's most recent movie roles have been in the 2015 family drama "The Dog Who Saved Summer" (voice role), and the 2016 drama "The Man in the Silo".
Roles in TV series
Between 1985 and 1989, William played Scott McCall in 12 episodes of the popular action crime drama "The Equalizer", which starred Edward Woodward, Keith Szarabajka and Robert Lansing, and follows the life of a former Intelligence Agent who's now working as a private detective. The series won two awards including a Golden Globe, while it was nominated for 11 other awards.
His following role came in 2001, when he played Detective Barron in the episode "Dream Girls" of the action crime drama "18 Wheels of Justice", while his next notable appearance came 10 years later, in the musical comedy talk-show "Jimmy Kimmel Live!" In 2013, William could've been seen playing three characters in seven episodes of the hit romantic comedy "How I Met Your Mother", created by Carter Bays and Craig Thomas, and which starred Josh Radnor, Jason Segel and Cobie Smulders. It follows a man explaining to his children how he met their mother, aired from 2005 to 2014 and won 26 awards, while it was nominated for 95 others including two Golden Globes. In 2015, William played John Rawlins, one of the lead characters in the biographical historical drama "To Appomattox", but which failed to attract a lot of attention.
Since 2018, he has been portraying the main character, Johnny Lawrence in the critically acclaimed action comedy drama "Cobra Kai", which also stars Ralph Macchio and Xolo Mariduena, and follows the lives of two martial artists who are competing against each other at a tournament. The series has been nominated for 11 awards, including two Primetime Emmys.
Other credits
He has received special thanks for the 2005 documentary movie "The Way of the Karate Kid".
William has been featured in various documentaries, such as the 2013 short film "The Story of the Equalizer", the 2017 movie "John G. Avildsen: King of the Underdogs", and the 2021 movie "More Than Miyagi: The Pat Morita Story".
He has four producing and one writing credit – he made his producing debut with the 2003 short movie "Most", which he also wrote, and in 2010, he co-produced the documentary film "Mzungu (n.) White-Wanderer". His other two producing credits are a 2014 documentary film "Never a Neverland", and 31 episodes of the series "Cobra Kai" between 2018 and 2021.
William has made a guest appearance in numerous talk-shows, including "Going to Bed with Terri Ivens", "The Trend with Rebecca Granet", and "The Inner Circle with Jenny McCarthy".
He voiced Johnny Lawrence in the 2020 video game "Cobra Kai: The Karate Kid Saga Continues".
Awards and nominations
William has been nominated for three awards: a 1985 Young Artist Award for Best Young Supporting Actor in a Motion Picture Musical, Comedy, Adventure or Drama for "The Karate Kid"; a 2005 Academy Award (Oscar) for Best Short Film, Live Action for "Most" (shared with Bobby Garabedian); and a 2018 IGN Summer Movie Award for Best Comedic TV Performance for "Cobra Kai".
Wife and kids
William's very secretive when it comes to his love life, and hasn't shared any details concerning his marriage with the American non-celebrity Stacie Zabka. It's known that the two exchanged vows in 2008 in a ceremony attended by their closest friends and family members, and that Stacie has given birth to their two children.
It's widely believed that William and Stacie dated for close to a decade before deciding to marry. She doesn't like to show herself in public, and has kept William company at only a couple of his red carpet events. There have been some rumors circulating the internet claiming that William has cheated on Stacie with a couple of his colleague actresses, however, these haven't been confirmed.
As of April 2021, he's married to Stacie Zabka and they have two children.
Hobbies and other interests
William became interested in wrestling while attending a local elementary school, and it was only after he was cast to appear in the movie "The Karate Kid" that he began taking martial arts lessons. He has since obtained a black belt in Tang Soo Do.
William has been interested in music since a very early age, and began learning to play the guitar together with his two siblings. After mastering it, he learned to play the piano.
His paternal grandfather was originally from the Czech Republic, and because of this, William learned to speak Czech fluently.
He has his own favorite actors and actresses, some of whom are the late Robin Williams, Leonardo DiCaprio and Julia Roberts, and some of his favorite movies include "Good Morning, Vietnam", "Shutter Island" and "The Runaway Bride".
Age, height and net worth
William's age is 55. He has short brown hair and blue eyes, his height is 6ft (1.84m) and he weighs around 178lbs (81kgs).
As of April 2021, his net worth has been estimated at over $3 million.