• Aubrey Anderson-Emmons is a 15 year old child actress best known for her role in ABC's Modern Family
• She is the daughter of author/entrepreneur Kent Emmons and writer/comedian Amy Anderson
• She has volunteered for multiple non-profit organizations and runs a YouTube channel with her mother, FoodMania Review
• She has won three Screen Actor Guild Awards for her role in Modern Family
• She is worth approximately $6 million
Aubrey Anderson-Emmons is a well-known child actress, who rose to prominence for her role in the ABC TV series "Modern Family." She made history when she became the youngest nominee and winner of the Screen Actors Guild Award.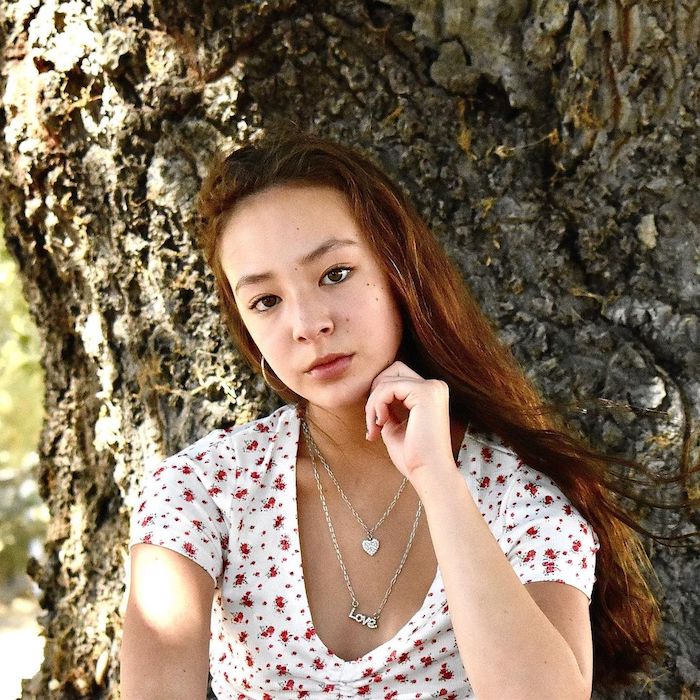 Age, Early Life, and Education Background
Aubrey Frances Anderson-Emmons hails from Santa Monica, California, and was born under the Gemini zodiac sign on 6 June 2007, which makes her 15 years old as of 2022. She is the daughter of the author, entrepreneur and social media personality Kent Emmons, and the writer, comedian and actress, Amy Anderson. Her mother was adopted from Seoul, South Korea, and she spent her childhood in Minnesota, while her father is a native of Illinois. Aubrey is the half-sister of Ashley Emmons, who lives in Missouri City, Texas. It's reported that the actress's parents are now separated.
There are no details about Anderson-Emmons' educational background, but the youthful actress began expressing an interest in acting at a very young age.
Hobbies and Interests
Despite being so young, Aubrey is actively involved in humanitarian work. She volunteers for several non-profit organizations such as Dave Thomas Foundation for Adoption, Juvenile Diabetes Research Foundation, California Covenant House Youth Shelter, and several more. She has also donated to St. Jude's Hospital, and Help a Mother Out.
She enjoys traveling with her mother and likes sharing their photos in various destinations on her social media platforms. She's been to Netherlands, Paris in France, and Brussels in Belgium.
The "Modern Family" starlet is also a culinary enthusiast.
Child actors are sometimes home-schooled because they need flexibility. "We can do all the work early, and do special things together," said Amy Anderson, whose daughter, Aubrey Anderson-Emmons, starred in the sit-com "Modern Family." pic.twitter.com/yFVvwJHElC

— NYT Parenting (@NYTParenting) August 20, 2020
Career
Since she made her TV debut, Aubrey has won the audiences' hearts with her adorable personality and innocent looks. She was cast by the makers of the sitcom "Modern Family," Steven Levitan and Christopher Lloyd in the show's third season in 2010, when she was four years old. She plays Lily Tucker-Pritchett, the adoptive child of Cameron Tucker and Mitchell Pritchett, (played by Eric Stonestreet and Jesse Tyler Ferguson respectively). Aubrey was cast to replace Jaden and Ella Hiller and has scooped several Screen Actors Guild Awards for her role in the show.
Anderson-Emmons portrayed Emma Stelzer in Aimee Long's short sci-fi drama movie "Distance" in 2014, appearing alongside Geoffrey Arend, Bel Delia, Victoria Ortiz and Valentino del Toro. Moreover, she's appeared in several other projects, such as the talk show "Jimmy Kimmel Live!", "Q N' A with Mikki and Shay," "The Real," and "Paradise Run."
Aubrey runs the YouTube channel, FoodMania Review together with her mother. The mother-daughter team tours various parts of the world tasting and reviewing drinks, foods and candies. They launched the channel on 17 June 2015, and it now has over 40,000 subscribers and over 4.5 million views. The duo has uploaded over 390 videos, and the two most viewed are "FoodMania Review: Aubrey's Lunch at Modern Family" (2015) and "Jesse Tyler Ferguson & Aubrey Try Kettle Brand Jalapeno Potato Chips" (2016), which have over 210,000 and 220,000 views respectively.
Awards and Nominations
Aubrey has been nominated for three consecutive joint Screen Actors Guilds in the categories Outstanding Performance by an Ensemble in Comedy series in 2015, '16 and '17. She is also a three-time winner of the same award in the same categories in 2012, '13 and '14.
The young Aubrey is active on several social media platforms, and is fond of sharing her photos and updating her fans about her recent and upcoming career endeavors. She goes by (@aubreyandersonemmons) on Instagram, and has around a million followers, and has over 100,000 followers on Twitter.
Personal Life
Aubrey is only fifteen and hasn't been involved in any romantic relationship 'til now, seemingly fully focused on her blossoming career in the showbiz industry. She hasn't involved herself in any controversy, and her parents are keen on keeping her private life away from the public's eyes. She now lives with her mom.
Height, Weight, and Physical Appearance
Emmons is still growing, so her height and weight ought to change over the years; currently, she's 5ft 4ft (1.63m) tall and weighs around 110lbs (50kgs.) She's of Asian and American ancestry, and has long dark brown hair and eyes of the same color.
Net Worth
Aubrey has become famous and earned a modest fortune from her acting career. She's authoritatively worth around $6 million as of 2022, and it is reported that she earns around $70,000 per episode of "Modern Family." Reportedly, Aubrey hasn't touched a dime of her money, which she will access when she turns 18. Her parents are each worth around $1 million.
Aubrey Anderson-Emmons Parents
Father, Kent Emmons
Kent Emmons was born on 25 March 1965, in Illinois, USA, and is now 57 years old. He was brought up in a rural neighborhood in Southern Illinois, and began his career at a very young age when he opened a lemonade stand, and even mowed yards at the age of 10 to support himself financially. He began his entertainment and media career as a teenager. The Illinois native has served as the producer of several films, such as "Hollywood's Master Storytellers: The Aristocrats" in 2006, "B.T.: I'm Not Black Enough" in 2007, and "Al Ducharme: Spineless and Lovin' It" in the year that followed. He's also appeared as a guest on MSNBC and Fox News. Kent has written and co-written the books "Generation Entrepreneur," "The Common Sense 80%," and "Hook-Up."
Kent is of white ethnicity, and has blue eyes and blonde hair. He stands 5ft 7ins (1.7m) tall and weighs around 130lbs (59kgs).
Amy Anderson
Andy Anderson was born under the Virgo zodiac sign on 1 September 1972, in Seoul, South Korea, and is 50 years old as of 2022. She's a classically trained singer, who's also played the guitar and piano for many years. She attended Westminster Choir College, from where she graduated with a bachelor's degree in Music Education. She took several odd jobs after she graduated: she supervised a coffee shop for several years, ran a pet care firm, and also worked with people with autism.
She later began acting and doing stand-up comedy, and has performed in several venues including the Illusion Theater. Her jokes are mostly about racism, being adopted, and motherhood. She is credited with producing the monthly show "ChopSchtick Comedy" at the Hollywood Improv and the Hollywood Laugh Factory.