• Bokeem Woodbine is an award-winning American actor, known for his roles in "Fargo" and "Spider-Man: Homecoming".
• He is not related to Dave Chappelle.
• He grew up in Harlem, NY and is married with two children.
• He has been in the entertainment industry since 1993 and has numerous successful projects.
• His net worth is estimated to be $3 million.
Who is Bokeem Woodbine?
Bokeem Woodbine is an award-winning American actor, probably best known to the world as Mike Milligan in the TV series "Fargo" (2015-2020), and as Herman Schultz in the film "Spider-Man: Homecoming" (2017), in addition to several other roles that he's had so far in his career.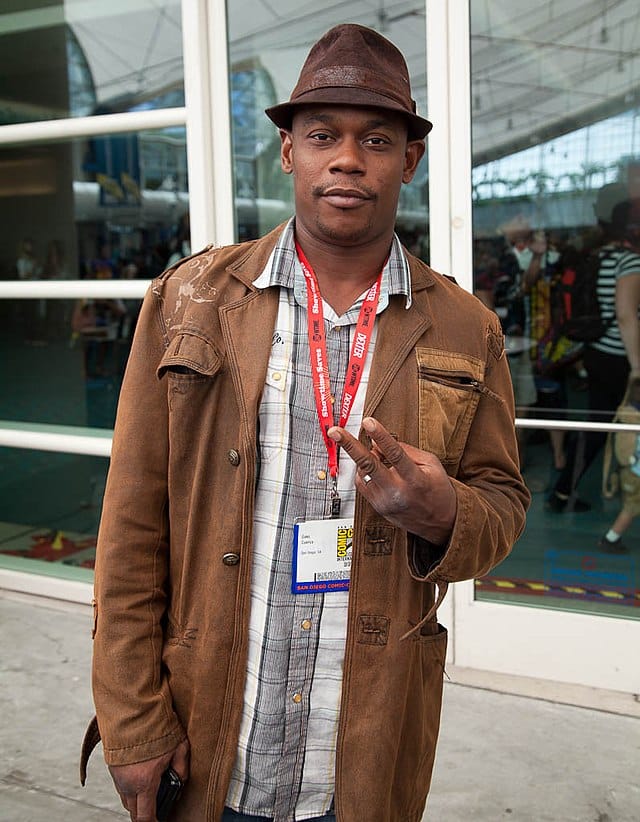 Is Bokeem Woodbine Related to Dave Chappelle?
Many fans have been questioning whether Bokeem Woodbine and Dave Chappelle are siblings. They may look alike, but they aren't related to each other in any way.
Bokeem Woodbine Wiki: Age, Childhood, and Education
Bokeem Woodbine was born on 13 April 1973, in Harlem, New York City, USA. He hasn't revealed the names of his parents, but has said that his father was a medical worker and his mother an actress.
He went to the prestigious Dalton School located in Manhattan's Upper East Side, but later transferred to the Fiorello H. LaGuardia High School of Music and Art and Performing Arts.
Career Beginnings
Encouraged by his mother, Bokeem entered show business at just 19 years old, making his debut as Steve Newberg in the TV series "CBS Schoolbreak Special" in 1993. The same year he was Diquan Mitchell in the television movie "Strapped".
In 1994, he co-starred with Allen Payne and Jada Pinkett Smith in Doug McHenry's romantic crime-drama film "Jason's Lyric", which follows the lives of two brothers who take different paths after a family tragedy.
Next, he was Tyrone in the drama film "Panther", a dramatized account of The Black Panther Party of Self-Defense, co-starring Kadeem Hardison and Joe Don Baker.
He spent the '90s building his portfolio, appearing in several successful projects. In 1996 he co-starred with Reese Witherspoon and Kiefer Sutherland in Matthew Bright's award-winning thriller crime-drama film "Freeway", while in 1998, he had the lead role in the thriller crime-drama film "Caught Up", co-starring Cynda Williams and Damon Saleem.
A very effective cameo by THE Bokeem Woodbine whom I wish was in this movie longer. pic.twitter.com/JmHVOXDzY1

— 🔥 🏠 with a Y 🏠 🔥 (@wyntermitchell) August 5, 2022
The 2000s
Bokeem started the new millennium with the part of Agent Gottfried in the television horror-thriller movie "Sacrifice", co-starring Michael Madsen, while in 2001, he appeared in the action comedy-crime film "3000 Miles to Graceland", starring Kurt Russell, Kevin Costner and Courteney Cox.
Three years later, Bokeem portrayed Fathead Newman in the Oscar-winning biopic about the legendary musician Ray Charles, entitled "Ray", which starred Jamie Foxx alongside Regina King and Kerry Washington.
In 2006, Bokeem co-starred in the drama film "The Poker House", while from 2007 to 2009, he was Leon Cooley in the Primetime Emmy Award-nominated TV fantasy drama series "Saving Grace", starring Holly Hunter, Leon Rippy and Kenny Johnson, about a jaded Oklahoma City police detective who's life is offered to be saved by an angel.
Before the decade ended, Bokeem starred in the action crime-drama film "A Day in the Life", written and directed by Sticky Fingaz.
The 2010s and Rise to Prominence
He began the 2010s with the role of the Devil in the horror thriller film "Devil", about a group of people who are trapped in an elevator, and the Devil is among them, co-starring Chris Messina and Caroline Dhavernas. In 2012, he co-starred in the "Total Recall" reboot, with Colin Farrell as Douglas Quaid and Kate Beckinsale as Lori Quaid.
The following year, Bokeem appeared in the sci-fi action-adventure film "Riddick", starring Vin Diesel, and starred in the drama film "1982" about a father who tries to protect his daughter from the harsh reality of her mother's drug addiction, written and directed by Tommy Oliver, and co-starring Wayne Brady and Sharon Leal.
Two years later, Bokeem was chosen for the role of Mike Milligan in the second season of the anthology black comedy crime-drama series "Fargo". The series' popularity launched him to stardom, and he received Primetime Emmy Award nomination in the category for Outstanding Supporting Actor in a Limited Series or a Movie, while he won the Black Reel award in the category for Outstanding Supporting Actor, TV Movie or Limited Series. He also made a guest appearance in the fourth season of the critically acclaimed series in 2020.
In 2017 he played Daniel in the TV historical adventure-drama series "Underground", which tells the story of American heroes and their journey to freedom during the Civil War. Furthermore, the same year he was Shocker, one of four villains in the award-winning sci-fi action-adventure film "Spider-Man: Homecoming", starring Tom Holland, alongside Michael Keaton and Robert Downey Jr.
The following year, Bokeem portrayed Officer Daryn Dupree, one of the police officers who investigated the murders of rappers Notorious B.I.G. and Tupac Shakur in the biopic TV crime-drama series "Unsolved: The Murders of Tupac and the Notorious B.I.G.". He earned Black Reel Award nomination in the category for Outstanding Supporting Actor, TV Movie/Limited Series.
To speak further of his accomplishments, Bokeem appeared in James Cox's biopic "Billionaire Boys Club" (2018), about a group of wealthy boys in Los Angeles who start a get-rich-quick scam that turns against them with Ansel Ergot, Kevin Spacey, and Taron Egerton in the lead roles.
In 2019 he starred in the action crime-mystery film "In the Shadow of the Moon", which follows a Philadelphia police offers who chases a mysterious serial killer all his life, and starring Boyd Holbrook.
Most Recent Projects
Next, he starred in the award-winning romantic crime-drama film "Queen & Slim", co-starring Daniel Kaluuya and Jodie Turner-Smith. He then played Jerome in the Primetime Emmy Award-nominated biopic on the Wu-Tang clan, entitled "Wu-Tang: An American Saga", created by RZA, the de facto leader of the rap group.
He appeared in the BAFTA Nominated fantasy comedy film "Ghostbusters: Afterlife", starring Carrie Coon, Paul Rudd and Finn Wolfhard, which is the sequel to the fourth film in the "Ghostbusters" franchise, set 32 years after the events of "Ghostbusters II".
Most recently, he was chosen for the role of Soren – 066, a Spartan deserter who later became an Insurrectionist leader on the Rubble in the TV sci-fi action-adventure series "Halo", based on the video game franchise, in which aliens are threatening human existence in the 26th century, co-starring Pablo Schreiber, Shabana Azmi and Natasha Cuzlac.
The Inspection | Official Trailer HD | A24

Watch the trailer for THE INSPECTION, an astonishing portrait of survival written, directed, and inspired by the life of Elegance Bratton. Starring Jeremy Pope, Bokeem Woodbine, and Gabrielle Union — Only in Theaters November 18

Posted by A24 on Monday, August 22, 2022
Moreover, he starred in the award-winning drama film "Inspection" alongside Jeremy Pope and Gabrielle Union, about a young gay African-American who joins the Marines as one of the few options he has, after being rejected by his mother and the society.
Bokeem is now working on several projects, including the drama film "Earth Mama" about a pregnant single mother who tells her coming-of-age story.
Net Worth
According to sources, Bokeem Woodbine's net worth is estimated at $3 million, as of late 2022.
Personal Life, Dating, Married, Wife, Children
Bokeem rarely talks about his personal life. According to sources, he's been married to Mahiely Roberts since 1999. Since then, the couple has welcomed two children together.
Appearance and Vital Statistics
Bokeem Woodbine is recognized for his shaved head, and he has brown eyes. He stands at a height of 6ft (1.83m), weighs approximately 195lbs (88kgs),with vital statistics of 44-35-17.