• Liam Padraic Aiken was born in New York City, USA, in 1990
• He is an actor known for his portrayal of Ben Harrison in the 1998 comedy drama movie "Stepmom"
• He has appeared in successful movies such as "A Series of Unfortunate Events", "Road to Perdition", "Fay Grim", "The Killer Inside Me" and "Electrick Children"
• Liam has been nominated for five awards and won one Young Artist Award for his performance in "Stepmom"
• As of March 2021, Liam's net worth is estimated to be over $2 million
Who is Liam Aiken?
Liam Padraic Aiken was born in New York City, USA, on 7 January 1990 – his zodiac sign is Capricorn and he holds American nationality. Liam is an actor, perhaps still known best for his portrayal of Ben Harrison in the 1998 comedy drama movie "Stepmom", written by Gigi Levangie, directed by Chris Columbus, and which starred Julia Roberts, Susan Sarandon and Ed Harris. It follows a terminally ill woman who has to come to terms with her ex-husband's new girlfriend who is most likely to become her kids' stepmother; the movie won eight awards and was nominated for seven others, including ae Golden Globe.
Early life and education
Liam was raised as an only child in New York City by his father Bill Aiken who was an MTV producer, and who died in September 1992 of esophageal cancer, and his Irish mother Moya Aiken, who is an artist.
Liam became interested in acting upon enrolling at an elementary school, and launched his career aged seven when he portrayed Ned in the comedy film "Henry Fool", which starred Thomas Jay Ryan, James Urbaniak and Perker Posey, and follows a garbageman as he writes his thoughts into a notebook given to him by an ex-convict and writer, Henry Fool; the movie won one and was nominated for one other award.
The following year saw Liam appear in three movies: the action crime comedy "Montana", the romantic comedy "The Object of My Affection" and "Stepmom". He continued acting throughout his entire studies. at Dwight-Englewood School, from which he matriculated in 2008, and he then enrolled at New York University from which he obtained his Bachelor of Fine Arts degree in film in 2012.
Further roles in movies
In 1999, Liam portrayed Joe in the short drama "I Remember", and the following year saw him appear as Emanuele Gallmann in the biographical adventure drama "I Dreamed of Africa".
In 2001, Liam was cast to portray the supporting character Abner in the critically acclaimed romantic drama "Sweet November", which starred Keanu Reeves, Charlize Theron and Jason Isaacs, and follows a workaholic man who starts a relationship with an unconventional girl who manages to change his life in a short period of time. The movie was nominated for three awards.
In 2002, Liam appeared in another hit movie – the crime thriller "Road to Perdition" – which starred Tom Hanks, Tyler Hoechlin and Rob Maxey, and follows the life of a boy who has just witnessed a murder. The film won 23 awards including an Oscar, while it was nominated for 82 other awards.
The year 2004 saw him portray Klaus in the adventure family comedy "A Series of Unfortunate Events", directed by Brad Silberling and which starred Jim Carrey, Meryl Streep and Jude Law. It follows three children who, after their parents die in a fire, are sent to live with their cousin Count Olaf who is planning to steal the family treasure. The movie won ten awards including an Oscar, and was nominated for 28 other awards.
Liam continued appearing in successful movies, such as the 2006 action thriller comedy "Fay Grim", the 2010 crime thriller drama "The Killer Inside Me", and the 2012 drama "Electrick Children". In 2013, he played the lead character Bryan in the comedy "How to Be a Man", written and directed by Chadd Harbold, and which also starred Gavin McInnes and Megan Neuringer. It follows a former comedian who has been diagnosed with cancer, and who now hires a cameraman to document his life for his unborn son.
Liam's three most recent roles in movies have been in the  thriller drama "The Honor Farm", the animated adventure comedy "The Emoji Movie" (voice role) both in 2017, and the 2020 mystery horror "The Bloodhound". He has also recently been cast to appear in three upcoming films: the mystery drama "Montauk", the horror "Bashira", and the drama "Cleveland".
Roles in TV series
Liam has appeared in only five TV series, making his debut appearance in the 1998 episode "Disappeared" of the mystery crime drama "Law & Order" – in 2002, he was cast to portray Jason in the episode "Bright Boy" of its spin-off "Law & Order: Criminal Intent".
The year 2011 saw Liam portray Milo in two episodes of the fantasy drama "A Gifted Man", created by Susannah Grant and which starred Patrick Wilson, Jennifer Ehle and Margo Martindale.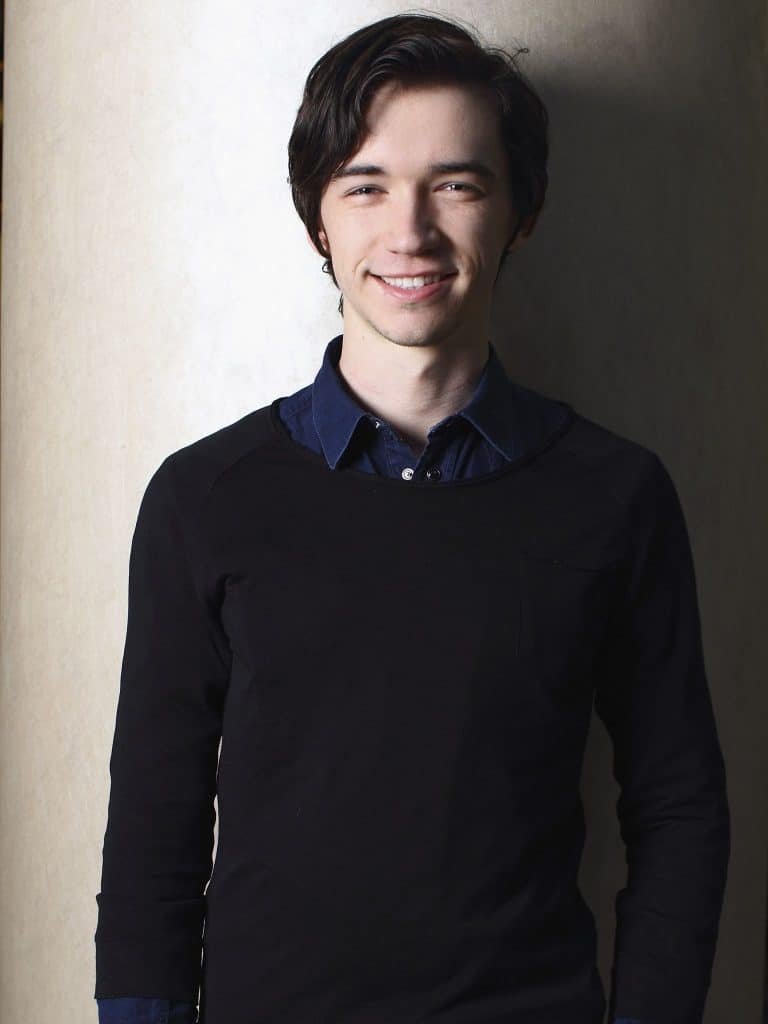 It follows the life of a successful surgeon after the death of his ex-wife – the series was nominated for four awards. In 2013, Liam was cast to play Rolo in the episode "The Quality of Mercy" of the drama "Mad Men", which was a huge hit winning 138 awards including five Golden Globes while it was nominated for 392 other awards. It follows the life of Donald Draper, who worked for the best ad agency in New York in the '60s.
Liam's only other role in a TV series has been in the 2018 episode "Plus One" of the comedy "I'm Dying Up Here", which starred Melissa Leo, Ari Graynor and Michael Angarano, and was based on the eponymous book by William Knoedelseder.
Other credits
Liam voiced the character Klaus Baudelaire in the 2004 video game "A Series of Unfortunate Events".
He worked as a camera operator on the 2013 movie "How to Be a Man".
Liam has appeared in several documentaries, such as the 2000 short film "HBO First Look", the 2004 short video "Crafty Canines" and the 2005 movie "The 100 Greatest Family Films". He has also appeared in a couple of talk-shows such as "The Oprah Winfrey Show", "Today", and "Katie Chats".
Awards and nominations
Liam has been nominated for five awards winning one: a 1999 Young Artist Award for Best Performance in a Feature Film – Young Actor Age Ten or Under for his performance in the movie "Stepmom". He has been nominated for three other Young Artist Awards, and one Broadcast Film Critics Association Critics Choice Award for Best Young Actor.
Love life and marriage
Liam is amongst the most secretive actors when it comes to talking about his love life, and he hasn't mentioned any girls (or boys) he has perhaps dated.
There are rumors circulating the internet that he was once in a relationship with Emily Browning, an Australian singer and actress perhaps known best for her portrayal of the lead character in the 2002 horror movie "Ghost Ship". The two allegedly dated for around half a year before splitting ways, but neither of them has confirmed the rumors regarding their relationship.
There are also those who have claimed that Liam is gay, and that he's been seen spending time with a boy who was maybe his boyfriend, however, this hasn't been confirmed.
As of March 2021, Liam is single, hasn't married and doesn't have children.
Hobbies and other interests
Liam is interested in magic, and grew up watching magicians perform on TV. He has learnt a couple of tricks which he often demonstrates to his family and friends.
He has been a fan of punk music since he was a kid, and plays the guitar. Liam is hoping to one day become a skilled guitarist such as Tom Morello, who is playing in the band Rage Against the Machine.
Liam is a dog-lover, and his Miniature Italian Greyhound pet dog Kes can be seen featured in many of his Instagram pictures.
Liam has his own favorite actors and actresses, some of whom are Daniel Radcliffe, Jim Carrey and Emma Watson, and some of his favorite movies are the franchise "Harry Potter", "Bruce Almighty" and "The Perks of Being a Wallflower". Liam actually auditioned for the role of Harry Potter, but eventually lost out to Daniel Radcliffe.
Age, height and net worth
Liam's age is 31. He has short brown hair and blue eyes, his height is 5ft 11ins (1.8m) and he weighs around 160lbs (72kgs).
As of March 2021, his net worth has been estimated at over $2 million.