• Veteran actor, born in 1931 and known for his role as Corrado John Soprano in "The Sopranos"
• Attended Bronx High School of Science, Brooklyn College, and HB Studio
• Acted in numerous series and movies, including "The Godfather Part II" and "The Village"
• Two Primetime Emmy nominations for Outstanding Supporting Actor in a Drama Series
• Married three times, with children from his second marriage and a net worth of over $10 million
Who is Dominic Chianese?
Fans of the crime drama series "The Sopranos" are certainly familiar with the character of Corrado John Soprano also known as Junior or 'Uncle Junior' – the actor who played this mafia boss is Dominic Chianese.
Although he has nearly 60 acting credits to his name, this role brought him numerous accolades and awards, including two Primetime Emmy nominations for Outstanding Supporting Actor in a Drama Series, in 2000 and 2001.
To learn more about his career, his life, and where he is now, let us tell you all about this veteran actor.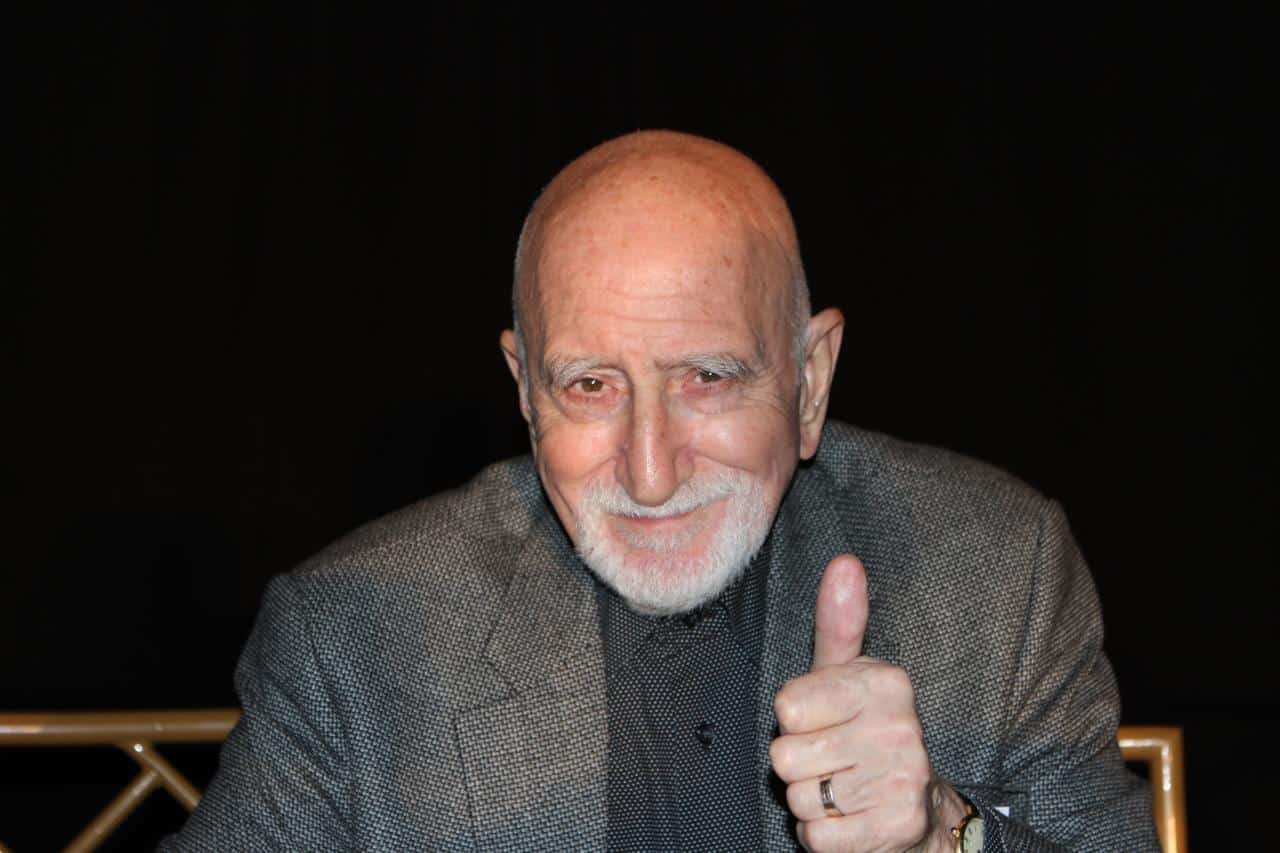 Early life, family, and education
Born under the zodiac sign of Pisces on 24 February 1931, in The Bronx, New York City USA, Dominic is now 91 years old. He holds American nationality, and comes from a family of Italian descent. He was raised by his parents, about whom nothing is known, except that his father was a bricklayer.
Speaking of Dominic's educational background, he attended the Bronx High School of Science. Upon matriculating in 1948, he enrolled at Brooklyn College, from which he graduated with a Bachelor's degree in Arts (Speech and Theater Studies). In one of his interviews, he said that after he finished college, he began playing in off-Broadway theatres.
Subsequently, he began taking acting classes at HB Studio, with teacher Walt Witcover. Dominic made his Broadway debut in 1965, playing a role in the musical "Oliver!" by Lionel Bart.
To provide for himself, Dominic played guitar and sang in restaurants, and before he launched his acting career, served as a recreational worker for the Drug Commission of New York State, in a rehabilitation center.
Roles in series
Dominic made his acting debut portraying Charley in an episode of the series "East Side/West Side" in 1964. In the following years, he focused on his movie roles, however, he also guest-starred in "Kojak" (1976) and "The Godfather Saga" (1977).
During 1980 and 1981, Dominic was seen as Alexei Vartova in 41 episodes of the series "Ryan's Hope", which followed the trials and tribulations of an Irish-American family who lived in New York City. The series, starring Helen Gallagher, Nancy Addison and Bernard Barrow, had 47 award nominations and won 29.
In the '90s, Dominic was seen in an episode or two of numerous series, including "Law & Order" (1997), but was then was cast to play his most notable television role, as Junior in "The Sopranos", and was seen in 55 episodes from 1999 through 2007. The series followed the story of a New Jersey mafia boss, Tony Soprano (James Gandolfini), his personal and professional problems, and his need to seek the help of a psychotherapist. The series had 309 award nominations and won 122, including 21 Primetime Emmy.
Long before he was Junior Soprano, Dominic Chianese was Johnny Ola. The only Sopranos/Godfather connection? pic.twitter.com/mKjhQSkPI6

— Rich Eisen (@richeisen) June 30, 2017
Speaking of Dominic's role, for his performance, besides the aforementioned Primetime Emmy nominations, he was nominated for Monte-Carlo TV Festival Golden Nymph for Outstanding Actor – Drama Series, and shares with the rest of the crew the Screen Actors Guild Award for Outstanding Performance by an Ensemble in a Drama Series.
Concurrently, Dominic was seen as Irv Miller in an episode of the series "Hope & Faith" in 2004.
After his role in "The Sopranos", in the following years Dominic guest-starred in "Blue Bloods" (2010) and "The Secret Life of the American Teenager" (2011), and had a recurring role as Leander Cephas Whitlock in the series "Boardwalk Empire" (2011-2013); Dominic was seen in 12 episodes of this crime drama starring Steve Buscemi and Kelly Macdonald, which among many other nominations, won 20 Primetime Emmy Awards.
Most recently, Dominic was seen as Enzo Napolitano in 10 episodes of the series "The Village" in 2019.
Roles in movies
Dominic made his big-screen debut as Panhandler in the 1972 movie "Fuzz". Two years later, he was cast to play what was his breakthrough role as Johnny Ola in the six-time Oscar-awarded movie "The Godfather Part II" – starring Robert De Niro, Al Pacino, and Robert Duvall, written and directed by Francis Ford Coppola, it's today rated #4 on the Top Rated movie list.
"The Godfather Part II" had 21 award nominations, and won 17, including the Oscars for Best Director, Best Writing, Screenplay Adapted from Other Material, Best Art Direction-Set Decoration, Best Music, Original Dramatic Score, Best Picture, and Best Actor in a Supporting Role (De Niro).
In 1975, Dominic again co-starred with Al Pacino in "Dog Day Afternoon", a biographical drama about three amateur bank robbers, which won the Oscar for Best Writing, Original Screenplay.
Next, Dominic was seen as Eugenio R. Martinez in the 1976 historic drama "All the President's Men", which won four Oscars – Best Sound, Best Art Direction-Set Decoration, Best Writing, Screenplay Based on Material from Another Medium, and Best Actor in a Supporting Role-Jason Robards).
The early '80s saw Dominic in "Fort Apache the Bronx" (1981), and his next movie role came in the 1989 movie "Second Sight", and followed with roles in several TV movies, such as "The Last Capone" (1990).
In the following years, Dominic was back on the big screen, co-starring in "The Contenders" (1993), "Love is All There Is" (1996), and "Under Hellgate Bridge" (1999).
The early 2000s saw Dominic as Frank Wilson in the 2002 romantic drama "Unfaithful", starring Richard Gere and Diane Lane. The movie followed the story of a New York couple, whose suburban life and happy marriage become turbulent after the wife embarks on an adulterous spree. It had 16 award nominations and won three, including the Oscar that Diane Lane won for Best Actress in a Leading Role.
Dominic had small parts in "Adrift in Manhattan" (2007), "Mr. Popper's Penguins" (2011), "The Family" (2013), and "Active Adults" (2017).
Most recently, he was seen as Nathan in the 2018 short movie "Playing with Matches" – the movie had no nominations, but the audience loved this story of a last-chance romance, set in a nursing home.
Wife and children
Dominic seems to have had an interesting love life – was said that he broke many women's hearts. He was married twice before he met his third future wife, with whom he now lives.
His first wife was Vincenza Jean Vacchio; they married in 1958, however, it isn't clear when they divorced, but it's known that in 1961 he married his second wife, Merle Molofsky, with whom he shares three children. Two of them prefer to keep their lives away from the public eye, while the third, Dominic Chianese Jr, followed in his father's footsteps, and became an actor, guest-starring in three episodes of "The Sopranos", in 2007.
Dominic hasn't spoken about when he divorced Merle, but it's known that he married Jane Pittson on 8 June 2003; she's only known as the wife of this famous actor. The two live together in their residence in The Bronx, and were often seen together at various red-carpet events.
Net worth
Dominic has starred in numerous Oscar-winning films, and stands out as the only actor to have starred in the biggest mob movie as well as the biggest mobster series. If you've wondered how rich he is today, as of late 2022, his net worth has been estimated at over $10 million.