• Emilio Rivera gained international fame playing Marcus Alvarez in the crime-drama series "Sons of Anarchy" and its spinoff, "Mayans M. C."
• Born in San Antonio, Texas, USA, he holds American nationality and comes from a family of Mexican descent
• He made his acting debut in 1992, and has since made appearances in numerous hit TV series and movies, such as "The Cable Guy", "Collateral", and "Venom"
• He is married to fellow actress Yadi Valerio, and has three children
• His net worth is estimated at over $5 million
Who is Emilio Rivera?
An actor with nearly 150 acting credits to his name, Emilio Rivera, gained international fame playing Marcus Alvarez in the crime-drama series "Sons of Anarchy", a role he reprised in the spin-off entitled "Mayans M. C."
Movie lovers will recognize him as Lucky Lou from the action drama "Badsville", while he's also made appearances in several hit movies, such as "The Cable Guy", "Collateral", and "Venom" among others.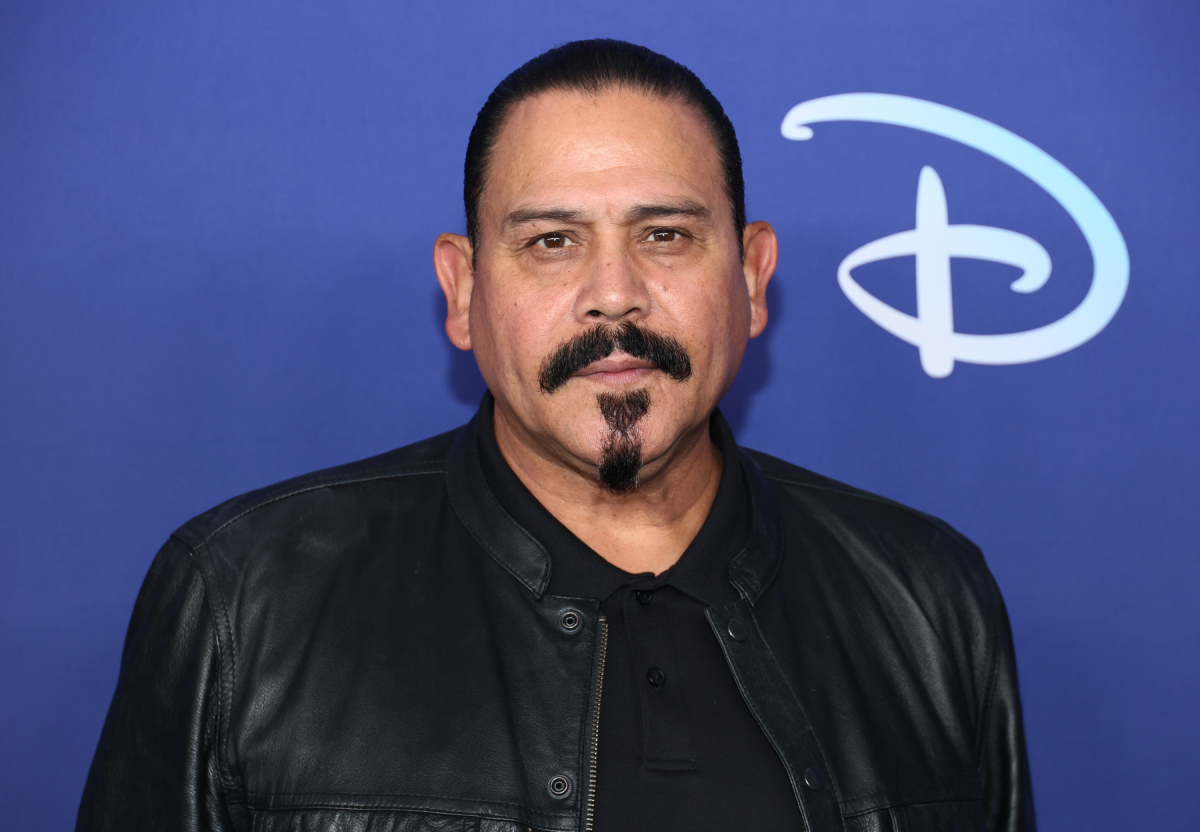 Bio-Early life, family, and education
Born in San Antonio, Texas USA, on 24 February 1961, Emilio will soon celebrate his 62nd birthday; he holds American nationality and comes from a family of Mexican descent. Although born in San Antonio, most of his childhood he spent in Elysian Valley, California, to where he moved with his parents Emilio Senior and Delia. Emilio is the oldest of his seven siblings, having three sisters and four brothers, whose names he hasn't shared as he respects their privacy.
Emilio once said that it was hard growing up in a poor family, especially when they moved to an area of Los Angeles named Frog Town, where he experienced what it means to be a minority. His first encounter with performing was in third grade, when he played in "Rumpelstiltskin", a play based on the fairytale by Grimm Brothers. He was bitten by the acting bug, however, kept silent about his passion for years.
Upon matriculating from high school in 1979, Emilio enlisted in the US Army, but after which Emilio set out on a path of self-destruction. He was associated with street gangs, took drugs, and drank. He lived this life for years, then as he said, acting saved his life. He went into rehab and began studying acting, and although he wasn't ready for Hollywood yet, Emilio launched his acting career as a stage actor.
During the day, he worked as a mechanical engineer to provide for himself, and at night he would be on stage. Emilio struggled to make it as an actor, but all his hard work paid off in the end, and today he's one of the most successful Latino actors.
Roles in series
Emilio made his acting debut as Rafe in an episode of the 1992 series "Renegade", following in 1993 with his role as Federale in an episode of "The Adventures of Brisco County, Jr.".
Next, he was seen as Felipe, guest-starring in "Beverly Hills, 90210" in 1995, and in the following year, Emilio landed the recurring role as Lucien Cortez in the popular soap opera "The Bold and the Beautiful", which began airing back in 1987, and has had 444 award nominations and 132 wins. Emilio was seen in less than ten episodes during 1996 and 1997.
The late '90s saw him in "Walker, Texas Ranger" (1998) and "L. A. Heat" (1999), followed by his role as Brigham in an episode of "The X-Files" in 2000.
In the early 2000s, Emilio mostly guest starred in numerous hit series, including "CSI: Crime Scene Investigation" (2003), "Kojak" (2005), and "Raines" (2007).
In 2008, he was seen as El Coyote in "Weeds", followed by his most notable TV series role to date, as Marcus Alvarez in "Sons of Anarchy". From 2008 to 2014, Emilio appeared in 31 episodes of this story about a biker who struggles between being involved in an outlaw motorcycle club, and being a responsible father. The series, starring Charlie Hunnam, Mark Boone Junior and Katey Sagal, had 56 award nominations, including five for Primetime Emmys, and won 11.
Concurrently, Emilio was seen as El Coyote in "Weeds" (2008), and as Tio Gordo in "Gang Related" (2014).
From 2014 to 2017, Emilio played Kessler in "Hand of God", and was cast to play Hector/Escorpion in the action comedy-drama "Z Nation", making an appearance in 11 episodes during 2015 and 2016.
As mentioned, Emilio reprised his role as Marcus Alvarez in "Mayans M. C." (2018-2022), a spin-off focused on the life of former golden boy EZ Reyes, now fresh out of prison – the show achieved quite a big success both with critics and the audience, had 19 award nominations and won two, while the audience rated it 7.6/10.
Concurrently, Emilio played Chivo Ramirez in "On My Block" (2018-2021) and was seen as Alejandro in "The Family Business" (2018-2022).
Roles in movies
Emilio made his big-screen debut playing Tamalito in the 1995 drama "My Family", starring Esai Morales and Jimmy Smits, which was nominated for the Oscar for Best Make-Up. Later that year, Emilio was seen in "Murder Was the Case: The Movie", and "Rage".
He followed with his role as Jail Inmate in the 1996 comedy "The Cable Guy", starring Jim Carrey and Matthew Broderick, but which was nominated for The Stinkers Bad Movie Award – Most Painfully Unfunny Comedy.
Actually my back is fine, I am very fortunate and very proud to be working with the young talented ,group of actors .Greatful for the opportunity at @OnMyBlock https://t.co/oTuIuS2zFK

— Emilio Rivera (@EmilioRivera48) April 18, 2019
In the following year, Emilio was cast as Carlos in the two-times Oscar-nominated action film "Con Air", starring Nicolas Cage, John Malkovich and John Cusack, which followed the story of a former US Ranger, now a newly-paroled ex-con who finds himself trapped in a prison plane with some of the country's most dangerous criminals, who've taken control of the plane. Besides the Oscar nominations for Best Music, Original Song, and Best Sound, the movie had 11 more nominations, and won seven awards.
Emilio followed with support roles in "Pros & Cons" (1999), "Traffic" (2000), "Road Dogz" (2002), and "A Man Apart" (2003), among many others.
He was next seen in another Oscar-nominated movie, playing Paco in the 2004 action crime-drama "Collateral", starring Tom Cruise, Jamie Foxx and Jada Pinkett Smith. The movie had 73 award nominations, including two for Oscars – Best Achievement in Film Editing, and Best Performance by an Actor in a Supporting Role (J. Foxx), and won 22.
The early 2000s saw Emilio mostly playing support roles in numerous hit movies, such as "Harsh Times" (2005), "Spider-Man 3" (2007), and "Street Kings" (2008).
Since the list of Emilio's roles is too long, we will highlight some of his most significant, and worth mentioning is his portrayal of Bill Duffy in the 2013 thriller "The Devil's in the Details", which was his first lead role. He starred opposite Ray Liotta and Joel Mathews, and the plot of the film revolves around a veteran soldier, who after returning home from hard service is looking forward to a peaceful life with his family, however, a ruthless drug cartel enforcer has other plans for him.
Another notable role for Emilio was his portrayal of Ramon in the 2014 short movie "Sins of the Father", which brought him a nomination for the SoCal Independent Film Festival Award for Best Actor.
In 2017, he was cast to play Lucky Lou in the romantic crime-drama "Badsville", which had 17 award nominations and nine wins; Emilio was nominated for the Vancouver Badass Film Festival Award – Badass.
Most recently, Emilio was seen in "3 from Hell" (2019), "Ride Hard: Live Free" (2020), and "Welcome to Our World" (2021). His fans will be happy to hear that Emilio has 10 upcoming projects, most of them still in development, however, the movie entitled "Flamin' Hot" is set to be released in June 2023.
Wife Yadi Valerio and children
Before marrying Yadi Valerio, Emilio was married to an unnamed woman, with whom he had three children: Rocko, Emilio Junior, and Yanel. His now-wife, Yadi is also an actress, and the two co-starred in "The Devil's in the Details".
Yadi and Emilio met while working on a project together, and have been inseparable since. They went on their first date soon after meeting, and their relationship blossomed into a marriage on on 1 June 2009, and they are still together as of early 2023. They don't have biological children, but Emilio's son Rocko lives with them.
Net worth
Although playing mostly supporting roles, he has not achieved the success that other Hollywood actors have, Emilio has certainly left his mark in the world of film and television. Thanks to his hard work and acting talent, he's earned a decent amount of money, and according to sources, as of early 2023, his net worth has been estimated at over $5 million.