• Gustaf Skarsgard is a Swedish actor best known for his roles in the TV series "Vikings" (2013-2020) and "Cursed" (2020).
• He is the son of famed Swedish actor Stellan Skarsgard and his first wife My, a physician.
• He made his acting debut at nine years old and has starred in many notable films and television series.
• He is in a long-term relationship with Caroline Sjostrom and they have a daughter.
• He stands at a height of 6ft 3ins (1.92m) with blue eyes and dark brown hair.
Who is Gustaf Skarsgard?
Gustaf is a Swedish actor, probably best known to the world as Floki in the TV series "Vikings" (2013-2020), and as Merlin in the TV series "Cursed" (2020), in addition to many other notable roles that he has had in his career.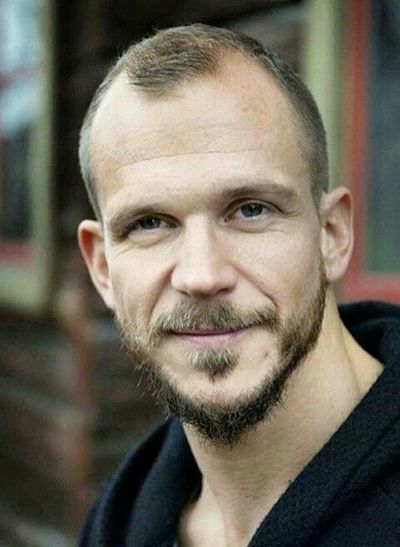 Gustaf Skarsgard Wiki: Age, Childhood, and Education
Gustaf Caspar Orm Skarsgard was born on 12 November 1980, in Sodermalm, Stockholm, Sweden, the son of the famous Swedish actor Stellan Skarsgard, and his first wife My, who was a physician.
His siblings, Alexander, Bill and Valter, are all actors, while the other two siblings, Sam and Eija, aren't involved in show business. His father later remarried, and from this relationship, Gustaf has two half-siblings, Ossian and Kolbjorn.
Gustaf's godfather is Peter Stormare, another famed Swedish actor. Gustaf followed his father into show business, and enrolled at a drama school at just six years old. He attended the Swedish National Academy of Mime and Acting in Stockholm, before eventually joining the Royal Dramatic Theatre.
Career Beginnings
At just nine years old, Gustaf made his acting debut in the short film "Prima Ballerina", and the same year was cast in his first major film role in the Sweden "Codename Coq Rouge", starring his father.
He returned to acting five years later as Jan in the TV mini-series "Min Van Percys Magiska Gymnastiksor", and the same year featured in the award-winning Swedish drama film "Sommaren", about a married couple whose son drowns while on a vacation in Denmark.
In 2002, Gustaf starred in the fantasy thriller-drama film "The Invisible", about a teenager trapped in limbo after being attacked, co-starring Tuva Novotny and Li Bradhe.
The following year, Gustaf starred as Otto Silverhielm in the Academy Award-nominated drama film "Evil", original title "Ondskan", with Andreas Wilson and Henrik Lundstrom, about a teenager who enrolls in a boarding school where bullying is encouraged to maintain discipline; he decides to fight back against the older students who started bullying him.
as The Stranger – Ikke Naken (2004) pic.twitter.com/65bCxADHes

— best of gustaf skarsgård (@archivesgustaf) September 28, 2019
In 2004, Gustaf starred in the award-winning romantic comedy film "Ikke Naken", about two 11-year-old girls who swear not to have boyfriends for their entire life, and focus on science.
He enjoyed success throughout the 2000s, appearing in a number of notable Swedish films. In 2006 he starred in the family comedy-drama film "Forortsungar", while in 2007, he featured in the historical romantic action-drama film "Arn: The Knight Templar" as Knut, about the son of a high-ranking Swedish nobleman who is sent to fight as a knight templar in the Holy Land. He reprised the role in the sequel "Arn: The Kingdom at the End of the Road" with Joakim Natterqvist in the lead role. Furthermore, he played Knut in the TV mini-series "Arn" in 2010.
He next starred as Adam in the film "Iskariot", about two brothers who try to escape Stockholm's underbelly, after one brother gets caught up in a botched drug deal.
The 2010s and Rise to Prominence
He began the new decade with the role of Voss in Peter Weir's Academy Award-nominated historical adventure-drama film about three men who try to escape a Siberian gulag, and flee communist Russia to India, entitled "The Way Back", based on the novel by Slavomir Rawicz, and starring Jim Sturgess, Ed Harris and Colin Farrell.
Two years later he was Bengt Danielsson, in the epic story of the legendary explorer Thor Heyerdahl and his journey across the Pacific on a balsawood raft in 1947, entitled "Kon-Tiki", with Pal Sverre Hagen in the lead role.
In 2013 he was chosen for the role of Floki, one of the lead characters in the History Channel series "Vikings". Created by Michael Hirst, the series is inspired by one of the best-known legendary Norse heroes, Ragnar Lodbrok, and his raids of England and Francia – Floki, is a ship-builder and Ragnar's companion, and survived all the battles and misfortunes of the Vikings, through to appearing in the last episode of the Primetime Emmy Award-winning series.
The series launched Gustaf to stardom, among other stars who included Travis Fimmel, Alex Hogh Andersen, Katheryn Winnick, Alexander Ludwig and Marco Ilso, among many others.
He didn't make too many appearances outside "Vikings" between 2013 and 2020, as he was primarily focused on portraying of Floki, however, he still made a few notable appearances. In 2013 he starred in the film "Autumn Blood", and in 2017 in the drama film "Darling", written and directed by Birgitte Staermose, co-starring Danica Curcic, and Ulrich Thomsen.
Two years later, he was the main star of the thriller film "438 Days", a true story about Swedish journalists Martin Schibbye and Johan Persson who cross the border from Somalia to Ethiopia in an attempt to report on the ruthless hunt for oil, and how it changed the population of the isolated region. The film was directed by Jesper Ganslandt and co-starred Matias Varela.
In 2020, Gustaf starred as Merlin in another take on the eponymous story of King Arthur, this time in the TV mini-series "Cursed", then in the following year, he starred in the historical drama film "The Emigrants", based on the novel by Vilhelm Moberg, about a few people who emigrated from Sweden to the US in the 1840s and early 1850s.
To speak further of Gustaf's accomplishments, he was Peter in the award-winning drama film "Blood" (2022).
He's currently working on several projects, including the highly-anticipated biopic on Robert J. Oppenheimer, simply entitled "Oppenheimer". Gustaf will portray Hans Bethe, a German-American theoretical physicist, and one of the major contributors to nuclear physics, while the main role is reserved for Cillian Murphy. The film is directed by Christopher Nolan, and will premiere in July 2023.
Net Worth
According to sources, Gustaf Skarsgard's net worth is estimated at $8 million, as of early 2023.
Personal Life, Dating, Married, Wife, Children
Gustaf has never been married, but is in a long-term relationship with a woman named Caroline Sjostrom, with whom he has a daughter.
Before Caroline, he was in a relationship with Swedish actress Hanna Alstrom from 1999 to 2005.
Appearance and Vital Statistics
Gustaf Skarsgard has blue eyes and dark brown hair, but is recognized by his receding hairline. He stands at a height of 6ft 3ins (1.92m), while he weighs approximately 185lbs (84kgs). His vital statistics are unknown, but he has a proportionate figure.