• Canadian-American singer-songwriter and actor Jordan Knight born in 1970
• Member of American boy band New Kids on the Block, who achieved success with their album "Hangin' Tough"
• Reunited in 2008, releasing their album "The Block"
• Solo career with 1999 album "Jordan Knight" and 2014 album "Jordan & Nick" with Nick Carter
• Net worth estimated at over $18 million as of January 2023
Who is Jordan Knight?
Canadian-American singer-songwriter and actor Jordan Nathaniel Marcel Knight, was born in Worcester, Massachusetts USA, on 17 May 1970, so his zodiac sign's Taurus. He's had roles in close to 30 movies and TV series, but is probably known better for his music career, especially for being a member of the American boy band New Kids on the Block.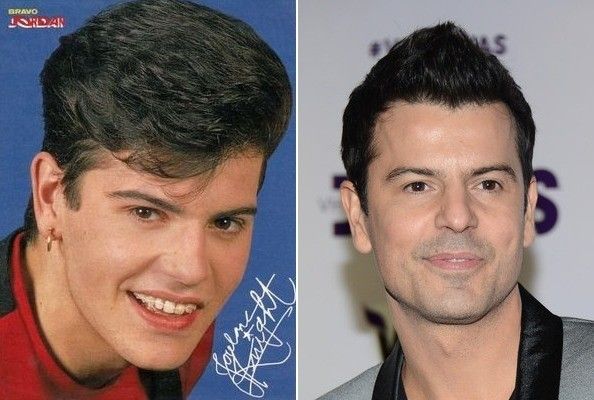 Education and early life
Jordan was raised alongside his five older siblings in Worcester, by their Canadian parents Marlene Putnam and Allan Knight; their father was an Episcopal priest, and their mother a housewife.
Jordan was mostly into playing baseball while growing up, but was often bullied by his peers while attending a local high school, as they told him he 'threw like a girl' and lacked athleticism.
He was 13 years old when he became a member of New Kids on the Block, but still continued working on his education, matriculating in 1988; Jordan then focused on music, rather than pursuing a college degree.
New Kids on the Block
American musician and record producer Maurice Starr teamed up with his business partner Mary Alford in the first half of the '80s, wanting to create a new boy band. They chose American singer-songwriter and actor Donald Edmond 'Donnie' Wahlberg Jr. as the band's first member, and he was then joined by his younger brother Mark Robert Michael Wahlberg, but who quit after a couple of months, and has become a famous actor. Donnie then invited his school friends Danny Wood, Jamie Kelly as well as our Jordan to join the band, then joined by Jordan's older brother Jonathan Knight as Jamie quit.
The name of the boys' band was initially Nynuk, but after Columbia Records with whom they had signed a contract demanded a name change, they chose New Kids on the Block.
Their debut self-titled album was released in April 1986, and their single "Be My Girl" became a minor hit; they failed to become popular, but were able to convince Columbia Records to allow them to record a second album.
The album "Hangin' Tough" was released in September 1988, and it was their single "Please Don't Go Girl" that helped them become popular, and remain signed to Columbia; it peaked at #10 on the Billboard Hot 100 Singles Chart. New Kids on the Block were then invited to appear in various music shows, including "Soul Train" and "Showtime at the Apollo", and their two new singles "You Got It (The Right Stuff)" and "I'll Be Loving You (Forever)" both became hits, with the latter topping the Billboard Hot 100 Singles Chart. Eventually the album "Hangin' Tough" topped the Billboard 200 Chart, and was certified eight-times platinum.
Their holiday album "Merry, Merry Christmas" was released on 19 September 1989, and their third studio album "Step by Step" came out in June 1990. The following three years saw the band perform around 200 concerts a year, before they released their fourth album, "Face the Music" in January 1994. Jordan's brother Jonathan quit the band in the following year, because of increased panic attacks and anxiety, after which they disbanded.
They reunited in April 2008, and released their new single "Summertime", while their first album in 14 years, "The Block" came out on 2 September 2008. Their following album "10" was only released on 2 April 2013, and on 9 October 2014, New Kids on the Block received their own star on the Hollywood Walk of Fame.
On 12 May 2017, the band released their extended play (EP) "Thankful", and most recently, on 3 March 2022, their new music video "Bring Back the Time" came out.
Jordan's solo career
Jordan's debut single "Give It To You" was released in 1999, and peaked at #10 on the Billboard Hot 100 Chart; it was nominated for an MTV Video Music Award for Best Dance Video, and was certified gold.
His self-titled debut album was released in 1999, was eventually certified gold, and won an Aspire Music Award for Best Male Album; the album also peaked at #9 on Top Internet Albums, and #29 on Billboard 200.
Jordan's album "Jordan Knight Performs New Kids on the Block: The Remix Album" was released in 2004, and was followed by his EP "The Fix" in 2005.
His second solo album "Love Songs" came out in September 2006, followed by his third, "Unfinished" on 31 May 2011.
Jordan's most recent work was his and Nick Carter's album "Jordan & Nick", released in 2014.
Other work
Jordan served as a judge on the 2003 music show "American Juniors", and competed in the reality series "The Surreal Life" in 2004, and "The Surreal Life: Fame Games" in 2007.
He was a judge in the music show "Cover Me Canada" in 2011.
Jordan became a partner in the Italian restaurant Novara in 2016.
Love life and sexual orientation
There are numerous rumors circulating the internet claiming that Jordan's gay, and that his marriage to American former model Evelyn Melendez is simply a cover up for this, but Jordan's denied all these allegations.
He and Evelyn exchanged vows on 12 September 2004, in a large ceremony attended by over 400 of their friends and family members; they had already been together for around six years, and their son Dante had been born on 25 August 1999. Evelyn gave birth to their second son Eric Jacob on 21 February 2007.
Jordan hasn't spoken of other women whom he's dated, he's married to Evelyn Melendez as of January 2023, and they have two children together.
Hobbies and interesting facts
Jordan's made a guest appearance in a couple of movies and TV series, including the 2011 episode "Model Behavior" of the crime mystery "Blue Bloods", the 2013 family adventure movie "Different Drummers" and the 2016 episode "New Kids in the House" of the family comedy "Fuller House".
Jordan's recently closed his Instagram account for unknown reasons; there's still a fan account which is followed by close to 250 people, and there are eight pictures uploaded onto it.
He's a philanthropist, and has donated money to a number of charity organizations.
Jordan's a lover of animals, and his favorites are donkeys and zebras.
His favorite actors are Brad Pitt and Robert De Niro, and some of his favorite movies include "Bullet Train", "Fight Club" and "War Machine".
Height, eyes and wealth
Jordan's age is 52. He has brown eyes and hair, is 5ft 11ins (1.8m) tall and weighs about 180lbs (82kgs).
Jordan's net worth's been estimated at over $18 million, as of January 2023.