• Adley Stump is a country singer, songwriter, and social media personality best known for appearing on the talent show "The Voice"
• She was born in Tulsa, Oklahoma and graduated from Oklahoma State University in 2011
• She auditioned for "The Voice" in 2012 and released her first single "Like This" as an independent artist
• She runs social media accounts with millions of followers and posted a video which garnered over 6 million views
• Adley Stump's estimated net worth is $700,000
Who is Adley Stump?
Adley Stump is a country singer, songwriter, and social media personality, perhaps best known for appearing on the talent show "The Voice". She additionally rose to popularity for posting goofy videos on her Instagram account and YouTube channel. Adley was born under the Sagittarius sign on 25 November 1988 in Tulsa, Oklahoma, USA; she holds American nationality, and as of mid-2021, she is 32 years old.
Early life and Family
Not much is known about her family and siblings. Even though she never had vocal training, she realized that she has a gift for singing after one of her friends dared her to sing something, and she said: "But I'll take a dare from anybody. So I started singing, and I think people were shocked by what came out. I was shocked by what came out."
Which one of these pigskins are ya "rooting" for? 😋 #SuperBowl #SuperBowlLIII pic.twitter.com/Wx05RFD1cU

— ADLEY (@AdleyStump) February 4, 2019
During her childhood, she began dancing, cheerleading, and singing, realizing that it just might be the right career choice for her. In an interview, she said that performing in front of people at a young age had helped her gain confidence in herself and her craft.
A talented child, she also became engaged in songwriting and poetry, which definitely paid off later when she began composing and writing her own music. During her senior year, she performed at Willie's Saloon in Stillwater, simultaneously working with the non-profit organization entitled To Write Love On Her Arms (TWLOHA). At that time, she thought about pursuing a career in public relations. However, life had other plans for Adley, she even said it herself, disclosing "It's like I was watching God place the puzzle pieces of my life."
After matriculating from a local high school, she enrolled at Oklahoma State University to study PR and marketing, from which she graduated in 2011.
Singing Career
In 2012, Adley decided to try her luck and audition for the second season of "The Voice", with the song entitled "Last Name" by Carrie Underwood. After scoring two turns from Christina Aguilera and Blake Shelton, she secured her spot on Blake's team. Despite her promising blind audition, on 5 March 2012 she was paired against RaeLynn in the Battle Rounds and subsequently eliminated. The winner of second season was Jermaine Paul, who was also mentored by Blake Shelton. Even though her presence on the show was short-lived, it still gave needed exposure for Adley to launch her singing career.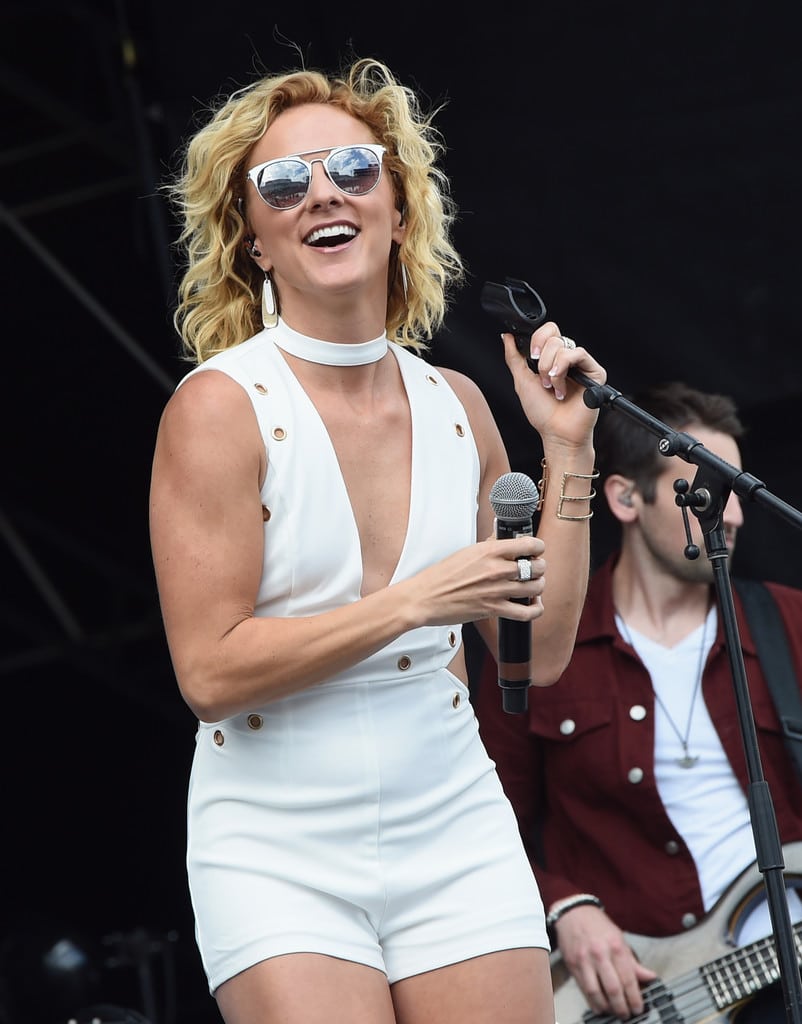 In an interview, Adley said: "Voice truly was a gigantic catapult into the industry, the industry I never knew I was gonna be in. It gave me a fan base right off the bat."
While performing in "The Voice", she began working on her music. In the beginning, Adley had kicked off her career as an independent artist and released the single "Like This". Adley said: "I started learning what it meant to write with a purpose, to combine the structure that mainstream music requires with my own heart and soul."
After working tirelessly on her music for five months, she began arranging the track list for her first album. Later the aspiring country singer disclosed that only after she had finished writing her songs did she realize that they all incorporate strength as the underlying motive and inspiration, and also an embodiment of stability, independence, and self-assurance, which in her opinion, is very important for any female artist to push as motives in her lyrics.
In an interview, she said that she had wanted to showcase her fans through her music many different sides of her such as humor, she said "I would really like to show them where I come from, who I am because that makes the music mean more. I like to tell them what my favorite songs are and where did these songs come from."
The inspiration for her music and lyrics comes from her personal life experiences. Adley released her single "Stay At Home Soldier" in 2015 on YouTube, followed by other songs entitled "Don't Wanna Love Him". "Walking Away", and "Little Black Dress" which became very popular on Facebook. Adley also covers other artists and posts the songs on her YouTube channel, such as "Hallelujah" by Leonard Cohen and "Shape of You" by Ed Sheeran. In 2016 she toured with the Country icon Blake Shelton., and the same year she also garnered the Grammy Amplifier Award.
In the same year, Force Majeuere Music presented her with a contract, which she accepted and moved to Nashville.
Social Media Presence
Besides her accomplished singing career, she also tried her luck with social media, garnering considerable success and popularity. Even though she launched her YouTube channel entitled "The Adley Show" in 2011, Adley began posting her music videos a couple of years later. Soon she became more active on YouTube and let her humorous charismatic personality come through in her funny videos and pranks such as "Before and After Coffee", "American Ninja Warrior (of the Woods) Fail", and "Epic Egg Smashing Prank".
Over the years, she has made many funny videos too, which she also shared on her Facebook page, and has over 120,000 followers.
She also runs "The Adley Show" page on Facebook, which has over 1.2 million followers, with millions of views reeling in every week. Her YouTube channel at the moment counts over 60,000 subscribers. Most of her music videos, such as "Little Black Dress" and "Weather The Storm", became viral on Facebook. Her Instagram account has over 700,000 followers on which she usually posts prank videos and challenges. One of her latest videos includes "Wine Trick Goes Wrong At Golf Range", "Pregnant Woman Farts on Plane Prank", and "Making DIY Spaghetti Doughnuts". She is very active on all her social media account as she posts daily. Given her likeable personality and interesting music related-content, it does not come as a surprise she has garnered such popularity.
Viral Video
At the beginning of the Global Pandemic, Adley posted a video on her Instagram account related to the pandemic updates. Her funny take on confusing and often confronting governmental suggestions and advice on how to deal with the deadly virus garnered over six million views in just a couple of days. The video is entitled "What We Should ALL Be Doing Right Now", and it features Adley in a blazer in front of fake microphones, providing the newest updates and precautions. After her video made national news, she said:" It's been the coolest feeling to kind of just echo what everybody's thinking and feeling. And bring humor into such an uncertain time. That's been my favorite part about it."
Personal life
Not much is known about her dating history, however, it's known that she's been in a relationship with Blake Kinsman, who proposed to her on 20 April 2020, documented in the video entitled "WE GOT ENGAGED". Her boyfriend/fiancé took her to a beautiful location under the pretext of wine-testing, while Adley's family, whom he previously gathered, waited to see the response – fans are eagerly waiting for news on the wedding date. In the meantime, the couple is busy making prank and challenge videos.
Physical stats and Hobbies
Adley is 5ft 6ins(168cm) tall, weighs around 132lbs (60kgs), with vital statistics of 35-30-34. Her natural hair is blonde and curly, further adorned with blue eyes. In her opinion, key to success is outliving your competition and not working them. According to reports, Adley is a fitness freak, who likes to work out almost every day.
Would you like to know her net worth?
Her estimated net worth is $700,000, which she's earned through her career as a singer and social media personality.