• Alan Ruck was born in Cleveland, Ohio in 1956 and holds American nationality
• He is known for his role as Cameron Frye in the 1986 comedy movie "Ferris Bueller's Day Off"
• His notable movie roles include "Speed", "Star Trek: Generations", "Twister", "Cheaper by the Dozen" and "War Machine"
• His notable TV series roles include "Spin City", "Greek", "The Exorcist" and "Succession"
• He is married to Mireille Enos and has four children
Who is Alan Ruck?
Alan Ruck was born in Cleveland, Ohio USA, on 1 July 1956 – his zodiac sign is Cancer, and he holds American nationality. He's an actor, with over 110 credits to his name, while he's perhaps still known best for his portrayal of one of the main characters, Cameron Frye, the best friend of Ferris Bueller, in the 1986 comedy movie "Ferris Bueller's Day Off". It was written and directed by John Hughes, also starred Matthew Broderick and Mia Sara, and follows Ferris who has taken a day off from school, regardless of what the Principal has to say about it; the film won two of the three awards for which it was nominated.
Early life and education
Alan was raised in Cleveland by his father who was a pharmacist, and his mother who was a teacher. As he hasn't spoken of having any siblings, Alan's widely believed to be an only child.
He became interested in acting while attending Parma Senior High School, and appeared in various plays performed at the school. Alan wanted to work on his acting career straight away, but was urged by his parents to focus on his education. He matriculated in 1975, and then enrolled at the University of Illinois, from which he graduated in 1979 with a Bachelor of Fine Arts degree in drama.
He then moved to Chicago, Illinois, and spent a year without a job. Alan then worked various jobs for the following three years, before launching his acting career in 1983 by appearing in three movies: the crime thriller drama "Bad Boys", the comedy "Doctor Detroit", and the romantic comedy drama "Class".
His made his Broadway debut two years later, in "Biloxi Blues".
Roles in movies
By the end of the '80s, Alan had appeared in various critically acclaimed movies, such as the comedy drama "Three for the Road", the action drama "Shooter" and the action comedy "Three Fugitives".
He started off the '90s with his portrayal of Hendry French, in the critically acclaimed action western "Young Guns II", directed by Geoff Murphy, and which starred Emilio Estevez, Kiefer Sutherland and Lou Diamond Phillips. Set in 1881, the film follows Patrick Floyd Garrett who has been paid by the cattle baron John Chisum to kill the wanted criminal Billy the Kid; it won three of the eight awards for which it was nominated, including an Oscar nomination. A couple of Alan's other notable performances in the '90s were in the 1994 action adventure thriller "Speed", which starred Keanu Reeves and won two Oscars, the 1994 action mystery adventure "Star Trek: Generations", and the 1996 action adventure thriller "Twister", which was nominated for two Oscars.
In 2003, Alan was cast to play Bill Shenk, in the family comedy "Cheaper by the Dozen", directed by Shawn Levy, and which starred Steve Martin, Bonnie Hunt and Hilary Duff. It follows a man who, after his wife goes on a book tour, has to take care of their 12 children; the movie won two of the nine awards for which it was nominated. Some of Alan's other notable performances in the 2000s were in the 2007 comedy "Kickin' It Old Skool", the 2007 action science fiction adventure "Star Trek: Of Gods and Men", and the 2008 mystery science fiction drama "The Happening".
The 2010s were the busiest time of Alan's career, as he appeared in over 20 movies, while his most notable performance was perhaps in the 2017 war comedy drama "War Machine", written and directed by David Michod, and which starred Brad Pitt, Daniel Betts and John Magaro.
It follows a general in Afghanistan, who goes against both his enemies and allies, as well as against the bureaucrats; the film was nominated for three awards.
Two of Alan's most recent movie roles have been in the 2019 horror science fiction action "Captive State", and the 2020 horror thriller comedy "Freaky".
Roles in TV series
Alan made his debut TV series appearance in 1989, with his portrayal of Sheldon Samms in the episode "Teddy Sells the House" of the comedy "The Famous Teddy Z". He gained recognition in the following year, with his portrayal of the lead character, Charlie Davis, in all 19 episodes of the comedy "Going Places", and in 1992 he played various characters in the comedy "The Edge".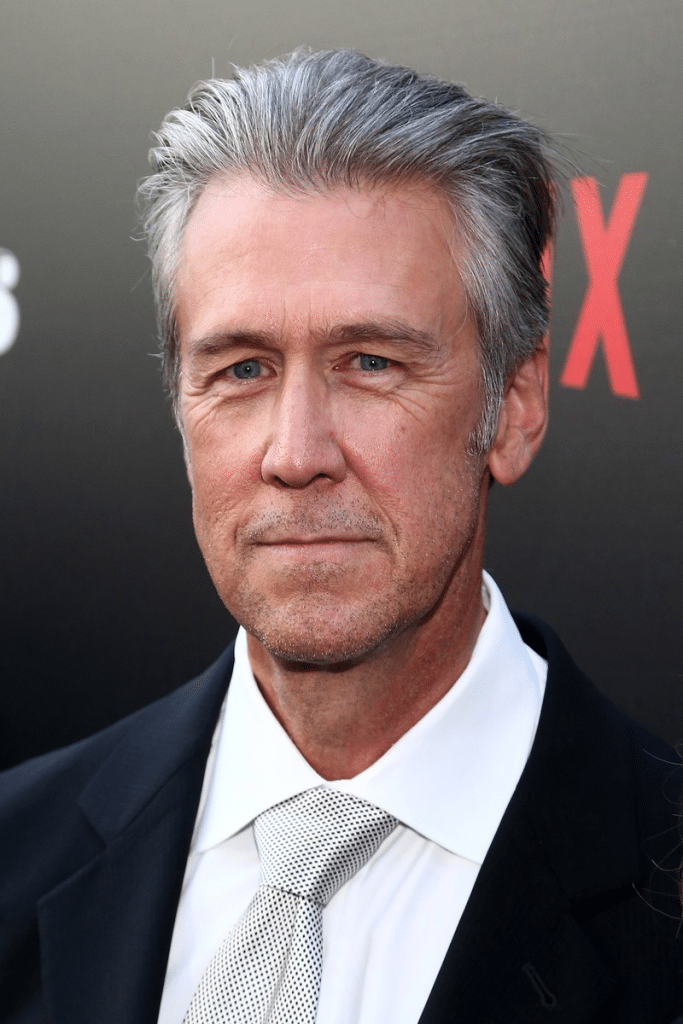 The remainder of the '90s saw Alan make a guest appearance in an episode or two of various series, such as the family crime drama "Picket Fences", the crime fantasy comedy "Tales from the Crypt", and the comedy "Daddy's Girls".
Between 1996 and 2002, Alan starred as Stuart Bondek in the critically acclaimed comedy "Spin City", created by Bill Lawrence and Gary David Goldberg, and which starred Michael J. Fox, Charlie Sheen and Heather Locklear. It follows the life of Deputy Mayor of New York City Mike Flaherty, who constantly has to save the Mayor from embarrassment. The series was a hit, winning 16 awards including two Primetime Emmys, while it was nominated for 38 other awards. Alan then went on to make a guest appearance in over 10 series by the end of the 2000s, in such as the action adventure drama "Stargate: Atlantis", the crime fantasy drama "Medium", and the comedy "Family of the Year".
In 2010, we saw him play Charlie Morse in the mystery thriller drama "Persons Unknown", while he then portrayed the supporting character Dean Bowman in the family comedy drama "Greek". In 2016, Alan played Henry Rance in the critically acclaimed mystery horror drama "The Exorcist", created by Jeremy Slater, and which starred Alfonso Herrera, Ben Daniels and Kurt Egyiawan. It follows three priests who are helping a family struggling with the presence of a demonic force; the series won one of the 16 awards for which it was nominated.
Three of Alan's most recent roles in TV series have been in the 2018 episode "One Shoe" of the crime drama "Dirty John", the 2019 episode "The Man" of the comedy drama "One Day at a Time", and 20 episodes of the drama "Succession" in 2019. He's currently shooting for the upcoming drama mini-series "The Dropout".
Other credits
Alan performed the song "Go Down Moses" in the 1986 movie "Ferris Bueller's Day Off".
He received special thanks for the 2008 short documentary video "The Making of 'Spin City: Season One'", and the 2017 mystery thriller movie "Never Here".
Alan has been featured in various documentaries, such as the 2009 video "Don't You Forget About Me", the 2001 series "Greek Uncovered", and the 2020 series "Reunited Apart".
He has made a guest appearance in many talk-shows, including "The Daily Show", "Iron Core Talk", and "Teens Wanna Know".
Awards and nominations
Alan has won two awards: a 2012 Magnolia Independent Film Festival Jury Award for Best Feature, for "Close-Up" (shared with colleagues), and a 2019 IGN Summer Movie Award for Best TV Ensemble, for "Succession" (shared with colleagues).
He has also been nominated for a 2011 Breckenridge Festival of Film Award, and a 2017 Behind the Voice Actors Award.
Love life and wife
Alan has married twice. In 1984, he married the non-celebrity American Claudia Stefany, and in the following 10 years, she gave birth to their son Sam, and their daughter Emma. Claudia and Alan divorced in 2005 for unknown reasons, however, it's widely believed that Claudia wasn't able to handle Alan's rise to stardom.
On 4 January 2008, Alan married the American actress Mireille Enos, who's perhaps known best for her portrayal of Sarah Linden, in the crime series "The Killing". On 23 September 2010, Mireille gave birth to their daughter Vesper Vivianne, and on 23 July 2014, she gave birth to their son Larkin Zouey.
Alan hasn't mentioned any other women whom he's perhaps dated, and as of August 2021, he's married to his second wife Mireille Enos, and has two children with her, as well as two children with his first wife, Claudia Stefany.
Hobbies and interesting facts
In 2002, Alan nearly died to septicemia; also known as sepsis – it refers to blood poisoning by bacteria.
He loves to travel, and his acting career has taken him to many US states, as well as to several European countries, with his favorites being England and France. Alan's today mostly splitting his time between New York City and Los Angeles.
He was quite sportive during his 20s and 30s, and often played basketball and soccer with his friends; Alan's nowadays mostly into playing golf.
He's a huge animal lover, and during his teenage years volunteered at various animal shelters. Since the launch of his acting career, he's donated money to animal shelters, as well as to various charity organizations.
He has his own favorite actors and actresses, some of whom are Heath Ledger, Russell Crowe and Emma Watson, while a couple of his favorite movies are "The Dark Knight", "A Good Year" and the franchise "Harry Potter".
Age, height and net worth
Alan's age is 65. He has short brown hair and blue eyes, his height is 5ft 10ins (1.79m) and he weighs around 170lbs (77kgs).
As of August 2021, his net worth has been estimated at over $10 million.