• Sosie Bacon is an American actress starring in Netflix's "Narcos: Mexico"
• Born to veteran actors Kevin Bacon and Kyra Sedgwick, and attended prestigious schools in New York and Rhode Island
• Earned recognition for her performance in "Loverboy" and was awarded Miss Golden Globe title
• Portrayed 'Rachel Murray' in the horror series "Scream", and 'Skye Miller' in Netflix's "13 Reasons Why"
• Has a net worth of $250,000 and is in a low-key relationship with a mysterious person
Who is Sosie Bacon?
Sosie Bacon is an American actress probably best known for her role in the Netflix series adaptation of "13 Reasons Why", now starring in Netflix's "Narcos: Mexico" as the real-person inspired 'Mimi Webb Miller'.
Early Life, family, educational background
Sosie Ruth Bacon was born on 15 March 1992 in Los Angeles, California, USA, to veteran actors Kevin Bacon and Kyra Sedgwick. Her elder brother is the American musician and actor Travis Bacon, and she is also the cousin of actor Neal Bacon, and the niece of singer-songwriter Michael Bacon, and actor Robert Sedgwick.
She was named after Sosie Hublitz, the art director in the movie "Miss Rose White". Kyra was pregnant with her while she was filming the movie, and Sosie was born when it was released.
Sosie attended the prestigious Riverdale Country School in Bronx, New York (Class of 2010). It is ranked as the 5th best private school in New York City and holds the 28th spot in the entire US. She proceeded to further her studies at the Ivy League renowned Brown University in Rhode Island, where she also studied acting at the musical theatre company, CAP21.
Career
Natural Talent
Sosie grew up in a family of entertainment industry names, but perhaps surprisingly her parents opposed the possibility of her becoming an actress. As veterans themselves, both Kevin and Kyra had seen the good and bad side of the industry, and decided that they didn't think that the fast-paced Hollywood life was for her. They took pains to veer her attention away from acting, even to the point where they left her in her brother's care when they were filming another movie or show.
Ironically, in "Loverboy"  for which Kevin was the director, Sosie was cast to play the 10-year old version of the character Emily, side-by-side with her mother who played the adult version of the same character. When asked about this, Kevin answered that he let her play the role not as her father, but as the director, feeling that there was no other person perfect to portray the character on screen. True enough, Sosie did the job triumphantly; Kevin recalls how it looked so natural to her, acting on set and afterward attending her classes like it was an ordinary day. Because of her performance in "Loverboy", she caught the eye of the producer James Buff, who asked her parents for permission to cast her in the police procedural drama "Closer".
At first they were reluctant with his proposal, as they were insistent to not get Sosie more involved in acting. Eventually, after much convincing, they yielded and Sosie appeared in four episodes in the show's fifth season, playing the character "Charlie" who was the niece of Deputy Chief Brenda Leigh Johnson, played by her mother.
Fast forward to 2012, she got her debut acting in an off-Broadway musical "Fiction Photographs", by Dan Mills and Randy Redd. This performance garnered a lot of positive comments and recognition. By this time, she had decided that she wanted to pursue a career as an actor, and eventually convinced her parents to allow her to dip her toes further into show business.
TV & Movie Appearances
After her performance in "Loverboy", "Closer" and "Fiction Photographs", Sosie was slowly becoming a name to look out for.
She was even awarded the Miss Golden Globe title from Franceska Eastwood, Clint Eastwood's daughter. This award, conferred by the Hollywood Foreign Press Association, is generally to honor to a Hollywood celebrity's daughter, and considered as a stepping stone to stardom.
She became a full-time actress and appeared in various movies and TV shows. Among her notable performances were in the coming-of-age comedy as 'Frances Funicello' in "Wishin and Hopin" (2014), and the same year in "Off-Season" as Cassie the lead role, and the romantic comedy "Ana Maria in Noveland" (2015) as 'Poppy Lake'.
She also portrayed the character 'Rachel Murray' in the famous horror series "Scream" (2015-2016). In the popular Netflix series book adaptation of "13 Reasons Why", she brought life to "Skye Miller" in 15 episodes from 2017 to 2018, and concurrently was 'Stacey' in the movie "Story of a Girl" (2017).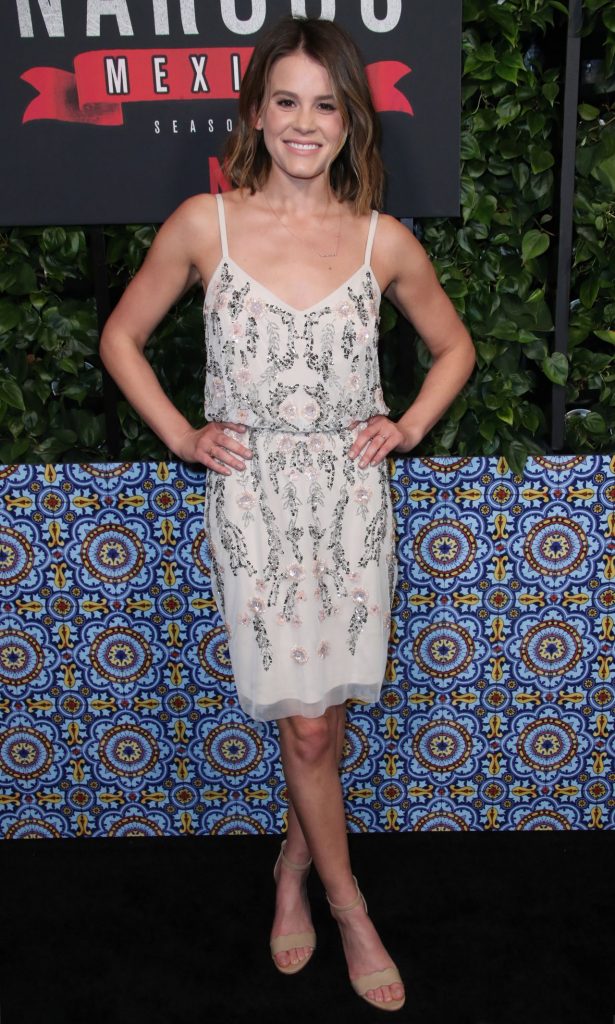 Mimi Webb Miller and Narcos
She's currently playing 'Mimi Webb Miller' in the Netflix series "Narcos: Mexico", based on a real person, who consequently acts as one of the consultants of the show. The real Mimi dated Pablo Acosta back in the 1980s, one of Mexico's most notorious drug lords. Sosie tells Oprahmag.com that she spent four days living in Mimi's real-life properties in Mexico and Texas, just to prepare for the role. She believed that it was easier for her to bring Mimi's perspective to the screen if she heard her story directly from her.
Family Projects
Sosie performed with "The Bacon Brothers", the folk-rock band brainchild of the musical duo and brothers Kevin Bacon and Michael Bacon. On top of that, she also joined in another performance with "Idiot Box", a punk rock band in which Sosie's brother Travis was a member.
Personal Life
Private Life
Despite Sosie's projects here and there, she maintains a close relationship with her family. With them all involved in the business of entertainment, one way or another, it is a feat how Sosie has managed to keep her life private.
Mysterious Boyfriend
Sosie also keeps her love life below the hum of the press. Even so, there has been speculation of her having a low-key relationship with a particular guy, whose name she hasn't revealed, whom she had posted on Instagram for quite some time.
They've been posting pictures together since way back in 2014 on different occasions, whether that's watching a game in Dodgers Stadium in Los Angeles, or hiking up Temescal Canyon.
In one Instagram post of them together, she captioned, "I love traveling with this. He complains way less than me, he always holds the passports and never loses them ('cause I would), and he is very very patient! I am a very lucky."
Although she hasn't been vocal about her love life, fans are convinced that she is happy and seemingly content with this mysterious guy.
Hobbies, favorite things, interesting facts
Parent's Movies
Sosie's parents are both successful and famous actors, but has confessed that she doesn't watch their movies. When she was young, she found their work inappropriate for her age, and so she stayed out of it for a long time until she watched "Mystic River" and found her father's performance incredible.
Can Act, Can Sing
Sosie is not just a talented actress, but also has a beautiful voice, as evidenced by her performance in "Fiction in Photographs". Her kitchen-counter performance of Jessie Reyez' "Figures" with her father on guitar gained 74,000 views on Instagram in 2018.
Appearance, clothing style
Sosie Bacon stands at 5ft 4ins (163 cm) tall, weighs around 165lbs (75kgs), with vital statistics of 36-25-34. She has brown eyes and light brown hair.
Net worth and salary
Although still young, Sosie has already amassed a modest fortune of her own from her several high-profile roles, so has an estimated net worth of $250,000, as of mid-2021. With her talent and ongoing projects, there is a high chance this is still going up.