• Deaken Bluman is an American actor from Kalamazoo, Michigan, best known for his role in 13 Reasons Why.
• He graduated from Mt. San Jacinto College in 2015 and started his career with minor roles in TV shows and short films.
• He is married to Erin Bluman, a Swedish model, since 2018.
• His estimated net worth is around $300,000 and he was being paid up to $10,000 per episode by Netflix.
• He is very active on social media and often discusses issues of racism and police brutality.
Who is Deaken Bluman?
Deaken Bluman is an American actor, perhaps best known for his role in the acclaimed TV show "13 Reasons Why". He was born on 2 January 1996, in Kalamazoo, Michigan, USA, under the Zodiac sign Capricorn. He holds American nationality, and as of 2021, is 25 years old. Currently, he resides in LA due to his job and potential acting gigs.
Early Life and Family
Not much information is known about his family and background. The available sources indicate that he matriculated from a private high school in his hometown, and enrolled at Mt. San Jacinto College in California to study acting. He graduated from the College in 2015.
Career
Deaken kicked off his career with minor roles in TV shows and short movies. In 2016 he starred in the web series entitled "Fall Into Me" as Michael, and then the short film "The Lion's Den". In the next year, he landed the role of Billy Dee in another short film, "Americana", and in 2018 he appeared in the TV show "First Love".
Deaken made his breakthrough with the role of Winston Williams, a gay high school student in the super-popular TV show"13 Reasons Why", which was developed by Brian Yorkey for Netflix, revolves around the life of Clay Jensen and the aftermath of his classmate and crush Hanna Baker's suicide.
After the first season aired, the show earned overwhelmingly positive reviews with additional praises for the cast, especially Katherine Langford, Dylan Minnette, and Kate Walsh. Even though the show ran for an additional three seasons, the reaction and reviews of the audiences and critics were largely negative, with criticism mostly aimed at poor execution of subjects, sudden time jumps, the writing, etc. The second season even caused controversy and backlash, due to the scene in which a character called Taylor is attacked and sexually assaulted, which was deemed by many as "unnecessary" and "disturbing". Despite the abundance of negative reviews and criticism, the show holds the record for being the most popular Netflix production.
Deaken appeared in 15 episodes, and this role definitely placed him in the focus of public attention. The show's last episode ran in June of 2020, and was followed by an announcement that the show will not be renewed for another reason, most likely due to the received criticism and controversy.
Thanks to the rising popularity of "13 Reasons Why, Deaken was featured in numerous magazines such as Bello, Glass, Attitude, etc. In September 2020, he was photographed by Leigh Keily for an issue of JON Magazine.
Personal life
Due to his portrayal of a gay character, many have wondered about his true sexual orientation. Interestingly, Deaken is straight and currently married to Erin Bluman, who is Swedish and a model by profession.
The couple reportedly met at their mutual friend's party, after which they stayed in contact. It didn't take them long to start dating, and soon afterwards they tied the knot by the end of 2018.
Physical stats and Hobbies
Deaken is 5ft 11ins (180cm) tall and weighs around 160lbs (70kgs). His hair is light brown, and his eyes are hazel. Deaken is a fan of sports; he likes to swim, snowboard, surf, etc.
As an individual concerned with racial issues in our society, he participated with his wife and friends in the Black Lives Matter protests in LA in 2020, as the aftermath of the murder of George Floyd by a police officer.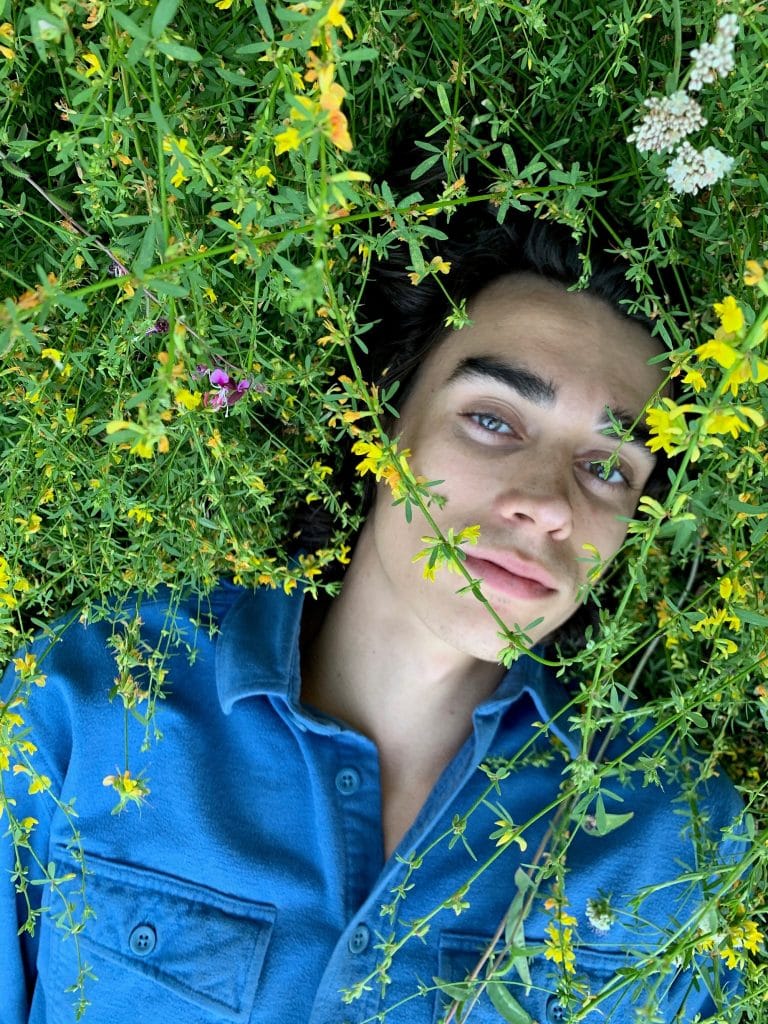 He is a great animal lover and promoter of sheltering and adopting. He has a black chihuahua called Angel.
Deaken also recognizes the numerous issues of the educational system in America, which seems to be reserved only for the affluent. In an Instagram post, he wrote:" We have no educational justice in America. College is for people that can afford it. And many young people can't."
Deaken is very active on his social media; his Instagram account has over 450,000 followers.
Most of his posts feature his recent acting or modeling gigs or selfies. Interestingly enough he doesn't have any photos with his wife on Instagram, which might suggest that he doesn't want to put the spotlight on his marriage. He uses Instagram as a medium to convey powerful messages about police brutality and the everlasting issue of racism. He recently posted an interesting quote: "It is not enough to be quietly non-racist. Now is the time to be vocally anti-racist ", followed by a long post in which he draws attention to the issue of remaining silent as an easier way of dealing with situations, juxtaposed  with the useful deeds such as signing petition, donating and participating protests.
Would you like to know his net worth?
His estimated net worth is around $300,000, which he's acquired through his acting career. It's estimated that he was being paid up to $10,000 per episode by Netflix. As the show's popularity rose, so did the actor's salaries, and it's estimated that main characters such as Dylan Minnette and Katherine Langford were being paid  as much as $200,000.
How is he keeping up with work during global pandemic?
In a 2020 interview with Glass Magazine, he said: "Now, especially after Covid-19, everything has gone digital. I actually hate doing self-tapes. I like going into a room with a little bit of pressure, performing for a real live person, and to be able to read the room."
How did he get the role of Winston?
His audition for "13 Reasons Why" was actually a self-tape. He said that he got the call just two days later after he sent the tape, and that he was quite surprised of how fast the process of casting was. As an actor who struggled to get his parts, he confessed to encountering many challenges in his career: "I think I did at least 500 auditions before I actually booked something. I was sometimes doing two-three auditions a day, learning multiple scripts at once while bussing tables and parking cars."