• Dreka Gates is an American booking manager, social media star and the wife of Kevin Gates, a famous American singer, rapper and entrepreneur.
• She is a TV personality, entrepreneur, and has over 2.6 million followers on Instagram.
• She is a practicing Muslim, and married Kevin Gates in 201•
• She enjoys working out, travelling and watching movies.
• She has an estimated net worth of over $300,000 and Kevin Gates has an estimated net worth of over $1 million.
Who is Dreka Gates?
Dreka Gates was born as Shadreka Centuri Haynes, in Baton Rouge, Louisiana USA, on 31 August 1986 – her zodiac sign is Virgo and she holds American nationality. She is a booking manager and a social media star, but perhaps known best for being the wife of Kevin Gates, a famous American singer, rapper and entrepreneur.
Early life and education
Dreka is very secretive when it comes to her family, and hasn't shared any details concerning her parents or any siblings she perhaps has.
She dreamed about becoming a famous model while growing up, and eventually also became interested in music and acting.
Dreka became physically active after her enrollment at a local high school, as she started playing soccer, practiced tennis and did gymnastics. She was also a member of the school's drama club, appearing in various plays, and upon matriculating in 2004, she enrolled at a college from which she graduated with a Bachelor of Arts degree in 2008.
Dreka's career
Not a lot is known about Dreka's career. She has allegedly been working as a booking manager since she graduated, while she's also an entrepreneur, having co-founded the record label Bread Winner's Association with her husband back in 2010.
She is also a TV personality, having appeared in two 2020 short videos – "Kevin Gates: Dreka" and "Kevin Gates & Dermot Kennedy: Power".
Dreka is a social media star, having gathered over 2.6 million followers on Instagram, while she's uploaded close to 900 pictures onto her account, most of which have her body in focus. She has been active on Twitter since November 2015, and is today followed by around 90,000 people. Dreka also has a Facebook page followed by almost a million people.
Love life and marriage with Kevin Gates
Dreka married her other half Kevin Gates in a ceremony attended by only their closest friends and family members, in October 2015.
They dated for several years before marrying – it's believed that they met while still attending high school. Dreka has given birth to their two children named Khaza and Islah, and as of February 2021, the family of four seems to be leading a happy life together.
Kevin has children with other women, and it appears that Dreka doesn't mind about this. In an interview he gave to the magazine "Complex" in 2013, Kevin mentioned that he has several children whom he loves and spends time with, but how it wouldn't make a change if people knew how many children he has.
Both Kevin and Dreka are practicing Muslims, and in September 2016, Kevin travelled to Mecca to attend the annual Islamic pilgrimage The Hajj.
Hobbies and other interests
Dreka spends most of her spare time working out, and there are numerous pictures taken during her workout sessions uploaded onto her Instagram account.
She prefers being in nature rather than in overcrowded cities, and is a huge lover of animals, with her favorites being chickens.
Dreka likes tattoos, and has one on her right arm and another on her chest.
She is keen on travelling and has been all around the US to keep her husband company during his events, and the two have also vacationed in a couple of European countries, including Greece and Turkey.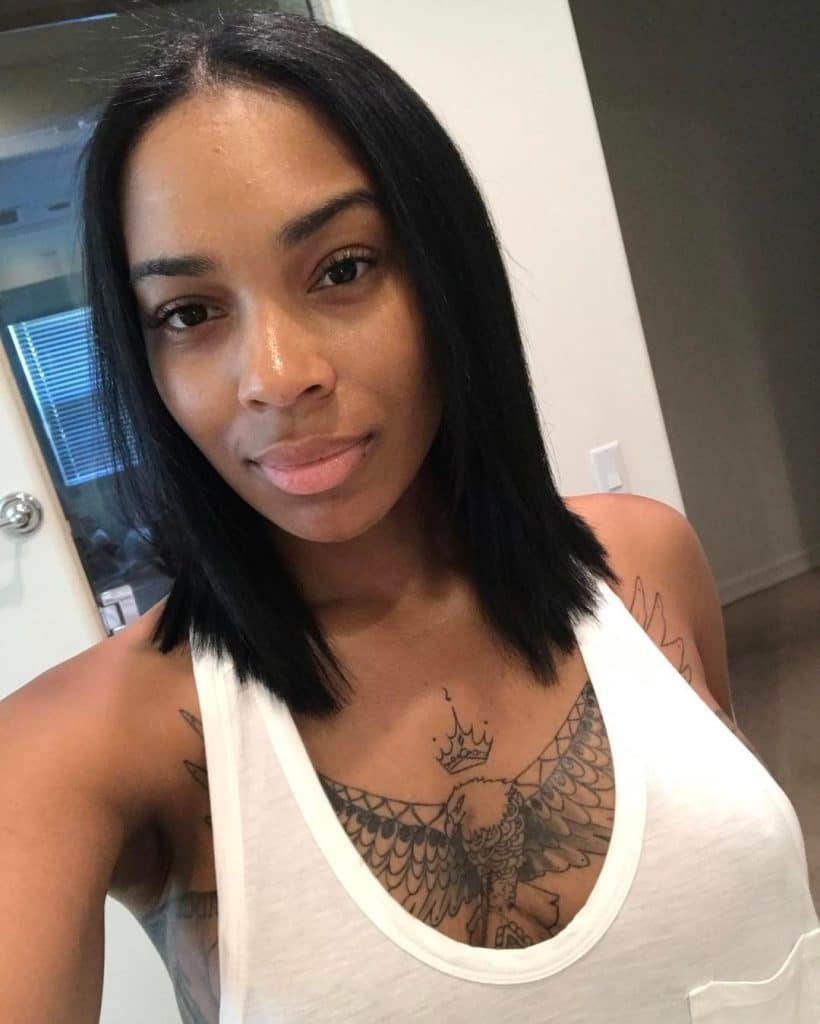 Late at night she likes to watch movies – her favorite actors are Leonardo DiCaprio and Brad Pitt, while a couple of her favorite movies are "Once Upon a Time in Hollywood", "Inception", and "Meet Joe Black".
Age, height and net worth
Dreka's age is 34. She has long black hair and brown eyes. Her height is 5ft 4ins (1.62m), she weighs around 120lbs (55kgs), while her vital statistics are 33-27-35. As of February 2021, her net worth has been estimated at over $300,000, while Kevin's wealth is reputedly over $1 million.
Who is Kevin Gates?
Kevin Jerome 'Gates' Gilyard was born in Louisiana, USA on 5 February 1986 – his zodiac sign is Aquarius and he holds American nationality. He gained recognition with his debut album "Islah" which came out in January 2016, and climbed to #2 on the US Billboard 200 Chart.
He was raised in Baton Rouge by his African-American father and Puerto Rican mother. Kevin was arrested for the first time aged 13 when he was a passenger in a stolen vehicle; a year later, his father died of AIDS. He matriculated from a local high school in 2003, and then enrolled at Baton Rouge Community College, but soon dropped out.
Kevin launched his career in 2007 after signing a contract with Dead Game Records, and later that year he released his debut mixtape – "Pick of Da Litter". His second mixtape, "All or Nuthin'", came out in 2008, but in the same year, Kevin and his friend Boosie Badazz, also a rapper, were sent to jail. During the following three years, Kevin spent around 30 months in prison, and it's been reported that he enrolled into a prison program and obtained his Master's degree in psychology.
His new mixtape "Make 'Em Belive" was released in 2012, and Kevin then signed to the management wing of the record label Young Money Entertainment, owned by the famous rapper Lil Wayne.
The year 2013 saw him release his mixtapes "The Luca Brasi Story" and "Stranger Than Fiction", both of which received mostly positive reviews, with the latter peaking at #37 on the Billboard 200 Chart. In December of the same year, Kevin was sent to jail gain, and after getting out, released his mixtape "By Any Means" on 18 March 2014. The year 2015 saw him release his new mixtape "Luca Brasi 2", which peaked at #38 on the Billboard 200 Chart, and he also released the mixtape "Murder for Hire", which received mixed reviews.
On 22 September 2017 while being in prison, Kevin released his 15th mixtape "By Any Means", and it became his best-charting mixtape, peaking at #4 on the Billboard 200 Chart. He released his debut extended play (EP) "Chained to the City" consisting of three songs in May 2018, and it was followed by his second EP "Only the Generals Gon Understand" on 31 May 2019. His second album "I'm Him" came out on 27 September 2019.
After taking a break of over a year, Kevin released his mixtape "Only the Generals, Pt. II" on 19 February 2021. He has also just recently announced that he will soon be releasing his third album "Khaza".