• Mercedes McNab is a 40-year-old retired actress from Canada.
• She has a net worth of over $1 million.
• She is known for her roles in the "Addams Family Values", "Buffy the Vampire Slayer", and "Hatchet" film series.
• Mercedes has graced the cover of Playboy and Xpose magazines.
• She is married to real-estate developer Mark Henderson and has a daughter.
Who is Mercedes McNab?
Mercedes Alicia McNab was born on 14 March 1980 under the zodiac sign of Pisces, in Vancouver, British Columbia, Canada. She is a 40-year-old retired actress, perhaps still best recognized for landing the role of Amanda Buckman in the 1993 satirical black comedy film "Addams Family Values", playing Harmony Kendall in The WB/UPN supernatural drama series "Buffy The Vampire Slayer" (1997-2001), and featuring as Misty in the "Hatchet" film series.
How rich is she, as of now? Mercedes McNab Net Worth
As of early 2021, Mercedes McNab's net worth is estimated at over $1 million, acquired through her successful involvement in the film industry. She has garnered 35 acting credits, during career from 1991 to 2011.
Early Life, Parents, Nationality, Ethnicity, Education
Mercedes McNab spent her early years in her hometown of Vancouver, where she was raised an only child by her father, Robert 'Bob' McNab, known for being an English former professional soccer player, and her mother, whose name and profession haven't been revealed. At the age of nine, she moved with her parents to the US, and they settled in Los Angeles, California. Mercedes holds Canadian nationality, belongs to White Caucasian ethnic group, and is of Scottish Clan Macnab. Mercedes developed her interest in acting at a very young age, there is no information regarding her education.
Career Beginnings
According to her IMDB profile, Mercedes McNab made her debut film appearance in 1991, when she landed the small role of a girl scout selling cookies in the supernatural black comedy film "The Addams Family", but winning a more prominent role in its 1993 sequel entitled "Addams Family Values", in which she played Amanda Buckman. Prior to that, she guest-starred as Lisa in the episode "The Genius" of the TV sitcom "Harry And The Hendersons", aired in syndication, and played Amanda in the made-for-TV short family comedy film "Do Not Bring That Python In The House", both in 1992.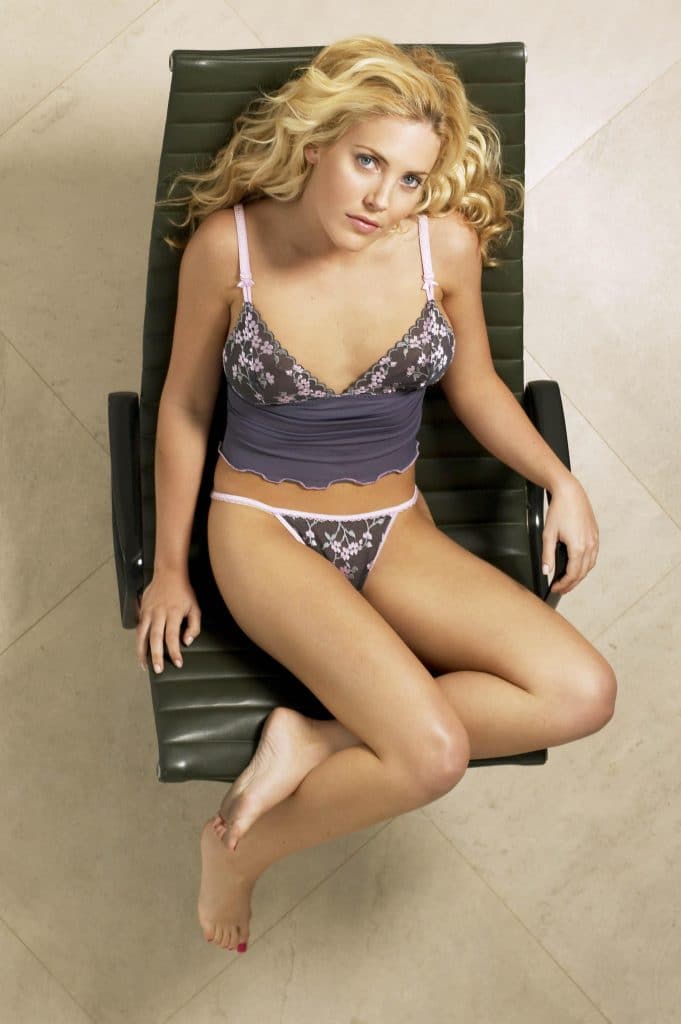 In 1994 she guest-starred as Shannon Trahern in the episode "Brooklyn Dodgers" of the Fox weird western series "The Adventures Of Brisco County, Jr.", portrayed Hanna Morgan in Dean Hamilton's western film "Savage Land", and featured as a young Sue Storm in the independent superhero film "The Fantastic Four", but which wasn't released.
Rise to Prominence and "Buffy the Vampire Slayer"
In 1997, Mercedes landed the role of Claudia Spencer in the made-for-TV fantasy adventure comedy film "Escape From Atlantis", after which she was cast as Harmony Kendall in The WB/UPN supernatural drama series "Buffy The Vampire Slayer", created by Joss Whedon and aired from 1997 to 2001. The series was a critical and commercial success, which helped her to gain worldwide recognition. She then reprised the role of Harmony in its spin-off series entitled "Angel" (2001-2004).
Other Roles in the Late 1990s and Early 2000s
Concurrently, she also guest-starred as Denise Miller in the episode "Date Auction" of the US Network teen sitcom "USA High", and Jill Everett in the episode "Last Dance" of the CBS fantasy drama series "Touched By An Angel", both in 1998. It was followed by her portrayal of Pamela in the made-for-TV action adventure film "White Wolves III: Cry Of The White Wolf", which is the last sequel to the 1990 coming-of-age survival drama film "A Cry In The Wild".
Mercedes then made a guest-starring appearance as Heather Preston in the episode "6 Hours" of the CBS action crime series "Walker, Texas Ranger", and played Echo Olvera in the made-for-TV sci-fi comedy film "Beer Money", both in 2001. Afterwards, she guest-starred as Grace in the episode "Downtown Crossing" of The WB's teen drama series "Dawson's Creek", and as Mickey Tanner in the episode "Chapter 48" of the Fox drama series "Boston Public", both in 2002.
Two years later, she guest starred as Katie in the episode "Undercover Brother" of The WB's sitcom "Run Of The House".
Continued Success
In 2006, Mercedes portrayed Ginger in the short comedy film "Miles From Home", and starred in the lead role of Misty in the slasher film "Hatchet", written and directed by Adam Green, a role she would later reprise in its 2010 sequel, entitled "Hatchet 2". In 2007 she landed the small role of Natalie Carson in the episode "In Sickness & In Health" of the NBC crime drama series "Crossing Jordan", and then played Jamie in the comedy film "The Pink Conspiracy". During the same year, she also guest-starred as Holly in the episode "Love, Bullets And Blacktop" of The CW's comedy series "Reaper", and as Lucy in the episode "Fresh Blood" of the drama fantasy horror series "Supernatural".
Further Work and Retirement
After guest-starring as Viki Jenkins in the episode "Daredevils!" of the USA Network detective comedy-drama series "Psych", Mercedes played Georgie in the made-for-TV action comedy-drama film "Vipers", portrayed Vicki in the horror thriller film "XII", and featured as Tara Leslie in the horror comedy film "Dark Reel", all in 2008. Thereafter, she was a guest star as Brooke Lombardini in the episode "Cold Comfort" of the CBS police procedural crime drama series "Criminal Minds" (2009), which was followed by her portrayals of Atheria in the direct-to-DVD horror thriller film "Thirst" and Gillian Garvey in the made-for-TV horror thriller film "Medium Raw: Night Of The Wolf", both in 2010.
In the next year she made her last appearance in the role of Carla, in the made-for-TV short comedy film "Glass Heels", after which she retired from acting.
Magazine Covers and Pictorials
In addition to her acting career, Mercedes McNab graced the cover of the November 2003 issue of Xpose magazine as well as the November 2006 issue of Playboy magazine; she also appeared in a nude pictorial for the latter, and featured in pictorials for other magazines, including Femme Fatales and FHM. Moreover, she was named one of the 25 Sexiest Celebrities by Playboy magazine in February 2007.
Appearance and Vital Statistics
Mercedes McNab has long blonde dyed hair and blue eyes. She stands at a height of 5ft 4ins (1.64m), while her weight is around 127lbs (58kgs). Her vital statistics are 34-24-35, and her bra size is 34B. Information about her dress size and shoe size isn't available.
Personal Life
Mercedes McNab is a married woman. Her husband is Mark Henderson, a real-estate developer and co-founder of Crescent Hotel in San Francisco. The lovebirds walked down the aisle at a lavish wedding ceremony held in La Paz, Mexico on 12 May 2012, and welcomed their daughter named Vaunne Sydney Henderson on 23 February of the following year. The family currently resides in Pacific Heights, San Francisco.