• Emma Rigby is a 29-year-old English actress known for her award-winning performance in the British soap opera "Hollyoaks"
• She began her career at the age of 14 and has received various awards for her work
• She has modeled with various photographers and has appeared in various films and TV series
• She has had two relationships, but is currently single and focusing on her career
• Her net worth is currently estimated to be around $2.5 million
With seductive lips, blonde hair and a pleasant smile, Emma Rigby is an award-winning English actress, known for her eye-catching beauty and prowess in acting. She is particularly famous for her role as Hannah in the British soap opera "Hollyoaks."
Early Life, Zodiac sign, and Education Background
Emma Catherine Rigby was born under the Libra zodiac sign on 26 September1989, in Merseyside, England, which makes her 29 years old as of 2021. She was raised together with her elder sister Charlotte, by Steven and Carole Rigby who hold Celtic and Iberian roots.
As a child, Emma had a knack for dancing, and focused on ballet; before she attained the age of six, she had already made a name for herself as on several occasions she had emerged victorious in dancing competitions she entered.
Her mother took her to concerts, and was her greatest inspiration and she (Emma) once revealed that 'my mum took me to the ballet when I was barely three years old and that was the only time I felt happy sitting down, mesmerised, and with my jaws open. When she brought me back home, I would not stop dancing.' However, she later realised that her true passion was in acting, and when she became a teenager, she joined a private acting academy where she appeared in several plays.
Despite being a prominent and globally recognized actress, Emma didn't disregard her education, and was a bright student who attended De La Salle High School, and later matriculated with more than eight As in her General Certificate of Secondary Education exams, simply referred to as GCSE.
Career and Awards
Acting and Modelling Careers
Emma's debut role was as Lisa in "Born and Bred" (2002), when she was 14 years old. Her next role was when she was 15, as Hannah in "Hollyoaks" (1995-present), for which she was praised and even nominated for several awards for her flawless performance. In 2008, she announced that she would stop appearing in "Hollyoaks" in 2009 to pursue other projects, and subsequently contributed to the musical thriller "Wolfboy" in London's West End in 2010.
Emma was then cast in a starring role in 2011's "Prisoners' Wives" drama series, together with Jonas Armstrong, followed by a guest appearance as Carrie Ann, Mike's blind date in "Pramface" (2012).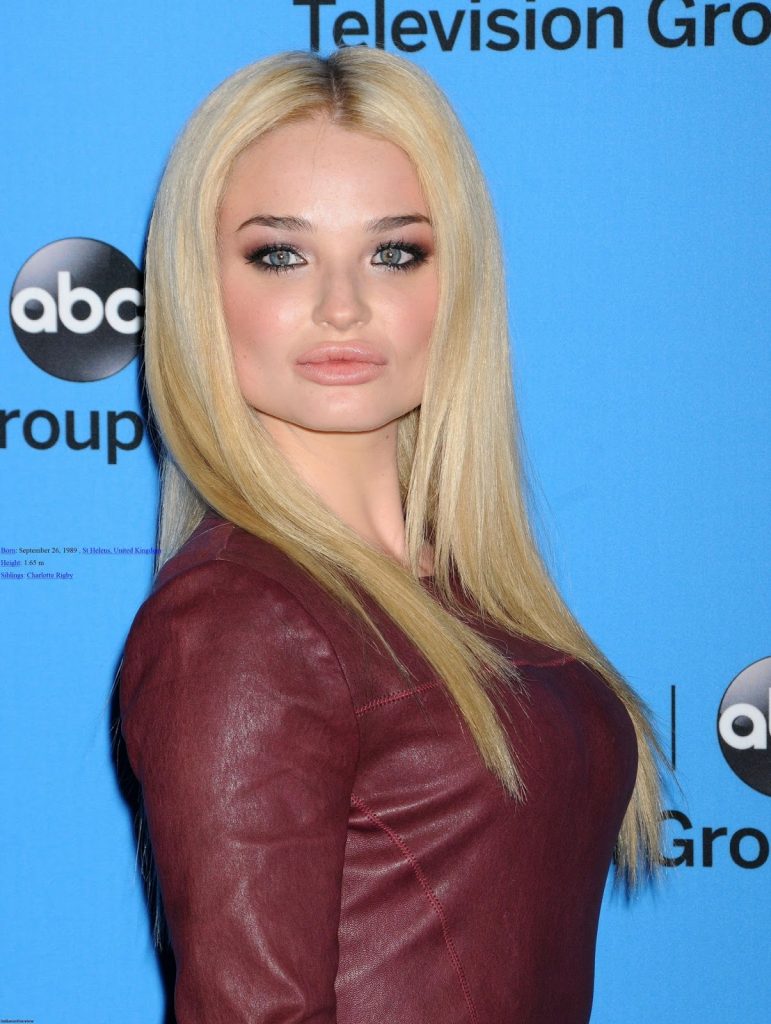 Rigby appeared in the fourth episode of "Ripper Street" portraying Lucy and in the first episode of "The Job Lot" (2013), before it was announced that she would be assigned the starring role as Red Queen in the American TV series "Once Upon a Time in Wonderland". She was featured as the protagonist in the "Endless Love" remake in 2014, and also starred in "Plastic," a British action drama film based on a true story about several university students who are credit card scammers.
In her acting career, Emma has collaborated with notable writers and actors such as James Flanco to create a movie based on his book "Actors Anonymous" (2015).
The year that followed saw her returning to the British screens after being absent for around three years, in a guest-starring role in "Death in Paradise." She contributed to "American Violence" as Olivia Rose in 2017.
In her modelling career, Emma has worked with various notable photographers including Rory Lewis, with whom she has done several photoshoots.
Awards
Emma is an outstanding actress who has managed to bag several awards, including three British Soap Awards for best actress in 2007 and 2008 for her work in "Hollyoak", and in 2009 for being the sexiest female, and a National TV Award for the most popular actress in 2007. She received the 2012 TV Choice Award for best actress in "Prisoners' Wives."
Unlike many celebrities, Emma is inactive on social media and doesn't have Facebook, Instagram or Twitter accounts.
Personal Life, Relationships, Boyfriend
The Merseyside-born superstar is currently unmarried and has been a very discreet person who prefers to keep her love life under the radar. According to sources, however, she had been spotted on several occasions with Matthew Mill, a professional football player and Bolton Wanderers' defender, and rumors started spreading that she was dating him. She admitted to the rumors and was often seen cheering her boyfriend from the  stands whenever he was playing.
Their relationship was, however, short lived as they broke up in 2009  for unknown reasons.
She was in another relationship with Aston Merrygold, a TV personality and singer, shortly afterwards, however, the couple parted ways after dating for close to a year. As of mid-2021, Emma is single and doesn't have children. She is currently focusing on her career, and believes that she shouldn't be famous because of the person she's dating, but because of her work and talent. During an interview, she revealed that 'I'm single and I've been for a long time now and I just focus on my profession as I have done for many years.
It is all about determination and hard work, as there's a lot that I want to achieve and do, and I feel like I have to be selfish and really commit to my career.'
Body Measurements
Emma is of white ethnicity, with blue eyes, long blonde hair and has an hourglass figure – she's 5ft 5ins (1.65m) tall, weighs around 122lbs (55kgs), with vital statistics of 36-25-35 She wears shoes of size 8 (US), dress of size 6 (US), and bra of cup size 32E. Most of her fans consider her as one of the most beautiful actresses in Britain.
Net worth
According to several reliable sources, Emma's net worth is close to $2.5 million as of 2021,  accumulated from her long-running career as an actress.
Rigby has several upcoming projects, and as her career is still at its peak, her wealth is expected to increase in the coming years.
Rumors
It is highly speculated that Emma went for a surgical procedure to improve her facial appearance – a lip job to make her lips fuller and lush than they used to be, and that she has managed to make her skin smoother by having Botox fillers applied to her face. Her cheeks and chin look particularly flawless and smooth, and her age lines and wrinkles are long gone. Undoubtedly, Emma knows how to present herself perfectly on the screens with her stunning looks.