• Boyd Holbrook is an award-winning American actor, best known for his roles in "Narcos" (2015-2016) and "Logan" (2017)
• His early life included high school basketball and studying at the William Esper Studio, Shane Ann Younts theater, and New York University
• His modeling career included working for Gucci, Versace, Bill Blass, Marc Jacobs, DSquared, Jean-Paul Gaultier, and Hugo Boss
• His rise to prominence began with his role in "Narcos" and has since starred in prominent films and TV series, including "The Predator" (2018) and "The Fugitive" (2020)
• He is married to actress and musician Tatiana Pajkovic and has an estimated net worth of $3 million.
Who is Boyd Holbrook?
Boyd Holbrook is an award-winning American actor, perhaps best known to the world as DEA Agent Steve Murphy in the TV series "Narcos" (2015-2016), and as Donald Pierce, in the film "Logan" (2017), among numerous other roles he's secured so far in his career.
Early Life, Parents, Education
Robert Holbrook was born under the Virgo zodiac sign on 1 September 1981, in Prestonsburg, Kentucky USA, to Don Holbrook a bulldozer driver, and his wife Ellen, a real estate agent. He went to a local high school in his hometown where he started playing basketball. He couldn't find any other suitable program for himself while in high school as there was no drama club.
Nevertheless, he eventually got into the William Esper Studio, a school for the performing arts in Manhattan, New York, focused on teaching the acting technique of Sanford Meisner. Furthermore, he took a two-year Voice and Speech Program at the performing arts theater Shane Ann Younts, and also received the School of Professional Studies Certificate (SPSC), from New York University.
Modeling Career
After high school, Boyd was working for UPS for a year and living in Louisville. Later, he joined Jenny Wiley Theatre in Kentucky, where he worked as a carpenter for a while. He was spotted by a modeling agent and soon signed with Elite Models, and his modeling career took a swing up as he started working for such notable brands as Gucci, Versace, Bill Blass, Marc Jacobs, DSquared, Jean-Paul Gaultier, and Hugo Boss among numerous others.
He also signed with Wilhelmina Models, but on the suggestion of actor Michael Shannon, he got into theater work, and began auditioning for various roles.
Acting Career Beginnings
Boyd's acting career began in 2008 with the role of Denton Smith in the Academy Award-winning biopic about Harvey Milk, entitled "Milk", and starring Sean Penn, Josh Brolin, and Emile Hirsch. He continued his career with minor roles in the film "Higher Ground" (2011), and the TV series "The Big C", also in 2011. He struggled a lot in his early days, sending more than 200 tapes to auditions, and being called to attend only a few. In 2013 he appeared in the romantic drama film "Very Good Girls", starring Dakota Fanning, Elizabeth Olsen, and Sterling Jones, and also had a minor role in the Primetime Emmy Award-winning film "Behind the Candelabra", with Michael Douglas, Matt Damon and Scott Bakula in the lead roles.
In 2014 he was Billy in the romantic comedy-drama film "The Skeleton Twins", starring Kristen Wiig, Bill Hader, and Luke Wilson, and also had his first major role as Amos Jenkins in the drama film "Little Accidents" (2014).
Rise to Prominence
Gradually Boyd's career was improving, and in 2015 he secured his first recurring role as DEA Steve Murphy in the biopic about the rise and fall of the Colombian drug lord Pablo Escobar, "Narcos", co-starring Pedro Pascal and Wagner Moura. He appeared in 20 episodes of the Primetime Emmy Award-nominated series and continued in a great fashion by starring in the romantic drama film "The Free World" in 2016, next to Elizabeth Olsen and Octavia Spencer. The same year he was Pinky in the drama film "Cardboard Boxer", alongside Thomas Haden Church and Terrence Howard, while in 2017 he portrayed Pierce in the sci-fi action-drama film "Logan", with Hugh Jackman and Patrick Stewart in the lead roles.
In 2018 he was Pinkins in the drama film "O.G.", and also starred in the new take on the universe's most lethal hunters and their return to Earth, entitled "The Predator", in which he shared the screen with such stars as Trevante Rhodes and Keegan-Michael Key.
Most Recent Projects
In recent years, Boyd has become a Hollywood star, featuring in some of the most prominent films and TV series. In 2019, he portrayed Locke in the film "In the Shadow of the Moon", while in 2020 he played Mike Ferro in the TV action crime-drama series "The Fugitive". Most recently, he starred in the horror film "Eight for Silver" (2021), alongside Kelly Reilly and Alistair Petrie, and has played The Corinthian in the TV action-drama series "The Sandman", starring Vivienne Acheampong, Sanjeev Bhaskar, and Asim Chaudhry.
As of mid-2021, he's working on several projects, including the thriller-drama film "Beckett", scheduled for release later this year, also starring John David Washington and Alicia Vikander next to Boyd.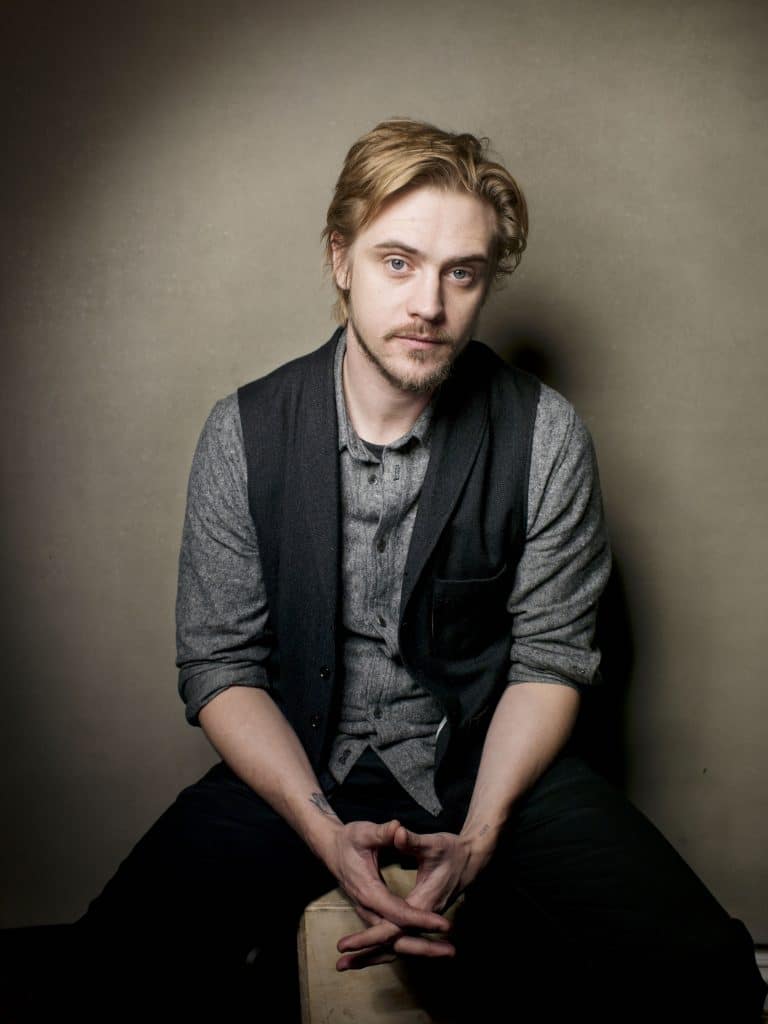 Furthermore, Holbrook is also filming for the TV series "Platform", which is currently in post-production.
Personal Life, Dating, Wife
Boyd was in a relationship with actress Elizabeth Olsen from 2011 to 2015. They became engaged in 2014, but broke-up in January 2015.
In 2018 he married actress and musician Tatiana Pajkovic, Danish-born of Montenegrin ancestry, and daughter of Montenegrin actor Dragomir Pajkovic, since when they've welcomed their first child a son named Day.
Boyd Holbrook Net Worth
As of mid- 2021, Boyd Holbrooks's net worth has been estimated to be around $3 million, earned through his successful career as an actor, while his modeling career adds to his wealth.
Appearance and Vital Statistics
This prominent actor has blonde hair and blue eyes. He stands at a height of 6ft 2ins (1.88m), while he weighs approximately 187lbs (85kgs), with vital statistics of 40-14-30.
Hobbies and Interests
In addition to acting and modeling, Boyd has other interests. He desired to become an architect and used to draw houses and building and construct buildings on his own as a child. Furthermore, he is also a writer and has written and directed the short film "Peacock Killer" (2015).
In his free time, he likes to play volleyball and basketball as his passion for the sport hasn't died out since he became a successful actor. He also takes interest in photography and sculpture and his work was exhibited at the Rare Gallery in Chelsea, New York.
Boyd Holbrook's Ex-Girlfriend Elizabeth Olsen
Elizabeth Chase Olsen was born on 16 February 1989, in Sharman Oaks, California USA. She is the youngest child of Jarnie, a former dancer, and Dave, a real estate agent. She has two older sisters, popular twins, Mary-Kate and Ashley Olsen. She also has an older brother, and younger half-sister and a half-brother since her parents divorced in 1996.
She began appearing in films with her older sisters, but considered quitting her acting career due to over-hyped media attention towards her sisters, and Mary-Kate's eating disorder. Nevertheless, she took acting classes as a child, and later attended New York University's Tisch School of the Arts. Further, she took acting classes at Atlantic Theater Company, and spent a semester in Russia, where she attended the Moscow Art Theatre School.
To speak of her accomplishments, she was Martha in the film "Martha Marcy May Marlene" in 2011, while in 2013 she played Gerri in the film "Very Good Girls", and the same year portrayed Therese Raquin in the film "In Secret". She shot to fame with the role of Wanda Maximoff – better known as Scarlet Witch in the Marvel Universe films – starring in "Captain America: The Winter Soldier" (2014).
Since then, she's featured in the films "Avengers: Age of Ultron" (2015), "Captain America: Civil War" (2016), then "Avengers: Infinity War" (2018), and "Avengers: Endgame" in 2019, while most recently she starred as Wanda/ The Scarlet Witch in the TV mini-series "WandaVision" (2021). She is also working on the new film "Doctor Strange in the Multiverse of Madness", which is currently in post-production and scheduled for release in 2022, also starring English actor Benedict Cumberbatch.
In addition to her role as Marvel's superhero, Elizabeth has had notable roles in other films and TV series. In 2017 she played Jane Banner in the crime-drama film "Wind River", while from 2018 to 2019 she portrayed Leigh Shaw in the TV drama series "Sorry for Your Loss".
According to sources, Elizabeth Olsen's net worth is estimated at $12 million, as of mid- 2021.