• Claudia Sulweski is a social media star, lifestyle blogger and actress.
• She is well-known for her YouTube channel and her long-term relationship with Billie Eilish's brother Finneas O'Connell.
• She has pursued an acting career, with roles in TV series "Commute", "T@gged" and "The Runaways".
• She is estimated to be worth over $1 million and is active on Instagram, Twitter and YouTube.
• She enjoys traveling, playing video games and planning her goals and activities.
Who is Claudia Sulewski?
Claudia Sulweski is a social media star, lifestyle blogger, and actress, who rose to fame posting videos on her self-titled YouTube channel. She is additionally recognized for her long-term relationship with Billie Eilish's brother named Finneas O'Connell. Claudia was born under the Zodiac sign Pisces on 19 February 1996, in Chicago, Illinois, USA. She holds American nationality, and as of 2021, she is 25 years old.
Early life and Family
Claudia was born to parents Krupinska and Czeslaw Sulewski, who came to the US from Poland; she's bilingual in English and Polish. Regarding her siblings, she has two brothers, Kevin and Marcin. Claudia spent most of her childhood in Illinois, but  nothing is known about her educational background, except that she matriculated from high school.
YouTube Career
Claudia kicked off her career in 2010 at a young age, not fully aware of what she was doing and how YouTube worked. In an interview, she said: "My first video was me stealing my mom's blue eyeshadow and applying it." Ahead of time, Claudia began posting make-up tutorials, fashion ideas, and room tours, continuing posting and creating videos, slowly getting more attention and subscribers who tuned in regularly to watch her dabble with make-up and hairstyles. Her first videos include "My Everyday Face Routine", "Back to School Make-Up Look", and "Haul: Ulta and Forever21".
As the views reeled in, it became apparent that her channel had gained recognition and a faithful audience, and soon she began landing jobs through her online activity and popularity.
In 2013 she was invited to host and interview various designers at Elle's Fashion Next Show – today we see YouTubers and social media stars regularly hosting events, however, back in the day YouTubing wasn't quite recognized as a profession, and many took it as a hobby.
Having achieved some success, Claudia moved to Los Angeles in 2014, with the goal of pursuing her YouTube career more seriously and expanding her career options. She said: "The reason why I moved out to LA was not for my YouTube channel, it was because of my YouTube channel." During the same year, she covered the 12th Annual Teen Vogue Young Hollywood Party, becoming the first Teen Vogue's YouTuber to host the event. In 2015 she covered the same (12th) Annual Teen Vogue Party.
Claudia followed the popular trends and slowly began incorporating look-books, DIY projects, and collaborations such as "Not My Arms Make-up Challenge feat. HauteBrilliance" and "DIY: Transform Your Jewelry From Cheap to Chic".
Later she switched from her usual type of videos and began blogging, sharing tips for organizing, and creating motivational self-care videos; two such are "LET'S TALK: Staying Confident, Motivated & More" and "How To Organization and &Planner Board".
Besides collaborating with other YouTubers, she often created videos with her romantic partners, such as "Planning Our Lives Together", and "How Many YouTubers Have I Kissed?"
Even though she hasn't changed her content in terms of the direction, as it still revolves around make-up ideas and fashion, as of late she's focusing more on vlogging her travels, diets, and usual routines.
Her channel currently has over 500 videos with 2.4 million subscribers and almost 200 million views.
Despite her super successful and prolific career as a YouTuber, in an interview talking about her future, Claudia disclosed: "I don't want YouTube to be my forever,"
Acting Career
As Claudia has always had plans to diversify her business and branch out and explore other professions, in her case that was acting, saying "That acting bug just hit me, 100 percent". Following her successful project with Teen Vogue, she dabbled in acting, landing minor roles in web series and short movies, then after starring in the 2015 short horror film entitled "A Christmas Carol+ Zombies", Claudia landed the lead role portraying Emma in the TV series "Commute", which ran for two seasons.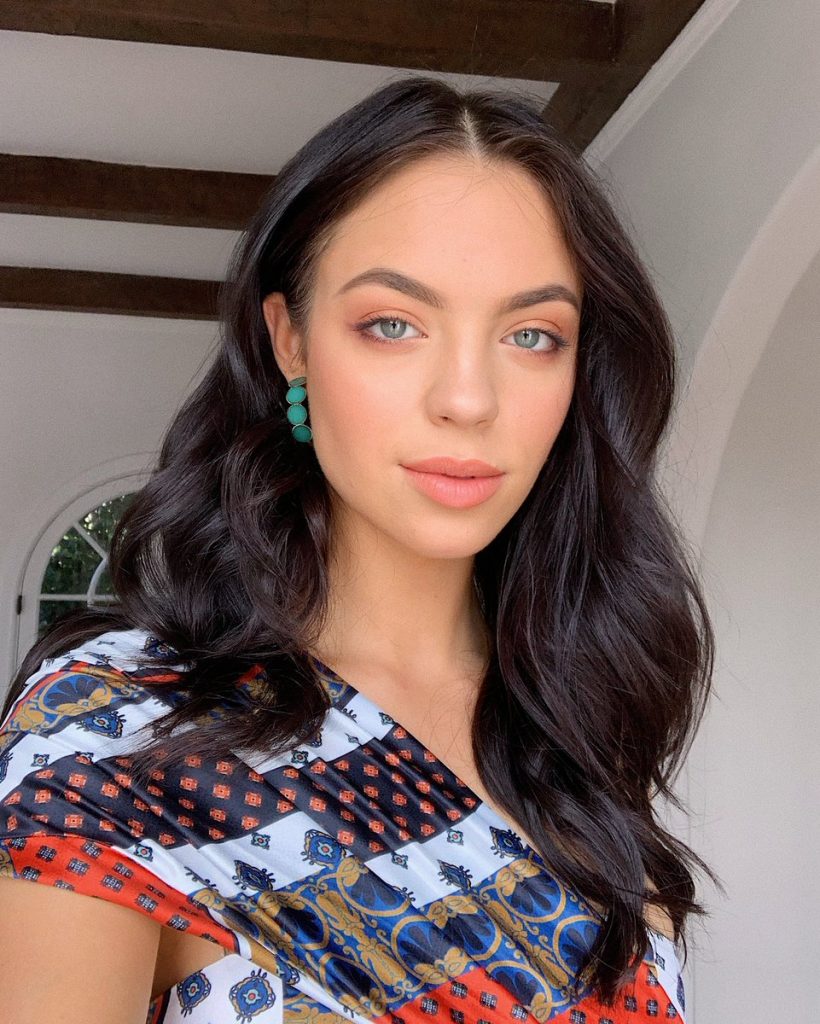 The following year she joined the cast of the thriller series "T@gged" starring Lulu Antariksa and Katelyn Nacon, the engaging show dealing with everyday teenage struggles, additionally hardened through media, which ran for three seasons with Claudia appearing in 19 episodes.
In 2017, she made a one-episode appearance in TV series' "Embeds", "Hyperlinked", and "Betsy", then during the same year scored the role of Skylar in the drama series entitled "Versus". Her latest roles include the TV series "The Runaways", and the horror/mystery film entitled "Deacon".
In one of her recent videos, she disclosed that she had become more selective in terms of roles and locations for shooting a TV series. Given that she is such a homebody and likes her established routines and activities, it's hard for her to adapt to the entertainment industry, which calls for time flexibility and constant availability.
Personal Life
When it comes to her dating history, in 2015 Claudia dated actor and film director Jonah Green, perhaps best recognized for the projects "Insight", "Worst Birthday Ever", and "Mister Student Body President". The couple broke up after six months, then Claudia began her romance with the social media star, Logan McKay. In 2016 the rumors circulated about an alleged relationship between Claudia and her co-star from the "Commute" series Steffan Argus, however, it remained unclear whether they were really in a relationship, considering that they played each other's love interests in the series.
After several short-lived flings, Olivia seemed to find her true love in 2018, when she became acquainted with Finneas O'Connel, famous singer and musician, and the older brother of current pop sensation Billie Eilish.
Interestingly, they met through the private celebrity/influencer dating app called "Raya". Claudia reached out to Finneas, and invited him to go to the movies with their mutual friends, saying lated: "It was the best first meeting experience ever."
Finneas produced and released a song entitled "Claudia" shortly after they met. As of 2021, they have stepped into their fourth year together, and often attend public and red carpet events, including Oscars and Grammys. In September 2020 they moved into a $5 million house in Malibu, concurrently launchingd the podcast together entitled "We Bought A House". The podcast explores major aspects of their relationship, including its ups and downs, she said: "It was so exciting being able to connect with you guys on a level that I feel is the closes that I've ever personally gone in terms of sharing."
However, in March 2021, Claudia disclosed in a video that they were taking an indefinite break, as the podcast was not something they were interested in doing, considering their other obligations.
Finneas is a regular in her YouTube videos, as they currently live together and create various videos such as "What We Eat in A Day*couples edition*" and "Building a Gingerbread House With Finneas".
Briefly about Finneas
Finneas is an American producer, singer-songwriter, and actor, perhaps best known for his musical collaborations with sister Billie Eilish. He has won eight Grammy Awards for his producing, mix-mastering, and songwriting endeavors, for "No Time To Die", "Bad Guy", and "When We Fall Asleep, Where Do We Go?" Besides his younger sister, he has worked and collaborated with other pop-stars such as Selena Gomez and Camilla Cabello.
the cutest couple doesnt exi- pic.twitter.com/6w1SEOkZXB

— kaytee (@billiesxanny) November 24, 2019
In 2019 he launched his solo career with his debut EP entitled "Blood Harmony". His recent collaborations include a project called "Till Forever Falls Apart" with Ashe.
He has also scored minor acting roles in several movies and TV shows, including "Glee", "Bad Teacher", and "Modern Family".
What is Claudia's net worth?
As of mid-2021, her estimated net worth is over $1 million, which she's earned through her career as a YouTuber and social media star. Given her huge popularity and enormous following across various social platforms, she additionally earns through sponsorship and brand affiliations. Considering her content reach and average engagement rate of her followers, she reportedly charges between $3,000-5,000 for affiliated posts and videos. Since launching her channel, she has worked with various popular brands, including Nordstorm, Casetify, and Care of Vitamins.
Physical stats and hobbies
Claudia is 5ft 4ins tall (164cm), her weight is around 121lbs (55kgs), and her vital statistics are 37-26-24, Her natural hair is light brown, and her eyes are green.
Claudia is a great fan of traveling and exploring interesting locations and sites. She also plays games such as "Animal Crossing" and watches Netflix.
Many who watch her YouTube channel know that Claudia is very organized and efficient, and loves planning her week and goals as it helps her to keep track of her achievements.
She has a brown pit bull called Peaches.
Claudia is very popular and active on social media platforms; her Instagram has over two million followers, while her Twitter counts over 300,000 fans. She usually posts about her current and upcoming projects, photos from her travels, and fashion ideas.