• David Krumholtz is an American actor and producer, born in Queens, New York City in 1978.
• He is most famous for playing Charlie Eppes in "Numb3rs" and featuring in "The Santa Clause" movie series as Bernard.
• He grew up with a knack for acting and pursued his acting career after dropping out of New York University.
• He is married to Vanessa Britting, an actress and producer, since 2010 and they have two children.
• His net worth is estimated to be around $8 million.
David Krumholtz is an American actor and producer, who is most famous for playing a protagonist role as Charlie Eppes in "Numb3rs" crime drama series by CBS from 2005 to 2010 and featuring in "The Santa Clause" movie series as Bernard, who is an Elf.
Early Life, Childhood, and Education Background
David Krumholtz was born under the Taurus zodiac sign on 15 May 1978, in Queens, New York City, USA, to his mother Judy Krumholtz and her husband Michael Krumholtz and so is 43 years old as of 2021. The Queens-born star was raised together with Dawn, his elder sister, by his 'almost poor and very working-class' family of Jewish descent.
His father Michael worked for the US Postal Service, while his mother was a Dental Assistant. David's paternal grandparents were originally from Poland, and his maternal grandparents were from Hungary, and migrated to the US in the late '50s. David attended Stephen A. Halsey Junior High School, located in Forest Hills, Queens, before being enrolled into Professional Children's School in Manhattan, an alternative school for kids who work in the entertainment industry – he completed his studies in 1996 and matriculated to New York University, but later dropped out to pursue his acting career. David eventually received an Honorary Arts Degree in Mathematics in 2007 from Lake Tahoe Community College, which honoured his portrayal of maths genius Charlie Eppes in "Numb3rs."
The famous actor grew up with a knack for acting, and by the time he was approaching 13, he had started going for auditions, together with his childhood friends. He auditioned for "Conversations with My Father" on Broadway play and was selected to play Young Charlie in 1992, alongside Jason Biggs,  Judd Hirsch and Tony Shalhoub.
Career Beginning and Rise to Stardom
David made his film debut in 1993, when he assumed the role of Barry in the comedy film "Life with Mickey," which saw him nominated for a Young Artist Award. In the year that followed, Krumholtz was assigned a role in the "Addams Family Values" comedy film, and later on made his TV series debut with a guest role as Scotty in an episode of NBC's "Law &  Order" legal drama series (1993).
David caught the public eye when he played Bernard the Elf in "The Santa Clause" family comedy film (1994), and it's first and second sequels that aired in 2002 and 2006 respectively. By the end of the decade Krumholtz had made appearances in several films and TV series, including 1997's "The Ice Storm" and "Slums of Beverly Hills" in 1998, and "Liberty Heights" in 2001, among others.
Krumholtz made his career breakthrough between 2000 and 2010, with appearances in films such as "Sidewalks of New York," in which he had his first starring role (2002), the biographical film "Ray", in which he appeared together with Kerry Washington and Jaime Foxx (2004), 2005's crime drama "Numb3rs" and "My Suicidal Sweetheart," which got him awarded Best Actor's Slate
Award at California Independent Film Festival, and "Tax Man" (2010) among many more.
After 2010, David was cast in many starring and guest starring roles in series such as 2011's "The Playboy Club," "Partners" in 2012, "Rising Hope" and "The Good Wife," before lending voice to Timo in DreamWorks' "All Hail King Julien" (2011-2015) which had "Madagascar's" main characters. Some of his recent works include 2015's "Gigi Does It," which he  co-created, "A Futile and Stupid Guesture" (2018), "The Ballad of Buster Scruggs" and "Living Biblically" in the same year, and "The Plot against America" among several others.
David is active on several social media platforms, including Facebook and Instagram.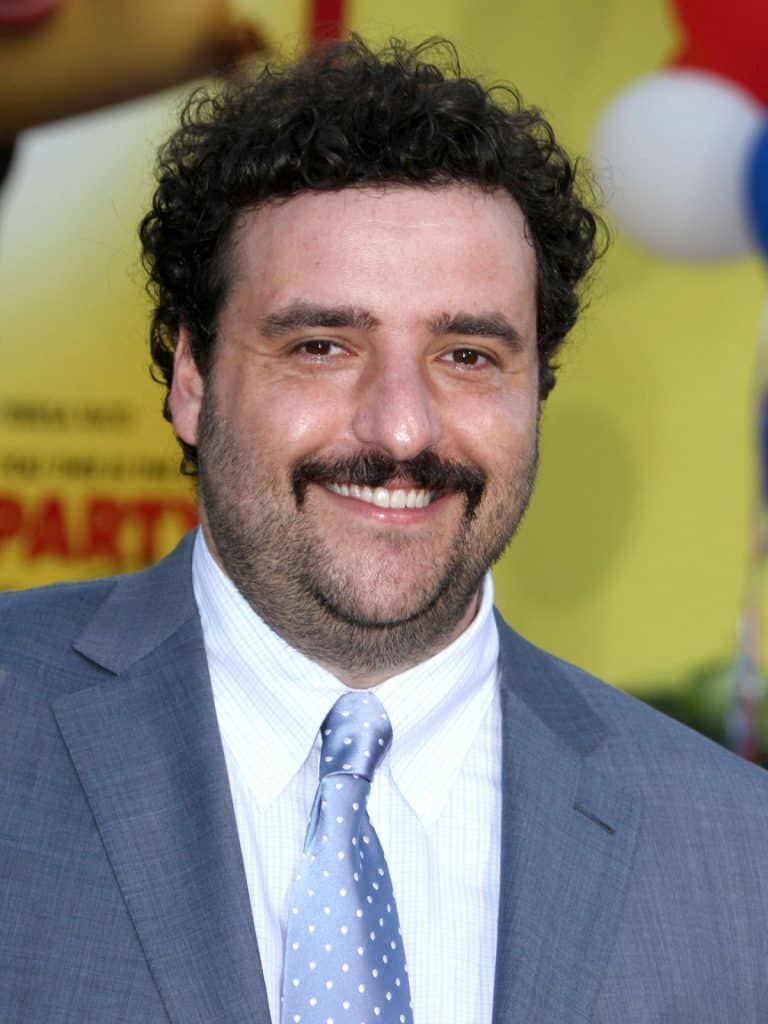 He uses his widely-followed Twitter account to share details of his professional and personal lives with his fans, including updating his keen followers about upcoming projects.
Personal Life
David is married to the famous writer, actress and producer Vanessa Almeda Goonan, known by most of her fans as Vanessa Britting, and is famous for her appearances in "Presentation," "Walking the Walk," and "Big Breaks." The duo met and dated for some time before becoming engaged in 2008. Two years later, David took his fiance on a vacation to one of the most romantic destinations in the world, Paris, and proposed to her and when she said yes, they traveled back to New York to make wedding plans.
The couple tied the knot at the Plaza Hotel in New York City in May 2010, attended by 180 guests, among them the "Numb3rs" co-stars Judd Hirsch, Peter MacNicol, and Rob Morrow.
The couple is blessed with two children, a daughter named Pemma Mae (meaning 'the girl of my dreams') born in 2014, and a son Jonas born in 2016. They are allegedly living a happy life together in their home located in Los Angeles, California without any rumors of separation or divorce.
In 2011, doctors diagnosed Krumholtz with thyroid cancer. He received radioactive iodine treatment, and by January the following year, had recovered, and was pronounced to be free of cancer after around five months of treatment.
Body Measurement
The New York-born superstar is of the white Caucasian ethnicity,is 5ft 7ins (1.71m) tall and weighs approximately 160lbs (73kg) according to sources. He has a dark brown pair of eyes and short dark brown hair. His biceps and shoe sizes are unknown.
Net Worth
Since he started acting in the early '90s, Krumholtz has been assigned close to 100 roles in films and TV series. He has earned his net worth through his successful contributions to creation of films as a producer and an actor, and as of 2021, he is authoritatively worth approximately $8 million.
Who Vanessa Britting, David's Wife Is
Vanessa is a renowned American actress, who came into the limelight with her roles in "Big Break," "The Unit," and "Without a Trace." She was born Vanessa Goonan on 30 August 1980, in New Jersey, USA and uses the name Britting, which is her grandmother's maiden name. She studied Theatre Arts at Montclair State University and has appeared in many films and TV series including 2004's "Snippets" and "Gullible Gary Moves In, " 2006's "The Nail", and "The Young and Restless," among many more.
The brown-eyed-brunette is 5ft 8ins (1.72m) tall and has brown hair.
As of mid-2021, Vanessa is reputedly worth close to $500,000.