• David Bugliari was born in New Jersey, USA on 17 December 1980.
• He's a businessman and a talent scout, and is best known for being the husband of Alyssa Milano.
• He's one of the founders of Los Angeles' Range Media Partners, and has received special thanks for four movies.
• He married Alyssa Milano in 2009 and they have two children together.
• His hobbies include travelling, playing golf, and listening to music.
Who is David Bugliari?
David 'Dave' Bugliari was born in New Jersey, USA, on 17 December 1980 – his zodiac sign is Sagittarius, and he holds American nationality. He's a businessman and a talent scout, but who's perhaps known best for being the husband of Alyssa Milano, an American actress, singer, author, activist, and a producer.
Early life and education
David was raised alongside his older brothers Anthony Stewart and Miller Boyce, by their father Miller Bugliari who worked at Pingry School as a soccer coach, and their mother Elizabeth who's a housewife.
David grew up being interested in soccer, and was encouraged by his father to pursue it as a career.
He studied at the same school at which his father worked, and was trained in soccer by him as well. During the four years David spent attending Pingry High School, he became interested in acting, and appeared in many school plays, while he was also into art and creative writing.
He matriculated in 1998, and although David hasn't spoken of his further education, it's widely believed that he attended college, and graduated with a Bachelor of Arts degree in 2002.
David's career
David has mostly kept details of his career hidden from the media's attention, but it's known that he's one of the founders of Los Angeles' Range Media Partners, a sports agency.
Dave has also received special thanks for four movies: the 2010 comedy "Jim Jefferies Alcoholocaust", the 2017 short drama "How to Live Forever", the 2019 thriller drama "Dreamland", and the 2020 crime thriller drama "Promising Young Woman".
Love life and marriage with Alyssa Milano
David and Alyssa Milano met in 2007, when Alyssa became a client of his company. The two went on their first date around a month after having met, and have been together to this day. It was revealed in December 2008 that the two had become engaged after about a year of dating, and on 15 August 2009, Alyssa and David exchanged vows in a private ceremony, attended by only their closest friends and family members.
Alyssa gave birth to their son Milo Thomas on 31 August 2011,  and their daughter Elizabella Dylan followed on 4 September 2014. In 2015, the family moved to Bell Canyon in California, where they are currently taking care of many animals, including five dogs, eight chickens, nine horses, and two rabbits.
David hasn't spoken of any other women whom he might have dated, while it's known that Alyssa was in a relationship with the late Canadian actor Corey Haim between 1987 and 1990, and was engaged to the American actor Scott Wolf from 1993 to 1994. She was also married to the American singer Cinjun Tate in 1999, from just 1 January to 1 December.
As of August 2021, David's married to Alyssa Milano, and they have two children together.
Hobbies and other interests
David likes to travel, and has been all around the US for both work and pleasure. He and Alyssa have vacationed at various destinations in Europe, while David's dream travel destination is Las Vegas in Nevada.
He's physically quite active, and has several training sessions at the gym each week. David played soccer during his teenage years, and then stopped after he graduated from college. He's nowadays mostly focused on playing golf with his friends.
He loves to listen to music, and his favorite performers are Lady Gaga, Ed Sheeran and the late Frank Sinatra.
Late at night, David likes to watch movies starring his favorite actor and actress, Jim Carrey and Emma Watson, such as "Liar Liar", "Bruce Almighty" and the franchise "Harry Potter".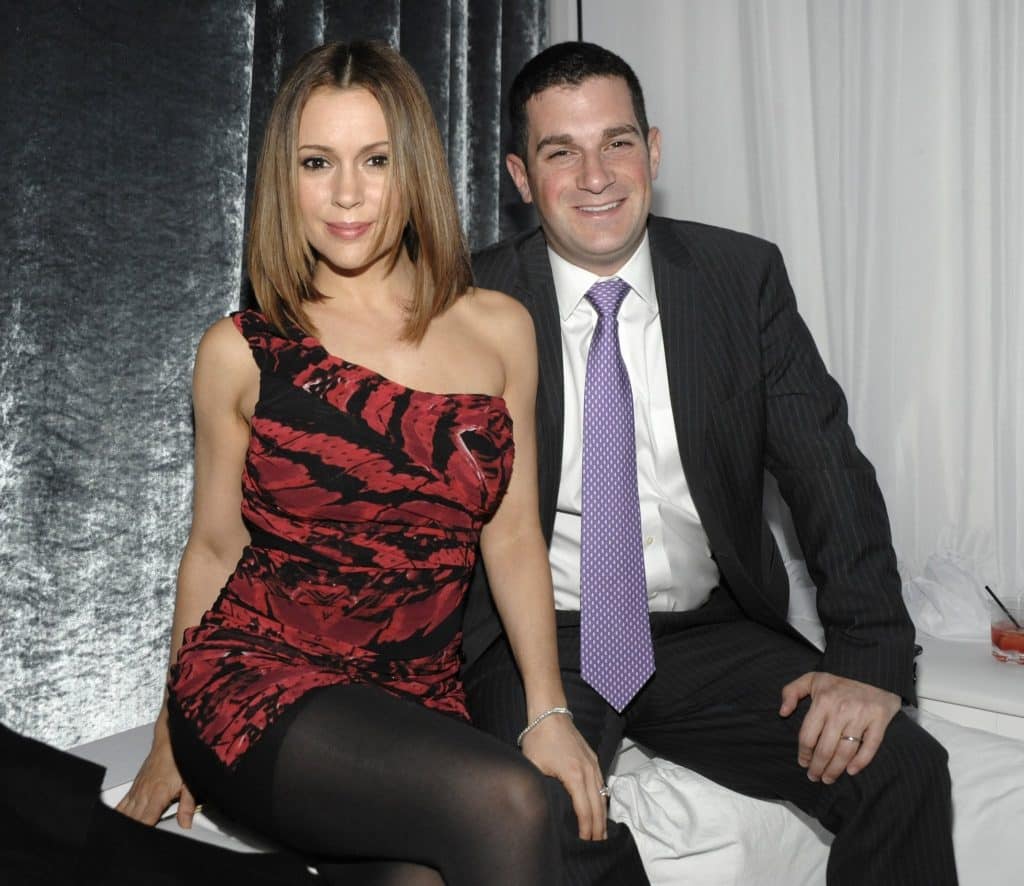 He's a philanthropist, and together with Alyssa has donated money to various charity organizations, mostly to those working with underprivileged children.
Age, height and net worth
David's age is 40. He has short brown hair and brown eyes, his height is 5ft 9ins (1.75m) and he weighs around 172lbs (78kgs). As of August 2021, his net worth has been estimated at over $2 million, while Alyssa's net worth is reputedly over $10 million.
Who is Alyssa Milano?
Alyssa Jayne Milano was born in Bensonhurst, Brooklyn, New York City USA, on 19 December 1972 – her zodiac sign is Sagittarius, and she holds American nationality. She has been credited with appearing in close to 90 movies and TV series, while she's perhaps still known best for her portrayal of Phoebe Halliwell, one of the lead characters in the critically acclaimed mystery fantasy series "Charmed".
It aired from 1998 to 2006, also starred Holly Marie Combs and Brian Krause, and follows three witch sisters, as they battle evil forces; it won five of the 25 awards for which it was nominated.
Alyssa was raised in Bensonhurst alongside her brother Cory, by their mother Lin Milano who was a fashion designer and a talent manager, and their father Thomas M. Milano, who was a film music editor. She was seven years old when her babysitter took her to her first audition (without letting her parents know), at which Alyssa found herself in the four girls out of 1,500 who were selected to appear in the play "Annie"; because of the play, she had to go touring for a year and a half with her mother.
Alyssa was 11 years old when she made her film debut, in the 1984 coming of age drama "Old Enough", while she was then cast to star in the sitcom "Who's the Boss", which established her as a skillful actress. A couple of her following roles were in the action movie "Commando" starring Arnold Schwarzenegger, the children's movie "The Canterville Ghost", and the crime thriller film "Where the Day Takes You". Alyssa then became bored of portraying only 'nice girls', and the '90s saw her appear nude in a number of movies, including "Poison Ivy II: Lily", "Deadly Sins" and "Embrace of the Vampire".
In 1997, she portrayed the main character, in the romantic comedy movie "Hugo Pool", and after she was done shooting for the series "Charmed" in 2006, Alyssa was invited to voice the lead character Dr. Ilyssa Selwyn in "Ghostbusters: The Video Game", as well as to star in the 2011 movies "New Year's Eve" and "Hall Pass". Three of her most recent roles have been in the romantic series "Grey's Anatomy", the thriller comedy series "Insatiable", and the family fantasy movie "You Are My Home".
Alyssa's a huge philanthropist, and an animal lover. She has donated money to numerous charity organizations, and has volunteered with both UNICEF and the organization People for the Ethical Treatment of Animals (PETA).
It was revealed in August 2020 that Alyssa had contracted COVID-19, and she had to spend some time in isolation. Most recently, in 2021 she was involved in a car crash, when her uncle drove into another lane.