• Harry Lloyd is an English actor best known for roles in "Robin Hood", "Jane Eyre" and "The Theory of Everything"
• He is of English, Welsh and Scottish ancestry and is the great-great-great-grandson of Victorian writer Charles Dickens
• He attended Eton College and Christ Church, Oxford to gain an upper second-class degree
• His career began in 1999 and he has since gone on to appear in numerous films, TV series and plays, such as "Game of Thrones", "The Iron Lady", "Legion" and "Brave New World"
• He is known to be a passionate reader and writer, and is a dog person, but it is not known if he has any pets.
Who is Harry Lloyd?
Harry Lloyd is an English actor, perhaps best known to the world as Will Scarlet in the TV action-drama series "Robin Hood" (2006-2007), then as Richard Mason in the film "Jane Eyre", and as Brian in the film "The Theory of Everything", among numerous other roles that he has secured in his career.
Early Life, Family, Education
Harry Charles Salusbury Lloyd was born on 17 November 1983 under the Scorpio zodiac sign, in London, England to Marion Evelyn (nee Dickens), and Jonathan Lloyd. Of English, Welsh and Scottish ancestry, his mother is a children's book publisher, while his father is the head of a literary agency. He has a brother Tom, who is now an English teacher living and working in Paris, and a sister named Poppy, who is a producer at Radio Heart FM.
Harry has some respectable roots: he is the great-great-great-grandson of Victorian writer Charles Dickens, while his grandfather is Captain Peter Gerald Charles Dickens, RN. Furthermore, his ancestry includes such names as composer and pianist Ignaz Moscheles, writer Lucinda Hawksley and actor and performer Gerald Dickens. While on his father's side, he is the grandson of Hon. Major Reginald Arthur Harris Lloyd and Maureen Salusbury.
He attended Eton College where his acting career started, and later studied the English language at Christ Church, Oxford.
While at University, he became a member of the Oxford University Dramatic Society, furthering his work as an actor by appearing in several plays, such as "The Comedy of Errors", and "Kiss of the Spider Woman". In 2005 he graduated with an upper second-class degree.
Career Beginnings
Harry's career began in 1999 with the role of Young Steerforth in the TV mini-series "David Copperfield", and then made an appearance in the television movie "Goodbye, Mr. Chips" in 2002. He continued with minor roles in such TV series as "M.I.T.: Murder Investigation Team" (2005), then "The Bill" (2005), and portrayed Damon Hughes in an episode of the TV series "Holby City". The same year he was cast in his first recurring role, as Jason in the TV drama series "Vital Signs".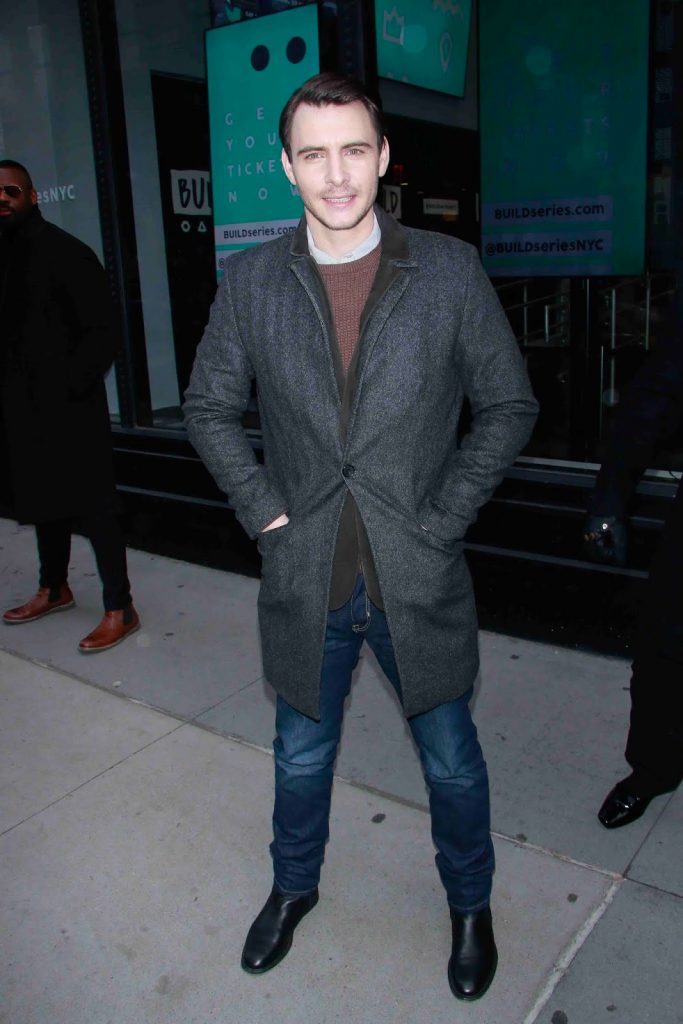 However, he also had his first notable role as Will Scarlett in the TV action-adventure series "Robin Hood", joining Jonas Armstrong who was the titular character, then Gordon Kennedy as Robin's trusted companion Little John, and Keith Allen as the main antagonist, Sheriff of Nottingham. Harry featured in 26 episodes of the popular series, which only boosted his popularity.
Rise to Prominence
Gradually, after a couple of years with minor roles Harry started getting more significant parts such as Peter in the TV series "Inspector Lewis", but then portrayed Alexander Taylor-Pierce in the TV comedy series "Taking the Flak".
Two years later he made several notable appearances, including as Richard Mason in the Academy Award-nominated romantic-drama film "Jane Eyre", based on Charlotte Bronte's novel of the same name, then as Herbert Pocket in the TV mini-series "Great Expectations", based on the novel of the same name written by Charles Dickens. Furthermore, he was Viserys Targaryen in the TV action-adventure fantasy-drama series "Game of Thrones", sharing the screen with Emilia Clarke and other stars of the series. He was also Young Denis Thatcher in the biopic film about former UK Prime Minister Margaret Thatcher entitled "The Iron Lady", starring Meryl Streep, Jim Broadbent, and Richard E. Grant.
Cult indie road trip movie we made in Mississippi 'Big Significant Things' 2 b in cinemas 24 July! #HaPeeDay http://t.co/dC2tKcmQmi

— Harry Lloyd (@HarryLloyd) May 14, 2015
Continued Success
Harry continued his career quite successfully, co-starring in the comedy crime-drama film "Closer to the Moon", with Vera Farmiga and Mark Strong. Afterward, he was Brian in the Academy Award-winning biopic about young Stephen Hawking and his struggles with the motor neurone disease ALS, entitled "The Theory of Everything", starring Eddie Redmayne, Felicity Jones, and Tom Prior. Moreover, the same year he starred in the thriller-drama film "The Riot Club", and started portraying Paul Crosley in the TV historical war-drama series "Manhattan".
In 2016, he appeared in the biopic film "Anthropoid", the story about Operation Anthropoid in the WWII mission to assassinate SS General Reinhard Heydrich, starring Jamie Dorman, Cillian Murphy, and Brian Caspe.
The next year he was Young Joe in the drama film "The Wife", with Glenn Close, Jonathan Pryce, and Max Irons in the main roles, and also joined J.K. Simmons and Olivia Williams to star in the sci-fi thriller drama series "Counterpart" (2017-2019).
In recent years, Harry was Charles Xavier in the TV sci-fi action-drama series "Legion" (2019) and also starred in the romantic-comedy-drama film "As I Am", alongside James Faulkner, and Joshua Glenister. Most recently, he was Bernard Marx in the dystopian sci-fi drama series "Brave New World" (2020), starring Alden Ehrenreich and Jessica Brown Findlay.
Career in Theater
Harry has continued his work in theater since becoming a popular on-screen actor – in 2008 he was Willy Carson in the play "The Sea", performed at the Theatre Royal Haymarket.
Then in 2009, he portrayed Rodolpho in the play "A View from the Bridge", at the Duke of York's Theatre, while the next year he was Alex in the play "The Little Dog Laughed" at Garrick Theatre. Furthermore, in 2012 he portrayed Duke Ferdinand at The Old Vic in the play "The Duchess of Malfi", while two years later he appeared in the play "Notes From Underground" as an Underground Man. His latest theater appearance traces back to 2016, when he was Jack in the play "Good Canary", which was performed at Rose Theatre.
Personal Life, Dating, Girlfriend, Single?
Harry met actress Gugu Mbatha-Raw in 2006, while both were on the set of the medical drama series "Vital Signs". They started a romantic relationship and eventually became engaged, but after six years, they broke up.
Since then, Harry hasn't talked about his personal endeavors, focusing more on his career.
Some sources link him romantically with film producer Jayne Hong, but they were just close friends and colleagues on the show "Supreme Tweeter" (2015).
Net Worth
As of mid- 2021, Harry Lloyd's net worth has been estimated to be around $2 million, earned through his successful career as an actor, both on-screen and on stage. He has 40 film and TV appearances and more than a dozen credits in various plays.
Appearance and Vital Statistics
This successful actor has black hair and green eyes. He stands at a height of 6ft (1.83m), while he weighs approximately 168lbs (76kg). His vital statistics are unknown, though he has an athletic figure.
Hobbies and Interests
In addition to his desire to become an actor, Harry has stated his passion for writing, and would love to become a published author one day. He has said that he has read numerous books growing up, which has only helped him in his acting career. He has also narrated the audiobook "A Knight of the Seven Kingdoms", which is a prequel to the "Game of Thrones". Harry has said that he is fascinated by the books his ancestor wrote, but that he has to move away from Dickens' based films and TV series, feeling that there won't be any room for progress if he sticks to one-dimensional characters.
He also doesn't want to jeopardize his private life at the stake of his prominent career.
Harry is known as a dog person, rather than a cat person, but it isn't known whether he has any pets or not.