• Miriam 'Mimi' Rogers was born in 1956 and holds American nationality
• She is an actress and film producer with over 110 credits to her name
• She is known for her portrayal of Pamela in the 2000 movie "Ginger Snaps"
• Her first notable performance was in 1984, when she played Ellen Slade in the adventure drama "The Rousters"
• She has won one award and has been nominated for four others
Who is Mimi Rogers?
Miriam 'Mimi' Rogers (nee Spickler) was born in Coral Gables, Florida USA, on 27 January 1956 – her zodiac sign is Aquarius, and she holds American nationality. She's an actress and a film producer, with over 110 credits to her name, while she's perhaps still known best for her portrayal of Pamela, in the 2000 fantasy horror movie "Ginger Snaps". It was written and directed by John Fawcett, starred Emily Perkins, Katharine Isabelle and Kris Lemche, and follows two sisters who are obsessed with death, while one of them has now been bitten by a werewolf. The movie won 10 of the 19 awards for which it was nominated.
Mimi Rogers has been a familiar face for 40 years — from HILL STREET BLUES to BOSCH.See her on HART TO HART — 10p ET on getTV What have you seen her in?

Posted by getTV on Monday, May 17, 2021
Early life and education
Mimi and her brother Paul were raised mostly in the US, by their father Philip C. Spickler who was a civil engineer, and their mother Kathy Talent, who was a dance and drama major. Their father was into Scientology even before Mimi was born, thus her involvement with it.
Mimi and her family moved around the US while she was growing up, and they also spent some time living in England. She attended a local elementary school, and then a local high school, at which she learned that she wanted to work with people with various issues. She was only 14 years old when she matriculated, and Mimi then worked with incapacitated patients at a hospital in Palo Alto, California, and for the following six years was a social worker, focused on people who had abused various substances.
Roles in TV series
Mimi made her debut TV series appearance in 1981, with her portrayal of Sandra Pauley in two episodes of the hit mystery crime drama "Hill Street Blues", and the following years saw her appear in an episode or two of various series, including the mystery crime drama "Quincy M. E.", the action crime adventure "Magnum, P. I.", and the crime action "Hart to Hart".
Mimi's first notable performance was in 1984, when she played Ellen Slade, one of the main characters in the adventure drama "The Rousters", and the same year also saw her star as Blair Fenton-Harper in the drama "Paper Dolls". Her following notable role came in 1998, when she played Agent Diana Fowley, in the critically acclaimed mystery crime drama "The X-Files", created by Chris Carter, and which starred David Duchovny, Gillian Anderson and Mitch Pileggi.
It follows two FBI agents investigating supernatural events, and the series aired from 1993 to 2018, winning 116 awards including 16 Primetime Emmys, while it was nominated for 217 other awards.
The year 2000 saw Mimi star as Hillary in the comedy "The Geena Davis Show", and for the rest of the 2000s she guest star in numerous series, such as the animated adventure comedy "What's New, Scooby-Doo?" (voice role), the romantic drama "Dawson's Creek" and the crime drama "Las Vegas". Her most notable performance in the decade was her portrayal of Meryl, the main character in the comedy "The Loop", created by Pam Brady and Will Gluck, and which also starred Bret Harrison and Eric Christian Olsen. It follows a college graduate who has become a corporate drone, and the series was nominated for one award.
Between 2011 and 2014, Mimi played Robin Schmidt, in six episodes of the hit comedy "Two and a Half Men", and in 2015, she appeared in three episodes of the mystery crime drama "NCIS".
Her most recent role in a TV series has been her portrayal of Honey Chandler since 2014, in the crime drama "Bosch". It was created by Eric Ellis Overmyer, stars Titus Welliver and Jamie Hector, and follows a Los Angeles Police Department homicide detective, who's working to find the murderer of a 13-year-old boy. The series has won seven of the 20 awards for which it has been nominated, including a Primetime Emmy nomination.
Roles in movies
Mimi made her debut film appearance in 1982, with her portrayal of Belinda Wittiker in the drama "Divorce Wars: A Love Story", and a couple of her following roles were in the 1982 crime drama "Hear No Evil", the 1983 sports comedy "Blue Skies Again", and the 1985 action thriller "Embassy".
Mimi gained recognition in 1987, when she starred alongside Tom Berenger and Lorraine Bracco in the romantic crime drama "Someone to Watch Over Me". It was directed by Ridley Scott, and follows a married police officer who has fallen in love with a murder witness; the film was nominated for two awards. The following five years saw Mimi focused solely on appearing in movies, and a couple of her most notable performances were in the 1989 action crime drama "The Mighty Quinn", the 1990 action crime drama "Desperate Hours", and the 1991 biographical musical drama "The Doors".
In 1996, she played the supporting character Claire, in the romantic comedy drama "The Mirror Has Two Faces", directed by Barbra Streisand, who also starred in it alongside Jeff Bridges and Lauren Bacall.
It follows a professor who has fallen in love with his colleague, and the movie won four of the 17 awards for which it was nominated, including two Oscar nominations.
The 2000s saw Mimi appear in over 15 movies, with a couple of the most popular amongst these having been the 2003 comedy "Dumb and Dumber: When Harry Met Lloyd", the 2004 comedy drama "The Door in the Floor", and the 2009 romantic comedy drama "Falling Up".
Three of Mimi's most recent movie roles have been in the 2015 biographical crime action "Captive", the 2018 drama "Affairs of State", and the 2018 thriller drama "What Still Remains".
Other credits
Mimi sang the song "Camptown Races" in the 1992 episode "The Flirt Episode" of the series "The Larry Sanders Show", and in 1997, she sang two songs in the movie "The Christmas List".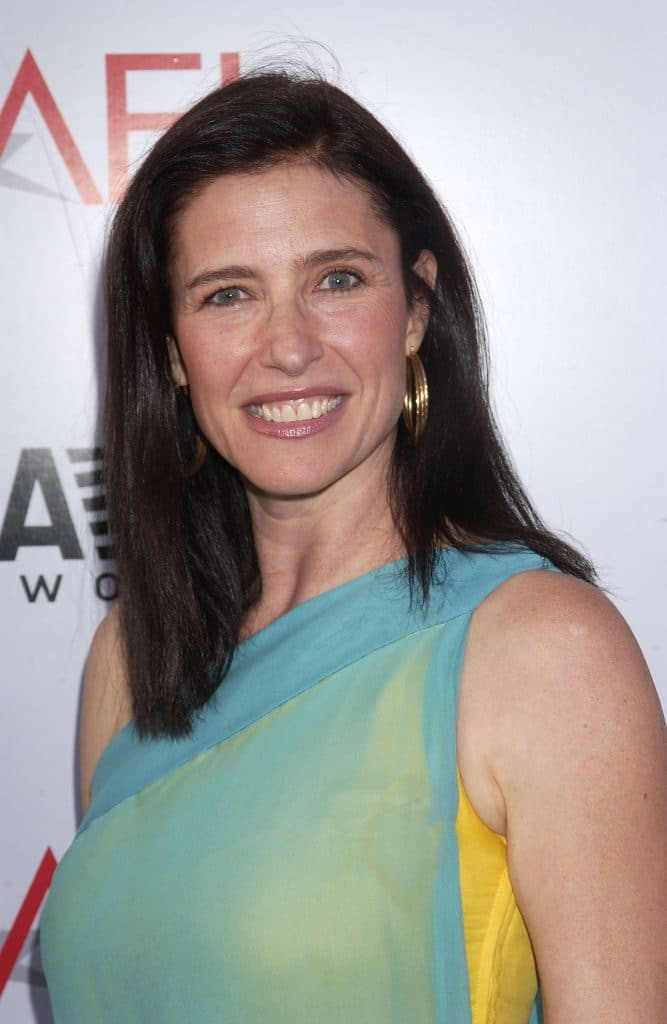 Mimi has been featured in a number of documentaries, such as the 1991 TV special "The Movie Awards", the 1998 movie "Making of…", and the 1999 series "The Directors".
She has six movie producing credits – she made her debut with the 1997 drama "Tricks", while she then worked on the 1999 fantasy war drama "The Devil's Arithmetic", the 2000 drama "Harlan County War", and the 2001 comedy drama "My Horrible Year". In 2002, Mimi produced the drama "Charms for the Easy Life", and most recently, in 2010 she produced the action thriller "Unstoppable".
She has received special thanks for three movies: the 2004 documentary "Searching for Angela Shelton", the 2012 short "Ho Hum" and the 2014 documentary "Electric Boogaloo: The Wind, Untold Story of Cannon Films".
Mimi has made a guest appearance in a number of talk-shows, including "The Tonight Show with Jay Leno", "The Late Late Show with Craig Kilborn", and "Good Day Live".
Awards and nominations
Mimi has won only a single award: a 1994 Seattle International Film Festival Golden Space Needle Award for Best Actress, for her performance in "Reflections on a Crime".
She has also been nominated for four other awards, including a 1992 Film Independent Spirit Award for Best Female Lead, a 2000 Daytime Emmy Award for Outstanding Children's Special, and a 2002 Fangoria Chainsaw Award for Best Supporting Actress.
Love life and relationships
Mimi has been married three times. In 1976, she exchanged vows with the non-celebrity James Rogers, but the two divorced four years later.
She then dated the American actor and director Emilio Estevez, before on 9 May 1987 marrying the famous American actor and producer Tom Cruise. The two separated by the end of 1989, and in February 1990, their divorce was finalized.
Only a couple of months later, Mimi met Chris Ciaffa on the set of the movie "Fourth Story", which he produced. On 20 November 1995, she gave birth to their daughter Lucy, and on 30 July 2001, the two welcomed their son Charlie. On 20 March 2003, Mimi and Chris exchanged vows in a large ceremony attended by their wide circle of friends and family members, and they have since been together.
As of July 2021, Mimi's married to her third husband Chris Ciaffa, and they have two children together.
Hobbies and interesting facts
Mimi's a huge poker enthusiast, and has gone professional. She began playing in her teenage years, and started playing competitively in 2003. On 4 March 2004, she won her first money at the World Poker Tour 240 Player Shooting Stars' No-Limit Texas Hold 'em tournament, and Mimi then became a member of the board of directors of World Poker Tour. In 2006, she placed 33rd at the World Series of Poker's $1000 Ladies' No-Limit Hold 'em event.
She loves to read books in her spare time, and has read hundreds.
Mimi has been into sports since she was a teenager, and is an avid tennis player.
In 1993, she posed for the magazine "Playboy".
Mimi's a member of Mensa.
Scientology
Mimi has been into scientology since a very early age, as her father was well-respected within the scientologist community, and was once a Mission Holder at Church of Scientology.
With her first husband, Mimi founded the Enhancement Center, a 'field auditing' practice for scientologists, and even Tom Cruise was her client before he switched to Celebrity Centre.
She's no longer a member of the Church of Scientology, and this is mostly because she doesn't support its new leader, David Miscavige, whom she sees as controversial.
Age, height and net worth
Mimi's age is 65. She has long brown hair and brown eyes, her height is 5ft 8ins (1.73m) and she weighs around 140lbs (63kgs).
As of July 2021, her net worth has been estimated at over $10 million.