Leven Rambin is an American actress, probably best known for playing the roles of lookalike half-sisters Lily and Ava in the long-running TV series "All My Children".
As Leven grows older, she is more intentional about keeping her life private. Therefore, if you want to know more about Leven Rambin, find out in this biography.
Early Life, Family, Educational Background
Leven Alice Rambin was born under the zodiac sign of Taurus on 17 May 1990, in Houston, Texas USA. Leven was raised with her brother Joseph Rambin, and also has older half-siblings, Mary and Jay Rambin, who visited from time to time.
Her parents, Joseph Howard Rambin III and Karen Stacy Guthrie, owned a real estate company, so Leven and her siblings didn't lack for anything they needed.
Leven and her siblings were raised as Christians, and to date, going to church is one of her favorite things to do.
Leven was drawn to the performing arts at a young age, and as she watched a lot of movies growing up, she couldn't see herself in any other profession, and performed in school plays and talent shows during her childhood. For her education, Leven attended St. Francis Episcopal Day School in Houston, then attained her high school diploma from Texas Tech University Independent School.
To become a professional actor, Leven trained at the Houston School of Film and Theater, and landed her debut role at the age of 13; she subsequently moved to New York City to pursue her dreams.
Career
Acting Career
Leven's career in the acting profession started when from 2004 through 2008, she played the role of Lily Montgomery, the autistic child of Jack Montgomery in "All My Children", originally aired on the ABC Network. Later in 2008, it was announced that she would also play Ava Benton, the lookalike half-sister of Lily. Leven Rambin appeared in a total of 162 episodes in the drama series, her consistent top notch performance in the TV series earning her two Daytime Emmy nominations for Outstanding Female Newcomer, and Outstanding Younger Actress in a Drama Series.
Next, she landed the role in "The Book of Daniel" (2006) playing Caroline Paxton. Since then, she's appeared in several Television Dramas, some of which are "Law and Order: Special Victims Unit" (2007), "Terminator: The Sarah Connor Chronicles" (2008), and "Grey's Anatomy" (2009).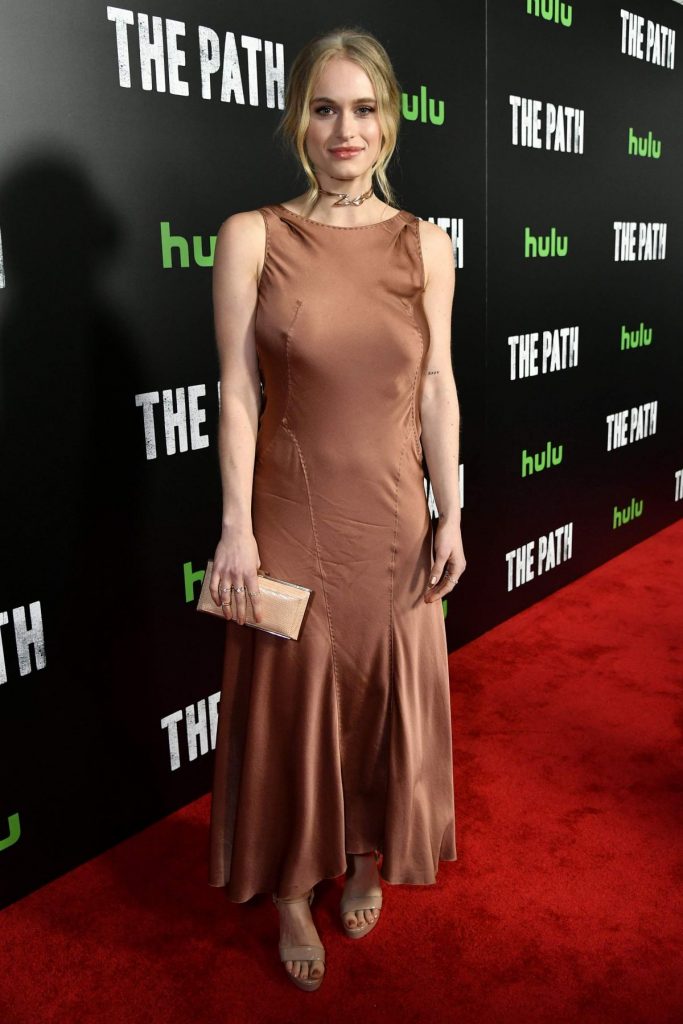 In 2010, Leven starred in "Scoundrels", a comedy drama in which she played Heather West, and the following year she took a recurring role in "CSI: Miami" (2011), as Molly Sloan. Her most recent appearance in a TV drama series was in "Gone" (2017), a crime drama based on "One Kick", by Chelsea Cain. In the TV show, she played Kit 'Kick' Lannigan, the survivor of a child abduction, and private consultant with the FBI.
Leven's appearances in movies haven't been quite as glamorous as her TV appearances. In 2008, she made her film debut in "Gigantic" as Missy Thaxton, and later played the role of Glimmer in "The Hunger Games" (2012).
Other movies Leven Rambin has appeared in are: "Percy Jackson: Sea of Monsters" (2013), "Dissonance" (2014), "Lost Child" (2018), and "The Big Ugly" (2020).
In January 2020, Leven joined the cast of "The Forever Purge", an unreleased dystopian action horror film, which also features popular actors such as Josh Lucas, Cassidy Freeman and Alejandro Edda. Her role in the film is yet to be disclosed, but it's scheduled for release on 2 July 2021.
Speaking to Interview Magazine, Leven said that she's more intimidated by film acting, 'because it's a definitive beginning and end'.
Directing
Over the years, Leven observed female directors in the entertainment industry, and the way they handled shows. So she thought- 'Why not me too?' She told Rose & Ivy that she took intensive directing classes at the UCLA School for Directing. Then she began directing films and music videos during the 2020 lockdown.
Leven Rambin reconnected with Ambyr Childers, her co-star in "All My Children" after a long time. They bonded over their divorce experiences, and are now working on a film centered on divorce. They also intend to work with female-owned production companies for its production and release.
In 2013, Leven moved to New York City to study professional acting at the Playhouse West Brooklyn Lab, and now teaches aspiring actors at the institution.
Personal Life, Husband and Children
In the early years of Leven Rambin's career, her personal life was constantly being dissected in public. However, in recent times, a more mature Leven has learned to keep her personal life under wraps. Leven became engaged to American film producer Geoffrey James Clark in late 2009, during a Bahamas vacation.
She was 19 years old at the time. However, they broke off the engagement in September of 2011. She then dated Jason Trawick for a short while in 2013.
She married American actor Jim Parrack, in 2015. They had a small wedding at Le San Michele, in Buda, Texas, but two years later she filed for a divorce from the actor for undisclosed reasons.
She moved on quickly from her divorce, and soon started dating Tilky Jones, an American singer and actor, in April 2017. While they were together, they co-wrote the song "Dead Bones" (2017), which they performed live on several occasions. Her relationship with the singer didn't last either, as they broke up in mid-2018.
After her string of relationships, Leven focus solely on her career. She revealed to Rose & Ivy that she has a life coach, Jenn Visser who helped turn her life around. She believes that people should always strive for personal development.
Leven now lives with her dog Sookie, in her beach house.
Hobbies, Favorite Things and Interesting Facts
Leven's hobbies are: reading and watching movies.
She also loves outdoor exercises such as: surfing, hiking, running and playing basketball.
Her favorite karaoke song is "Baby One More Time".
Her favorite movie is "Bohemian Rhapsody".
Her best TV shows are: "30 Rock", "Modern Family" and "Teen Mom".
Leven's favorite restaurant is the Olive Garden, New York City.
Appearance, Clothing Style
Leven Rambin has long blond hair and hazel eyes. She is 5ft 7ins (1.71m) tall and weighs about 137lbs (62kgs). She has an alluring slender figure which she loves to flaunt in knee-length designer gowns, and bikinis.
Net Worth and Salary
Leven Rambin has an estimated net worth of $1 million, earned from acting as her primary source of income. Her celebrity ex-husband Jim Parrick, is worth double that amount with a net worth of reputedly $2 million. Details of property owned by Leven are unavailable at this time.