• Lauren Silverman is an American socialite, who became famous due to her scandalous relationship with Simon Cowell.
• She grew up in an affluent family and attended the exclusive Miami Country Day School.
• She and Simon have been going strong since 2013, and have two sons together.
• Her net worth is estimated to be around $10 million and Simon is worth over $600 million.
• She is a fashion icon and often dresses in designer brands.
Lauren Silverman is an American socialite, who was hit by the spotlight when her scandalous relationship with Simon Cowell, celebrity judge and TV producer, was made public. She is known as Simon Cowell's partner.
Scandal aside, this biography goes into great detail of Lauren Silverman's early life and what her career path currently looks like.
Early Life, Family, Educational Background
Lauren Silverman was born on 26 July 1977, in New York City, USA to American parents Steven and Carole Davis. She is of Caucasian ethnicity and has American nationality. Carole's marriage with Davis was not to be, as they went their separate ways soon afterwards.
Although born in New York City, Lauren and her only sibling grew up in Florida, to where family moved, presumably after the divorce to start a new life there.
Lauren, and her younger sister Nicole Alexandra were raised by Stewart Eisenberg, their stepfather, alongside their mother. They lived in a $1 million home in Hallandale Beach, so one could conclude that the affluent lifestyle has always been in Lauren.
Lauren and her sister had it good growing up, because their parents' business as real estate developers was booming at the time. At some point, Lauren attended the exclusive private Miami Country Day School. Rumours state that she was involved in a scandal with one of the teachers, and had to switch schools soon after. This rumour has been proven to be baseless because she matriculated from the same high school in 1995.
In 2004, Carol and Stewart Eisenberg filed for a divorce, and went their separate ways.
Thankfully, this did not have a great impact on Lauren and Nicole, as they were already adults by then. In December of 2004, Carol Davis married again, to Robert Saland.
Lauren has always been an acknowledged stunner, so it's no wonder her life turned out the way it did. Her stepfather, Stewart once said, "the boys were always attracted to her like a magnet".
Career
Not much is known of Lauren Silverman's career path. She kept a low profile until she was thrust into the spotlight in 2013, due to her affair and consequent pregnancy with celebrity "X Factor" judge, Simon Cowell. She spends most of her time raising her sons Adam and Eric, as Simon's income is more than enough to cater to their family. A socialite through and through, Lauren shows up to support Simon on set and attend major events with him. Aside these, Lauren is actively involved in charity.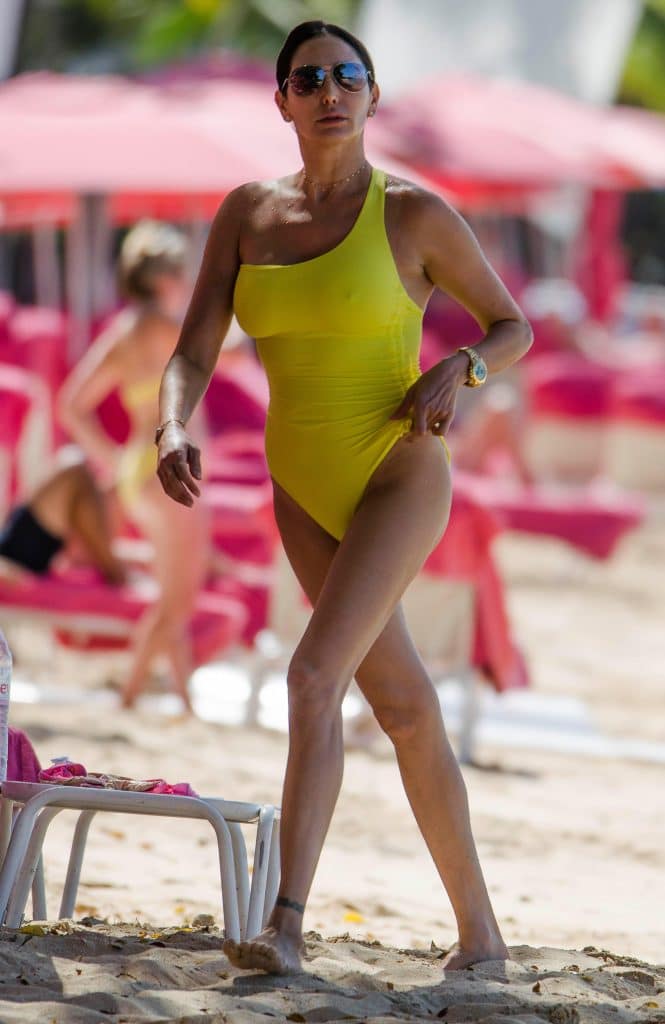 Personal Life, Relationship with Simon Cowell
Lauren Silverman's personal life became fodder for the tabloids in 2013, when her controversial relationship with Simon Cowell went viral.
However, in her early 20's she had met and fell in love with Andrew Silverman, a wealthy real estate developer.  In 2003 they were married- Lauren was 26 at the time. Three years down the line, Andrew and Lauren Silverman welcomed a son, Adam.
Andrew met Simon Cowell at the 5-star resort, "Sandy Lane Hotel" in Barbados in 2004, where he was also taking a vacation. He introduced Simon to his wife, and they kicked off a friendship of sorts. Rumours have it that the couple went on joint vacations with Simon Cowell a number of times. The Silvermans' relationship with Simon Cowell spanned over a decade.
In 2013, there was trouble in paradise. Sources confirmed that Lauren was pregnant. Seeing as she wasn't exactly a celebrity, it didn't raise dust. When it was announced that Simon Cowell was responsible for the pregnancy, Lauren suddenly became the center of attention for the British and American media.. It caused a lot of controversy because she was still married at the time. The media branded her a villain, and Simon a home breaker. It was at this time that they confessed to having an affair. No one knows when exactly Simon and Lauren's steamy affair began, but the tabloids speculate that it went on for about a year before the "big bust".
There is no verified information on what went wrong between the Silvermans' prior to this time. Yet the general conclusion was that the couple were drifting apart, Lauren felt lonely and hit it off with Simon.
Their drift could have begun for a number of reasons, but the most prominent one was that Andrew had become too busy with his job, to pay attention to his family. In an interview with The Observer, Andrew Silverman stated that he had learnt a lot from the ordeal- about himself, and the importance of family. He filed for divorce and by December of 2013 the divorce was final.
In the divorce settlement, there was a stipulation that Simon had to stay away from Adam until January of 2015, or pay a penalty of $50,000. Adam had to stay back with his father in order not to disrupt his education at the private school he attended. Simon and Lauren adhered to the stipulations in the divorce settlement while trying to move on from the scandal. Lauren and Andrew now have joint custody of their son Adam.
Despite the heat Simon and Lauren were getting at that time, they managed to keep their relationship going. On Valentine's Day, 14 February 2014, Eric Cowell was born, named for Simon's father, Eric Philip Cowell whom he adored and looked up to. Simon is a doting father to Eric; he often says that being a father changed him. Lauren and Simon have been going strong for all these years, and it's evident that Lauren is the one for Simon.
Who is Simon Cowell?
Simon Cowell is an English media mogul, musical talent scout and the "ladies' man". He was born on 7 October 1959, in Lambeth, London UK, to English parents – Julie Brett a ballet dancer, and Eric Philip Cowell, property developer. Although Simon was born into a middle class family, no one foresaw the path he would choose to travel.
He began his career in music and entertainment when he was hired to work in the mailroom of EMI Music Publishing, after he left school at 16. Later on, he was given a chance by his boss to discover untapped talent in the music industry.
He quit EMI in 1983, and formed Fanfare Records with a partner two years later; they had a short run of success until the company folded in 1989. Once again, Simon was hired by BMG as an A&R Consultant. It was during this partnership with BMG that he formed S-Records, the A&R section of the music group. The new acts he brought to the group were so successful, that he became widely known in England as the go-to guy for artiste and repertoire consulting.
The first gig that would later earn Simon the coveted 'celebrity judge' status was in the first "Pop Idol" series that he pitched to ITV, alongside Simon Fuller, show creator.
He went in to appear on other talent shows as a judge, including "The American Idol" (2002-2010), "The X Factor UK" (2004-2011), "The X Factor America" (2011-2013), "The America's/ Britain's Got Talent" (2007-2020).
Simon has also produced a number of TV shows since he began his company Syco in 2005. Syco is made of three companies- Syco TV, Syco Music and Syco Film. He also has prominent acts signed to his record label, including Little Mix, Grace Vanderwaal, Camila Cabello, One Direction, Fifth Harmony, etc.
Simon Cowell's signature statement on TV "I don't mean to be rude but…" has earned him the criticism and admiration of his audience. In 2003, he published his bestselling autobiography, named after his signature statement.
Hobbies, Favorite things and Interesting Facts
Lauren and Simon live with 4 dogs, Squiddly, Diddly, Freddie and a recent addition Daisy, which they adopted from Barbados.
She enjoys bike riding.
Lauren is 18 years younger than Simon.
She grew up, and has always lived in the lap of luxury.
Lauren is a charity activist. She and her boyfriend Simon, have collaborated with the Katie Piper Rehabilitation Centre in Merseyside, United Kingdom. They also donate to the "Children in Need Foundation", the "PETA- People for The Ethical Treatment of Animals", and so much more.
Appearance, Clothing Style
Lauren Silverman has dark brown eyes and long black hair. She is about 5ft 6ins (1.68m) tall and weighs around 128lbs (58kgs). She is very fashionable and dresses to suit the occasion. A true fashion icon, Lauren shows up in public wearing stylish dresses from designer brands.
Net worth and Salary
Lauren's net worth is estimated to be around $10 million, while her boyfriend Simon is reputedly worth over $600 million. Her ex-husband Andrew Silverman's net worth is around $30 million.
Simon owns properties all over London and the US, including five multi-million-dollar mansions in Malibu, London, Los Angeles, New York City and Barbados. Sources confirm that Simon gifted Lauren with a $10 million  mansion in Los Angeles while she was pregnant with their son Eric.