• Li Jun Li is an American actress of Chinese descent, born in Shanghai, China in 198•
• She is best known for her roles in "Quantico", "The Exorcist", and "Wu Assassins".
• She speaks three languages: English, Mandarin, and Spanish.
• She is an active supporter of the LGBTQ community and animal rights.
• Her net worth is estimated to be around $1 million.
Who is Li Jun Li?
Li Jun Li is an actress perhaps best recognized for her roles in the series "Quantico", "The Exorcist", and "Wu Assassins". She was born under the Zodiac sign Scorpio on 6 November 1983, in Shanghai, China. As of 2021, Li is 37 years old and holds American nationality; she is of Chinese descent, and speaks three languages: English, Mandarin, and Spanish.
Early life and Family
Even though her father's name remains a mystery, it's known that he was a painter, while her mother is Mei Li. At the age of six, Li moved with her family to Bogota, Columbia, as her father was offered a job. After spending three years there, they eventually settled in New York. From an early age, Li displayed an affinity for entertaining, as she loved to perform, dance and sing.
Not enough was being said about @lijunli getting cast in Damien Chazelle's "Babylon" in a MAJOR leading role…so I did something about it.https://t.co/wA8gRNBxpR

— Dino-Ray "Thotyssey" Ramos (@DinoRay) April 9, 2021
Regarding her education, she enrolled at Fiorello LaGuardia High School of Music & Art and Performing Arts, with the idea of pursuing a career in the entertainment industry. She graduated with a Dance major, and later shifted her interest to acting.
Career
Li made her stage debut performing in the award-winning musical "South Pacific", alongside Matthew Morrison, achieving success and popularity. Later she began landing minor roles in TV series such as "Live from Lincoln Center", "Blue Bloods", and "Body of Proof". In 2011 she appeared in the series' "Law and Order: Criminal Intent" and "One Life to Live". During the same year, she landed the recurring role as Maggie Huang in the legal thriller series "Damages".
In 2012, she made her TV-movie debut, starring in "Americana", and landed other roles in TV movies such as "Freestyle Love Supreme", and "The Hatfields & McCoys". In the following year, she made one-episode appearances in various TV series, including "The Following", "The Hostages" and "Smash". Li also appeared in the comedy-drama movie entitled "Chinese Puzzle" followed by roles in "Song One", "Mistress" and "The Humbling".
After starring in the procedural crime series entitled "Unforgettable", she landed roles in "One Band Choice" and "Minority Report". In 2015 she joined the cast of the musical-comedy drama "Ricki And The Flash", followed by roles in two short movies entitled "Front Cover" and Construction".
During the same year she scored the recurring role in the series entitled "Billy and Billie", appearing in nine episodes opposite Adam Brody and Lisa Joyce. Continuing her pattern of landing minor roles, she appeared in the police procedural drama series "Chicago P.D.", and in "Chicago Fire".
In 2016 she starred in the action-packed thriller series entitled "Quantico" with Priyanka Copra and Jake McLaughlin. She starred in the second season in a total of 12 episodes, portraying the FBI recruit named Iris Chang, and her performance didn't go unnoticed as she slowly came to social recognition and popularity.
The following year she starred in the short movie entitled "Extraction", and crime drama series "Bling Spot". Changing her usual genre of TV series, Li appeared as Rose Cooper in the supernatural series "The Exorcist".
Settling in the lane of supernatural shows, she was cast as the main character as Jenny Wah in the 2019 Netflix series  "Wu Assassins", which follows the everyday life of a young chef and Wu Assassin who battles criminals, threatening to use the deadly ancient powers and erase the world as we know it. The fascinating action delight, which was originally released in 2019, received positive reviews mainly aimed at the fight choreography and bold aesthetic. The show was renewed for another season, which will air from August 2021. Additionally, the movie entitled "Wu Assassins: Fistful of Vengeance" was announced in February 2021, which will pick up the story where the first season ended.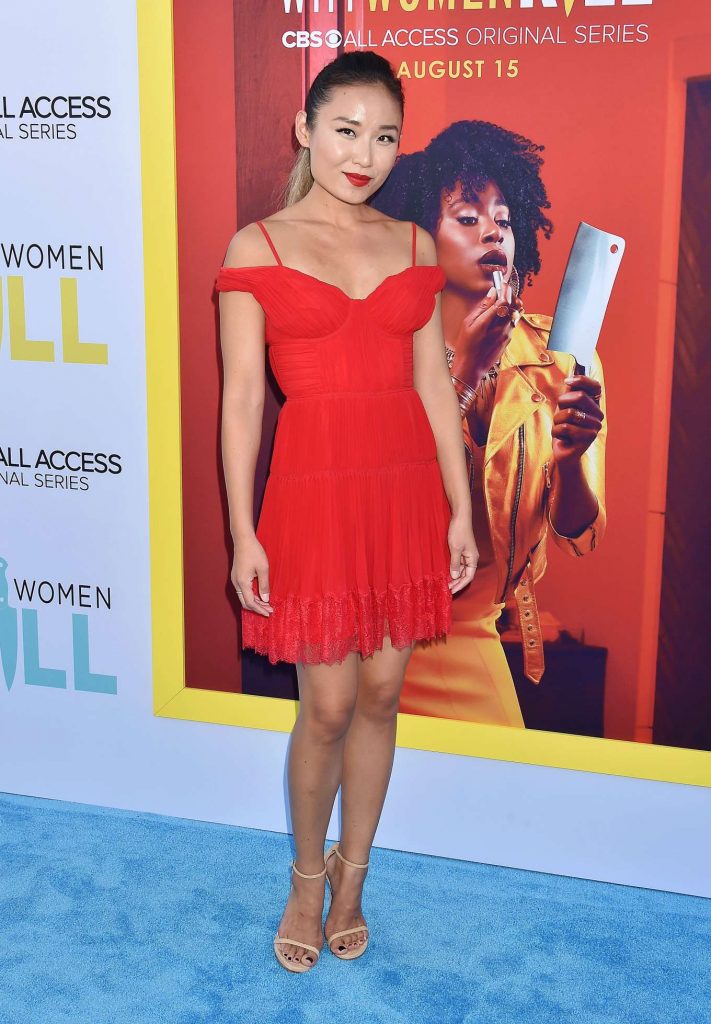 Her latest role was in the 2020 supernatural series entitled "Evil".
Upcoming Projects
Regarding her upcoming projects, in April 2021 it was announced that the actress would join the cast of "Devils", appearing in the second season as a recurring character. Li is also set to appear in the 2022 period drama entitled "Babylon", directed by Damien Chazelle, which is currently filming; while the premiere date remains unknown, it's known that it will additionally star Brad Pitt and Margo Robbie. Li will portray the role of Anna May Wong, who is considered the first Chinese American Hollywood star. Regarding her character, in an interview, Li said:  "She was a pioneer. What she lived through during her career – the discrimination she faced – was arduous, infuriating and eye opening.
Yet she kept her chin up and with her extraordinary talent, still made an unforgettable career."
Personal life
When it comes to her personal life, not much is known;, her dating history is a mystery. It appears that she hasn't been married, and is currently single.
Physical Stats and Hobbies
Li is 5ft 6ins (168cm) tall and weighs around 114lbs (52kgs). Her natural hair is black, while her eyes are dark brown.
Li is an avid LGBTQ supporter, and a passionate animal lover; she has a Yorkshire terrier named Toto, who successfully underwent open-heart surgery. The cute little Yorkie also has his own Instagram account entitled toto_knows.
Li is very vocal about injustice, which she, as an Asian-American actress, has faced throughout her career in Hollywood.
In an interview, she talked about how she prepared for the role of Anna May Wong, jokingly saying: "The rejection and disappointment you face as an actress? Multiply that by 1,000 with a side of discrimination." One of her favorite actresses is Lucy Lu.
She is a great fan of nature, and loves to travel to interesting and exotic places.
Given the nature of her many roles, which call for a fit physique, she often visits the gym and practices yoga. She loves martial arts and hopes to continue starring in action movies, she said: " I really do love it. I'm training on my own. I mean, granted I'll never be as advanced as a martial artist like Iko and my fellow castmates who have been training since they were kids.'
She is very active on social media platforms – her Instagram counts over 60,000 followers, while her Twitter account has over 13,000. Li usually posts selfies, photos of Toto and her upcoming projects. Li is also an advocate for animal protection in the US, and uses her online space to spread awareness and also put light on the inhumane treatment of animals. In one of the latest interviews, she said:" I don't use social media nearly as much as I did before, but I am inclined to share and raise awareness however I can, to tap into bringing empathy back."
Would you like to know her net worth?
Sources estimated her net worth at close to $1 million, which she's earned through her acting endeavors. Given her recent rise in success and popularity, it is believed that her wealth will be augmented substantially.