• Peter Gadiot is a British actor known for his roles in "Queen of the South" and "Once Upon A Time in Wonderland".
• He is of British, Dutch, and Mexican ethnicity and born in London.
• His career includes roles in TV shows and films such as "My Spy Family" and "Matador".
• He is an active alpinist and philanthropist, and is active on Instagram.
• His estimated net worth is $1.5 million and his hobbies include mountaineering, sailing, hiking, playing piano and painting.
Who is Peter Gadiot?
If you are a fan of "Queen of the South", then James, Theresa's right hand, must be a familiar face. Peter Gadiot is a British actor, also recognized for his role in "Once Upon A Time in Wonderland".
Early life, Family, and Education
Born on 2 January 1986 in London under the Zodiac sign Capricorn. He is a mix of British, Dutch, and Mexican ethnicity. As of 2021, he is 35 years old and holds British nationality. Peter was born to Jules Maria Johannes Ignatious Gadiot and Aurora Gabriela Nava Gadiot; his father came from Denmark, while his mother is from Mexico.
James was the youngest child with an older brother and sister. He grew up in London, and from a young age showed a great interest in sports, especially football, and even dreamt of becoming a professional player, but at that time, pursuing an acting or modeling career never even crossed his mind.
Unfortunately, James had many behavioral issues, and as such was deemed a bad influence on other kids in the academy, which was the official reason why he was let go. In addition, he sustained a couple of injuries as a result of the sport, rendering him unable to continue pursuing a career as a football player anyway.
At the end of his high school years, he started developing an interest in chemistry and politics, and even had aspirations of becoming a politician.
However, things turned out quite differently for Peter, when at the age of 17, he moved with his family to a new home, and a neighbor's son was auditioning for a drama school, and Peter thought he should do the same. After auditioning, he realized that it might be the right thing for him, and signed up for a six weeks course, even more confident about his new vocation. He attended the Drama Centre London, and as a student he participated in numerous stage productions, and also began auditioning for roles in TV shows and movies.
Career
Peter started his on-screen career with a minor role in the TV series "My Spy Family", then made a couple of appearances in other TV shows and foreign movies of different genres, such as "13Hrs", "The Forbidden Girl", "The Fresh Meat", etc.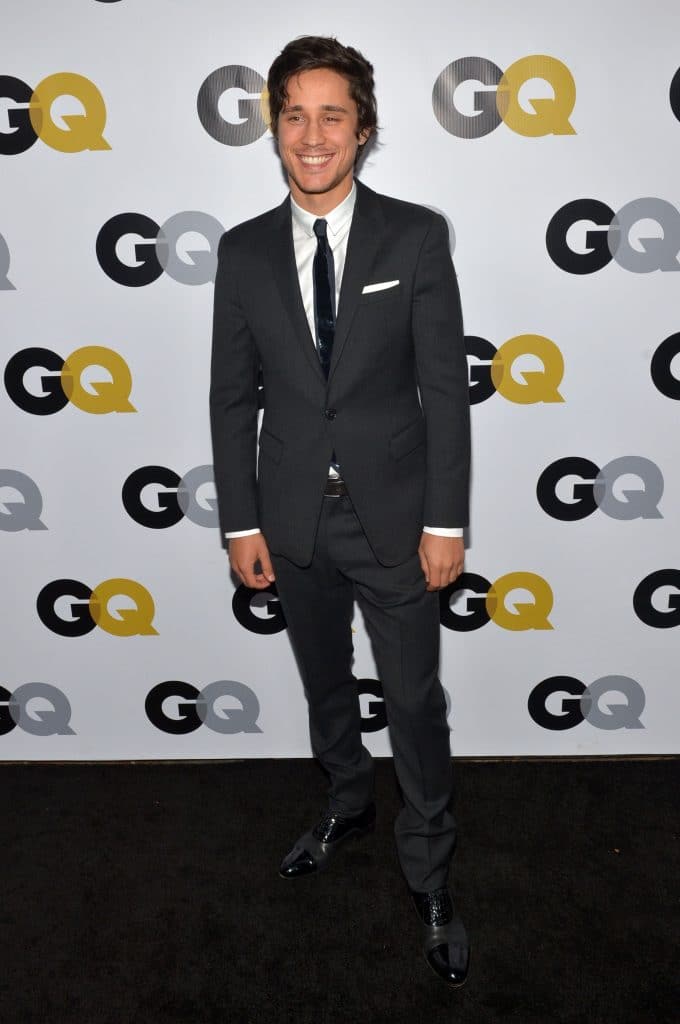 Peter made his American network debut in 2013 in ABC's "Once Upon Time In Wonderland", portraying the role of Cyrus, a handsome and mysterious genie in the popular fantasy TV show. This role definitely brought recognition to his name and an army of girl fans. He appeared in a total of 13 episodes, but which despite gaining positive reviews, was canceled in 2014. In the same year, he landed the recurring role of Caesar in the American TV series "Matador" – even though the show was originally meant to be renewed for a second season, it was canceled due to the lack of international success.
In 2015, Peter appeared in the Canadian-American miniseries about the life of Egyptian pharaoh Tutankhamon, then in 2016 landed his biggest role of James Valez in the acclaimed crime drama "Queen of the South", and in 2017 won the Imagen Foundation Award for the Best Supporting Actor for his role in the series. The show is an adaptation of the telenovela "La Reina Del Sur" which is yet another adaptation of the novel with the same name written by Arturo Perez-Reverte. The first episode premiered on 23 June 2016, and has four seasons, originally renewed for a fifth season, but production was halted due to a global pandemic. The fans are eagerly waiting for any news about the new season, especially with the end of the fourth season, which left many wanting for more.
At the moment, Peter is working on "Queen of the South" and "Supergirl", the American superhero TV series with five seasons and the sixth in the production, scheduled for sometime during the mid-season of 2021.
Personal Life
There is a complete scarcity of information about his personal life, as it seems that Peter likes to keep his private matters away from the public eye. It appears that Peter hasn't been married. Information about any previous relationships is also a mystery.
Physical stats and Hobbies
Peter is 5ft 11ins tall (180cm) a weighs around 165lbs (75kgs). His hair is dark brown, as are his eyes. Peter is well known as a handsome charmer who has apparently won the hearts of many women. As an active alpinist, he maintains his physique with regular exercises and expeditions. If we add the British accent to his many attributes, it's no surprise that Peter is such a charmer.
As an individual who is amazed by nature, Peter enjoys traveling to very distant and unusual locations. He is a great mountaineer who often goes on climbing expeditions which he posts on his Instagram stories. Besides conquering mountain tops, Peter is no stranger to sailing, and hiking.
What is his net worth?
Peter's estimated net worth is around $1.5 million, acquired through his acting career, particularly his role in the "Queen of the South", and allowed him to continue his active life involving adventures and expeditions.
The talented actor is very active on Instagram, with over 460,000 followers, and on which he posts very often, most photos from his expeditions or places he visits.
He recently posted "Peter's Book Club", which is a collection of his book recommendations, which definitely confirm that Peter is a typical bookworm and a man of classical literature. His favorite books are   "Crime and Punishment" by Fyodor Dostoyevsky, "Iliad" by Odyssey, and "Anna Karenina" by Leo Tolstoy.
As a man with many traits and hobbies, he also plays piano and paints – he posted a photo of himself drawing with captions, "Well at least when it comes to the art of painting and drawing, I have no natural talent. Wish I did but my talents lie elsewhere. My art lies more in storytelling, through words and images." Even though he has a Twitter account, it seem that he doesn't use it often.
More about Peter Gadiot
Interestingly Peter is a great philanthropist, and an advocate against human trafficking and slavery. The actor is actively involved in campaigns for raising money for those in need.
His Instagram description also displays a link to "Choose Love", which is an online store that sells products for refugees, and works to help people rebuild their lives. He also participated in a 250 ultra-marathon in the Sahara Desert and finished his journey by climbing Mount Kilimanjaro.
For his birthday, Peter asked his followers to donate to "Choose Love", and gathered $13,000 from donations which he used to buy gifts and necessities for refugees. Peter wrote: "So a huge THANK YOU to all of you who contributed, it really does make a difference. And I #matched every #donation made on my birthday GMT, so together it was a good chunk of change we sent to people who really need help! Best birthday gifts ever!"