• Skyler Samuels is an actress and model known for her roles in popular TV series like "Wizards of Waverly Place" and "Scream Queens".
• She graduated from Stanford in 2020 after taking a semester off to film "Scream Queens".
• She is 5ft 6ins tall and weighs 117lbs.
• Her estimated net worth is around $1 million.
• She is active on Instagram and Twitter with 500,000 and 60,000 followers, respectively.
Who is Skyler Samuels?
Skyler Samuels is an actress and model, who rose to popularity for her roles in the popular TV series' "Wizards of Waverly Place", "Scream Queens", and "The Nine Lives of Chloe King". She was born under the Zodiac sign Aries on 14 April 1994 in Los Angeles, California, USA. As of 2021, Skyler is 27 years old and holds American nationality.
Early life and Family
Skyler was born to parents Kathy and Scott Samuels. Her mother works as a producer for unscripted shows, while her father is a U.S. marshal. She has three brothers – Cody, Harrison, Jack – and a sister named Heather.
Skyler kicked off her career very young, at the age of 10, appearing in an episode of the  Nickelodeon sitcom "Drake & Josh".
She began booking roles in Disney shows such as "The Suite Life of Zack & Cody" and "That's So Raven", and also appeared in two short movies, "The Adventures of Big Handsome Guy and His Little Friend" and "A Host of Trouble".
Regarding her education, in 2011 Skyler enrolled at Stanford University and eventually graduated in 2020 with a Bachelor of Arts in Science, Technology, and Society. In an Instagram post, she explained her journey and the challenges she faced education-wise, writing: "9 years ago I got into my dream school. 8 years ago I started. 4 years ago I got to walk in graduation, but felt incomplete with the remaining units I needed to officially graduate hanging over me. I couldn't afford to finish. 3 months ago I re-enrolled to complete my degree online. Today, I graduate."
Career
After appearing in an episode of the sitcom entitled "Love, Inc." she landed the recurring role as Gigi Hollingsworth in the Disney teen sitcom "Wizards of Waverly Place", appearing in three episodes. In 2009 she was cast as Beth Harding in the thriller movie "The Stepfather", and as Libby in the TV film "Bless This Mess". The following year, she appeared in the black comedy movie "Furry Vengeance", opposite Brendan Fraser and Brooke Shields, and during the same year, was cast in the recurring role as Andie Bates in the supernatural teen TV series "The Gates", alongside Marisol Nichols and Frank Grillo. Despite the promising premise of the show catering to teen audiences, it was canceled after the first season, mainly because of low ratings.
In 2011, she was cast as Chloe King in the supernatural drama series "The Nine Lives of Chloe King". Skyler's portrayal of Chloe, the Mai descendant and warrior with special powers, garnered her first nomination for Teen Choice Award in the category Choice Breakout Star. Even though the show received mainly positive reviews, it was canceled after the first season, again due to low ratings.
In 2013, she appeared in the made-for-TV film "Bloodline", followed by the comedy movie entitled "Helicopter Mom". In 2014 she featured as Bonnie Lipton in the popular horror series "American Horror Story: Freak Show", appearing in four episodes.
Climbing up the ladder of her profession, she auditioned for more roles, even though she was bouncing between college and her career. In 2015 she starred in the comedy movie "The DUFF" opposite Bella Thorne and Robbie Amell, which despite receiving mixed reviews, managed to gross a decent box office.
During the same year, she joined the main cast as Grace Garner in the satirical comedy slasher series "Scream Queens". She appeared in the first season opposite Emma Roberts and Ariana Grande, and even though most of the main cast reprised their roles in the second season, Skyler did not. Many fans took their disappointment to social media, considering Skyler's memorable and impactful portrayal – they expected to see her reprise her role in the next season.
The reason was quite simple- she had a packed schedule, and while she'd decided to take a semester off to film the first season, when Fox production began filming the second season, she has already chosen to focus on finishing her degree.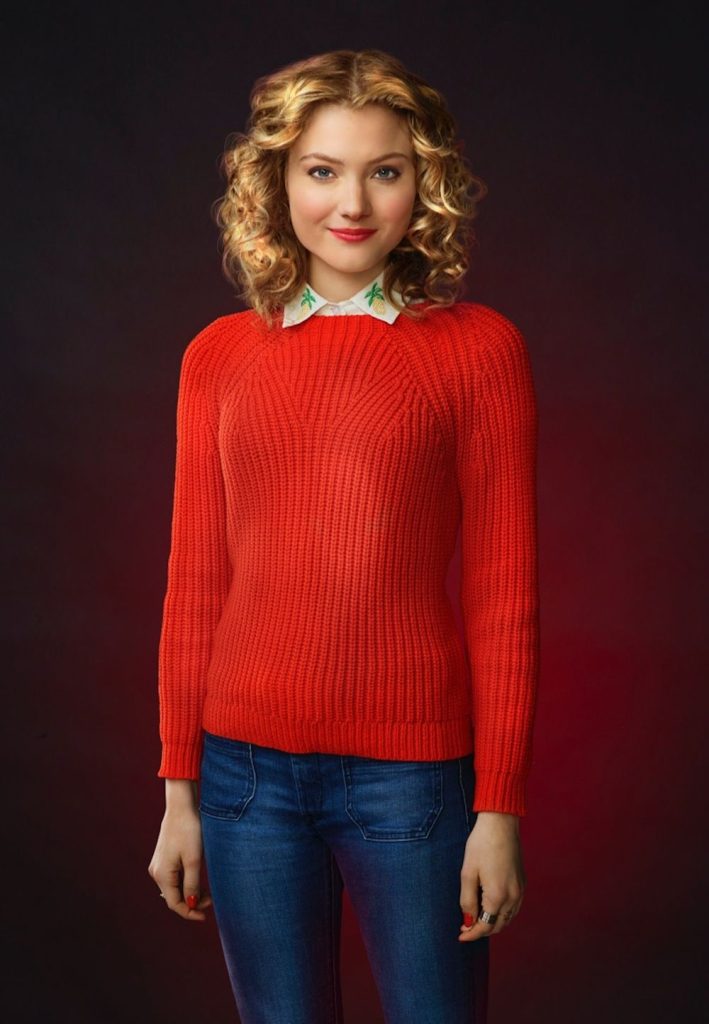 In her interview with Elle, she explained her reasoning, saying: "I sort of had to realize that I'm totally an overachiever, a do-a-million-things-at-one-time kind of girl. Then I was like, ok, wait, I might be an overachiever, but I'm still a human being. And now I'm actually packing my bags and getting ready to go back to school in January."
After trying her luck in the short movie entitled "The Last Virgin in L.A", she portrayed the Frost triplet sisters Esme, Sophie and Pheobe in the superhero TV series "The Gifted". The show ran for two seasons, receiving positive reviews and "solid" viewership, but in 2019, the show was canceled, reasons unknown.
In 2018, Skyler continued on appearing in several short movies, including "Public Disturbance" and "Spare Room" – her portrayal of Lillian in the latter didn't go unnoticed, and Skyler won the Audience Award at the Napa Valley Film Festival.
Her latest roles and upcoming projects
In 2021 she made a one-episode appearance as Charlotte Luster in the police procedural series "The Rookie". She also landed a role in the thriller movie "Masquerade" opposite Bella Thorne and Austin Nichols, which premiered in July 2021. Skyler is set to appear as Mary in the short film "For Every Good Intention" and another project, "Switched Before Birth", in which she was cast as the lead character. The movie is produced by LifeTime TV, and will also star Justina Machado. According to Skyler's Instagram posts, the film will premiere in October 2021.
She also launched the podcast entitled "Showmance" by RomComPod with Becca Freeman and Rachel Greening King. The romantic comedy follows a girl named Casey, a reality cooking show producer, who embarks on a lifetime journey, and goes to London to launch a new show.
Personal Life
Skyler appears to be one of those celebrities who likes to keep her private life away from the public eye. Despite the general lack of information, it's known that she had a romantic relationship in 2011 with the actor and musician Keegan Allen, perhaps best recognized for his role as Toby Cavanaugh in the teen mystery series "Pretty Little Liars". The couple parted ways the following year for unknown reasons. According to sources, she's currently single.
Physical stats and Hobbies
Skyler is 5ft 6ins tall (168cm) and weighs around 117lbs (53kgs). Her natural hair is blond, further adorned with blue eyes. Her vital statistics are 32-23-33, while her bra cup size is 32B. Skyler has a very fit physique, and works out to maintain it. She's mentioned in some interviews that she likes to visit the gym and run, especially in the morning.
Skyler is a huge animal lover and a supporter of fostering dogs. During the quarantine of 2020, she shared on Instagram that she had adopted a dog, writing: "There's been a notable void since our sweet family dog of more than 15yrs passed away. My mom and I decided to foster and bring a little puppy back into our life. Little did we know we would "foster fail" and fall especially in love with this little guy. Not a fail at all, this is a foster WIN."
Would you like to know her net worth?
As of mid-2021, her estimated net worth is around $1 million, largely acquired through her acting career. She's appeared in several commercially successful projects such as "The Duff", which grossed nearly $44 million against an $8 million budget.
The young actress is very active on her social media. Her Instagram counts nearly 500,000 followers, while her Twitter account has nearly 60,000 fans. She mainly posts updates about her upcoming projects and BTS moments, occasionally posting selfies and snippets of her interesting travels.