• Whitney Simmons is an American YouTuber, Instagram star, and fitness instructor.
• She is 22 years old and was born in Fresno, California.
• She was a competitive gymnast in her high school years.
• She has her own apparel shop and co-founded Toluca Swim.
• She is engaged to a guy named Stefan and enjoys spending time with her pet dog.
Who is Whitney Simmons?
Whitney Simmons is an American YouTuber, Instagram star, and fitness instructor, who achieved fame by documenting her fitness journey and sharing it with other fitness enthusiasts and people who are active in sports, through her Instagram account and YouTube channel.
Age, Early Life, Parents, and Education
Whitney Simmons was born on 27 February 1993 under the Pisces zodiac sign, in Fresno, California USA, which makes her 22-years-old; she's the second oldest in the family of five siblings, and shared her childhood with brothers Austin, Slade and Deacon, and a sister Claire.
She hasn't shared the names of her parents, but has said that her father is a football coach, and helped her inspire her towards a career in sports. She moved often during her childhood and lived in Ohio, Arizona, and Cincinnati in addition to her hometown of Fresno. While growing up, Whitney was a competitive gymnast which lasted until the end of high school. After matriculating, Whitney enrolled at Utah State University, graduating with a major in communication, and a minor in human resource management. During her university years, Whitney was a part of the cheerleader team, but that ended up quite badly for young Whitney.
Career Beginnings
While at university, Whitney was dropped from the cheerleader team in the second year, which resulted in depression. She fell into a spiral of unhealthy lifestyle and self-hate; she found a job at a beauty company but that didn't last long as she couldn't find happiness anywhere.
However, thanks to her father's help and motivation, she became more active, first training outside, running, then after a while she joined a gym. The workout was great therapy for her and gradually started increasing time spent at the gym.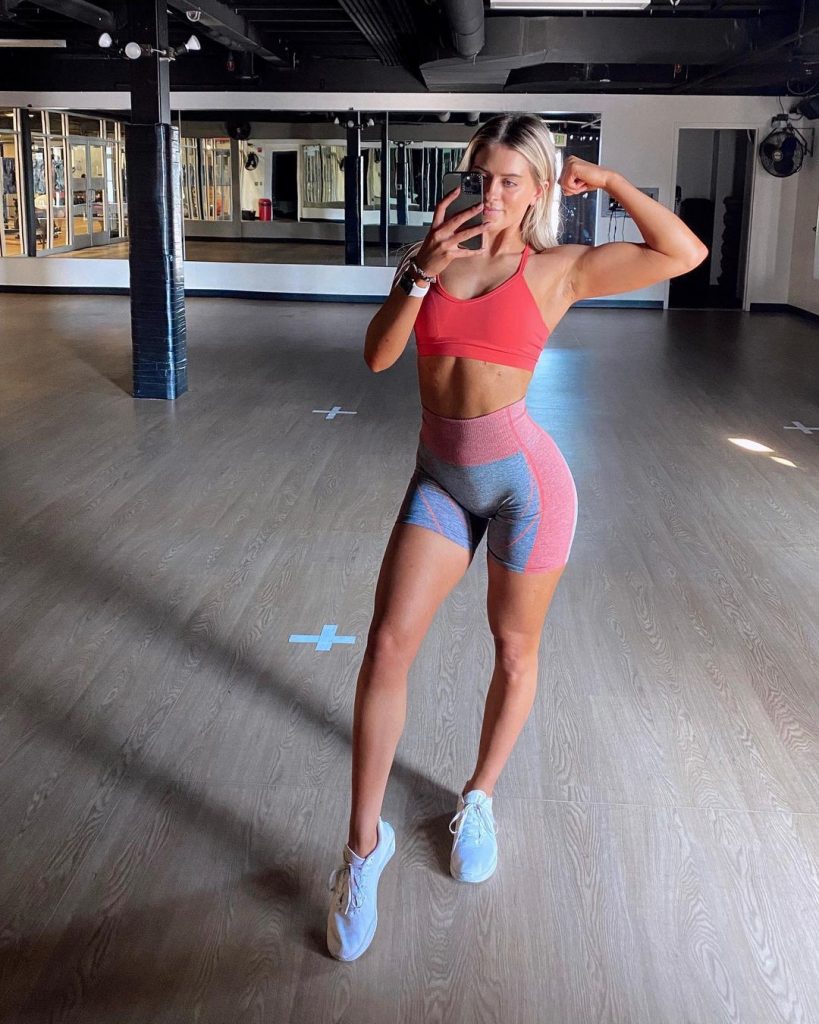 She pushed herself to new limits, and as she was learning more about fitness and feeling a lot better, she started filming her exercises and the entire process.
Rise to Prominence
In 2015, Whitney started her YouTube channel, and uploaded her first video "5 tips to achieve your 2016 Fitness Goals!". She continued with new fitness-related videos, slowly gaining popularity, and after a while started her Instagram account. Since then, Whitney has acquired more than three million followers on her official Instagram account, which helped her become a model, as well as a fitness instructor.
She has since collaborated with fashion brands, including Gymshark, among numerous others.
She has continued to make videos for YouTube until the present day, and so far has more than two million subscribers and a total of 208 million views. Some of the most popular videos include "Grow and Define Your Booty and Legs", which has more than 3.5 million views, "I Tried Intermittent Fasting For 1 Week", which has three million, and "Beginners Guide To Getting FIT", with just over two million views, among numerous other videos that only increased her popularity.
Toluca Swim
In addition to her career as a model and fitness instructor, Whitney is also an entrepreneur. Together with Chloe Chamberlain, Taylor, and Steve Dilk, she co-founded the Toluca Swim, a one-stop-shop for everyone, which has also added to her wealth. Furthermore, Whitney has her own apparel shop, through which she sells hoodies, t-shirts, pullovers, and others items with motivational messages printed on the clothing.
Personal Life, Dating, Boyfriend, Single?
Regarding her personal life, Whitney hasn't been sharing much information from this side of her life, being mostly focused on her professional success.
Nevertheless, it seems that she's in a romantic relationship with a guy named Stefan. The two have been together since 2017; they went on a first date but agreed that it was a disaster and would never go on a second date. However, they were tricked into a second date by a mutual friend, and since then have been inseparable. In November 2018, Whitney uploaded a picture of the happy couple on her Instagram account, stating that the two have become engaged.
Net Worth and YouTube earnings
As of mid- 2021, Whitney Houston's net worth has been estimated at around $350,000, earned through her successful career, including approximately $220,000 from her YouTube channel.
Appearance and Vital Statistics
This fitness instructor and Instagram model has blonde hair and hazel eyes. She stands at a height of 5ft5ins (1.55m), weighs approximately 114lbs (52kgs), and her vital statistics are 34-24-37, bra size 33, and shoe size 6(US).
Hobbies and Interests
Whitney spends much time at the gym, but once she has free time, she likes spending it at home resting and relaxing, while mentally preparing for the next week.
She has a proper fitness routine that she practices every day, which includes resistance band stretches as a warm-up, and several exercises for the entire body, such as one arm dumbbell, different plank exercises, squats, and more. Whitney thinks highly of a healthy diet, having been eating unhealthy food during her university years. She is a huge fan of protein bars, but she bases her nutrition on eggs, chicken and fish meat, and various vegetables.
She enjoys spending time with her fiancé. She is an avid pet lover and has a pet dog.