• 5up is a Twitch, YouTube, and social media star, known for his videos and streams playing the popular game "Among Us"
• His real name is unknown, and he is asexual biromantic
• He is 21 years old, 5ft 8ins (1.73m) tall, and has an estimated net worth of over $500,000
• He is a huge lover of animals, and enjoys various cuisines and travelling
• His hobbies include cooking, art, and watching movies and animated series
What is 5up's real name?
5up was born in Phoenix, Arizona USA on 27 October 1999 – his zodiac sign is Scorpio, and he holds American nationality. 5up hasn't disclosed his real name, nor has he shown his face in his videos, but he's not to be confused with the professional "Dota" Esports player with the same professional name.
5up is a Twitcher, YouTuber and a social media star, who's probably known best for his YouTube channel, which he launched on 21 April 2015. It's today subscribed to by more than 700,000 people, and numbers close to 140 million views of all his videos combined.
Thank you again for 700k on Youtube and also helping us reach our sub goal on twitch!! Its time for the art competition v2!! Good Luck!!

Rules & Info: https://t.co/bBCH3PvHAA
Submissions: https://t.co/jUN0ZyptLd#5upArtContest pic.twitter.com/Zbnqg0Vhsc

— 5up (@5uppps) May 6, 2021
The vast majority of these feature him playing video games, mostly focused on playing the popular game "Among Us", in which people play crewmates and impostors, with the impostors' goal being to kill the crewmates, and the crew's goal being to find and remove impostors from the spaceship they're all on.
Early life and education
5up was raised in Phoenix alongside his two years senior brother, by their parents who prefer to be left out of media, thus not a lot is known about them.
He became interested in playing video games while attending a local elementary school, and it was his parents who bought him his first console when he was six years old, and he's now played games on PlayStation 2, 3 and 4, as well as on PC and Xbox.
He attended a local high school at which he was interested in sports, and played football and soccer. Upon matriculating in 2018, he decided not to attend college, believing that it's unnecessary for him; he then began working for his family's company as a graphic designer, but then moved to Las Vegas in Nevada, to focus solely on his career on the internet.
Most popular YouTube videos
5up is mostly popular for his skills at the game "Among Us", and we're going to mention three of his most popular YouTube videos.
His #1 video "The cleanest impostor win you'll ever see…", has been watched over 3.4 million times since 14 September 2020, and features 5up and the YouTuber Moxy playing "Among Us" as impostors, and winning the game without anyone realizing that they're the impostors.
His second most popular video "I managed to fake weapons in front of EVERYONE" has been viewed over 2.3 million times since 8 September 2020, and shows 5ups's skills at the game.
His third most watched video "He walked in on my body collection…" has been seen more than 1.7 million times since 9 September 2020, and once again features 5up winning the game as an impostor.
Twitch channel
5up launched his Twitch channel on 24 March 2015, and is today amongst the most popular people on the platform, having amassed over 870,000 followers, making him the owner of the #369 most followed channel (#190 most followed English channel).
He has spent a total of over 1,630 hours livestreaming (around 68 days), and has amassed more than 18 million views of all his livestreams combined. He has an average of over 4,500 viewers per stream, while his highest recorded number of concurrent viewers was 59,918 on 22 April 2021.
5up has spent exactly 1,100 hours playing "Among Us" on his channel, and some of the other games he has played include "Minecraft" (156 hours), "Valorant" (128 hours) and "League of Legends" (31 hour).
5up is active on various social media networks, but has still succeeded at not showing his face on the internet.
Today was a good haul 🙂 pic.twitter.com/BL78vtjxOg

— 5up (@5uppps) May 18, 2021
He doesn't have an Instagram account, as he believes he doesn't need it, but launched his Twitter account in January 2014, and has amassed over 310,000 followers – he tends to tweet at least once a week. He's followed by close to 60,000 people on TikTok, accumulating over a million likes of all his videos combined, nearly all featurng him playing the video game "Among Us". His Facebook fan page is followed by just over 100 people.
Love life and dating
5up hasn't shared details of any boys or girls whom he has perhaps been with, but has spoken of his sexuality.
Explained in an easy way, he's stated that he's bisexual, however, the more complicated answer would be that he's asexual. 5up has described himself as an asexual biromantic: asexual is someone who's not sexually attracted to anyone, while biromantic means the person's romantically attracted to people regardless of their gender.
There are some who claim that 5up is today in a relationship with a mysterious boy; a fan has stated having seen the two holding hands, however, this hasn't been confirmed, and it's hard to believe anyway, as no-one really know what 5up looks like.
As of June 2021, he seems to be single, hasn't married and doesn't have children.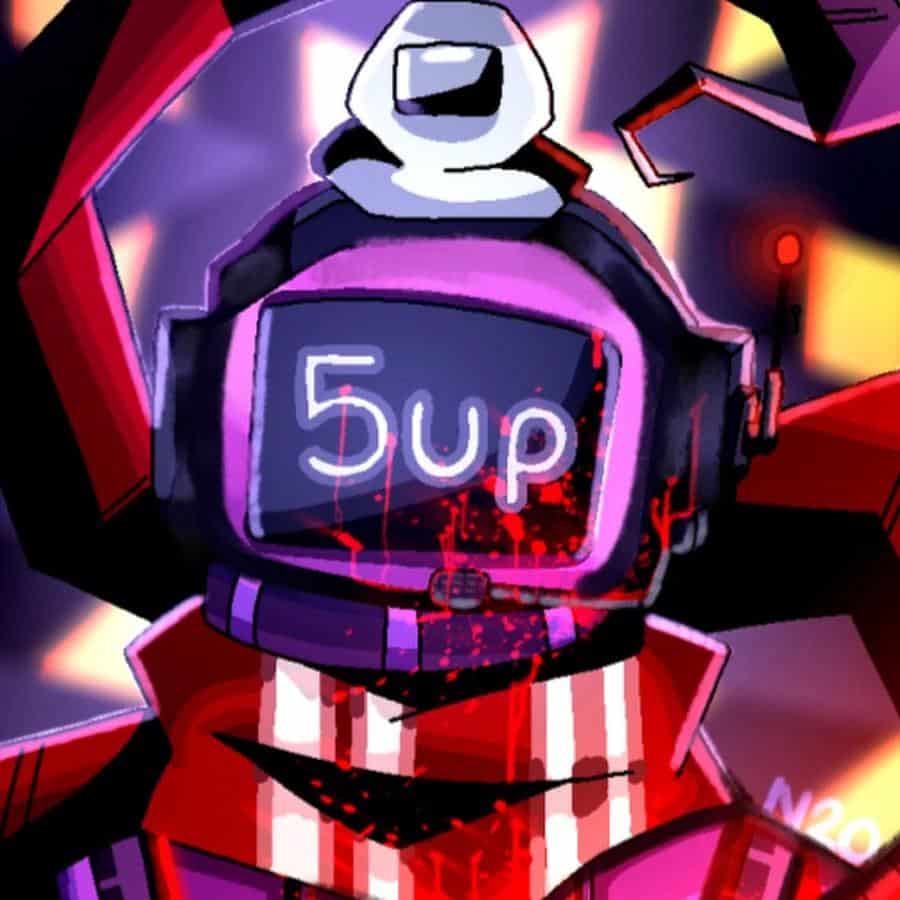 Hobbies and interesting facts
5up is a huge lover of animals, with both dogs and cats being his favorites. He has a pet dog called Suji, and three pet cats which are living with his father.
He likes tasting various cuisines, and his favorite is spicy Hungarian food. 5up combines his love for food with his interest for travelling, and he's been to various US states, as well as to many European countries. His dream travel destination is Kyoto in Japan.
Perhaps unsurprisingly, cooking is amongst his favorite hobbies, and he's shared his recipes with his fans during his livestreams.
5up is interested in all kinds of art, including drawing, sculpting and painting.
Autumn is his favorite season, and he enjoys wearing sweaters and scarves.
Somewhat amusingly, he says that he can't ride a bicycle, but doesn't say why.
In his spare time, he likes to watch movies starring his favorite actor and actress, Brad Pitt and Emma Watson, such as "Fight Club", "The Curious Case of Benjamin Button" and the franchise "Harry Potter". His favorite animated series is "Adventure Time".
Age, height and net worth
5up is 21 years old. He hasn't revealed his face, but has spoken about his appearance: he has dark brown hair and brown eyes, which seem as if they were blue if someone comes closer to him. He's 5ft 8ins (1.73m) tall, and weighs around 110lbs (50kgs).
As of June 2021, his net worth has been estimated at over $500,000.