-• Nicole LaValle is a reality TV star and actress born in Santiago, Chile in 1987.
-• She starred in the reality comedy show "Jersey Shore" from 2009-2012, and the reality show "Snooki & JWoww" from 2012-201•
-• She has appeared in over 100 TV shows, and has acted in films such as "The Three Stooges" and "Movie 43".
-• She has written 14 and produced 17 episodes of TV shows, and published 3 books.
-• As of June 2021, her net worth is estimated at over $4 million.
Who is Nicole LaValle?
Nicole Elizabeth LaValle (nee Polizzi) was born in Santiago, Chile on 23 November 1987 – her zodiac sign is Sagittarius, and she now holds American nationality, as she was adopted by an Italian-American couple six months after she was born. She's a reality TV star and an actress, who's perhaps still known best for her appearance in the reality comedy show "Jersey Shore". It was created by SallyAnn Salsano and Anthony Beltempo, starred Nicole, Paul 'Pauly D' DelVecchio and Sammi 'Sweetheart' Giancola, and follows the lives of several people who are in their 20s, and their friends and partners. It aired from 2009 to 2012, and won three of the 15 awards for which it was nominated.
Early life and education
Nicole was raised in the US by her adoptive parents Helen and Andy Polizzi; she's taken two DNA tests to learn more about her ancestry.
Nicole "Snooki" Polizzi and her husband, Jionni LaValle, are expecting their third child together https://t.co/5Gheir0LL1 pic.twitter.com/UhIafa8Q9a

— CBS News (@CBSNews) November 23, 2018
After the first test she learned that she isn't genetically Chilean, but is rather Middle Eastern, Jewish, both East and South Asian, Iberian, and Romani. However, the second test showed that she was nearly 60 percent Chilean, and over 30 percent European.
Nicole was attending a middle school when she kissed a boy for the first time, becoming the first amongst her friends to do so, and was thus nicknamed 'Snooki', after a character from the 2001 teen dance movie "Save the Last Dance". She developed an eating disorder in her teenage years, and at one point, her weight was 80lbs (36kgs). Upon matriculating from Marlboro High School in 2005, Nicole enrolled at Brookdale Community College, hoping to become a veterinary technician.
Career as a TV personality
Nicole has now appeared in over 100 TV shows, and we're going to mention more which have helped her gain recognition in the entertainment industry.
She made her debut appearance in a 2009 episode of the show "Is She Really Going Out with Him?", and was then invited to make a guest appearance in "The Tonight Show with Conan O'Brien". In 2010, Nicole starred in the documentary mini-series "Undateable", which covers 100 things which men do that makes them unattractive to women. She was then invited to appear in various popular talk-shows, such as "Rachael Ray", "E! True Hollywood Story" and "Late Night with Jimmy Fallon".
From 2012 to 2015, Nicole appeared in 47 episodes of the reality show "Snooki & JWoww", which follows the lives of the two best friends, as they are 'taking over Jersey City'. The following years saw her appear in an episode of the talk-shows "The Wendy Williams Show", "Kocktails with Khloe" and "Nicole & Jionni's Shore Flip".
Nicole competed in the dancing show "Dancing with the Stars", and with her partner Sasha Farber placed 8th.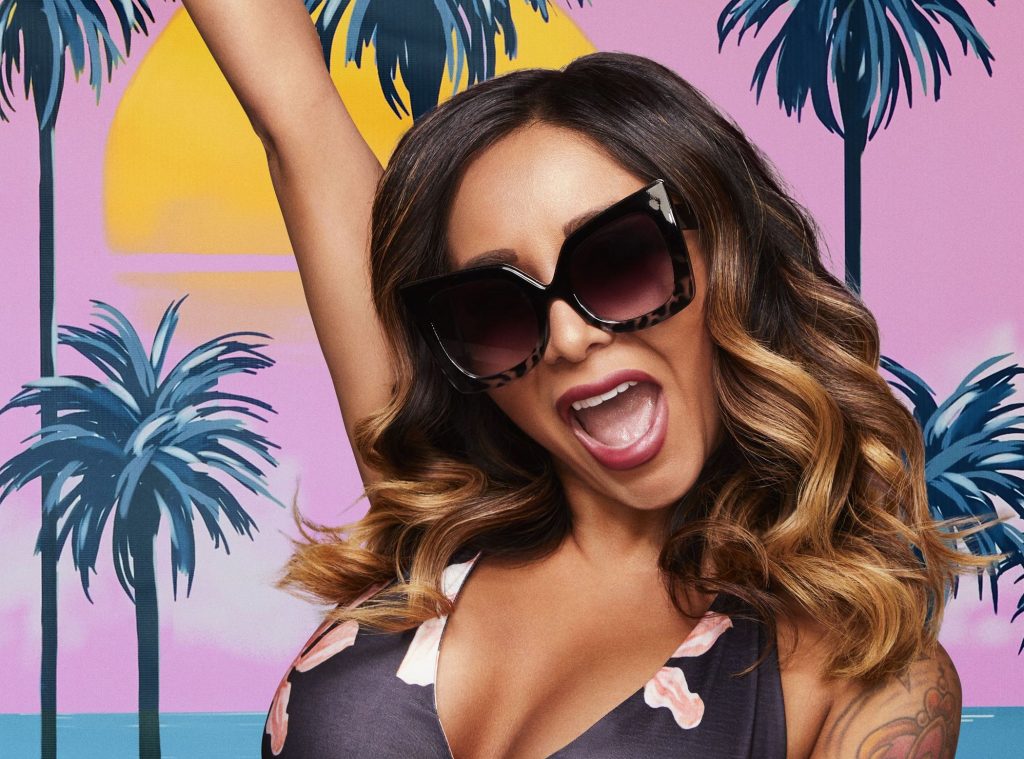 A couple of her most recent appearances have been in the 2020 TV special "WWE: Slammy Awards", the TV special "2021 MTV Movie & TV Awards: Unscripted", and a 2021 episode of the news talk-show "Entertainment Tonight".
Acting credits
Nicole made her debut film appearance in 2012, with her portrayal of a supporting character in the family comedy "The Three Stooges". It was written and directed by Bobby Farrelly, starred Chris Diamantopoulos, Will Sasso and Sean Hayes, and follows three men, who have ended up starring in their own reality show. The movie was nominated for four awards.
The following year saw her appear in the critically acclaimed comedy "Movie 43", which starred Richard Gere, Emma Stone and Stephen Merchant, and follows the life of a film producer, as he comes up with insane stories, featuring some of the most popular Hollywood actors and actresses. It won four of the nine awards for which it was nominated.
In 2014, Nicole appeared in single episodes of three series: the fantasy horror drama "Supernatural", the comedy "Wombmates", and another comedy "Cribmates".
Other credits
Nicole sang the songs "I Love My Badon", "Loud N' Stinky" and "Nut Shrinkage", in a 2011 episode of the talk-show "Late Night with Jimmy Fallon".
She wrote 14 and produced 17 episodes of the show "Snooki & JWoww" between 2012 and 2014, and in 2016 the series "Nicole & Jionni's Shore Flip", and the video "Warrior".
Awards and nominations
Nicole has been nominated for three Teen Choice Awards for Choice TV: Female Reality/Variety Star, for her performance in "Jersey Shore", in 2010, '11 and 12. She was also nominated for a 2013 Razzie Award for Worst Screen Couple, for "The Three Stooges" (shared with colleagues).
Other works
She published her book "A Shore Thing" in January 2011, which sold around 9,000 copies in a month following its release. Her second book "Confessions of a Guidette" was published on 25 October 2011, and was followed by her third book "Gorilla Beach", on 15 May 2012.
She has made several appearances in World Wrestling Entertainment (WWE) shows, including in "WWE Monday Night Raw" on 14 March 2011, when she slapped Vicki.
Nicole was arrested on 30 July 2010 in Seaside Heights, New Jersey, and charged with criminal annoyance of others, disorderly conduct and disturbing the peace. The first two charges were eventually dropped; Judge Damian G. Murray stated that Nicole wanted to act as if she were Lindsay Lohan, and he had her pay a $500 fine, and do community service.
She was arrested again on 31 May 2011, in Florence, Italy, after she crashed her car into a parked police car. Two cops who were in the car were injured, but Nicole was released from custody after around an hour.
Love life and husband Jionni LaValle
Nicole's quite open when it comes to her love life, and she's today married to Jionni LaValle, a TV producer. It was announced in March 2012 by Nicole, that she'd become engaged to Jionn, and.on 26 August 2012, she gave birth to their son Lorenzo Dominic LaValle. A year later, Nicole was featured on the cover page of the magazine "Us Weekly", claiming that she had lost 42lbs (19kgs) after giving birth. On 26 September 2014, she gave birth to her and Jionni's daughter Giovanna Marie LaValle, and on 29 November of the same year, Nicole and Jionni exchanged vows in front of their wide circle of friends and family members. On 30 May 2019, the married couple welcomed their third child, named Angelo James LaValle.
Nicole had dated various men before meeting Jionni. In 2009, she started going out with Mike 'The Situation' Sorrentino, an American TV personality, and following their split in 2010, she began seeing Vinny Guadagnino, another American reality TV star. The same year saw her date the non-celebrity American Dennis Figueroa, the businessman Jeff Miranda, and the entrepreneur Nick Stefano. She was also in a relationship with the actor Emilio Masella, which lasted for around half a year.
As of June 2021, Nicole's married to Jionni LaValle, and has three children with him.
Plastic surgery
In October 2016, Nicole stated that she had undergone breast augmentation, and that she now wears C cup.
Hobbies and other interests
Nicole enjoys being active on Instagram, as she likes the attention she's receiving from her 14 million followers. She has uploaded close to 7,000 pictures, most of which have been taken during her everyday life.
Summer is her favorite season, as she enjoys showing off her body at the beach, drinking cocktails while sun tanning, and freshening up in the ocean.
She's physically highly active, as she works out at the gym multiple times every week, while Nicole's also following a strict diet.
She's passionate about travelling, and has been all around the US for both work and pleasure, while she's also been to several European and Asian countries.
In her spare time which is usually late at night, Nicole likes to watch movies starring her favorite actor Leonardo DiCaprio, such as "Titanic", "Once Upon a Time… In Hollywood" and "Catch Me If You Can".
Age, height and net worth
Nicole's age is 33. She has long black hair and brown eyes, her height is 4ft 8ins (1.42m) and she weighs around 100lbs (45kgs).
As of June 2021, her net worth has been estimated at over $4 million.