Nathan Schwandt:
• Born in Grand Rapids, Michigan in 1993
• Skateboarder, social media sensation, and entrepreneur
• Net worth is estimated at over $500,000
• Co-founded a Marijuana side business
• Formerly dated Jeffree Star
Who is Nathan Schwandt?
Nathan Schwandt was born on 18 August 1993 under the zodiac sign of Leo in Grand Rapids, Michigan USA. He is a 27-year-old skateboarder, social media sensation, and entrepreneur, but probably best recognized for being the ex-boyfriend of the famous YouTuber, entrepreneur, makeup artist, and former singer-songwriter Jeffree Star. He's also known for running his official Instagram account, with almost 360,000 followers.
How rich is he, as of now? Nathan Schwandt Net Worth
As of early 2021, Nathan Schwandt's net worth is estimated at over $500,000, acquired through his successful involvement on the social media scene.
Besides that, he's increased his fortune through being a business entrepreneur.
Early Life, Family, Nationality, Ethnicity, Educational Background
Nathan Schwandt spent his early years in his hometown of Grand Rapids, where he was raised by his parents; however, there is no information about their names and professions, but he has a younger brother named Zach Schwandt. He holds American nationality and belongs to White Caucasian ethnic group. Nathan became interested in playing the guitar and skateboarding at a very young age, learning alongside his brother and friends.
He completed his education at Troy High School; while there, he also played football and basketball, and participated in the school's music competition. Upon matriculation, he didn't want to further his education at college, instead of which he started to pursue his career.
Rise to Fame
Prior to becoming a social media sensation, Nathan Schwandt spent some time working as an employee in a pet shop in Michigan. After he became romantically involved with Jeffree Star, Nathan relocated to California and encouraged him to launch his YouTube career.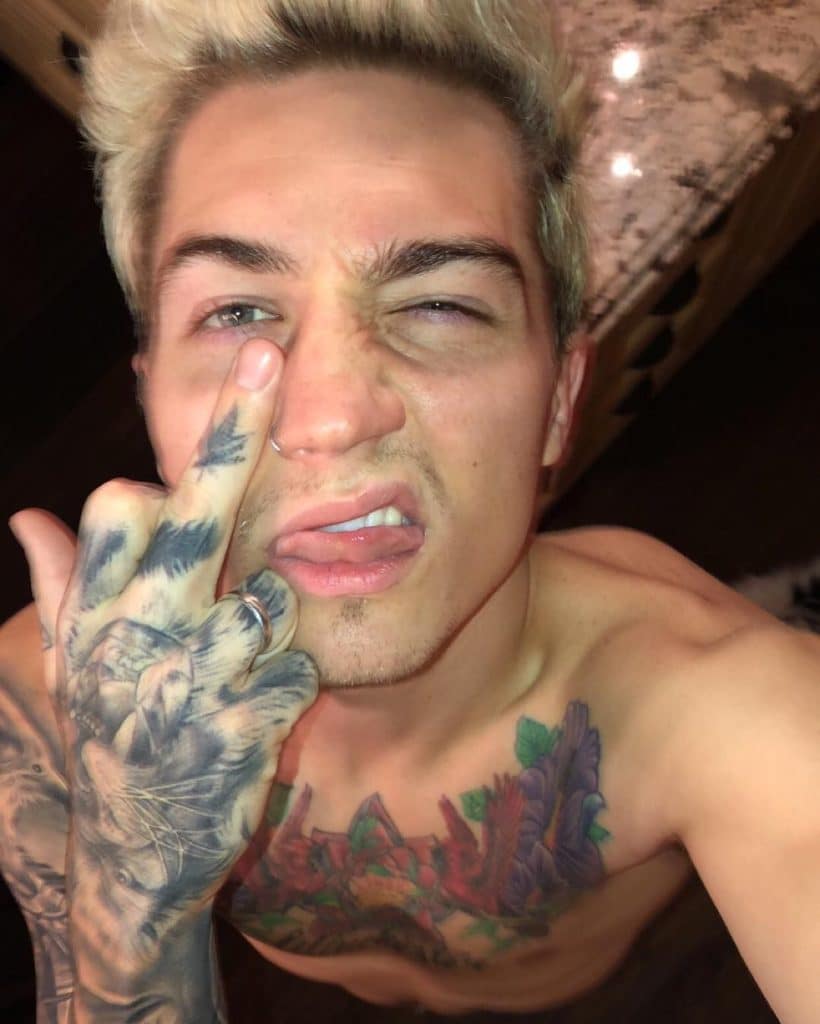 He then started appearing in Jeffree's videos, such as "I DO MY BOYFRIEND'S MAKEUP! | Jeffree Star", "TESTING 'SEX PROOF' MASCARA… WITH NATHAN", and "MY BOYFRIEND GETS BOTOX… IN HIS ARMPITS!! (Graphic Content!)", to name a few.
As Jeffree's popularity grew, Nathan attracted more and more curiosity. Once Jeffree became a successful beauty vlogger and established his own cosmetic company, called Jeffree Star Cosmetics, Nathan took charge of the company's shipping department. He worked there for a while and then left the position to take care of their five Pomeranian dogs.
Afterwards, he tried himself as an entrepreneur, since he co-founded a Marijuana side business alongside Jeffree.
Additionally, Nathan became known as a social media sensation. He is active on his official Instagram account under the username 'theschwandtone'.
Appearance and Vital Statistics
The social media star has short light brown hair and blue eyes. He stands at a height of 5ft 9ins (1.75m), while his weight is around 155lbs (72kgs), with vital statistics of 36-28-35; his shoe size is around 8 (US). He is also a huge fan of tattoos, and has several on his body.
Personal Life – Relationship with Jeffree Star
Nathan Schwandt and Jeffree Star met each other via Instagram, when Nathan sent Jeffree a direct message, subsequently exchanging text messages and immediately hitting it off. As time passed, the two became pretty close, so Jeffree eventually invited Nathan to Los Angeles to meet him in person. They fell in love, and their first date took place at the Santa Monica Pier in March 2015. It wasn't long until they started living together in Jeffree's residence in California. They later bought a house located in Grand Rapids, Michigan.
In July of the following year, Jeffree met Nathan's family, and became very close to them. He invited Nathan's brother Zach to work at his cosmetic company, and live with them. Moreover, he filmed a make-up video with Nathan's father. The couple enjoyed their love and Jeffree even referred to himself as his 'wifey', although they didn't plan to marry. Both Jeffree and Nathan are avid dog lovers, and live with five Pomeranian dogs named Drama, Daddy, Diva, Delicious, and Diamond.
In January 2020, Nathan and Jeffree decided to part their ways after five years of dating. Jeffree confirmed their breakup in a 17-minute video, entitled "We Broke Up", in which he explained that the death of their dogs influenced their split. They reportedly remain on good terms.
Controversy
Once Nathan and Jeffree announced their romance, many people questioned his sexuality. and criticize him because he was supposedly straight before he became romantically linked to the famous make-up artist.
However, Nathan opened up about that in a Q&A video, saying that he became interested in men who wore women's clothing a long time ago, but he couldn't be in such relationships because he came from the Midwest Area which didn't welcome homosexual relationships. He also said that relationship isn't bound by gender but is more profound. Moreover, many of Jeffree's fans labeled Nathan as a gold digger who was with Jeffree only because of his popularity and money, but Jeffree stated that they started dating before he was famous and rich.