• Lauren Parsekian is an American actress and film director with mixed ethnicity of Italian, Armenian and Irish.
• She founded 'Kind Campaign' to assist girls who are being bullied in their schools.
• She married actor Aaron Paul in 2013 and the couple have one daughter.
• Lauren has not received any awards yet but Aaron has won multiple awards for his acting.
• She is active on social media, especially Instagram, with almost 600,000 followers.
Do you know Lauren Parsekian?
Lauren has not let the fame of being the wife of popular American actor Aaron Paul slow her down in her work against bullying. She has channelled her bitter experience as a victim of bullies into her organisation which provides support for other girls in similar situations. So who is Lauren Parsekian?
Lauren's early life and background
She was born Lauren Parsekian under the Sagittarius sun sign on 8 December 1986, in Orange County, California, USA. She is American, and has mixed ethnicity of Italian, Armenian and Irish. Her parents were both in the film industry, which probably influenced Lauren's decision to become an actress.
Her mother, Debra Kelly, was the more famous of her parents, and starred in several hits such as "Chips" and "Prizzi's Honour". She also co-starred with her husband in the movie "Hot Resort".
Thomas Parsekian also has some acting credits, and appeared in movies including "Club Life" and "Fame".
Lauren was raised alongside her siblings Brooke and Liam in Orange County, but there's no detail on what her siblings are currently engaged in.
Her education
Lauren attended Dana Hills High School in Laguna, where she was maltreated by her female classmates and seniors.  The bullying began when a boy took an interest in her while she was in middle school, and another friend of hers was also interested in the boy. This made the remaining members of their supposed friends group take sides against her and begin harassing her. She was verbally assaulted her, items were stolen from her locker, personal belongings were destroyed, and she was even physically assaulted. They involved some of their male friends from other schools to date her, and then publicly humiliate her.
The bullying went on for some time, and soon she became withdrawn, not wanting to go to school and began to slip into depression. She also struggled with eating disorders and contemplated suicide at some point when she was in the seventh grade. Her education was also affected, and her grades took a plunge during the period.
She managed to matriculate from the school and later enrolled in Pepperdine University in California in which she studied Filmmaking, and graduated in 2009.
Her professional life
During her time in college, Lauren requested the help of her friend, Molly Thompson, to interview about a hundred female students who also had experiences with bullying, and the whole process involved them travelling across the US for about two months. The interviews were daunting for her, because she was constantly reminded of what she'd had to go through while she was in high school.
In 2011, Lauren made her debut as a film director in the documentary entitled 'Finding Love'. It was based on the responses she received during her interviews with the girls, which showcased the realities and effect of bullying within the school environment. She became an advocate for victims of bullying, and urged them not to remain silent about it, but to speak up and ask for assistance from their parents, guardians and peers.
Lauren and Molly also founded the 'Kind Campaign', which is centred on assisting girls who are being bullied within their schools; they provide online counselling sessions to victims who reach out, and professional support.
Aside from working as an advocate, Lauren has also starred in several films and television shows, including "NCIS: Special Agent DiNozzo Visits Dr Phil", "Celebrity Page" "Jimmy Kimmel Live!", " The Ellen DeGeneres Show", and "E! Live from the Red Carpet" among others.
Lauren's marriage and children
She met actor Aaron Paul at 'The Coachella Music Festival' in 2010, and they re-united at the same music festival the next year.  Her husband stated in an interview that they fell in love on their second meeting, and even kissed while taking a ride on the Ferris wheel.
Aaron was born on 27 August 1979 in Idaho, USA, to his fathe, Robert Sturtevant who was a Preacher at the time ,and his mother, Darla, whose occupation isn't known. He was born prematurely in the home bathroom of his parents, but was steadily nursed into a healthy baby.
He attended Centennial High School and matriculated in 1996, but there is no information about him enrolling in any college. Instead, he saved up $6000 and went on a trip with his mother in his car to Los Angeles.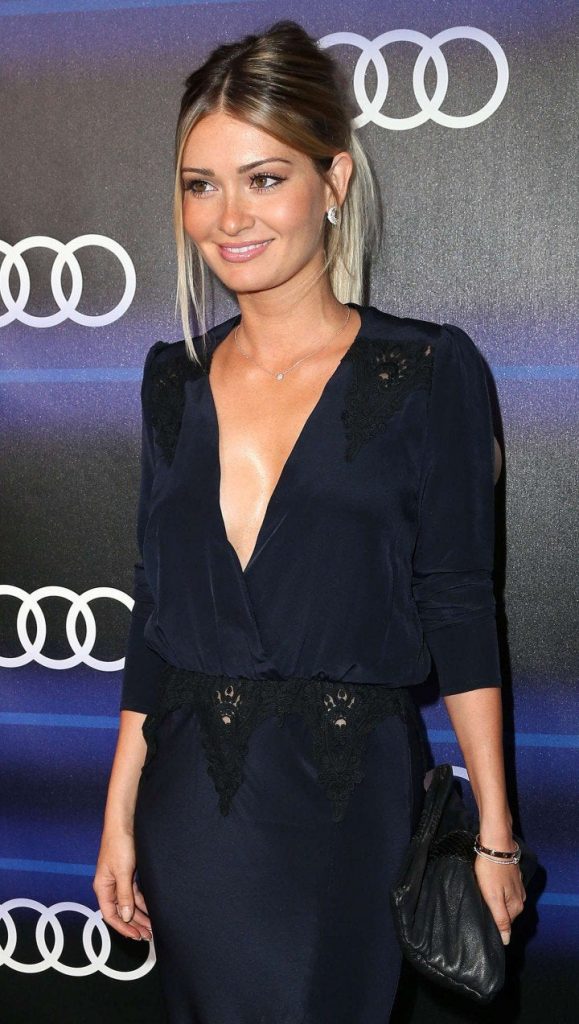 While there, he attended the 'International Modelling and Talent Association' contest in which he emerged as the runner-up, and was assigned a manager. He did several odd jobs before becoming famous, one of which was an usher at the Universal Studio's Theatre.
Aaron made appearances in music videos for "Thoughtless" and "White Trash Beautiful" by the metal band "Thoughtless" and hip-hop group "Everlast" respectively. He also starred in an episode of the television show "The Price Is Right" in 2000, in which he overpriced his suitcase and ended up losing his money. He continued to make a string of appearances in television adverts and films, including "Mission: Impossible III", "Choking Man" and "Last House on the Left". He also starred in shows such as "CSI Miami", "ER", "The X-Files"," Criminal Minds", and "Bones" amongst others.
He started featuring in the drama series entitled "Breaking Bad" in 2008, and this turned out to be one of his most successful series to date.
His character was scripted to die within the first season, but the connection between him and the main actor, Bryan Cranston, persuaded the writer, Vince Gilligan, to modify the series.  Aaron received multiple awards and nominations for this series' role, and since continued to act in other successful projects.
Lauren and Aaron dated for some years, and became engaged on 1 January 2012; their wedding ceremony held on 26 May 2013 in California was modelled after a 1920s Parisian theme. Before the big day, Aaron sent the song entitled "Beauty" to his guests and instructed them to memorise the lyrics to the song to be able to sing them at the wedding. The ceremony was star-studded, with the likes of John Mayer and 'Foster the People' serenading the guests with their music.
Aaron is also actively involved in his wife's campaign against bullying, and in 2013 used his influence as an actor to organise a contest that would enable the winner to travel to the Hollywood screening of the last episode of "Breaking Bad".
The contest generated $1.8 million for Lauren's organisation.
The pair welcomed their daughter, Story Annabelle, in 2018, and live a private life in Idaho, with Aaron claiming in an interview to have never fought with his wife, but to sort out their issues through dialogue.
Awards and nominations
Lauren is yet to receive any award or nomination for her work in acting, or as an anti-bullying advocate, but she may not be too far from receiving some recognition with her active involvement in charities and other non-governmental work. Aaron, however, is a recipient of multiple awards for his contribution to the movie industry, including three Primetime Emmy Awards in 2009 and 2012 and 2014 for Outstanding Supporting Actor in a Drama Series for "Breaking Bad", a joint Screen Actors Guild Award for Outstanding Performance by an Ensemble in a Drama Series in 2013, a Critic's Choice Television Award for Best Supporting Actor in a Drama Series in 2014, and several others.
Scandals and controversies
Though Lauren's work involves constantly being in the media, she has managed to stay out of any scandals or controversies, and continues to maintain good status with the public. The same cannot be said about her husband, who was dragged into the 'I take responsibility video' saga during the Black Lives Matter movement of 2020. The video was star-packed and had celebrities reciting a pledge to stand up against racism, and show their support for the movement. Viewers were left unimpressed, with some remarking that Aaron acted as one of his characters, "Jesse Pinkman", and was possibly expecting an award for the video.
Her hobbies and favourites
When she's not working, Lauren enjoys cooking and eating. She's quite adventurous with food, but Sushi remains her favourite. She also enjoys travelling and names Lisbon, Portugal's capital as her favourite location for a holiday.
Her physical characteristics
The actress has features such that many assume she's a model, even though she has never delved into modelling. She stands at a height of 5ft 7ins (1.7m) and weighs around 145lbs (67kgs), with long blonde hair and brown coloured eyes.
Lauren's net worth
Her net worth is estimated to be over $8 million as of early 2021, accrued from her successful career in acting, film directing and endorsing brands. Lauren is still actively involved in her work, and this could translate to a higher net worth in the future. Her husband's net worth is reputedly$20 million, accumulated through his robust career as an actor.
Where to find her
The film director is quite active on social media, especially Instagram on which she posts pictures of her family, and updates her almost 600,000 followers on her projects. Her husband also shares posts on the same platform, to his almost five million followers about his acting projects and promoting his alcoholic drink.