• Mandie Taketa is an American fitness and bodybuilding instructor and entrepreneur.
• She was married to Wayne Brady from 1999-2008 with whom she shares one daughter.
• She attended the University of Hawaii and has a Bachelor's degree in 1998.
• Mandie enjoys being active on Instagram, is a huge dog-lover, and likes to work out in her spare time.
• Wayne Brady is an American actor, comedian and singer. He was diagnosed with clinical depression and suffered a mental breakdown in 2014.
Mandie Taketa Wiki Bio
Mandie Taketa was born in Hawaii, USA on 3 March 1976 – her zodiac sign is Pisces, she holds American nationality, and is of Japanese descent. She is perhaps only known for being the ex-wife of Wayne Brady, a famous American actor, comedian and singer.
Who is she dating?
Mandie married Wayne Brady on 3 April 1999 after around a year of dating, but on 5 April 2006, the two separated for unknown reasons. They gave their marriage an additional year to see if they could sort things out, however, Mandie filed for divorce on 2 July 2007, and it was finalized on 14 April 2008.
They share one daughter together named Maile Masako, who was born on 3 February 2003.It appears that Mandie has been single since her divorce from Wayne.
Before meeting Mandie, Wayne was married to Diana Lasso; they exchanged vows on 31 December 1993, but then divorced on 21 September 1995. It has been reported that in 2013, Wayne began dating Rozonda Thomas, stage name 'Chilli', an American singer-songwriter and actress, and that they stayed together for around a year before splitting ways for unknown reasons. He appears to be single as of February 2021.
Early life and education
Mandie was raised alongside her sister Kristie in Hawaii by their European mother who was a housewife and died in her 40s, and their Japanese father Ronald Taketa whose profession isn't known.
Mandie became interested in dancing at quite an early age, and began competing when she was around ten years old. She was also interested in martial arts, and began taking lessons aged 11. She attended a local high school at which she was mostly interested in dancing, then upon matriculating in 1994, her skills helped her receive a scholarship from the University of Hawaii from which she graduated with a Bachelor's degree in 1998.
Mandie's career
Following graduation, Mandie moved to Los Angeles in California, hoping to work on her career there. She held various jobs before choosing to become a fitness and bodybuilding instructor. She also launched her acting career with her portrayal of Vicky in the 2007 comedy movie "Manband! The Movie", but this remains her only acting credit, however, she's also appeared in an episode of the documentary series "Unsung Hollywood", and an episode of the game-show "Celebrity Family Feud".
For over 17 years now, Mandie has been working at Adell Body Works as a body technician, and has also entered various competitions as a gymnast and acrobat, winning many medals including one gold.
She is also an entrepreneur, having founded her own company – Everything Did Productions – in 2011.
Hobbies and other interests
Mandie enjoys being active on Instagram, as she's uploaded more than 2,200 pictures onto her account, which is currently followed by around 20,000 people. Many of her pictures and videos feature her daughter who has recently turned 18, and has launched her career as a musician and a dancer.
Mandie is a huge dog-lover, and her pet dog Rocky can be seen featured in many of her Instagram pictures.
She likes to work out in her spare time, and has three to four training sessions at the gym each week.
She has also been sharing advice regarding her exercise routines, to help her fans lose weight and shape their body.
Mandie usually watches movies late at night, and her favorite actors and actresses are Tom Hanks, Robin Williams and Anne Hathaway, and a couple of her favorite movies are "You've Got Mail", "Patch Adams" and "Good Will Hunting".
Age, height and net worth
Mandie's age is 44. She has long black hair and brown eyes, her height is 5ft 3ins (1.6m) and she weighs around 110lbs (50kgs). As of February 2021, her net worth has been estimated at over $2 million (most of which she has received as a divorce settlement), and her ex-husband's net worth is reputedly over $12 million.
Who is Wayne Brady?
Wayne Alphonso Brady was born in Columbus, Georgia USA, on 2 June 1972 – his zodiac sign is Gemini and he holds American nationality, but both his parents are West Indian. He is perhaps known best for being the host of his own "The Wayne Brady Show", which won him two Emmy Awards, and Wayne also holds three other Emmys: one for his performance in the improvisational comedy show "Whose Line Is it Anyway?", and two for hosting the game-show "Let's Make a Deal".
He spent his early years in Columbus before the family moved to Orlando in Florida, where he was mostly raised by his aunt and grandmother whom he refers to as his mother.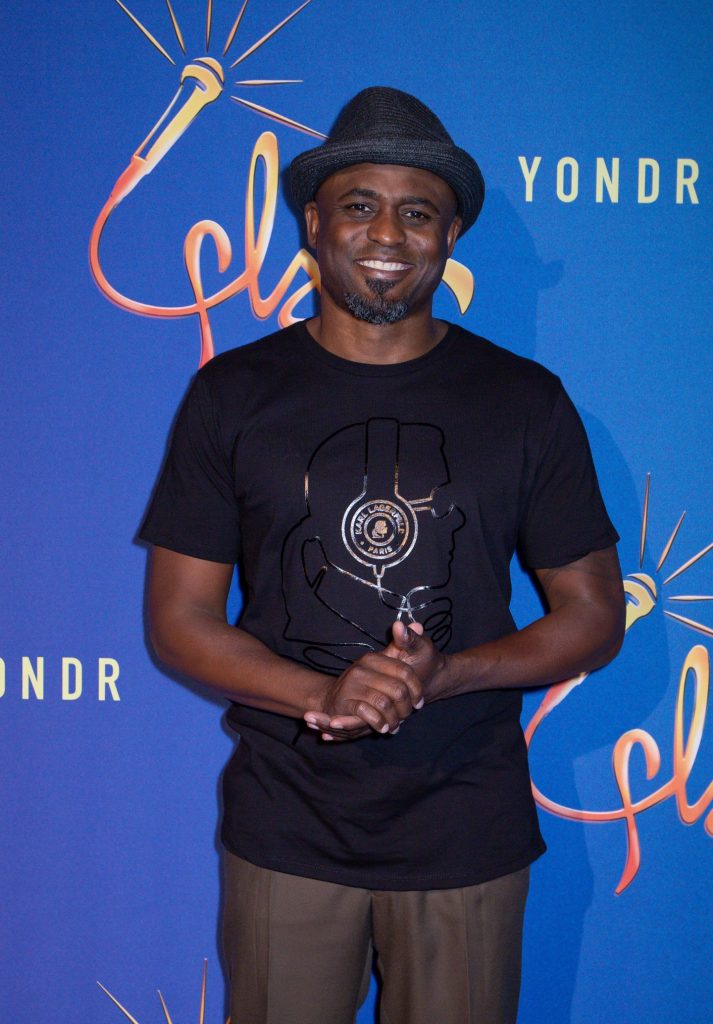 Wayne was 16 when he began acting at a community theatre, and around the same time joined SAK Comedy Lab, an Orlando improv troupe. He studied at Dr. Phillips High School and upon matriculating in 1990 attended the University of Miami from which he graduated with a Bachelor of Arts degree in 1994. Two years later, he moved to Los Angeles in California to focus on his career as a TV personality.
His first TV appearance was in the comedy sketch show "Kwik Witz" in 1996, and he was then made a regular cast member until 1999. He launched his own "The Wayne Brady Show" in 2001, which ran for two seasons. Wayne made several guest appearances in "The Drew Carey Show", and was in 2004 cast to portray Billy Flynn in the Broadway play "Chicago".
The following years saw him appear in an episode or two of various series, such as the comedy "Reno 911!", the military science fiction "Stargate SG-1", and the comedy sketch "Chappelle's Show". He could've been seen portraying James Stinson in several episodes of the critically acclaimed comedy series "How I Met Your Mother", while he also made guest appearances in the comedy "Getting Along Famously", the comedy "Dirt", and the satirical sitcom "30 Rock". He went on to make a guest appearance in many series, until in 2015 cast to star as Lola in the Broadway play "Kinky Boots".
A couple of his most recent roles have been in the science fiction drama series "Colony" in 2018, in which he portrayed the supporting character Everett Kynes, the soap opera "The Bold and the Beautiful" in which he appeared as Dr. Reese Buckingham in November 2018, and the superhero drama series "Black Lightning" in which he portrayed the supporting character Tyson Sykes / Gravedigger in 2020.
Wayne has revealed that he began stuttering as a child, and how he was bullied by his peers because of it. The bullying caused him to develop anxiety which eventually turned into depression, and Wayne was then diagnosed with clinical depression. In 2014 aged 42, he suffered a mental breakdown, and Mandie came to his aid – Wayne later stated that it was almost solely Mandie who helped him get well.