• Melissa Womer is an American producer and former actress, best recognized for being the first wife of Hollywood actor and comedian Jim Carrey.
• Her net worth is estimated to be over $7 million, acquired through her involvement in the film industry and her divorce settlement with Carrey.
• She was born in New York City and attended the University of Kansas and moved to Los Angeles to pursue a career in the film industry.
• She married Jim Carrey in 1987, and they divorced in 1995.
• Carrey has been a successful actor, comedian, and producer, beginning his career in stand-up, moving to TV and film roles, and producing and starring in multiple successful films.
Who is Melissa Womer?
Melissa Jaine Womer was born on 8 July 1960 under the zodiac sign of Cancer, in New York City, USA. She is a 60-year-old producer and former actress, but probably best recognized for being the first wife of famous Hollywood actor, comedian and producer Jim Carrey.
How rich is she, as of now? Melissa Womer Net Worth
As of early 2021, Melissa Womer's net worth is estimated at over $7 million, acquired through her involvement in the film industry, and including receiving $3.5 million through the divorce settlement from her ex-husband, Jim Carrey, who is reputedly worth over $180 million.
Early Life, Parents, Nationality, Ethnicity, Education
Melissa Womer spent her early years in New York City, where she was raised by her parents; however, there is no information in the media about their names and professions.
It's also unknown whether she has siblings or not. Melissa holds American nationality and belongs to White Caucasian ethnic group. Regarding her education, she attended a local high school in New York City, and upon matriculation, enrolled into the University of Kansas. While there, she had to work various odd jobs to make ends meet, such as writing jokes for the morning radio show at Q104 in Kansas City.
Professional Career
Right after graduation, Melissa Womer moved to Los Angeles, California, where she initially worked as a masseuse in a local health club, as well as a waitress at The Comedy Store at Sunset Boulevard. While working there, she had chances to perform stand-up comedy during an open mic nights, and as time passed, she became more and more popular, which eventually allowed her to pursue other opportunities as a producer and actress.
Melissa's first major project came in 1997, when she served as an executive producer for the comedy film "Real Stories Of The Donut Men". Two years later, she landed a small role of a Comedy Store waitress in the biographical comedy-drama film "Man On The Moon", which follows the life of entertainer Andy Kaufman portrayed by her ex-husband Jim Carrey. In 2004, she was an executive producer for the TV series "The Yesterday Show With John Kerwin", but it was cancelled after only two episodes. In 2017, she made an appearance as herself in the documentary film "Jim & Andy: The Great Beyond".
Marriage with Jim Carrey
Melissa Womer met her future husband Jim Carrey back in 1986, while she was working at The Comedy Store.
They eventually became romantically involved, and after dating for a year, the lovebirds exchanged their wedding vows at a ceremony which took place on 28 March 1987 at Hotel Mahi-Mahi in Santa Monica, California. She gave birth to their daughter, named Jane Erin Carrey, on 6 September of the same year. Their marriage lasted for seven years, until they parted their ways and divorced in 1995.
Appearance and Vital Statistics
Melissa Womer has long dark brown hair and dark brown eyes. She stands at a height of 5ft 7ins (1.70m), while her weight is 130lbs (59kgs), and her vital statistics 36-25-36. Her bra, dress and shoe sizes aren't available.
Who is her ex-husband? Jim Carrey Short Wiki/Bio
James Eugene 'Jim' Carrey was born on 17 January 1962 under the zodiac sign of Capricorn, in Newmarket, Ontario, Canada. He was raised by his father Percy Carrey, a musician and accountant, and his mother, Kathleen Carrey.
He has three elder siblings, named John, Rita and Patricia. When he was 12 years old, his father lost his job and his family was homeless, so they had to live in a van. At the time, the whole family worked as security guards at a nearby tire factory, where Jim also worked a full eight-hour shift. He attended Aldershot High School, and then enrolled in Agincourt Collegiate Institute, but eventually dropped out to pursue his career.
Career Beginnings
Jim Carrey began performing stand-up comedy in Toronto comedy clubs at the age of 15. As time passed he improved his performance, and went from open-mic nights to regular paid shows. In 1981, he made his debut in the main role of Tony Moroni in the CBC comedy film "Rubberface", followed by his portrayals of Ralph in the comedy film "All In Good Taste" and Bobby Todd in the made-for-TV comedy film "Copper Mountain", both in 1983.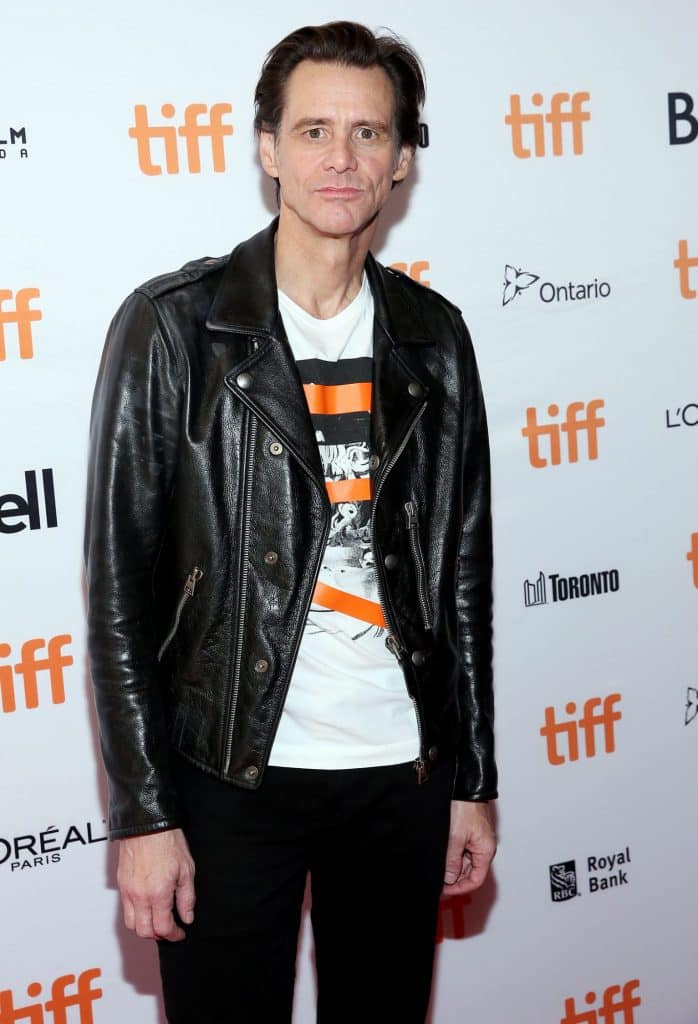 He then moved to Los Angeles, where he continued to perform stand-up at The Comedy Store, where he was spotted by Rodney Dangerfield who signed him as an opening act. In 1984, Jim was cast as Skip Tarkenton in the NBC sitcom "The Duck Factory", and played Lane Bidlekoff in the comedy film "Finders Keepers".
His Breakthrough
Thereafter, Jim Carrey played Mark Kendall in the 1985 teen horror sex comedy film "Once Bitten", after which he starred as Walter Getz in the 1986 fantasy comedy-drama film "Peggy Sue Got Married", directed by Francis Ford Coppola. Two years later, he landed the role of Johnny Squares in the action thriller film "The Dead Pool", next to Clint Eastwood, and featured as Wiploc in the musical romantic comedy sci-fi film "Earth Girls Are Easy".
In 1990, Jim gained enormous recognition when he became a regular cast member of the Fox comedy sketch series "In Living Color", appearing in various roles in more than 120 episodes until 1994, which helped him to pursue more serious roles.
Rise to Fame
In 1994, Jim Carrey landed the title role in the comedy film "Ace Ventura: Pet Detective", which became the box office hit – he would later reprise the role in its 1995 sequel "Ace Ventura: When Nature Calls". He also achieved enormous popularity as Stanley Ipkiss – a.k.a. The Mask – in the 1994 superhero comedy film "The Mask", which earned him a Golden Globe Award nomination for Best Actor. In the same year, he starred in the role of Lloyd Christmas in the comedy film "Dumb And Dumber", which he would reprise it its 2014 sequel, "Dumb And Dumber To". Afterwards, Jim featured as Edward Nygma – a.k.a. The Riddle – in the superhero film "Batman Forever" (1995), played Ernie 'Chip' Douglas in the satirical black comedy film "The Cable Guy" (1996), and portrayed Fletcher Reede in the critically acclaimed fantasy comedy film "Liar Liar" (1997), for which he received his second Golden Globe Award nomination for Best Actor.
🎂Happy Birthday Jim Carrey! 🎂Bit of trivia for you. How many films has he been in?A. At least 57B. At least 87C. At least 107 Comment down below! 👇

Posted by Geek Store on Sunday, January 17, 2021
Continued Success
Jim then featured as Truman Burbank in the 1998 psychological sci-fi comedy-drama film "The Truman Show", which led him to win a Golden Globe Award for Best Actor in a Motion Picture Drama, and played comedian Andy Kaufman in the 1999 biographical comedy-drama film "Man On The Moon", which earned him another  Golden Globe Award in the category of Best Actor. In 2000, he starred in the dual role of Charlie Baileygates / Hank Evans in the black comedy film "Me, Myself & Irene", directed by the Farrelly brothers, and portrayed Grinch in the Christmas fantasy comedy film "How The Grinch Stole Christmas", one of the highest-grossing holiday films of all time. His next major role came in 2003, when he played the title role in the hit comedy film "Bruce Almighty", alongside Morgan Freeman and Jennifer Aniston, also serving as producer of the film.
Further Work
In 2004, Jim starred as Joel Barish in the drama film "Eternal Sunshine Of The Spotless Mind", next to Kate Winslet, and then landed the role of Count Olaf in the gothic black comedy film "Lemony Snicket's A Series Of Unfortunate Events". He then played Richard 'Dick' Harper in the 2005 film "Fun With Dick And Jane" and produced the film, and featured as Walter Sparrow – a.k.a. Fingerling – in the 2007 psychological thriller film "The Number 23". In 2008, he did the voice over of Horton the Elephant in the animated adventure comedy film "Dr. Seuss' Horton Hears A Who!", and landed the role of Carl Allen in the comedy film "Yes Man". He then appeared in the lead role of Steven Jay Russell in the 2009 biographical black comedy-drama film "I Love You Phillip Morris", and portrayed various characters in Disney's animated Christmas dark fantasy film "A Christmas Carol".
Roles in the 2010s
At the beginning of the 2010s, Jim Carrey starred in such roles as Thomas 'Tom' Popper Jr. in the comedy film "Mr. Popper's Penguins" (2011), and Steve Gray in the comedy film "The Incredible Burt Wonderstone" (2013). In the same year, he played Colonel Stars and Stripes in the superhero action comedy film "Kick-Ass 2", then after filming "Dumb And Dumber To", Jim produced the 2015 documentary film "Rubble Kings". It was followed by his portrayals of The Hermit           in the dystopian thriller film "The Bad Batch" and Tadek in the psychological thriller film "Dark Crimes", both in 2016. Between 2017 and 2018, Jim served as an executive producer for the Showtime dramedy series "I'm Dying Up Here", after which he produced and was cast as Jeff Pickles in the Showtime comedy-drama series "Kidding" (2018-2020). Most recently, he portrayed Dr. Robotnik in the action-adventure comedy film "Sonic The Hedgehog", and starred as Joe Biden in the 46th season of the NBC show "Saturday Night Live", both in 2020.