• Jackson Mahomes is an internet sensation, comedian and dancer with over 1 million followers on social media platforms
• Born in 2000 in Tyler, Texas, he studied marketing at the University of Missouri-Kansas City and has his own fashion brand, FanJoy
• Gained fame by posting short videos on TikTok which feature his family, earning him sponsorship deals and a net worth of $1 million
• Questions have been raised about his sexuality due to his looks and voice, however, he is single and has expressed his interest in finding a girlfriend
• His brother, Patrick Mahomes II, is a star quarterback for the NFL's Kansas City Chiefs, with a net worth of $40 million. He is engaged to his high school sweetheart and they have a daughter born in 2021.
Who is Jackson Mahomes?
Jackson Mahomes is an internet sensation, comedian and dancer, who has achieved fame by posting short videos on TikTok and Instagram, and already has more than a million followers in total on these social media platforms, with the numbers continually increasing.
Age, Childhood, Parents, and Education
Jackson Mahomes was born on 15 May 2000 under the Taurus zodiac sign, in Tyler, Texas USA, to former baseball player Pat Mahomes, and his now ex-wife Randi. He has an older brother, Patrick Mahomes II, and a younger half-sister Mia Randall, who is now nine years old.
He went to Whitehouse High School, where he started playing basketball and helped the team achieve a 17-5 record in his senior year. He started as a point guard, however, a growth spurt in his junior year, made him move to a power forward position. He has retained shooting skills, and with his size Jackson was unstoppable. Following his matriculation in 2018, Jackson has enrolled at the University of Missouri- Kansas City, where he studies to obtain a degree in marketing. He hasn't pursued a basketball career professionally and has selected a non-athletic path for himself, in contrast to his father and brother.
TikTok Star
Jackson's first TikTok was uploaded in September 2019, and since then he's posted thousands of short videos in which he showcases funny dance moves and lip-syncs, which have brought him international fame and almost a million followers on this popular social media platform. He often features his older brother and their mother in his videos, which has also contributed to his popularity. Furthermore, Jackson can be seen at every Kansas City Chiefs game, posting videos from the stadium.
His popularity has earned him a few sponsorship deals, such as with Invisalign, Raising Cane Chicken Fingers, which is a fast-food chain based in Louisiana, and many others.
He also has his own fashion brand FanJoy, and sells his merchandise through an online web store, including hoodies, t-shirts, and iPhone cases, among other items.
Personal Life, Dating, Girlfriend, Single, Is He Gay?
When it comes to his personal life, Jackson has been single since hitting the news, but according to his words, he is ready to find a girlfriend. Many have questioned his sexuality, mainly because of his voice and looks. However, Jackson hasn't responded to those comments.
Net Worth
As of mid- 2021, Jackson Mahomes' net worth has been estimated to be close to $1 million, earned through his successful career as an online content creator and TikTok star.
Appearance and Vital Statistics
This TikTok star has black hair and brown eyes. He stands at a height of 6ft 6ins (1.98m), while he weighs approximately 182lbs (83kgs), and his vital statistics are 37-30-36, with a slim figure.
Hobbies and Interests
Basketball has remained one of his huge interests, and he often plays it with his friends, though only as an amateur. Furthermore, he visits the gym almost every day of the week, working out, keeping a fit figure.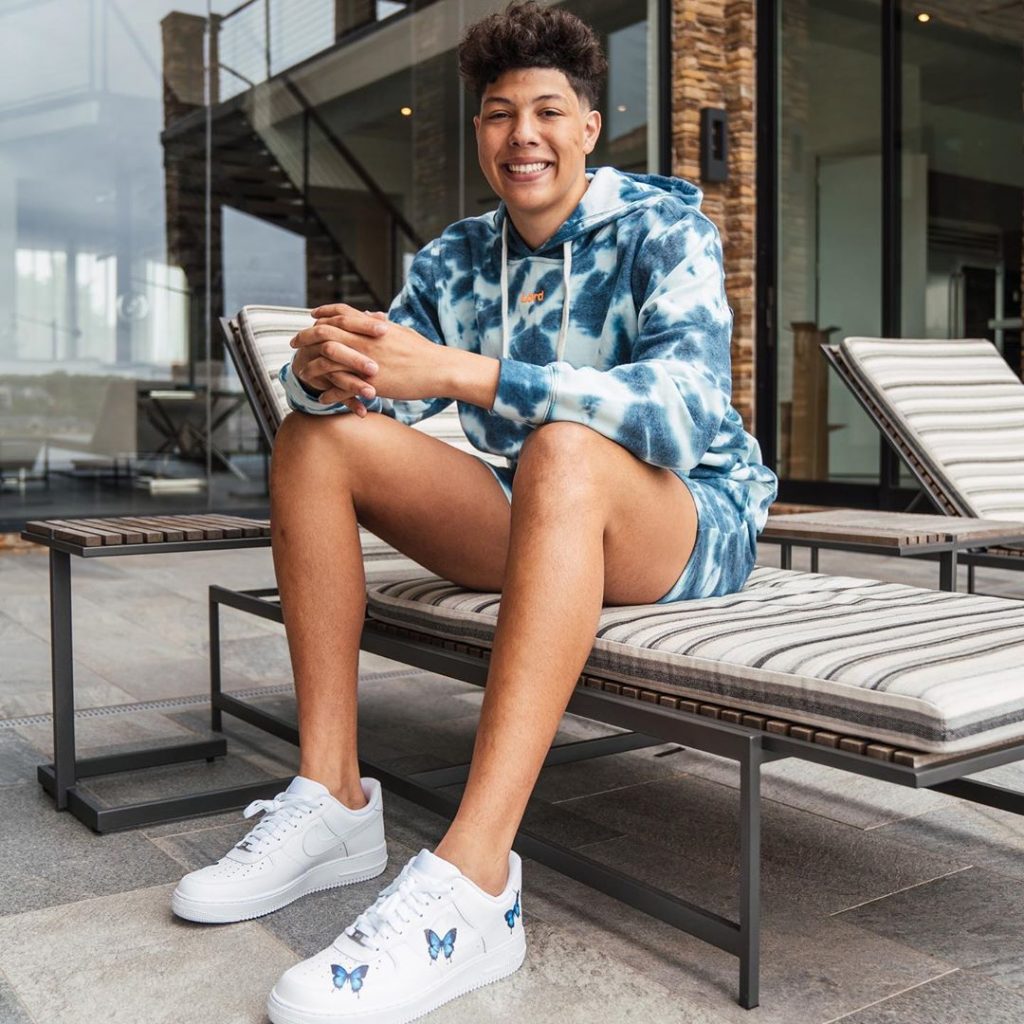 He loves to dance, which can be seen in his videos, and enjoys listening to music.
Jackson is an avid animal lover, and during his younger years he often volunteered in various animal shelters.
He enjoys watching films as a form of relaxation, and some of his favorites are "The Last Samurai", "Top Gun", and "Lara Croft: Tomb Raider – The Cradle of Life", among others.
Jackson Mahomes Brother, Patrick Mahomes II
Born Patrick Lavon Mahomes II on 17 September 1995, in Tyler, Texas USA, the first child of Pat Mahomes and Randi. He went to Whitehouse High School, where he excelled in football, baseball, and basketball as well.
In his senior year, Patrick as a star quarterback threw 4,619 passing yards for 50 passing touchdowns, and completed 948 rushing yards for 15 rushing touchdowns. He was successful in other sports as well, which earned him the Maxpreps Male Athlete of the Year for the 2013 to 2014 season.
College and Professional Career
He enrolled at Texas Tech University, and played as a quarterback for the Texas Tech Raiders football team. He started his freshman season as a backup to Davis Webb, and made his debut against Oklahoma State, following Webb's injury on the field, appearing in seven games and had 16 passing touchdowns and 1,547 yards.
The following year he played in 13 games and made 4,653 passing yards for 36 touchdowns, and in his third year, Patrick appeared in 12 games and completed 5,052 passing yards for 41 passing touchdowns. He decided to forego his last year of college, and declared for the 2017 National Football League (NFL) Draft and was selected tenth overall by the Kansas City Chiefs, becoming the first quarterback selected in the first round by the Chiefs since Todd Blackledge was selected seventh overall in the 1983 NFL Draft.
In his first season, he played only in a single game when the Chiefs secured a play-off spot.
His second season was career-changing, as the starting Chiefs' quarterback was traded. He played in all 16 games and won the AP NFL MVP award thanks to 50 passing touchdowns and 5,097 passing yards, and two rushing touchdowns. In 2019 the Chiefs won the Super Bowl, defeating the San Francisco 49ers. He had yet another successful season in 2020 with 38 passing touchdowns and two rushing touchdowns. His Chiefs reached the Super Bowl once again, but this time were defeated by the Tampa Bay Buccaneers.
Fun fact for those who feel left out of #SuperBowl LV mania Sunday: @jacksonmahomes, the brother of @Chiefs quarterback @PatrickMahomes, owns a clothing company called #Unathletic (He's wearing one his shirts) pic.twitter.com/GWb3Ql3Obn

— New York Theater (@NewYorkTheater) February 5, 2021
Patrick signed a 10-year contract in 2020 worth $503 million, however, in 2021 the contract was restructured to save $17 million in cap space.
Net Worth and Personal Life
According to sources, Patrick Mahomes' net worth has been estimated at $40 million, as of mid- 2021.
When it comes to his personal life, Mahomes is a devoted Christian, and in his youth was a part of a youth group at his church.
He is engaged to Brittany Matthews, who is his high school sweetheart. The two have welcomed a child together, a daughter born on 20 February 2021.