• Kimberly Anne Scott is the ex-wife of rapper Eminem, and is now a children's book and puzzle author, and freelance illustrator.
• She and her twin sister Dawn experienced sexual abuse from their stepfather and ran away from home in 1988.
• Kim and Eminem met when they were teens and found a shared understanding of being abandoned.
• Kim and Eminem's relationship was rocky, with Eminem writing hate songs about her and Kim having affairs.
• After divorce, Kim experienced mental health issues, legal issues, and addiction. They eventually reconciled and Eminem adopted Kim's daughter with Eric Hatter.
Who is Kimberly Anne Scott?
Kimberly Anne Scott – Mathers is primarily known as the now the ex-wife of famous rapper Eminem. She has become a children's books and puzzles author, and a freelance illustrator.
Early life, family, educational background
Kimberly was born on 9 January 1975 with her twin sister Dawn, in Warren, Michigan, USA. She holds American citizenship, but her ethnicity is unknown.
They were raised by their mother, Kathleen Sluck, while there is no known information about their biological father. Their mother married Casimer Sluck, and Kim shared that she and her sister experienced sexual abuse from him as a stepfather. In 1988, they ran away from their original home and found refuge in a youth shelter in Detroit, Michigan.
Career
Before Kimberly's divorce from her ex-husband, she had no permanent job. After she came clean following a volatile past, she turned to writing as a profession.  She is now a full-author of children's books, and among her titles published are: "Kids in Context: The Sociological Study of Children and Childhoods", and "Mommy! There's a Snot Man Standing Next to You!
She has a sizeable income employing herself as a freelance illustrator and designing children's puzzles and greeting cards. Among her illustrations are "Monty Wins the Cup" and "The Terrible Time Without Tilly".
Personal Life
Runaway Teens, High School Sweethearts
Eminem and Kimberly go way back. They first met at a house party when he was still 15 years old, and she was 13. She reportedly saw him singing "I Am Bad" from LL Cool J's track, while standing on a table half-naked.
What brought them together was the many things that they had in common – they both liked music and, on a deeper level, they both went through difficult childhoods, having both run away from their homes to escape the clutches of their abusive and neglectful parents. They both had a shared understanding of being abandoned, and seeking protection from shelters and rehab centers.
When they first met, Kim and her sister had nowhere to go. They asked Eminem if they could stay with him, and he took them to his mother's house, where he stayed. They initially lied about Kim's age to Eminem's mother, claiming that she was 15, two years older than her actual age.
Stormy Marriage
Kimberly and Eminem's marriage is far from any rose-colored childhood sweetheart story.
It is ironic that while they tried to steer clear of their alcoholic parents, both became addicted later in their lives.
Their relationship was already rocky even before their marriage, but they tied the knot anyway in 1999, four years after their daughter Hailie was born. Their marriage didn't improve their situation, however. Kim reportedly had many affairs while they were married, which led to Eminem physically abusing her. In an infamous incident, Eminem assaulted a bouncer in a nightclub after he saw Kim kissing him, an incident he mentioned in his song "The Kiss".
On the other hand, Kim claimed that the rapper "treated her like garbage", and went on tours saying how lucky she was to be with him, when other women would throw themselves on his mercy. Throughout their relationship, they grew to hate each other.
In 1999, the rapper released the song "97 Bonnie & Clyde", in which he tells the story of a father driving his dead wife's body, who he assumingly murdered, towards the lake, with his daughter in the passenger seat as his accomplice.
The dead woman in the trunk of the car was supposed to be Kim, dead in the rapper's mind, while the father and the daughter crime duo was in reference to him and their own daughter, Hailie.
In his hate song "Kim", he expressed how he felt frustrated with their break-up, and endless cheating. In an interview, he mentioned that he "wanted to pour his heart out, but yet, he also wanted to scream".
Finally, they divorced after years of being in a tumultuous relationship. Kim went on to have relationships with other men, including Eric Hatter, with whom she has a daughter named Whitney.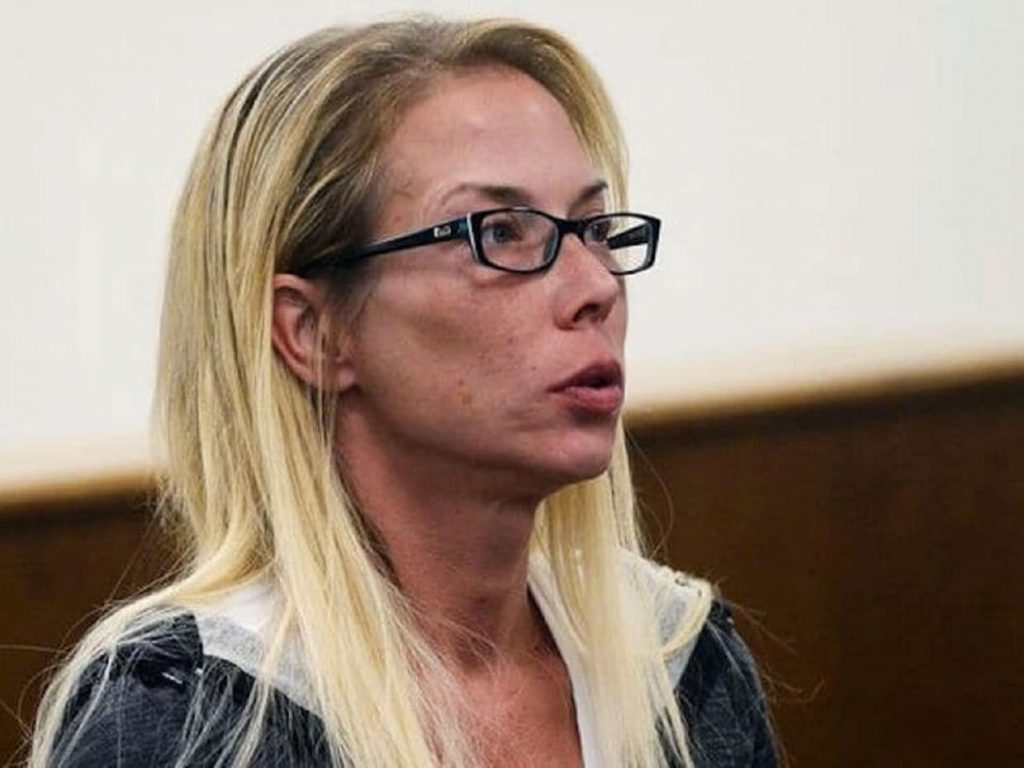 Kim and Eminem reconciled in 2006 for their children's sake, but ended it just four months later, but today they are apparently in an amicable relationship as good friends.
Divorce, Suicide Attempts, Run-ins with the law
A year before their divorce, in 2000 Kim watched Eminem perform "97 Bonnie & Clyde" on stage while he mutilated a doll that looked just like her. Eminem promised Kim that he wouldn't share anything about their troubles before they came to the concert.  She shared that seeing that with her own eyes and with people cheering threw her off the edge, after which she attempted to take her life in July 2000 by cutting her wrist.
After their second split, Kim went on her rollercoaster ride with mental health issues, including suffering depression, which triggered her drug use and eventually addiction.
She was arrested numerous times for possession of drugs; in October 2015 she overdosed on pills and other substances, and also intentionally crashed into a telephone pole. Her penalty was a fine of $900, one-year probation, and drug and alcohol counseling attendance.
Eminem made his apology to Kim years later, in his song "Bad Husband", in which he talked about their past chaotic relationship, and how he had caused Kim so much pain.
Kids
Kim became pregnant while she was with Eminem, and gave birth to their daughter on 25 December 1995. They named her Hailie Jade.
In 2016, Kim's sister Dawn died of a substance overdose, and they adopted her daughter, Alaina Marie.
When Kim and Eminem got back together, Eminem adopted her daughter Whitney, whom she conceived with tattoo artist Eric Hatter – both were drug addicts at the time, and were incapable of raising Whitney.
Aside from three daughters, she also has a son named Parker Scott, with an unknown man.
Ex-boyfriend
After their first divorce in 2001, Kim had a brief relationship with tattoo artist Eric Hatter which resulted in a daughter, Whitney. Eric was on the run for several years, and he and his daughter weren't able to meet each other personally, due to legal restrictions. In August 2019, he was found dead in an abandoned house in Detroit, Michigan.
Eminem, ex-husband, "Rap God"
Marshal Bruce Mathers III, more popularly known as Eminem, is a household name in Rap music.
He was born on 17 October 1972, in Missouri, USA; he's rated the 5th richest rapper worldwide, and one of the best-selling musicians of all time.
He's a 15-time Grammy Awardee, and even won an Oscar for his original song "Lose Yourself". Among his popular tracks are "The Real Slim Shady", "Love the Way You Lie feat. Rihanna", "Cleaning Out My Closet".
Appearance, clothing style
Kimberly is 5ft 8ins tall, weighs about 140lbs (62kgs), and her vital statistics are 34-29-37. She has a brown hair, often worn long and in a bun, with blue eyes.
 Net worth and salary
Kimberly is estimated to be worth $2 million, with a part of it coming from her ex-husband. When they divorced, Kim and Eminem signed a settlement in which the rapper has to pay her $52,000 every year for child and spousal support. Eminem is reported to have a handsome net worth of $230 million.