• Scarlet Rose Stallone is the 19-year-old daughter of Hollywood star Sylvester Stallone and his wife Jennifer Flavin, estimated to be worth close to $1 million.
• She was born in Los Angeles, California, has two older sisters and two older half-brothers from her father's previous marriage.
• She is an actress and social media star and has appeared in a number of films and TV shows.
• Her father Sylvester Stallone is an actor, director and producer, who rose to fame for his role as Rocky Balboa in the sports drama "Rocky" and John Rambo in the action film "First Blood".
• He has continued to work on a number of box office successes, including "The Expendables", "Escape Plan" and its sequels, and is currently working on upcoming films such as "The Suicide Squad", "Samaritan" and "The Expendables 4".
Who is Scarlet Rose Stallone?
Scarlet Rose Stallone was born on 25 May 2002 under the zodiac sign of Gemini, in Los Angeles, California USA. She's a 19-year-old actress and social media star, but probably best recognized for being the daughter of Hollywood star Sylvester Stallone and his wife Jennifer Flavin, known for being a former model and current businesswoman and entrepreneur.
How rich is she, as of now? Scarlet Rose Stallone Net Worth
As of mid-2021, Scarlet Rose Stallone's net worth is estimated at close to $1 million, acquired partly through her involvement in the world of entertainment as an actress; moreover, she probably enjoys part of the impressive wealth of her famous father Sylvester Stallone, whose net worth is estimated at over $400 million.
Early Life, Parents, Nationality, Ethnicity, Educational Background
Scarlet Rose Stallone spent her early years in her hometown of Los Angeles, where she was raised in a famous family by her parents – they tied the knot in May 1997. She has two older sisters, named Sophia Rose and Sistine Rose . She also has two older half-brothers from her father's previous marriage, actor, director, and producer Sage Moonblood Stallone, who passed away from heart disease in 2012, and actor Seargeoh Stallone, who has bee diagnosed with autism. Scarlet holds American nationality and belongs to White Caucasian ethnic group. Regarding her education, she attended St. Paul the Apostle School in Westwood, Los Angeles, and while in there, she competed in track and field events. Thereafter, Scarlet went to Campbell Hall private school, from which she matriculated in June 2021.
Professional Career
Scarlet Rose Stallone became involved in the film industry when she made her debut appearance in the made-for-TV documentary film "Inferno: The Making Of 'The Expendables'" in 2010. It was written and directed by John Herzfeld. She starred alongside her father Sylvester Stallone, Jason Statham, and Jet Li. Four years later she had the cameo role of a sassy young girl in the drama film "Reach Me", which was also written and directed by Herzfeld, and also stars her father next to Terry Crews, Kyra Sedgwick, and Thomas Jane. In addition, she's appeared in such TV shows as "The Late Show With David Letterman", "Access Hollywood", and "Entertainment Tonight", among others. Besides that, she was named a Miss Golden Globes at the 74th Golden Globes Awards ceremony, alongside her sisters Sophia and Sistine in 2017, which led to her gracing the cover of The Hollywood Reporter.
Social Media Presence
Over the years, Scarlet Rose Stallone has become a social media sensation. She runs her official Instagram account under the username 'scarletstallone', on which she has more than 750,000 followers. Her official Twitter account goes by the same nickname, and has over 12,000 followers. Apart from that, Scarlet launched her self-titled YouTube channel on 16 April 2016, and uploaded her first video entitled "WHICH SISTER" in the summer of the following year. and so quickly amassed more than 21,000 subscribers. However, she quit her YouTube career to focus on other things.
Appearance and Vital Statistics
Scarlet Rose Stallone has long blonde hair and dark brown eyes. She stands at a height of 5ft 7ins (1.70m), her weight is around 10lbs (50kgs), while her vital statistics are 32-26-32, bra size 32B, dress size 2 (US), and shoe size is (US).
Personal Life
Scarlet Rose Stallone is very secretive when it comes to speak about her personal life. She has never been linked to any guy, or girl. Her current relationship status remains a mystery but it's believed that she's single, and still lives with her family in Los Angeles.
Who is her father? Sylvester Stallone Short Wiki/Bio
Michael Sylvester Gardenzio Stallone was born on 6 July 1946 under the zodiac sign of Cancer, in New York City USA. He is the son of Francesco 'Frank' Stallone Sr., who worked as a beautician and hairdresser, and Jacqueline 'Jackie' Stallone (née Labofish), who was a dancer and astrologer. His father was born in Gioia del Colle, Italy, while his mother is of French ancestry. His younger brother is Frank Stallone, known for being an actor and musician. In the early 1950s, he moved with his family to Washington D.C., where his father launched a beauty school, and his mother opened a women's gym.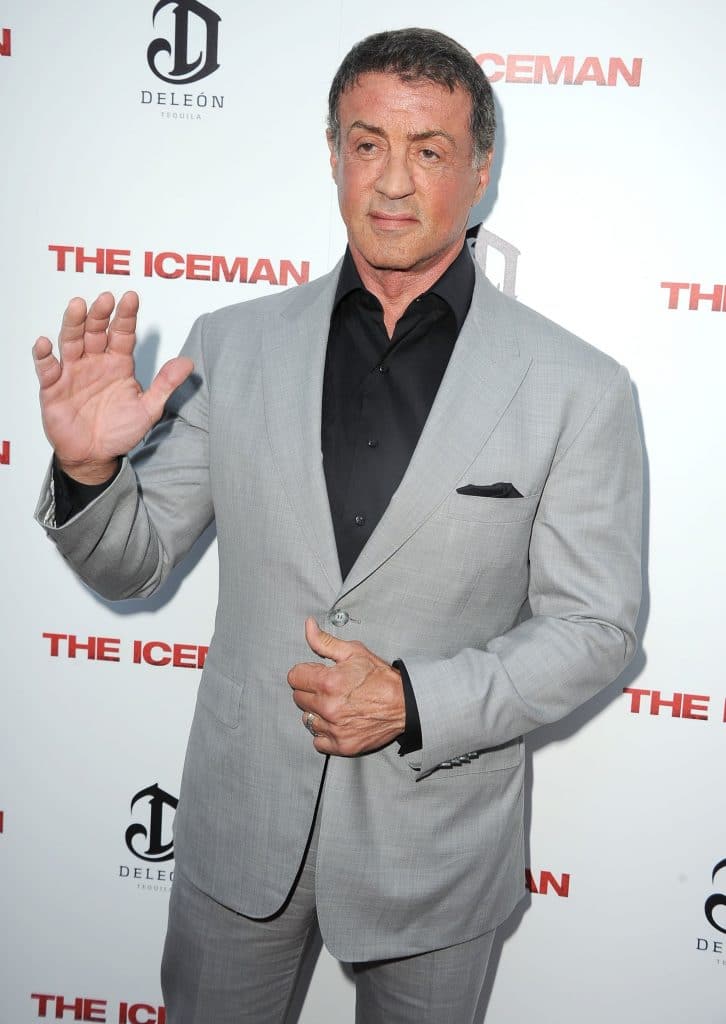 Stallone's mother suffered certain complications due to which her obstetricians had to use two pairs of forceps during his birth;  a nerve was accidentally severed, which caused paralysis in parts of his face. He holds American nationality, and belongs to White Caucasian ethnicity. He was baptized Catholic.
Educational Background
Regarding his education, Stallone went to Notre Dame Academy and then attended Lincoln High School in Philadelphia. He was also a student at Charlotte Hall Military Academy before he enrolled into Miami Dade College. Between 1965 and 1967, he studied at the American College of Switzerland. Thereafter, he went on to study Drama at the University of Miami from 1967 to 1969, however, he dropped out before completing his degree to pursue an acting career.
Career Beginnings
Sylvester Stallone had his first starring role as Stud in the 1970 softcore pornographic romance film "The Party At Kitty And Stud's", after which he performed in the off-Broadway play "Score", which was later made into the 1974 film of the same title. His first major appearance came later that year, with the role of Stanley Rosiello in the drama "The Lords Of Flatbush". Thereafter, he had supporting roles in such film titles as "Capone", "Death Race 2000", and "Farewell, My Lovely", all in 1975.
Rise to Stardom as Rocky Balboa
Sylvester gained worldwide recognition with his self-created role as Italian-American boxer Rocky Balboa in the sports drama "Rocky" (1976), directed by John G. Avildsen.
The film became a critical and commercial success, grossing over $225 million against the budget of $1 million. His performance earned him ten Academy Award nominations, including Best Original Screenplay and Best Actor. It won three awards for Best Directing, Best Picture, and Best Film Editing. He would later reprise the role in its eight installments, "Rocky II" (1979), "Rocky III" (1982), "Rocky IV" (1985), "Rocky V" (1990), "Rocky Balboa" (2006), "Creed" (2015), and "Creed II" (2018). even directing four of the sequels.
Continued Success
Sylvester Stallone actually made his directing debut in 1978, with the sports drama "Paradise Alley", in which he starred as Cosmo Carboni. His films weren't big box office successes until his next remarkable role as Vietnam veteran John Rambo in the 1982 action film "First Blood", which was both a critical and commercial success, grossing over $156 million.
It spawned four sequels, "Rambo: First Blood Part II" (1985), "Rambo III" (1988), "Rambo" (2008), and "Rambo: Last Blood" (2019), all of which led him to become one of the highest-paid actors in Hollywood.
Further Work
Concurrently, Sylvester Stallone continued to work on other projects. In 1986, he wrote and took the role of Marion Cobretti in the box office success "Cobra", which was followed by his portrayal of Tango in the 1989 buddy cop action comedy "Tango & Cash", opposite Kurt Russell. The latter was also a commercial success. His next major role came in 1993 when he played Gabe Walker in the action-adventure film "Cliffhanger", which grossed over $255 million worldwide. The same year, Stallone featured as John Spartan in the sci-fi action "Demolition Man", sharing the screen with Wesley Snipes and Sandra Bullock.
His next box office success came in the following year when he played Ray Quick in the action thriller "The Specialist", alongside Sharon Stone.
By the end of the decade, he'd also landed the role of Freddy Heflin in the critically-acclaimed crime drama "Cop Land" (1997), co-starring Robert De Niro.
Roles in the 2000s and 2010s
Over the next decade, Sylvester Stallone mostly had parts in commercial failures. In 2003, he played a villain in the third installment of the "Spy Kids" film series, entitled "Spy Kids 3-D: Game Over", which was a huge commercial success. He then took a three-year hiatus, and his next major role came in 2010 when he wrote, directed, and starred as Barney Ross in the ensemble action film "The Expendables", alongside Jason Statham and Jet Li. He would later reprise the role in its sequels "The Expendables 2" in 2012, and "The Expendables 3" two years later. He also took the role of Breslin in the box office success "Escape Plan" in 2013, and its sequels, entitled "Escape Plan 2: Hades" (2018) and "Escape Plan: The Extractors" (2019).
He's currently working on such upcoming film titles as "The Suicide Squad", "Samaritan", and "The Expendables 4".