• Dorian Crossmond Missick was born in East Orange, New Jersey in 1976 and holds American nationality.
• He is best known for his portrayal of Damian in the 2006 drama series "Six Degrees".
• He has appeared in multiple films and television series such as "Shaft", "The Manchurian Candidate", "Lucky Number Slevin", "Southland", and "Haven".
• He is married to fellow actress Simone Missick and has no children.
• He has won three awards and his net worth is estimated to be over $4 million.
Who is Dorian Missick?
Dorian Crossmond Missick was born in East Orange, New Jersey USA, on 15 January 1976 – his zodiac sign is Capricorn and he holds American nationality. He's an actor who is perhaps still known best for his portrayal of Damian in the drama series "Six Degrees" created by M. Raven Metzner and Stuart Zicherman, and which starred Jay Hernandez, Bridget Moynahan and Erika Christensen. It follows six people who have unknowingly impacted each other's lives. The series aired from 2006 to 2008, and was nominated for one award.
Early life and education
Dorian spent his first couple of years in East Orange; nothing is known about his parents as he prefers to keep the details of his personal life to himself, but apparently he's an only child. His family then moved around the US before eventually settling in Brooklyn, New York City.
Dorian became interested in acting while attending high school, at which he was also very sporting as he played football and basketball for the school's teams. He launched his career aged 14 with his portrayal of a young fisherman in the episode "An Angry Woman" of the mystery crime series "In the Heat of the Night". Upon matriculating in 1994, he enrolled at New York City's Michael Howard Studios, from which he graduated with a Bachelor of Fine Arts degree in acting in 1998.
Roles in movies
Dorian made his debut film appearance in the 1998 drama "Two Way Crossing", and a couple of his following roles were in the 2000 action crime thriller "Shaft", the 2003 drama "Crime Partners", and the 2004 mystery science fiction drama "The Manchurian Candidate", which starred Denzel Washington and Meryl Streep, and was very popular in the US.
In 2006, Dorian portrayed a supporting character in the action crime drama "Lucky Number Slevin", written by Jason Smilovic, directed by Paul McGuigan and which starred Josh Hartnett, Ben Kingsley and Morgan Freeman. It follows Slevin who is being hunted by two mafia bosses, the assassin Goodkat and the Detective Brikowski. The film was nominated for nine awards winning four. Two of Dorian's following notable performances were in the 2007 action drama "Alibi" and the 2009 drama "Lenox Avenue", and the following year saw him appear in the romantic comedy "The Bounty Hunter", which starred Gerard Butler and Jennifer Aniston, and follows a bounty hunter whose next mission is his ex-wife. In 2018, Dorian played Officer Mick Randolph in the biographical sports drama "Brian Banks", which is about a Football player who was wrongly accused, convicted and sent to jail, and who is now trying to prove his innocence.
The film won three and was nominated for two other awards.
Three of Dorian's most recent roles in movies have been in 2019 in the short drama "About The People", and the dramas "A Cold Hard Truth" and "Paper Friends".
Role in TV series
At the beginning of his career, Dorian was only invited to appear in single episodes of various series, such as the adventure comedy "Now and Again", the mystery crime drama "Law & Order: Special Victims Unit", and the drama "Philly".
His first notable performance on TV was in 2011, when he portrayed Marty Voyt in 10 episodes of the action drama "The Cape", created by Tom Wheeler and which starred David Lyons, Keith David and Summer Glau. It follows a police officer who has been framed with murder, and who thus decides to become the superhero The Cape.
In 2012, Dorian starred as Detective Ruben Robinson in 18 episodes of the crime thriller "Southland", which was a hit winning 15 awards including two Primetime Emmys, while it was nominated for 26 other awards. In the same year, he played the lead character Sellars in the romantic drama "Lenox Avenue", but which was cancelled after airing just eight episodes. A couple of his following notable performances were in the fantasy crime drama "Haven", the comedy "Zoe Ever After" (starring role), and the fantasy crime drama "Lucifer".
Three of Dorian's most recent roles in TV series have been in 2020, in the episode "Pillowshop" of the horror "Soul City", the  episode "Dancing at Los Angeles" of the drama "All Rise", and 20 episodes of the biographical crime drama "For Life".
Catch up on the last episode of @ForLife_ABC https://t.co/9EcGoa8Ula

— Dorian Missick (@Tailwindturner) November 20, 2020
Other credits
Dorian has four producing credits. In 2015, he produced the short comedy "Black Card", and the following year saw him work on the drama "9 Rides". In 2017, he produced the short drama "White Face", and in 2018 worked on the thriller "As Evil Does".
He received special thanks for the 2011 documentary film "Looking for Lenny".
Dorian has also appeared in several talk-shows, including "The Actor's Choice", "Toure Show" and "Celerity Page".
Awards
He has won three awards – in 2011 an ITVFest Award for Best Actor in a Drama for "Lenox Avenue", in 2015 a Black Lives Black Stories Matter Award for "Black Card", and in 2016, he won a BronzeLens Film Festival Award for Best Actor for "9 Rides".
Love life and marriage with Simone Missick
Dorian hasn't shared many details concerning his marriage with Simone Missick, an American actress. It is believed that the two met in the late 2000s, and dated for several years before marrying in a large ceremony attended by their wide circle of friends and family members in February 2012. They don't have children together, and this is believed to be because Dorian and Simone want to rather focus on their acting careers, however, there are also those who believe that one of the two might be infertile.
Neither Simone nor Dorian have spoken about the people they might had dated before meeting each other,  so as of February 2021, Dorian is married to Simone and neither have children.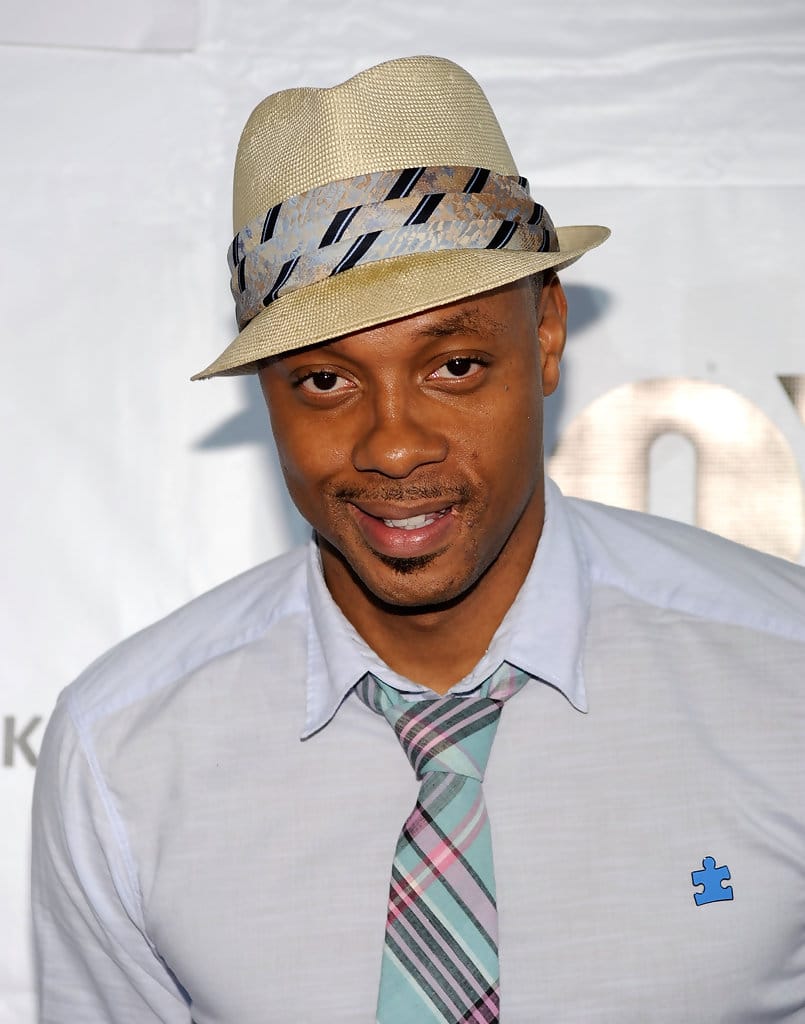 Hobbies and other interests
Dorian is interested in music, and today also works as a DJ, however, he rather considers it as his hobby than his job. He grew up listening to rap and rock music, and then steadily transitioned to electronic music.
Dorian and his wife enjoy leading a lavish lifestyle, and often stay at some of the most expensive hotels, eating at the most expensive restaurants and travelling to attractive exotic locations. They are both fans of travelling, and have been to many US states while the two have also vacationed in several European countries.
He is physically quite active, as he works out at the gym several times each week, and loves to run and has finished several half-marathons.
He has his own favorite actors and actresses, some of whom are Chadwick Boseman, Jim Carrey and Angelina Jolie, and a couple of his favorite movies are "Black Panther", "The Number 23" and "Bruce Almighty".
Age, height and net worth
Dorian's age is 45. He has short black hair and brown eyes, his height is 5ft 9ins (1.75m) and he weighs around 150lbs (68kgs). As of February 2021, his net worth has been estimated at over $4 million.
Who is Simone Missick?
Simone Missick (nee Cook) was born in Detroit, Michigan USA on 19 January 1982 – her zodiac sign is Capricorn and she holds American nationality. She is an actress who is perhaps known best for her portrayal of Detective Misty Knight, one of the lead characters in the action crime series "Luke Cage", created by Cheo Hodari Coker, and which also starred Mike Colter and Theo Rossi. It follows Luke Cage who gains unbreakable skin and super-strength after an experiment is sabotaged. It aired from 2016 to 2018 and won six awards, including a Primetime Emmy, while it was nominated for 22 other awards.
Simone was raised in Detroit, and began dreaming about becoming an actress at quite an early age, however, her parents urged her to focus on her education. She attended Renaissance High School from which she matriculated in 2000, and Simone then enrolled at Howard University in Washington DC, graduating with a Bachelor's degree in 2003.
She went on to launch her acting career with her portrayal of Jamie in the 2003 comedy film "The Epicureans", and Simone then moved to England to attend the British American Drama Academy. She has appeared in close to 30 movies and TV series – some of the most popular include the action crime drama "Jessica Jones", the mystery science fiction drama "Wayward Pines", and the action adventure "The Defenders". Some of the movies she's been cast in include the 2012 family comedy "A Taste of Romance", the 2018 drama "Jinn" (alongside Dorian), and the 2019 drama "A Cold Hard Truth".