• Alexi Ashe is an assistant district attorney and criminal prosecutor, best known for being the wife of Seth Meyers.
• She attended Occidental College, obtaining her Bachelor of Arts degree in political science and government in 2006, and later obtaining her Doctoral Degree in international human rights from Southwestern University's School of Law in 201•
• Alexi and Seth Meyers married in 2013 and have two sons together.
• Alexi is a philanthropist and likes travelling and watching movies.
• Seth Meyers is a comedian, actor, TV host, writer and producer, known best for hosting his own show "Late Night with Seth Meyers". He is a fan of sports and comics.
Who is Alexi Ashe?
Alexi Ashe was born in New Mexico, USA, on 1 April 1983 – her zodiac sign is Aries and she holds American nationality. She is an assistant district attorney and a criminal prosecutor, but perhaps known best for being the wife of Seth Meyers, a famous American comedian, actor, TV host, writer and producer.
Early life and education
Alexi was raised in New Mexico alongside her sister Ariel, by their father Tom Ashe and mother Joan Ashe, and while nothing about their parents' professions is known, it is believed that both are in law, which is how Alexi became interested in it in the first place.
She grew up being interested in various things as she wanted to become a famous model, a successful actress or a stewardess, but was urged by her parents to stop day-dreaming and focus on her education.
Alexi attended a local high school at which she was physically very active, as she played soccer and did gymnastics. Upon matriculating in 2002, she enrolled at Occidental College, from which she graduated with her Bachelor of Arts degree in political science and government in 2006. Alexi continued to work on her education, and obtained her Doctoral Degree in international human rights from Southwestern University's School of Law in 2011.
Career as an attorney
Alexi launched her career in May 2007, when she started working as a policy and research analyst at Los Angeles City Attorney's Office. She held the job until April 2009 when she returned to studying.
In April 2011, Alexi joined the Somaly Mam Foundation as a legal intern, and spent three months there before joining King's County District Attorney's Office as a pro bono assistant district attorney. In December 2011, Alexi started her legal internship at Human Rights First, and was in April 2012 invited to join AC Investment Management as a legal counsel. She spent nine months there, then in January 2013 was invited to join The World Wide Orphan Foundation as a grants writer and legal intern. During the one year she spent with the foundation, Alexi was mostly in charge of organizing fundraising events and writing grants, while she also once travelled to Haiti to assess new programming models.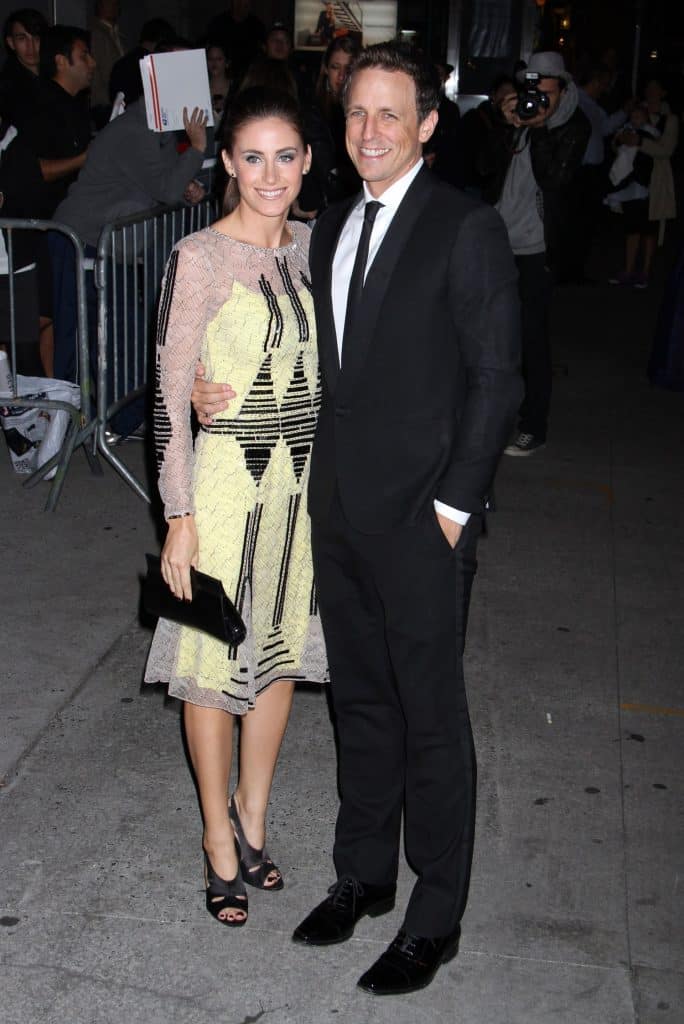 Since January 2013, Alexi has been working at Journeys in Film as an advisory board member, and also as of July 2013, as an assistant district attorney at the Sex Crimes Bureau of King's County District Attorney's Office.
Love life and relationships
According to various sources, Alexi met her future other half Seth at the wedding of famous American actor and comedian Chris Kattan. Seth was instantly attracted to Alexi and as he has stated in one of his interviews, it was love at first sign for him. He asked her out on a date and on 1 September 2013, the two married in a private ceremony at Martha's Vineyard, Massachusetts attended by many of their friends and family members. The couple welcomed their first child Ashe Olsen Meyers on 27 March 2016, and their second Axel Strahl Meyers in April 2018.
Neither of the two have spoken about any other people they have perhaps been with, and as of February 2021, Alexi is married to Seth Meyers and they have two sons together.
Hobbies and other interests
Alexi's a philanthropist who has volunteered with various charity organizations, but mostly those which aim to help women who have suffered abuse, and underprivileged children.
She likes to travel, and has been to various American states with her husband, and the two have been seen vacationing together in several European countries, including in Alexi's favorite city – Paris in France. Since the birth of their second child, Alexi has mostly been focused on staying at home and rarely gets an opportunity to travel.
She enjoys watching movies in her spare time – her favorite actor and actress are Russell Crowe and Scarlett Johansson, and a couple of her favorite movies are "The Gladiator", "A Good Year" and "Robin Hood".
Age, height and net worth
Alexi's age is 37. She has long brown hair and green eyes, her height is 5ft 6ins (1.68m), she weighs around 135lbs (62kgs), while her vital statistics are 36-26-38. As of February 2021, her and her husband's shared net worth has been estimated at over $12 million.
Who is Seth Meyers?
Seth Adam Meyers was born in Evanston, Illinois USA, on 28 December 1973 – his zodiac sign is Capricorn and he holds American nationality. He is perhaps known best for hosting his own show "Late Night with Seth Meyers".
Seth spent the first four years of his life in Evanston before his family moved to Okemos in Michigan where they stayed for six years, before moving to Bedford in New Hampshire. He was raised alongside his brother Josh Meyers by their father Laurence Meyers Jr. who worked in the financial sector, and their French mother who was a teacher. Josh is also an actor, perhaps known best for his portrayal of Randy Pearson in the final season of the comedy series "That '70s Show".
Seth studied at Edgewood Elementary before progressing to Manchester High School West from which he matriculated in 1992, and then enrolled at Northwestern University. He graduated with a Bachelor's degree in 1996.
To financially support himself while attending college, Seth sold hot dogs in the streets, and joined the university's improvisational comedy sketch group Mee-Ow Show. It was in 2001 that he joined the TV show "Saturday Night Live", and became a writing supervisor in 2005. In early 2006, Seth was offered the position of a co-head writer, working with Andrew Steele and Tina Fey. He became the head writer by the end of the year, and from 2008 to 2013, he was the host of the show "Weekend Update". On 24 February 2014, he began hosting "Late Night with Seth Meyers" as the former host Jimmy Fallon moved to host "The Tonight Show".
He is also an actor having appeared in and voiced characters in around 30 movies and TV series; one of his most notable performances has been in the 2013 animated action comedy "The Awesomes" in which he voiced Prock. It was created by Seth and Michael Shoemaker, starred Ike Barinholtz, Taran Killam and Bobby Lee, and follows Prock, son of Mr. Awesome, who has to assemble his own team of superheroes.
Seth is a huge fan of sports, and cheers for the Boston Red Sox baseball team, the Boston Celtics basketball team, and the Pittsburgh Steelers football team. He is also a fan of hockey and usually cheers for the Pittsburgh Penguins.
His favorite author is Joe Hill, and his favorite comic book is Joe's "Locke & Key".