• Angelique Boyer Rousseau is a French-Mexican actress and model, best known for appearing in various Mexican telenovelas and TV series.
• She began her career in 2004, and has since starred in many successful projects, garnering numerous awards and nominations.
• She is in a relationship with Argentine actor and model, Sebastian Rulli, with whom she often collaborates on various social media platforms.
• Angelique has branched out to become an entrepreneur, co-founding the brand Nuba Nutricion Balanceada.
• As of 2021, her net worth is estimated at $6 million.
Who is Angelique Boyer?
Angelique Boyer Rousseau is an actress and model, best known for appearing in various Mexican telenovelas and TV series, including "Rebelde", "Amar a Muerte", and "Lo Que la me Vida Robo". She was born under the Zodiac sign Cancer on 4 July 1988, in Saint-Claude Jura, France, and is a mix of Mexican and French descent. As of mid-2021, she's 33 years old.
Early Life and Family
Angelique was born to Patrick Boyer and Sylvie Rousseau; her mother is a Mexican native, while her father is French. At the age of two, she moved with her family to Mexico, and regarding her education, she attended Centro de Educación Artística. While growing up, she displayed an affinity for dancing, singing and acting; even though she is largely recognized for her acting roles, at the age of 18 she was a member of a group called "Rabanitos Verdes", which translates to Little Green Radishes.
Los increíbles bikinis low cost con los que Angelique Boyer roba suspiros son mexicanos y amigables con el medio ambiente.👙Checa todos sus looks: https://t.co/luTcpaXjSK

📸: @Anboy88 pic.twitter.com/bkJyJWcSMc

— EstiloDF (@EstiloDF) April 1, 2021
The group consisted of six members, who gained popularity for singing the opening theme of the children's telenovela entitled "Maria Belen".
Acting Career
With a knack for the entertainment business, she made her TV debut portraying the character of Anette in the soap opera entitled "Corazones al Limite". In 2004, she landed the recurring role as Victoria "Vico" Paz Millán in the Mexican version of the soap opera entitled "Rebelde", which became a worldwide phenomenon, attracting millions of fans due to its teen-relatable content. In 2005 Angelique formed the pop group "C3Q'S" with her co-stars Zoraida Gomez and Estefania Villarreal within the "Rebelde" soap opera – the trio released the single "No Me Importa".
Her next role came in 2007, when she was invited to fill the role of the antagonist named Margarita in the soap opera "Muchacitas Como Tu", alongside Ariadne Diaz.
During that same year, she made her movie debut, starring in the horror entitled "J-ok'el". After her one-episode appearance in the psychological thriller series "Mujeres Asesinas", she joined the cast as a recurring character of the soap opera "Alma De Hierro", portraying Sandra "Sandy Hierro Jimenez.
The following year she landed the lead role in another soap opera, "Corazon Salvaje", alongside Sebastian Zurita. Her portrayal of the gypsy girl named Jimena garnered her two nominations for Best Young Actress from Premios TVyNovelas and Premios People en Espanol.
In 2010 she appeared as the main character in the soap opera "Theresa", a remake of the soap opera of the same name from 1989. The series follows young and intelligent Theresa on her journey to escape poverty and establish herself as an affluent individual with high status.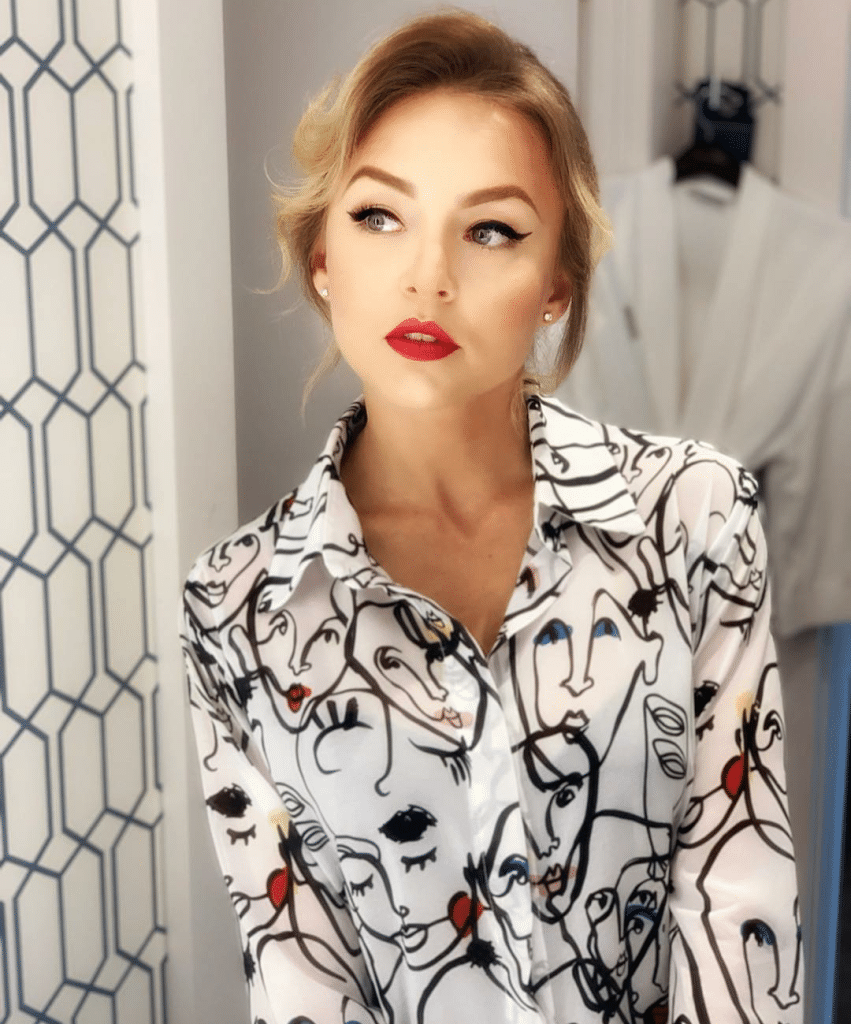 Slowly making a name for herself in the world of Mexican soap operas, this role didn't go unnoticed, and it garnered Angelique various nominations, and four awards for Best Actress.
The following year she portrayed Elisa Castañón Bouvier in the soap opera "Abismo de passion", receiving nominations and awards for her portrayal. In 2013 she landed her most popular and recognized role as Montserrat Mendonza Giacinti in the soap opera "Lo Que la Vida me Robo", alongside Sebastian Ruli and Luis Roberto Guzman.
Three years later, she returned to the screen portraying identical triplets in the soap opera entitled "Tres Veces Ana", again sharing the credits with Sebastian Ruli.
In 2018 she appeared in the soap opera "Amar a Muerte", playing the character of Lucia Borges, and her latest roles include in two soap operas, entitled "Imperio de Mentiras" and "Vencer el Pasado".
Personal Life
Regarding her dating history, in 2006 she dated Diego Boneta, and following her break-up, she began dating American actor Drew Roy. Reportedly she also had a brief relationship with the Mexican actor Sebastian Zurita.
In 2011 she was associated with the producer Jose Alberto Castro, but after a three-year-long relationship, they broke up in 2014. While filming for the soap opera "Lo Que la Vida me Robo" she met the Argentine actor and model, Sebastian Rulli, and soon after her break-up from Jose, she began dating her co-star, and they have been inseparable ever since. Judging from their Instagram accounts, they like to travel together, and profess their mutual love through heartwarming captions.
The couple also enjoys filming short sketches for TikTok. In an interview, Sebastian said that they currently have no plans regarding marriage or children. Additionally, he disclosed one unusual habit that Angelique has, saying: "She smokes, but at no time do I prohibit her from doing so. If she needs it, if she is addicted to it or does not want to leave it, nothing happens. It is not because the smoke bothers me. It does bother me, but it is not because of me, but because I want her to be healthy".
Briefly about Sebastian Rulli
Sebastian Rulli, the 45-year-old Argentina native, has established himself as one of the most recognized faces in the world of soap operas, along with his girlfriend.
Launching his career in 1995, he has appeared in over 20 soap operas, garnering numerous nominations and awards for his acting endeavors. His most notable credits include telenovelas such as "Rubi", "Cuando me Enamoro" and "Un Gancho de Corazon."
Prior to his relationship with Angelique, he was married to the actress and TV personality Cecilia Galiano, with whom he has a son named Santiago. They divorced in 2011.
Entrepreneurial endeavors
Besides her acting and modeling career, the actress has branched out and co-founded the brand Nuba Nutricion Balanceada, which sells various food supplements such as protein powder and protein-added coffee. This entrepreneurial move is not unusual, given that Angelique and her long-term boyfriend like to work out, and take care of her eating habits.
Physical stats and Hobbies
Angelique is 5ft 5ins tall (165), while her weight is around 110lbs (50kgs), and her physical stats are 31-24-34. Her natural hair is dark brown, even though she has dyed it to blonde most of her life. Her eyes are green. When she is not acting or modeling, she's usually filming TikToks or working out. Regarding her physical appearance, it was rumored that she had undergone a rhinoplasty (nose job) even though shes never commented or disclosed any information about it.
Would you like to know her net worth?
As of 2021, Angelique's net worth is estimated at $6 million, which she's earned as an actress, model, and co-founder of the Nuba. Additionally, she has quite a big following on social media, which most likely lands her advertising deals.
Scandals and controversies
In 2017, Angelique reportedly attacked two YouTubers named Pepe and Teo, who recounted the whole situation on their channel. The YouTubers spotted Angelique and her boyfriend having dinner in a restaurant and approached the couple to ask for a photo. While the couple was leaving the restaurant, Pepe and Teo startled them and proceeded to film them, which they didn't like. According to their account, Angelique became aggressive and asked them if they worked at the restaurant. The YouTubers were offended by her question, because they were dark-skinned, similar to the majority of the staff that worked there.
After this racist accusation went viral, Angelique explained the situation via Twitter saying: "I feel for the misunderstanding, I don't think you heard why I said it, we actually took photos with everyone that works there." The YouTubers responded with: "Thank you for coming to us, your apology, and thank you for clearing it up. Our best wishes to you."
Angelique is very active on various social platforms. Her Instagram has over 13 million followers, while her Twitter counts over 800,000 followers.  She also has a TikTok account, which has over seven million followers, and over 24 million likes. The versatile actress has amassed quite a following on Facebook too, which is currently around 11 million. All those fans who are interested in the latest news and projects by Angelique can visit her website and stay updated.