• Aracely Arambula is a Mexican actress, singer, media personality and entrepreneur.
• She made her movie debut in 1994 and won the Best Actress Award in 200•
• She has released two studio albums and has an estimated net worth of $11 million.
• She is a good songwriter, plays guitar and loves spending time with friends and family by the pool.
• She has a close relationship with her brother, Dr. Leonardo Arambula, and has full custody of her sons.
Aracely Arambula is a Mexican actress, singer, media personality and entrepreneur. She's made a name for herself in several industries, which is why she is so famous.
Keep reading to find out more about this multi-talented Mexican personality.
Early Life, Family, Educational Background
Aracely Arambula Jacques was born on 6 March 1975 under the zodiac sign of Pisces, in Chihuahua City, Mexico, to Socorro Jaques and Manuel Arambula, by whom she and her brother, Leonardo Arambula, were raised. She was fondly called 'La Chule' by her family and friends.
As a young girl, Aracely developed an interest in pageantry, and at age 13 while attending Junior High School, she started to contest beauty pageants. Her constant appearance in public events made her famous in her home country.
Career
Acting Career
Aracely Arambula made her movie debut in 1994, playing an unknown role in the movie 'Prisionera de Amor", directed by Pedro Damian for Televisa. Two years later, she played the role of Leticia Cisneros in "Cañaveral de Pasiones" (1996).
Latewr in 1996, Aracely contested the El Rostro de El Heraldo de Mexico (The face of El Heraldo de Mexico) and won. Being the face of a prestigious award gave her some positive publicity, and she started landing more telenovela roles.
Throughout the late 1990s, Aracely continued to take minor roles in movies, including in "Mujer, Casos de la Vida Real" (1996), "El Alma no tiene color" (1997), and "Alma Rebelde" (1999).
In 2000, Aracely landed the lead role of Maria del Carmen in the "Abrázam muy Fuerte" which translates in English as 'Embrace Me Tightly,' portraying the character opposite Fernando Colunga and Helena Rojo. Her performance in the telenovela won her the Best Actress Award at the El Heraldo de Mexico Awards in 2001.
The following year, she played Perla in "Las Vías del Amor" (The Tracks of Love), a Mexican telenovela produced by Emilio Larrosa for Televisa. She also sang the theme song for the production.
Aracely paused her big-screen career in 2008, to host the television program "Todo Bebé" venture into the theater.
In 2009, she picked up her acting cloak to star in "Corazón Salvaje", in which she played double roles as Regina Montes and Aimee Montes.
Between 2010 and 2012, Aracely ventured into theater performances, appearing in two theater productions, "Perfume de Gardênia" (2010-12) and "Por qué los Hombres Aman a las Cabronas" (2014). Meantime, in 2013 she also portrayed Gabriela Suarez and Veronica Dantes  in "La Patrona", the telenovela produced by Telemundo. In 2018, she hosted "MasterChef Latino", a competitive cooking show created by Franc Roddam, and  later that year she appeared as Altagracia Sandoval in seven episodes of "El Señor de los Cielos".
Musical Career
Aracely started her musical career singing nursery rhymes, as a tribute to the Mexican composer and performer of children's songs, Francisco Gabilondo Soler, popularly known as Cri Cri. In 2003, Aracely's album "Solo Tuya" made her a three-time nominee at the Billboard Latin Music Awards. She subsequently released the album "Sexy" in 2005, produced by A.B. Quintanilla.
She recorded two soundtracks for "La Patrona", including 'Juntos tú y yo' and 'La Patrona' (the telenovela's theme song). Aracely hinted at a new studio album in 2014; however, she is yet to deliver on the project.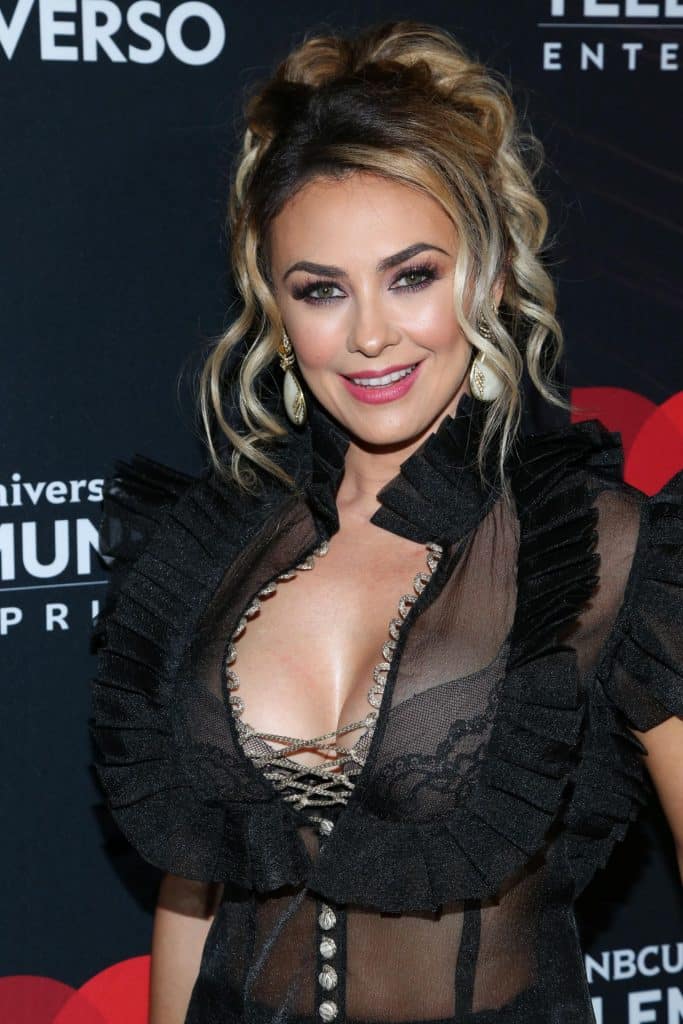 Entrepreneurship
Aracely Arambula recently ventured into business, in 2017 launching her line of make-up products in Mexico under the brand name 'Mimika'. She also teamed up with her brother, Dr. Leonardo Arambula, to start up a spa in Mexico City. The actress seems to be doing well in business so far.
Personal Life, Husband, and Children
From 2005 through 2009, Aracely Arambula dated the Mexican singer Luis Miguel, during which they welcomed two sons together, Miguel Gallego Arambula born on 1 January 2007 in Los Angeles, California, and their second son Daniel Gallego Arambula on 18 December 2008.
However,a year after the birth of their second child, the duo broke up.
Aracely went on to date Gabriell Soto and Eduardo Verastagui. At some point, there were rumors that she was dating Pablo Montero. However, she debunked the rumors, stating that they were 'good friends.'
She has a close relationship with her brother, Leonardo Arambula, who now works as both a doctor and Aracely's manager.
The famous actress has an Instagram account with over five million followers, on which she shares snippets of her daily life and upcoming projects.
Aracely Arambula is not yet married, as many people think. She is currently single, or likely keeping her love life under wraps.
The actress has full custody of her sons, and they live in Mexico together.
Appearance, Clothing Style
The famous actress Aracely Arambula is 5ft 7ins (1.7m) tall and weighs around 128lbs (58kgs). She has long brown hair and hazel eyes. The notable thing about Aracely is that she doesn't have a particular style. Every few months, she changes her hair color, to brown, black and blonde shades.
Aracely has a curvy body, which she loves to flaunt, so that you might find her in a bodycon dress, leather pants and jackets, or sexy bathing suits.
Hobbies, Favorite Things, and Interesting Facts
Aracely Arambula likes to cook and eat candies.
She is also a regular at the local gym.
She is a good songwriter.
Aracely plays the guitar for fun.
She loves spending time with friends and family by the pool.
She is an avid lover of dogs.
Aracely enjoys traveling.
Net Worth and Salary
Having broken into the entertainment industry in the 1990s, Aracely Arambula has undoubtedly made a mark in the entertainment scene. As of mid-2021, the 46-year old actress has an estimated net worth of $11 million.
She has a home in Cuernavaca, Mexico, and some other properties which are kept private at the moment.