• Barbara Bouchet is a 77-year-old actress and entrepreneur with an estimated net worth of $9 million.
• She was born in Reichenberg, Nazi Germany, and migrated to the US in 1956.
• Her career began with modeling and commercials, and her big break came in 1967 with the role of Miss Moneypenny in the spy parody comedy "Casino Royale".
• After struggling to land major roles in Hollywood, Bouchet moved to Italy and starred in several films.
• She is married to Italian producer Luigi Borghese and has two sons, Alessandro and Massimiliano.
Who is Barbara Bouchet?
Bärbel Goutscherola, known professionally as Barbara Bouchet, was born on 15 August 1943 under the zodiac sign of Leo, in Reichenberg, Sudetenland, Nazi Germany (now Liberec, Czech Republic). She is a 77-year-old actress and entrepreneur, probably still best recognized for landing the role of Miss Moneypenny in the parody spy comedy film "Casino Royale" (1967), playing Minna Kappler in the made-for-TV historical war drama film "The Scarlet And The Black" (1983), and featuring as Mrs Schermerhorn in the epic historical drama film "Gangs Of New York" (2002).
How rich is she, as of now? Barbara Bouchet Net Worth
As of mid-2021, Barbara Bouchet's net worth is estimated at over $9 million, acquired through her successful involvement in the entertainment industry as a professional actress, who has garnered almost 100 television and film acting credits since she launched her career in the late 1950s. She's also increased her wealth through sales of her fitness books and videos, and other business endeavors.
Early Life, Parents, Siblings, Nationality, Ethnicity, Educational Background
Barbara Bouchet was raised with four siblings by their father, Fritz Gutscher, who was a war photographer, and their mother Ingrid, who was an actress. Her family was forced to leave the country when she was a little girl, so they migrated in December 1956 to the United States, and settled in San Francisco, California, where her name was changed to Barbara Gutscher. She holds German, American and Italian nationalities, and belongs to White Caucasian ethnic group. Regarding her education, Barbara went to the prestigious Galileo High School in San Francisco.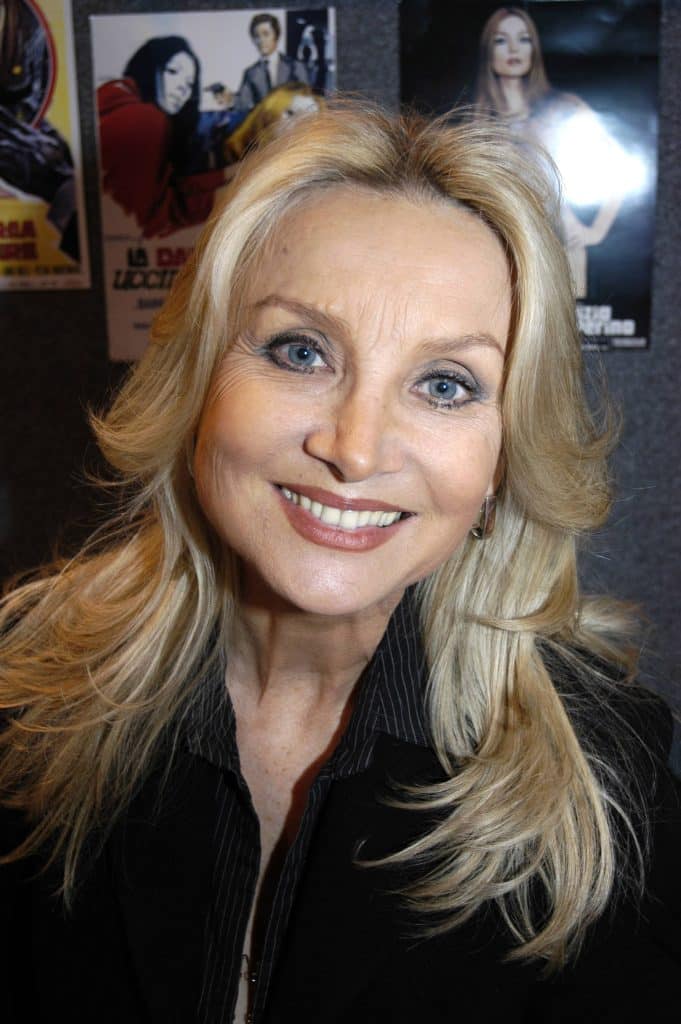 Career Beginnings
Barbara Bouchet started her career performing in the KPIX-TV show "The KPIX Dance Party" from 1959 to 1962, when she moved to Hollywood to pursue an acting career. She initially modeled and appeared in various commercials, before her film debut came with a small role in the 1964 comedy "A Global Affair", directed by Jack Arnold. She then had a minor part in the black comedy "What A Way To Go!", alongside Paul Newman and Shirley MacLaine, which was nominated for two Oscars.
It was followed by support roles in such film titles as "Good Neighbor Sam" and "Bedtime Story", both in 1964.
In the next year, Barbara took the role of Liz Eddington in the epic war film "In Harm's Way", next to Kirk Douglas and John Wayne. Her big break came in 1967, when she played Miss Moneypenny in the spy parody comedy "Casino Royale", based on Ian Fleming's novel of the same title, and which was a commercial success. Later that year, she featured as Mari in the spy film "Danger Route", after which she made a guest appearance as Kelinda in the episode "By Any Other Name" of the NBC sci-fi series "Star Trek" (1968), and worked again with Shirley MacLaine on the musical comedy-drama "Sweet Charity" (1969), in which she portrayed Ursula.
Rise to Fame in Italian Films
Since she couldn't land a major role in Hollywood, Barbara Bouchet moved to Italy in 1970, and subsequently appeared in Italian films.
Her first role was Monica Brown in the 1970 crime thriller "Red Hot Shot", co-written and directed by Piero Zuffi, which was followed by her portrayals of Anne Saxe in the thriller "The Man With Icy Eyes", and Maria Zani in the mystery thriller "Black Belly Of The Tarantula", both in 1971. In the next year, she appeared in more than ten film titles, in such roles as Kitty Wildenbrück in the horror "The Red Queen Kills Seven Times", Francine Boulert in the horror mystery "The French Sex Murders", and Patrizia in the horror-thriller "Don't Torture A Duckling".
Barbara next played Scilla in the 1973 action crime "Ricco The Mean Machine", starred as Margie in the 1974 gangster film "Cry Of A Prostitute", and had the part of Patty in the 1975 comedy "Duck In Orange Sauce", directed by Luciano Salce.
She then landed the roles of Anny in the crime thriller "Death Rage" (1976), Raffaella in the comedy "Liquirizia" (1979), and Valeria Damiani in the sex comedy "La Moglie In Vacanza… L'amante In Città" (1980).
Further Work
At the beginning of the next decade, Barbara Bouchet had parts as Celeste La Grasta in Sergio Martino's 1981 comedy "Spaghetti A Mezzanotte", and Minna Kappler in the 1983 made-for-TV historical war drama film "The Scarlet And The Black", alongside Gregory Peck and Christopher Plummer. Her next major appearance came when she played Mrs Schermerhorn in Martin Scorsese's epic historical drama "Gangs Of New York" (2002), alongside Leonardo DiCaprio and Cameron Diaz, which was both a critical and commercial success.
Between 2008 and 2010, Barbara was cast as Clarissa in the TV crime series "Married To A Cop". Concurrently, she also played Valeria in the 2009 horror "Giallo". In 2015, Barbara featured as Sibilla in the horror "Darkside Witches", after which she took the roles of Delia in the comedy "Easy" (2017) and Betty Richichi in the made-for-TV romantic film "Rome In Love" (2019). Most recently, she portrayed Nelly in the action crime thriller "Calibro 9" in 2020.
Other Ventures
Apart from acting, Barbara Bouchet is known for being an entrepreneur. She founded her production company in 1985 to produce her own series of fitness books and videos. Additionally, she launched a fitness club in Rome.
Appearance and Vital Statistics
Barbara Bouchet has long blonde-dyed hair and blue eyes. She stands at a height of 5ft 5ins (1.66m), her weight is around 123lbs (56kgs), while her vital statistics are 33-24-35, bra size 34B, dress size 4 (US), and shoe size 8 (US).
Personal Life
Barbara Bouchet married to Italian producer Luigi Borghese on 8 June 1974. After being married for more than three decades, the couple parted ways and divorced in December 2005. They welcomed two sons, named Alessandro Borghese, known for being a chef and TV personality, and Massimiliano Borghese, who works as a bartender. Her current residence is in Italy.